• Renata Notni is a Mexican actress and model.
• She is best known for her roles in "El Dragon" (2019-2020) and "Mi Adorable Maldicion" (2017).
• She has her own clothing line • RM, • in collaboration with Marce Colokuris.
• She has been in a past relationship with actor Diego Amozurrutia and businessman Andres Rivero.
• As of mid-2021, Renata Notni's net worth is estimated to be around $3 million.
Who is Renata Notni?
Renata Notni is a Mexican actress and model, who is best known to the world as Adela Cruz in the TV series "El Dragon" (2019-2020), while she is also known as Aurora Sanchez in the TV series "Mi Adorable Maldicion" (2017), among several other notable roles that she's secured so far in her career.
Renata Notni Wiki: Age, Childhood, and Education
Renata Martinez Notni was born on 2 January 1995 under the Capricorn zodiac sign, in Cuernavaca, Morelos, Mexico. She is a daughter of Alfredo Martinez Guerrero and Lilliana Notni, and has a brother Hecto E. Martinez Notni.
During her early years, she took acting lessons at the children's drama school CEA Infantil, and later continued her studies at Centro de Educacion Artistica, run by Televisa in Mexico City.
Career Beginnings
Renata's career started in the mid- 2000s with the role of Andrea Garza Duran in the telenovela "Codigo Postal", appearing in all 200 episodes of this popular romantic drama through 2006 and 2007. In 2008 she secured the role of Luisa Hernandez in the TV series "Un Gancho al Corazon" (2008-2009), while from 2009 to 2010 she was Carmita Bracho in the telenovela "Mar de Amor", starring Zuria Vega and Mariana Seoane.
She continued with minor roles, such as the recurring role of Lucia in the telenovela "La Fuerza Del Destino" (2011), with David Zepeda, Delia Casanova, and Rosa Maria Bianchi in the lead roles.
Rise to Prominence
Also in 2011, Renata was selected for one of her most popular roles, as Maria Soledad 'Marisol' Lobo, Ballesteros in the telenovela "Amorcito Corazon" and starred in all but one episode of this successful series, with Daniel Arenas, Africa Zavala, and Polo Monarrez, and continued with the part of Paloma in the telenovela "Que Bonito Amor", sharing the screen with such stars as Jorge Salinas, Danna Garcia, and Arturo Peniche. From 2013 to 2014 she was Mariana in the telenovela "Quiero Amarte".
Renata was slowly building her portfolio with roles in Mexican telenovelas and in 2015 was chosen for the lead role in the telenovela "Amor de Barrio", co-starring Alejandra Garcia and Mane De La Parra.
Next, she played Camila in the telenovela "Yo Quisiera", appearing in 48 episodes from 2015 to 2016,  and then in 2016 starred as Patricia, in "Sueno de Amor".
Renata was making big steps in her career, and in 2017 was selected yet another soap opera role, as Aurora Sanchez in "Mi Adorable Maldicion", which earned her a Best Actress award nomination.
She was turning into a star, thanks to the success of the series in which she starred, and in 2019 was chosen as Adela Cruz in the Spanish language crime-drama series "El Dragon", which has become her most prominent role to date.  To speak further of her success, Renata is set to star in the comedy film "Malcriados", which is scheduled for release in 2022.
Fashion Designer
In addition to her work as an actress, Renata is a model and fashion designer. She has launched her own clothing line – RM, – in collaboration with Marce Colokuris.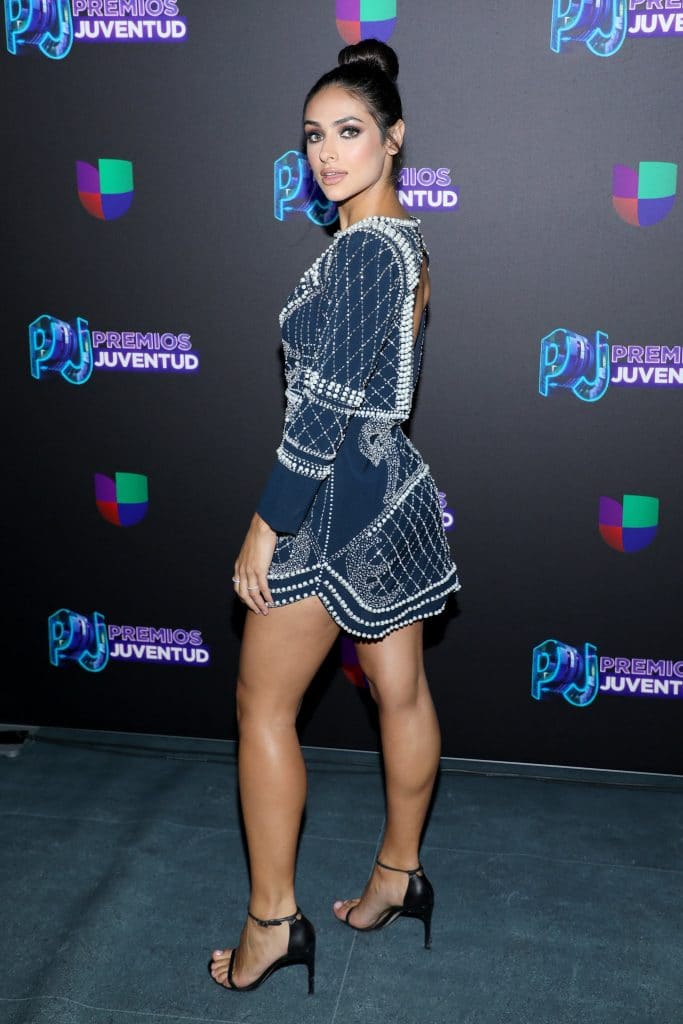 They have created an official Instagram page through which they advertise their fashion creations.
Personal Life, Dating, Boyfriend, Single?
When it comes to her personal life, Renata is rather mysterious, but some information has become available to the fans of this popular actress. Renata was in a romantic relationship with actor Diego Amozurrutia from 2013 until 2015, then following their break up, she met Mexican businessman Andres Rivero, and the two started a romance in early 2016, dating until 2019.
It's believed that Andres was unfaithful to the young actress during their relationship, and that was the reason for their split. Since their break up, Renata has remained silent about her love life, and according to sources, she is single and solely focused on her rising career.
Net Worth
As of mid- 2021, Renata Notni's net worth has been estimated to be around $3 million, earned through her successful career as an actress, during which she has appeared in over 20 film and TV titles, all of which have added to her wealth.
Appearance and Vital Statistics
This award-winning actress has light brown eyes and green eyes. She stands at a height of 5ft 6ins (1.68m), weighs approximately 121lbs (55kgs), while her vital statistics are 34-24-34, bra size 38B.
Hobbies, Interests, and Trivia
Although fluent in English, Renata still hasn't made her Hollywood debut. Nevertheless, she has been building a name for herself in Mexican telenovelas; she currently lives in Mexico City.
Renata still loves to travel a lot, and has stated beaches as her favorite places to visit – her Instagram profile is full of pictures from various beaches across the world.
She is a big foodie and enjoys various cuisines, while Italian is her favorite. She can often be seen in the gym throughout the week, maintaining her perfect figure with the help of a strict diet and frequent workouts. She focuses on abs and glutes when working out, and her hikes in nature have also helped her overall figure.
Renata is also a huge animal lover and has a pet dog.