• Roshon Bernard Fegan is a rapper, dancer, and actor.
• He is of Afro-American and Filipino ethnicity, born in Los Angeles in 199•
• He is known for roles in Disney projects, such as "Shake it Up" and "Camp Rock".
• He has a successful music career, as well as a voice role in the animated series "DreamWorks Dragons: Rescue Riders".
• He is in a relationship with Mariah Angeliq and has an estimated net worth of $4 million.
Who is Roshon Fegan?
Roshon Bernard Fegan, professionally known simply as Roshon, is a rapper, dancer and actor, perhaps best recognized for his roles in hit Disney projects including "Shake it up" and "Camp Rock". He was born under the Zodiac sign Virgo on 6 October 1991, in Los Angeles, California, USA, a mix of Afro-American and Filipino ethnicity. Roshon holds American nationality, and as of mid-2021, he's 29 years old.
Early life and Family
Roshon was born to Roy and Cion Fegen. Roy is a famous producer, actor and former director and president of the company "3inaRo Entertainment", who rose to fame for his role of Simon Caine in the superhero/comedy "The Meteor Man".
https://t.co/xEN2ZESMPl pic.twitter.com/9V4cwVW3vO

— ROSHON (@ROSHON) April 18, 2020
He is additionally known for appearing in various popular sitcoms and series, including "Will and Grace", "Married…With Children", and "The Shield". Roshon's mother, Cion, is of Filipino origin. He has one sibling, a sister named Fatima. Roshon spent most of his childhood in Los Angeles; from an early age, his father influenced him to pursue a career in the entertainment industry, enrolling him at the BK Acting Studio, and later USC 32nd Street Performing Arts School. He initially attended Tom Bradley Elementary, and then enrolled at Hollywood High School. However, he was constantly bouncing between school and his career, which eventually prompted him to be homeschooled.
Career
Roshon embarked on his journey of becoming an actor at the age of 12, with a minor role in the 2004 superhero action movie "Spiderman ". Two years later, he made appeared in an episode of the popular crime series "Monk", followed by a role in the independent movie entitled "Baby".
In 2008, he joined the talented cast of the TV musical movie produced under the Disney banner entitled "Camp Rock", which included Jonas Brothers and Demi Lovato, which achieved enormous success, quickly garnering a huge audience. During the same year, Roshon appeared in the comedy movie "Drillbit Taylor", alongside Owen Wilson, before in 2010 starring in the second installment entitled "Camp Rock 2: The Final Jam".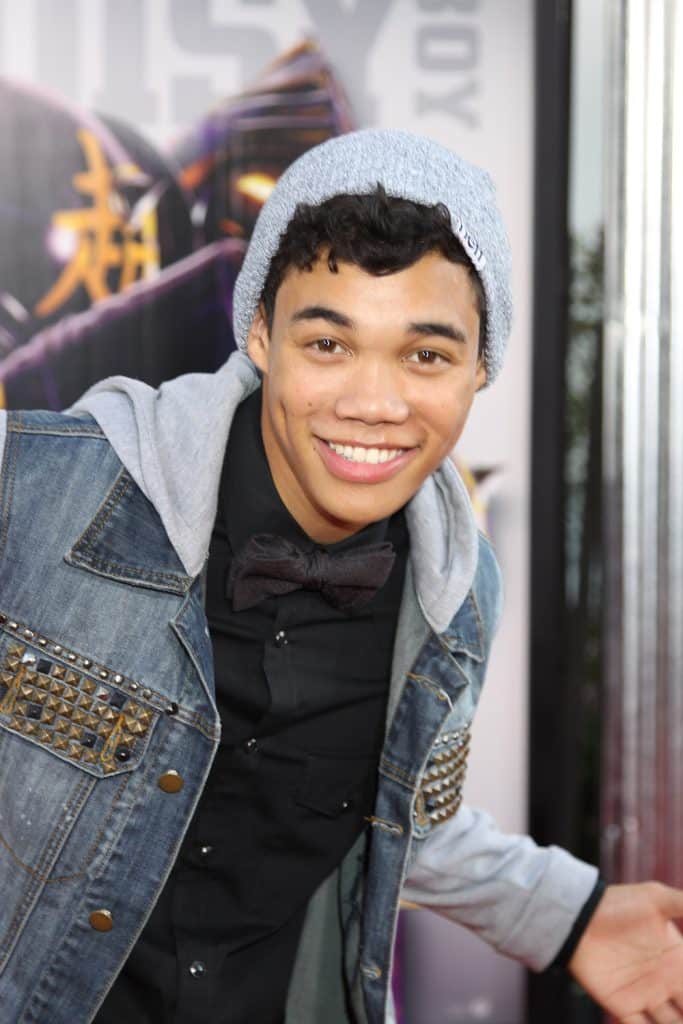 Continuing his collaboration with Disney, Roshan landed his most notable role, portrayed the main character Ty Blue in the series "Shake It Up", which ran for three seasons; he appeared in a total of 59 episodes.
In 2011 Roshon, starred in an episode of another Disney sitcom, entitled "Kickin' It", followed by his participation in the popular show "Dancing With The Stars". Roshon partnered up with Chelsea Hightower in the 14th season of the show, proudly showcasing his excellent dancing skills, however, after several successful performances, they were eliminated before the semi-finals.
Roshon then switched from his usual appearances and roles, voicing the character of Darr Gordy in the animated series "Motorcity".
In 2014 he appeared in the fantasy comedy movie entitled "Mostly Ghostly: Have You Met My Ghoulfriend?" opposite Bella Thorne and Ryan Ochoa, and during the same year, he starred in "A.N.T. Farm" and "Parenthood".
After making a one-episode appearance in "Crazy Ex-Girlfriend", he landed the role of the recurring character Isaiah Hambrick in the drama series "Greenleaf". In 2018 he starred in the post-apocalyptic movie "What Still Remains" followed by an appearance in the comedy-drama series "Insecure". He also portrayed the title character of the popular singer and musician in the made-for-TV movie – "The Bobby DeBarge Story". His latest project is a voice role in the animated series "DreamWorks Dragons: Rescue Riders".
Music Career
During his collaboration with "Camp Rock" movies, Roshon recorded a couple of singles with the rest of the crew, including "We Rock" and "It's On". Parallel to his acting career, Roshon actually launched his music career in 2011, releasing his first single entitled "I Am" on iTunes, followed by "Love Your Love", "Oh Oh Oh" and "Get It Poppin". In 2013 he collaborated with Caroline Sunshine, and released a song for "Shake It Up", entitled "Afterparty". Operating under the name "RO Shon" he revealed several other tracks, including "So Bad", "Hate Me Or LOVE Me", and "Gotta Know".
In 2015 Roshon met the rapper STILLTECH,  and they quickly realized their mutual potential and interests, and joined forces to create the hip-hip duo called "EVO INVASION".
After working tirelessly for four years, they released their first track entitled "Upside Down", followed by numerous other songs and music videos, including "Check Out My", "So Sick", and "Flash". Their latest music video was posted in May 2021, entitled "Sera Sera".
Personal life
Speaking of his personal life, in 2008 Roshon began dating his co-star from "Camp Rock", Anna Maria Perez de Tagle. In 2012, he started a relationship with his dancing partner from "Dancing with the Stars", Chelsea Hightower. The following year he briefly dated Caroline Sunshine, the co-star from "Shake It Up".
In 2014 he began what became a long-term relationship with the American model Camia Marie, however, the couple broke up in 2017, after which he started a new romance with the popular professional dancer Dytto, perhaps best recognized for appearing in the music videos for J Balvin and Choodiyan; it's unclear when and why they broke up. As of 2021, he's in a relationship with Mariah Angeliq, the American singer and songwriter, who rose to fame for her singles "Perreito" and "Taxi". She's also collaborated with other popular artists, such as Lele Pons and Karol G.
Would you like to know his net worth?
According to celebritynetworth, Roshon's estimated net worth is over $4 million, which he's acquired largely through his career as an actor and singer.
He additionally earns from his merchandise for "EVO INVASION".
Physical Stats and Hobbies
Roshon is 5ft 8ins (173cm) tall, weighs around 160lbs (73kgs) – his hair is black, and his eyes are brown.
Interestingly, the triple-threat, besides dancing, acting, and entertaining, also plays the piano and guitar.
He likes to hit the gym and work out regularly, but nowadays, he spends most of his time in the studio, working on new projects with STILLTECH.
Roshon is very active on his social media accounts – his Instagram has over 500,000 followers, while his Twitter has over 300,000 fans. He uses his accounts to share snippets from his studio, upcoming projects, and photos with his girlfriend.