• Ruby Wylder Rivera Modine (born July 31, 1990) is an American actress, singer, and dancer.
• She is known for her role as Sierra Morton in the comedy series "Shameless".
• She grew up in Los Angeles with her father, actor and filmmaker Matthew Modine, and her Puerto Rican mother, a make-up artist and wardrobe stylist.
• Her first feature film was "Memoria" (2015), and she has since appeared in "Happy Death Day" (2017) and "Satanic Panic" (2019).
• Ruby Modine is currently 30 years old, has a net worth of over $2.5 million, and is in a relationship with actor Aaron Buzz Gallagher.
Who is Ruby Modine?
Ruby Wylder Rivera Modine was born in Los Angeles, California USA, on 31 July 1990 – her zodiac sign is Leo and she holds American nationality. She's an actress, singer and a dancer, who's probably known best for her portrayal of Sierra Morton in the comedy series "Shameless", created by Paul Abbott and John Wells, and which starred Emmy Rossum, William H. Macy and Ethan Cutkosky. It follows the life of a Chicago family, aired from 2011 to 2021, and won 16 of the 82 awards for which it was nominated, including two Golden Globe nominations.
Early life, parents and education
Ruby was raised in Los Angeles alongside her brother Boman, by their father Matthew Modine who's a famous American actor and moviemaker, probably still known best for his starring role in the 1987 war movie "Full Metal Jacket", and their Puerto Rican mother Caridad Rivera, who's a make-up artist and a wardrobe stylist.
Ruby became interested in acting while attending a local high school, and appeared in various plays both at the school and at a community theatre. She wanted to work on her acting career straight away, but was urged by her parents to focus on her education. She matriculated in 2008, and the same year heard her voice Girl on Bridge in the English version of the animated family movie "Mia and the Migoo" (original "Mia et le Migou").
She hasn't spoken about her further education, but as she took a four-year break from acting after "Mia and the Migoo", it's widely believed that Ruby attended college and graduated in 2011.
Roles in movies
The year 2012 saw Ruby play lead characters in three short movies, entitled "Somebody", "Plastic Jesus" and "As Tears Go By", and in 2015 she played Jingle Bell Rock Singer in another short film, "Merry Xmas".
Her first appearance in a feature movie was her performance of Nina at Age 17 in the 2015 biographical drama "Memoria", written and directed by Nina Ljeti and Vladimir de Fontenay, and which starred James Franco, Thomas Mann and Sam Dillon. It follows the life of Ivan Cohen from Palo Alto, California who's in love with a girl who doesn't know he exists, has friends he's not happy with, and has a dysfunctional family. Ruby continued appearing in short movies, with and her following roles in the 2015 "Without a Compass", the 2016 "Super Sex", and the 2016 "After School". The year 2016 also saw her play Julie in the romantic comedy "Stars in Shorts: No Ordinary Love", a collection of seven short movies written and directed by Tessa Blake and Mandy Fabian, and which starred Noel Arthur, Edward Asner and Will Collyer.
The year 2017 saw her play the supporting character Sessa in the horror thriller "Central Park", which failed to attract any attention and received poor reviews. She also played one of the lead characters, Lori Spengler in the critically acclaimed horror mystery comedy "Happy Death Day" written by Scott Lobdell, directed by Christopher Landon, and which also starred Jessica Rother and Israel Broussard. It follows a college student who keeps reliving the day she's murdered until she discovers who her killer is – the movie was nominated for three awards.
Two of Ruby's most recent movie roles have been in the horror mystery comedy "Happy Death Day 2U" and the horror comedy "Satanic Panic", both in 2019.
She has just recently finished shooting for the upcoming short drama "Ask Me If I Care", and the romantic drama "American Desert", while she's currently shooting for the upcoming horror "Don't Fear", the action thriller "The Survivalist", and the drama "My Love Affair with Marriage".
Roles in TV series
Ruby has appeared in only four TV series, including "Shameless". She made her debut appearance in 2014 with her portrayal of Ruby in the episode "Flag Day" of the comedy drama "Episodic", which failed to attract any attention. In 2015, she played Eden LeCroix in the episodes "Welcome to Lisette, a Place of Mists and Dreams" and "The Beginning" of the action adventure drama "Gypsi" which was cancelled after airing two episodes because of low ratings.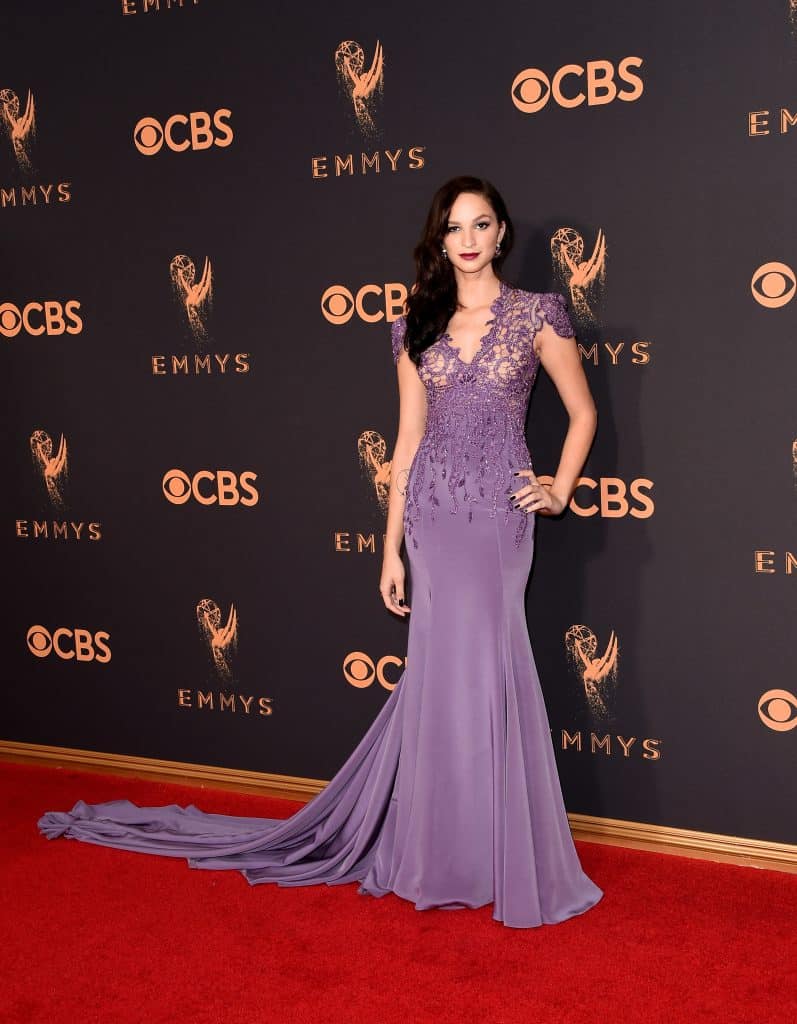 Ruby's only other TV series role has been her portrayal of Anna in the 2020 episode "The Last Little Thing" of the fantasy comedy drama "God Friended Me", created by Steven Lilien and Bryan Wynbrandt, and which starred Brandon Micheal Hall, Violett Beane and Suraj Sharma. It follows an atheist who has just been added as a friend on Facebook by God – the series aired from 2018 to 2020, and won two of the four awards for which it was nominated.
Other credits
In 2011, Ruby worked as a still photographer on the short movie "Jesus Was a Commie".
She was featured in the 2012 documentary movie "Full Metal Joker".
She received special thanks for the 2016 animated action comedy movie "Revengeance".
Ruby sang a song in both the 2012 short film "Plastic Jesus", and the 2015 short film "Merry Xmas", and in 2012, she sang the song "This Land Is Your Land" in the 2021 horror thriller movie "Wrong Turn".
Awards and nominations
In 2020, Ruby was nominated for a Fangoria Chainsaw Award for Best Supporting Actress, for her performance in the movie "Satanic Panic".
Love life and dating
Ruby prefers to keep the details of her love life to herself, but some things regarding the men whom she has dated are still known.
In 2016, she began seeing Cameron Riley Monaghan, a famous American actor and model, who starred alongside her in the series "Shameless". They met on the set and began dating in secret before announcing that they were together a couple of months later.
Cameron's also known for his roles in the 2011 teenage drama movie "Prom", the 2014 supernatural horror movie "Jamie Marks Is Dead" and the 2014 social science fiction movie "The Giver". Ruby and Cameron were together for over a year before splitting.
As of 2021, Ruby's in a relationship with Aaron Buzz Gallagher, who's an actor with three credits to his name: he appeared in the 2006 crime thriller movie "Played", the 2008 crime thriller film "2:22" and the 2011 drama movie "A Kiss and a Promise".
Ruby is single, hasn't married and doesn't have children.
Hobbies and other interests
Ruby's a huge fan of music, with indie, rock and jazz being her favorite genres. She has been practicing singing and dancing since a very early age, while she's founded her own band – Ruby Modine & the Disease – in April 2019, they released their debut extended play (EP).
She's keen on travelling, and her acting career has taken her to various US states for both work and pleasure, while she's also had an opportunity to visit France and Italy in Europe.
Ruby likes to taste various cuisines – her favorite is Italian food.
She's a lover of animals, and has a pet dog which can be seen featured in many of her Instagram pictures.
In her spare time which is usually late at night, Ruby likes to watch movies starring her favorite actor and actress Leonardo DiCaprio and Rosario Dawson, while a couple of her favorite films are "The Eternal Sunshine of the Spotless Mind", "Titanic" and "Inception".
Age, height and net worth
Ruby's age is 30. She has long brown hair and brown eyes, her height is 5ft 8ins (1.73m) and she weighs around 128lbs (58kgs).
As of April 2021, her net worth has been estimated at over $2.5 million, while her father Matthew's wealth is reputedly over $10 million.