• Rose Dorothy Dauriac is the daughter of American actress Scarlett Johansson and French journalist Romain Dauriac.
• Rose's parents have joint custody of her and are in a respectful and friendly relationship.
• Rose loves all things girly, her favorite color is pink and her favorite Disney princess is Aurora.
• Rose speaks both English and French and loves eating macaroons and croissants.
• Scarlett is 36 years old, Romain is 38 years old.
Rose Dorothy Dauriac Wiki Bio
Rose Dorothy Dauriac was born in New York City, USA on 3 August 2014 – her zodiac sign is Virgo, and she holds both American and French nationality. She is the daughter of the famous American actress Scarlett Johansson, and the French journalist Romain Dauriac.
Early life and family
Scarlett and Romain had Rose after having been engaged for a year, and they married in a private ceremony two months after her birth. Rose spent the majority of her first year with her father, while her mom was busy filming. She often travelled from New York to France and back, so her grandparents from both sides could get to know her.
Scarlett and Romain filed for a divorce in 2016, when Rose was two years old, with Scarlett stating that their marriage was 'irretrievably broken'. Scarlett initially wanted her daughter to live with her, while Romain dismissed the request as unrealistic, as she travels a lot for her work, and couldn't possibly have enough time to spend with their daughter. They eventually agreed upon joint custody, so Rose spends alternate weeks with each parent. Neither of them wanted to disclose more details about their divorce, to keep their daughter away from the media's spotlight.
Rose's parents finalized their divorce in September 2017, and have been co-parenting her since.
They are in a respectable and friendly relationship, and Rose is happy that she gets to travel and spend time with both of them.
In October 2020, her mom married Colin Jost, perhaps known best for being the anchor of the comedy show "Saturday Night Live". Rose is apparently 'obsessed' with Colin, and looks up to him as another father figure.
Hobbies and interesting facts
Rose loves all things girly, and likes to wear princess costumes her mom picks out for her. Her favorite color is pink, and almost all of her clothes are the same color.
She watches a lot of Disney movies, and her favorite Disney princess is Aurora.
She has seen her mom star as Black Widow in Marvel movies, and at one point was convinced that she is a real superhero.
Scarlett stated during her "The Ellen Show" interview, that when she would go to film her movies, Rose would ask her 'Mom, who are you fighting?'
As she often travels to France with her dad, Rose speaks French alongside English. She has tried French desserts, and loves eating macaroons and croissants.
Her middle name is in memory of her great-grandmother Dorothy Sloan, who died during the Holocaust.
Age, height and net worth
Rose is six years old; she has naturally blonde hair and blue eyes, is 3ft 9ins (1.15m) tall, and weighs around 44lbs (20kgs). As of June 2021, her mother's net worth is estimated at over $165 million, while her father's net worth is reputedly more than $2 million.
Who is Rose's mother, Scarlett Johansson?
Scarlett Johansson was born in Manhattan, New York City USA, on 22 November 1984 – her zodiac sign is Sagittarius, and she holds both American and Danish nationality. She is a famous Hollywood actress, perhaps known best for having starred in movies such as "Lost in Translation", "Avengers: Infinity War", and "Her".
Scarlett is of mixed ethnic background, as her mother, Melanie Sloan, comes from an Ashkenazi Jewish family, while her father Karsten Johansson was born in Copenhagen, Denmark, and has Danish ethnicity. She has a twin brother, Hunter, an older sister named Vanessa, older brother Adrian, and an older paternal half-brother named Ejner. Her parents divorced when she was 13.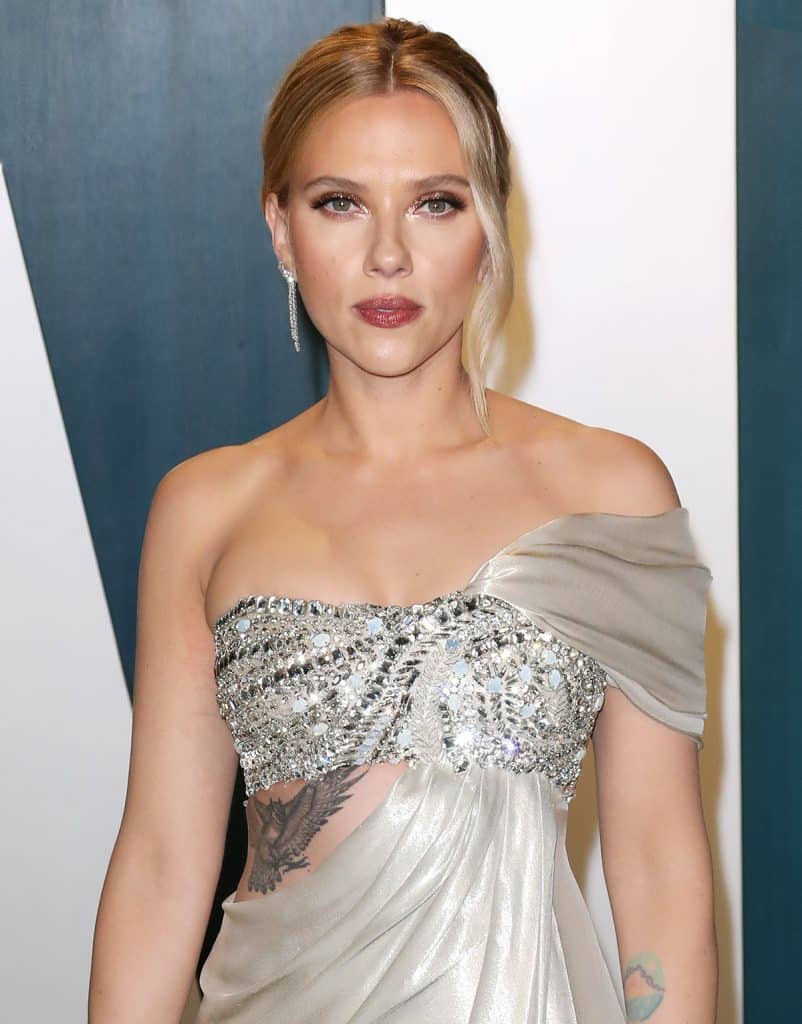 Scarlett showed her acting talent at an early age, and her parents supported her by taking her to acting auditions. When she was only eight years old, she made her acting debut in the off-Broadway play "Sophistry", and the following year she made her film debut in the fantasy comedy "North". It was around this time that she began studying at the prestigious acting school Professional Children's School, based in Manhattan; as her acting career kicked off so soon, Scarlett decided not to attend college.
During the course of her acting career, she has appeared in more than 60 movies and several TV series. She has received 230 nominations and 65 awards, including two Oscar nominations for her performance in the 2019 comedy "Jojo Rabbit".
Prior to her marriage with Romain, she was married to the actor Ryan Reynolds from September 2008, after having dated for about a year – they divorced in 2011, and didn't have children together. In May 2017, Scarlett began dating Colin Jost, and they married in October 2020. She currently resides with her husband and daughter in Palisades, New York.
Scarlett is 36 years old. She has blonde hair and blue eyes, is 5ft 3ins (1.6m) tall, and weighs around 125lbs (57kgs).
Who is Rose's father, Romain Dauriac?
Romain Dauriac was born in Paris, France on 3 July 1982 – his zodiac sign is Cancer, and he holds French nationality.
He's a journalist and the manager of an advertising agency, perhaps known best to the public for having been married to Scarlett Johansson.
Romain grew up in Paris, which is where he received his primary education. While he was a student at a local high school, he was managing the high school magazine, which got him interested in journalism. In 2008, he graduated university with a Master's degree in mass communication and journalism.
He worked as an editor for the French urban art magazine "Clark", and is currently the owner and the manager of a successful advertising agency based in Paris.
At one point, he was a business partner to his ex-wife, Scarlett, as they opened a gourmet popcorn shop 'Yummy Pop'.
Romain met Scarlett through the tattoo artist and their mutual friend, Fuzi Uvtpk. Apparently, he couldn't speak English when they first met, but has since become fluent. They made their first public appearance as a couple at the 2013 Venice Film Festival. In 2018, a year after his divorce from Scarlett, he was spotted numerous times with an anonymous French girl, whom he still appears to be dating today.
Romain is 38 years old. He is bald and has brown eyes, s 6ft (1.83m) tall, and weighs around 165lbs (75kgs).