• Social media personality and singer, best known for her content on YouTube, TikTok and YouNow
• Born in 1995 in Scottsdale, Arizona, USA
• Gained attention by posting photos on social media accounts, released music on YouTube
• Allegedly dated Taylor Caniff, and had a brief romance with Mikey Barone and Tanner Fox
• Estimated net worth of $500,000 in 2021, hobbies include playing guitar and running
Who is Taylor Alesia?
Taylor Alesia is a Social media personality and a singer, perhaps best known for her content on YouTube, TikTok and YouNow. Additionally, she stepped into the spotlight for her alleged relationship with the Vine star, Taylor Caniff. She was born under the Zodiac sign Libra on 13 October 1995, in Scottsdale, Arizona, the USA. As of 2021, Alesia is 25 years old, and she holds American nationality. At the moment, she lives in New York City.
Early Life and Family
Not much information is known about her background and family. Her mother's name is Mary Ann Compton, while her father's name remains unknown, and she has an older sister named Ali Compton. Regarding her education, after matriculating, she enrolled at a university. However, as her focus shifted to building an online presence, she decided to drop out.
Rise to Stardom
Alesia began attracting attention by posting photos on her Instagram and Twitter accounts. Over time she gained a significant following, and in 2015 she launched a YouTube channel, on which she regularly posted pranks, story-time, and music videos. While dating Tanner Fox, Alesia also appeared in numerous videos on his YouTube channel. Her YouTube channel currently counts 2.3 million followers, even though the last videos she posted were in 2017. For some reason, she deleted most of her videos, so at the moment has five uploaded videos, while reportedly her channel had more than 200 videos with over 200 million views. Her Instagram account has two million, just like her Twitter account, on which she usually posts photos of her photoshoots.
She has also emerged as a big star on the Tik Tok platform – her account currently has over two million followers. Alesia usually posts Point of View (POV) videos, sketches, and lip-syncs. She also gained popularity streaming on the live broadcasting service YouNow.
Regarding her music career, she released a soundtrack on her YouTube channel in 2017 entitled "Stay the Night", featuring Dylan Matthew, which has 11 million views. The following year she released another feature with Dylan Matthew, entitled "Speechless", which has amassed over a million views. When it comes to her latest projects, she has recently posted numerous photos on her Instagram, promising her fans that new music is on the way.
Her controversial relationship with Taylor Caniff
Speaking of her personal life, in 2015 Taylor landed in the center of attention when people started suspecting a love relationship between her and Taylor Caniff. He rose to prominence on the Vine platform, making six second-long sketches and challenges. Reportedly, Taylor accompanied him on his RV tour, during which they became very close. It didn't take long for fans to start spreading rumors and theories about their relationship. However, everything changed when Taylor came forward and disclosed in an interview that he was single, and wasn't dating anyone. This move on his behalf enraged Alesia, who quickly jumped-in with claims confronting Taylor's statement, adamantly claiming that they were, in fact, dating, and that she had video proof of their relationship, subsequently posting a photo of them kissing on a beach which was taken two weeks before.
She claimed that he had promised her to stay in contact after the end of the tour and had invited her to join him on his next tour, in Texas. However, he didn't keep his word, and to make the matter worse, Taylor ended up bringing his ex-girlfriend Ashley Winson. The whole situation was taken a notch further when she accused Taylor and his manager of pressuring her to keep their relationship a secret. After engaging in a bitter Twitter fight, Taylor accused Alesia of being a liar and clout seeker. She replied with another accusation saying that Taylor threatened to sue her for posting the photo of them kissing. After a while, the tumultuous scandal died down, as both of them came to terms.
Later in 2017, after the "break-up", Tana Mongeau, another YouTube star, posted a video accusing Taylor of being abusive, racist, and homophobic.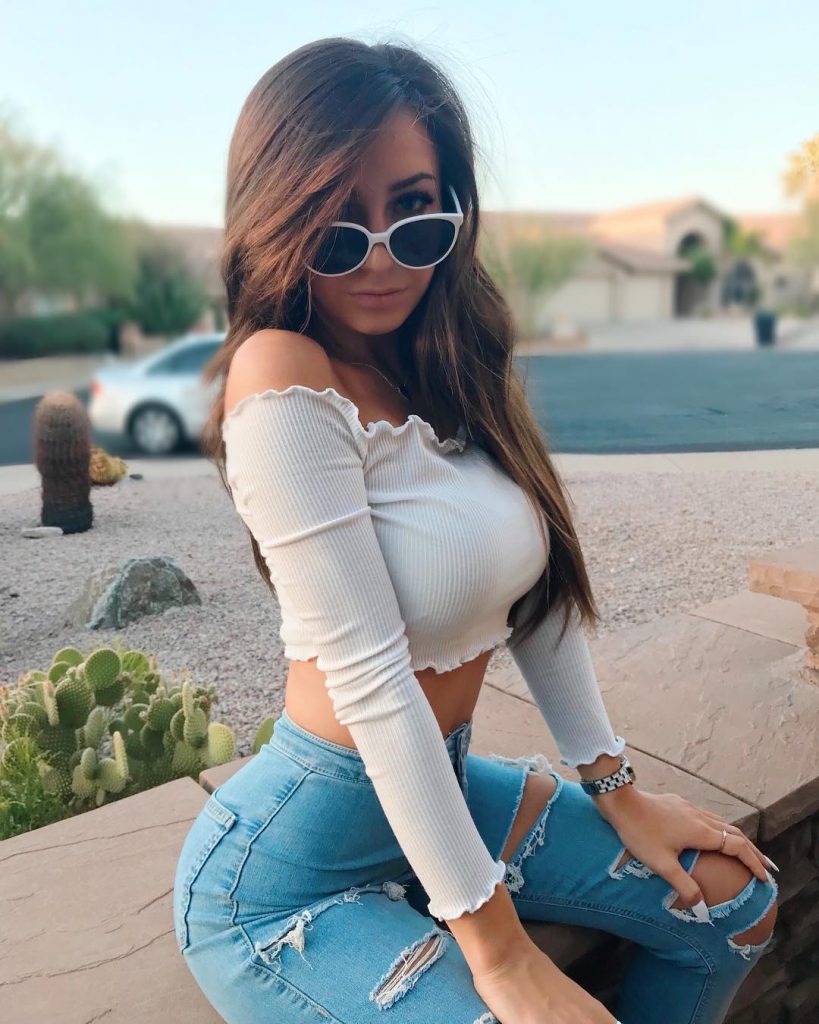 She provided information about his dating history and generally his disrespectful attitude toward women around him. Reportedly, Alesia also had a brief romance with social media star Mikey Barone.
Her relationship with Tanner Fox
In 2017, Alesia began dating another social media star, Tanner Fox, mainly known for making video blogs on YouTube, documenting his interesting life experiences. During their relationship, they made numerous videos together, including "Surprising My GIRLFRIEND With Her DREAM PLACE! **Emotional**" and "Cheating Prank on my Girlfriend". The couple spent the winter holidays together, which was shown in Tanner's vlogs. However, not long after, Tanner announced via YouTube that they had broken-up. The decision left many die-hard fans in despair, and speculating what might have happened that lead to the break-up. Just a couple of days after he uploaded that video, Tanner disclosed that they had rekindled their romance.
Naturally, many jumped to point the finger and accuse them of "fishing for views", to which Tanner responded:" This is actually a really good question, and I think this is good for us to talk about because I think this was blown out of proportion – and people might have taken it the wrong way." He continued: "First of all – let me say no, obviously it was not for views. I don't know who would want to go through that."
Taylor also said:" It's something that's just gonna come with doing that, and a lot of people do keep things off-camera and relationship problems they probably keep off camera but we decided to share it with you guys because you are our family."
However, in 2018 they parted ways, this time for good, but neither of them shared any information or reasons for the separation. Later, Alesia was rumored to have dated Matt Freeman for a while, even though some media outlets claim without evidence that she is still dating Matt.
 "Weed" incident
During one of her streams on YouNow, Alesia generated controversy as she showed her fans a photo of herself and another social media star, Nash Grier, smoking marijuana. Later she posted a photo of Nash's brother smoking some suspicious cigarette many claimed was a joint. Even though the former Vine star was, according to his fans, a huge stoner, Alesia later clarified on Twitter, adamantly claiming the rumors were untrue, adding that they were smoking a hookah. Many didn't buy this story, given Nash's previous homophobic behavior and tendency to engage in illegal activities. Alesia continued defending her stand, saying that her goal was to be a role model for her fans, and as such, she would never be a part of a similar situation."
Would you like to know her net worth?
Reportedly, her net worth is around $500,000 as of mid-2021, acquired largely through her social media accounts, including earning additional money through sponsorship deals, advertisements, and merchandise.
Physical Stats and Hobbies
Alesia is 5ft 4ins (163cm), her weight is around 100lbs (45kgs), while her vital statistics are 32-22-33. Her natural hair is brown, while her eyes are blue.
In one of her videos, she highlighted the importance of eating clean, and incorporating a lot of vegetables, fruits and water in the daily routine. Reportedly she jogs every morning to stay fit. When she is not thinking too much about her diet, she likes to indulge and eat peanut butter and jelly sandwiches. Alesia also shared her three tips for healthy living, she said: "Give your body three hours to digest your last meal, before you go to bed. Drink at least 4-5 bottles of water a day; the more hydrated you are, the better. Try not to "eat out". Fast food is delicious, but so is PB& J sandwich and apple slices you can fit in your purse."
When she's stressed out, she likes to run.