• Gracie McGraw is the daughter of country singers Tim McGraw and Faith Hill
• She was raised in Nashville and attended New York University
• Gracie is an advocate for body positivity and the LGBTQ
• She is a musician and is currently pursuing an acting career in Los Angeles
• Her parents' collective net worth is estimated at $165 million
Gracie McGraw is an American singer, popularly known as the daughter of the country singers Tim McGraw and Faith Hill. Gracie has pretty much been in the spotlight her entire life, so this biography will give you the details kept away from the rest of the world. Keep reading to find out!
Early Life, Family, Educational Background
Gracie McGraw was born in Nashville, Tennessee, on 5 May 1997 under the zodiac sign of Taurus – she holds American nationality but comes from a mixed lineage of Irish, Italian and Dutch.
Gracie is the first child of her parents, and has two other sisters, Maggie Elizabeth and Audrey Caroline McGraw. Gracie and her siblings grew up in affluence, having wealthy parents and relatives.
However, her parents instilled the correct values in them. The girls were raised in Nashville, where their parents still live.
Gracie McGraw and her sisters attended a school close to their home. Then Gracie had her college education at New York University. Not much is known of Gracie's early life, as her parents did a great job keeping her and her siblings out of the public eye.
Career
Musical Career
Gracie McGraw grew up among musicians, so it's unsurprising to find that she has a passion for art. In college, Gracie started an all-female rock band, 'Tingo', with Gracie Johnson (bass guitarist), Susie Joyce (lead guitarist), and Clair Joyce (drummer). Gracie was the lead singer, and she also handled the rhythm guitar.
The girls performed in various venues in and around New York City, and became somewhat well-known on the circuit. They recorded songs during school breaks, and together released some songs such as "Fireman", "Tinted Red", and "Underlying Sexual Desire". However,
the band split in 2019, soon after they graduated from college. Gracie now sings solo, and also hopes to be on Broadway soon. On her father's "Shotgun Rider Tour" of August 2015, held in Nashville, Gracie performed "Here Tonight" with Tim on stage.
Personal Life, Relationship
Gracie shares a close relationship with her parents. Early in 2021, she got a tattoo of her parents' initials, which she's shared on Instagram with the caption 'T & F for T & F', obviously standing for Tim and Faith.
Gracie took to  Instagram, to air her thoughts on body positivity, when she posted a picture of herself in a floral bodysuit, with the caption, 'you too can be sexy and curvy'.  At the moment, Gracie is either single or keeping her romantic relationship away from the media.
In 2019, and at age 22, Gracie McGraw moved to Los Angeles, California US, where she now lives with her dog Baz, while pursuing an acting career.
Who is Tim McGraw?
Samuel Timothy 'Tim' McGraw was born on 1 May 1967 under the Taurus star sign, in Start, Louisiana USA, to Elizabeth Ann D'Agostino, a waitress, and Tug McGraw, a pitcher for the Jacksonville Suns. He holds American nationality, but his heritage includes elements of Italian, Irish, Scottish, Dutch and Swiss.
Ann had Tim when she was a teenager, so she raised him by herself until she married Horace Smith. It was at age 11 that Tim found out the truth about his biological father. Tim attended the Florida Community College at Jacksonville for one term, but he dropped out in 1989 when his musical hero Keith Whitley died.
Subsequently, Tim went on to pursue a musical career in Nashville. In 1990, Tim created a demo single and sent his father a copy. Tug's friend, who had a connection to the executives of Curb Records, heard the tape and recommended him to the recording company Curb Records, and several weeks later, Tim signed a recording contract.
Tim McGraw released his self-titled album on 20 April 1993. The album included singles such as "What Room Was the Holiday In", "Two Steppin' Mind", and "Memory Lane", but none made the top 40 on the country music charts.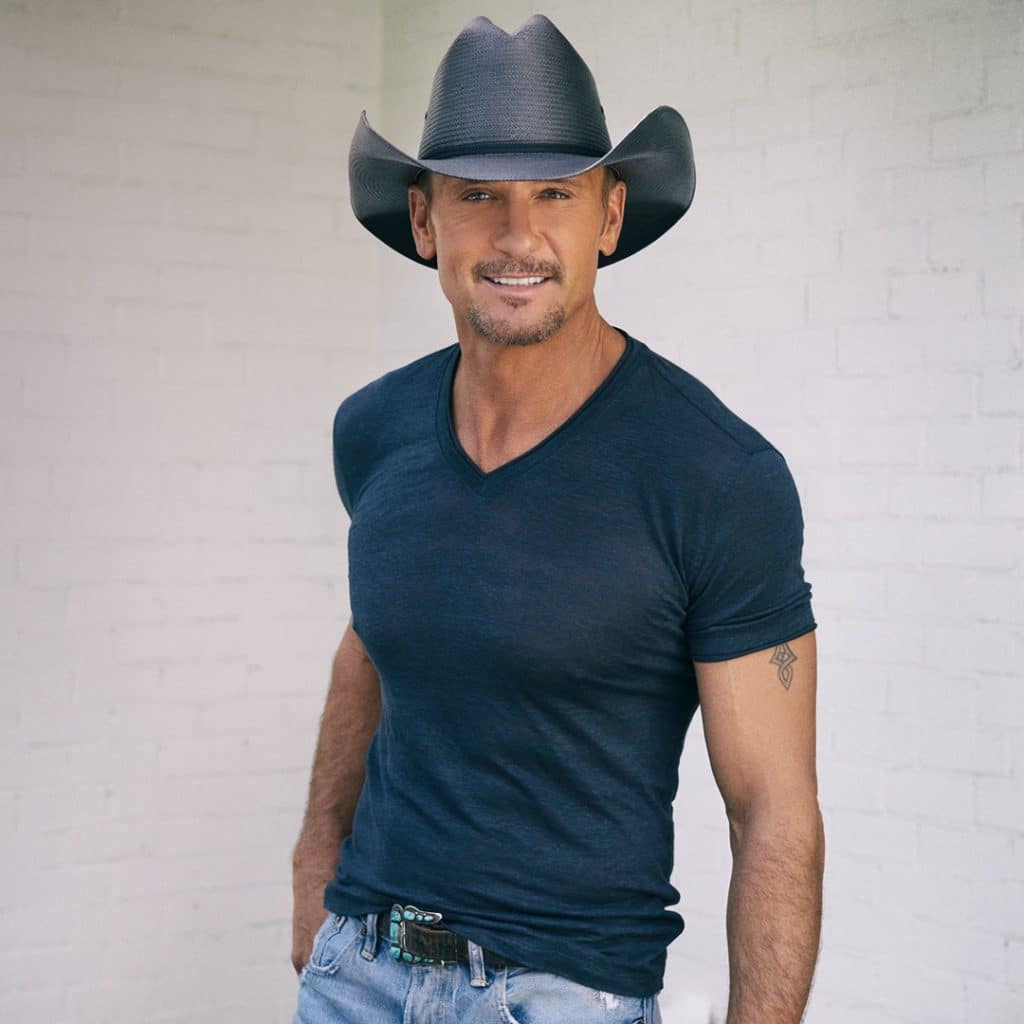 His sophomore album, "Not a Moment Too Soon" was released in 1994, and became the best-selling country album of the year. Between 1995 and 2004, Tim released six albums, some of the most popular being "Everywhere", "A Place in the Sun", and "Greatest Hits".
Tim became one of the most popular country musicians, and then met Faith Hill, another musical force. Faith is an American country singer and record producer, who has sold over 40 million albums in her career. Audrey Faith Hill Perry – her adoptive name – was born on 21 September 1967, under the Virgo star sign, in Ridgeland, Mississippi USA. She was married to Daniel Hill from 1988 until the start of her career in 1994, when they divorced.
She achieved significant success in the music industry with her first two albums, "Take Me As I Am" in 1993 and "It Matters to Me" in 1995.
After the release of her second album, Faith took a three-year break from music and returned with a bang! In 1998, she released her third album, "Faith", which had more pop sound. Gradually, she made her entrance into the pop scene, and made a name for herself there as well, but returned to making country music in 2005, with her album "Fireflies".
Faith Hill has bagged five Grammy Awards, while Tim has three Grammys.
Tim McGraw and Faith Hill married in 1996, and the following year welcomed their first daughter Gracie. Two more daughters followed soon after, Maggie Elizabeth and Audrey Caroline, born in 1998 and 2001.
Faith Hill and Tim McGraw have been married for 25 years and are still going strong.
Appearance, Clothing Style
Gracie McGraw is 5ft 7ins (1.70m) tall and weighs about 242lbs (110kgs). She has dark blonde hair and brown eyes. Gracie has a curvy body and loves to flaunt it on the gram. She likes to wear low-cut tops or sexy bikinis. The 24-year old likes to express herself through fashion, frequently changing her hair color.
Hobbies, Favorite Things, and Interesting Facts
Gracie McGraw is an advocate for body positivity.
She taught herself to play the guitar.
She is a public ally of the LGBTQ.
Gracie uses her platform to encourage young people to make an impact in the world.
She is vocal about climate change.
Net Worth and Salary
Gracie McGraw's net worth is estimated at under $100,000, however, her parents have a combined wealth estimated at $165 million. Tim McGraw and his wife own Goat Cay, an island in the Bahamas which they have now dubbed 'L'ile d'Anges,' the island of angels. They also have another home in Franklin, Tennessee. The financial value of the McGraws' properties is yet to be disclosed.