• Mercedes Kilmer is an American actress and singer, daughter of Val Kilmer and Joanne Whalley.
• Mercedes attended a college and obtained her Bachelor of Arts degree in 201•
• Mercedes has appeared in various movies and TV series, with her most recent role being in the crime thriller "Paydirt".
• Joanne Whalley is a British actress, known for her role in "Edge of Darkness" and "The Virgin Queen".
• Val Kilmer is an American actor, known for his roles in "Top Gun", "Kiss Kiss Bang Bang" and "A Soldier's Revenge". He has been struggling with throat cancer since 2017.
Who is Mercedes Kilmer?
Mercedes Kilmer was born in Santa Fe, New Mexico USA, on 29 October 1991 – her zodiac sign is Scorpio and she holds American nationality. She's an actress and a singer, but who's probably known best for being the daughter of famous American actor Val Kilmer, and famous British actress Joanne Whalley.
Early life and education
Mercedes was raised in Santa Fe alongside her younger brother Jack Kilmer who's also an actor, by their parents who often took them to their movie and TV series sets, thus the children were interested in acting from a very early age. Joanne and Val divorced in 1995, but remained on good terms and both spent a lot of their spare time with Mercedes and Jack.
Mercedes started appearing in school plays while attending a local elementary school, and she continued acting upon enrolling at a high school, while she could also have been seen appearing in various plays performed at a local theatre.
She matriculated in 2009 and while she hasn't spoken about her further education, it's widely believed that Mercedes attended a college from which she obtained her Bachelor of Arts degree in 2013.
Career as an actress
Mercedes has six acting credits – she made her debut appearance in the 2013 short movie "Pool Party", written and directed by Ed Fornieles, but which failed to attract any attention.
In 2014, she starred in the short drama "There Is No Gravity", written and directed by Aaron Brown, and which also starred Luke Baines and Leslie Jaquith. The movie follows a woman as she's aging, but attracted little attention. The following year saw Mercedes play Tulsa_89 in the short romantic drama film "Ingrid", and in 2016, she starred as Blue in the short thriller drama "Prettyface", written and directed by Jessica Janos, and which starred Karsen Liotta, Annalise Basso and Patrick Schwarzenegger.
It follows two teenage girls who met the notorious Manson family in 1969. In 2019, Mercedes starred in the short horror movie "Closer to God", which was also largely unnoticed.
Her most recent role as well as her debut feature film appearance has been in the 2020 crime thriller "Paydirt", written and directed by Christian Sesma and which starred Luke Goss, her father Val Kilmer and Mike Hatton. It follows a retired sheriff who's tracking a parole team which aims to uncover a buried bag full of cash, stolen from a DEA bust five years prior.
Other credits
Mercedes has made a guest appearance in an episode of the talk-shows "Good Morning America" and "Entertainment Tonight", both in 2020.
Love life and relationships
Mercedes's quite secretive when it comes to her love life, and hasn't shared any details concerning her partner, including his name and profession.
There were rumors circulating the internet in the mid-2010s that Mercedes was a lesbian, as she hadn't spoken of any men whom she had dated, nor was she seen spending time with any men, however, she then began uploading pictures onto her Instagram account featuring a mysterious man, who was later revealed to be her boyfriend. Mercedes has still managed to keep all the details concerning him and their relationship hidden from the media's attention, and it hasn't been disclosed how and where the two have met.
As of April 2021, she's dating a mysterious man, hasn't married and doesn't have children.
Hobbies and other interests
Mercedes loves to travel, and she had already travelled to various US states during her teenage years, as her parents often took her with them to their red carpet events. She has also been to various European countries, with her dream travel destination being Paris in France.
She's a lover of animals and has a pet dog, while her favorite animals are giraffes.
Mercedes is not physically very active, but is following a somewhat strict diet as she avoids eating fast food and anything with sugar in it.
She's keen on reading books in her spare time – her favorite genre is romance while her favorite writer is Nicholas Sparks.
Late at night, she enjoys watching movies starring her favorite actors Jack Nicholson and Tom Cruise, such as "The Shinning", "One Flew Over the Cuckoo's Nest" and "A Few Good Men".
Age, height and net worth
Mercedes' age is 29. She has long brown hair which she usually dyes red, and brown eyes. H,whileer height is 5ft 5ins (1.65m) and she weighs around 128lbs (58kgs). As of April 2021, her net worth has been estimated at over $100,000, her father's net worth has been estimated at over $25 million, while her mother's wealth is reputedly over $5 million.
Her mother Joanne Whalley
Joanne Whalley was born in Salford, England, on 25 August 1961 – her zodiac sign is Virgo and she holds British nationality. She's probably still known best for her portrayal of Emma Craven in the 1985 mystery crime movie "Edge of Darkness", which starred Bob Peck, Joe Don Baker and Charles Kay, and follows the police officer Craven who begins investigating the Northmoor nuclear waste storage facility, after his activist daughter Emma is murdered. The movie won seven of the 12 awards for which it was nominated.
She was raised in Stockport in Cheshire, where she studied at Bredbury Comprehensive School before moving on to Harrytown Convent Girls' School, followed by her enrollment at Braeside School of Speech and Drama. Joanne was 14 years old when she launched her acting career by playing Molly MacLeod in two episodes of the family adventure series "Joby", while a couple of her following roles were in the very long-running soapie "Coronation Street", the romantic series "Emmerdale Farm", and the drama movie "The One and Only Phyllis Dixey".
Before deciding to focus on her acting career, Joanne was a member of the band Slowguns, but quit before releasing any songs to join the vocal group Cindy & The Saffrons, becoming their lead singer. They released their two singles "Past, Present and Future" and "Terry" in 1982 and 1983, respectively, and then split.
In 1987, Joanne was shooting for the adventure movie "Willow" when she met Val Kilmer, and they married in the following year. She went on to star as Christine Margaret Keeler alongside Ian McKellen in the 1989 British drama movie "Scandal", and in 1994 she played the main character in the critically acclaimed film "Trial By Jury". The year 2005 saw as Queen Mary I in the mini-series "The Virgin Queen", and in 2011 Joanne was cast to play Vannozza dei Cattanei in the historical fiction series "The Borgias". Most recently, in 2020 she played Eleanor Coppola in the drama movie "Love Is Love Is Love".
To this day, Joanne has appeared in over 80 movies and TV series and has won one of the four awards for which she has been nominated.
Following her divorce from Val Kilmer, Joanne was in a short-term relationship with Dodi Fayed, the late Egyptian movie producer noted for his later association with Princess Diana, with whom he died in a car crash on 31 August 1997 around a year into their relationship.
Her father Val Kilmer
Val Edward Kilmer was born in Los Angeles, California USA, on 31 December 1959 – his zodiac sign is Capricorn and he holds American nationality. He's probably still known best for his portrayal of the lead character Jim Morrison in the 1991 biographical musical movie "The Doors", written and directed by Oliver Stone and which also starred Meg Ryan and Kyle MacLachlan. It follows the rock band The Doors, especially the life of its lead singer Jim Morrison.
Val was raised in Los Angeles alongside his epileptic younger brother Wesley, who died by drowning in a Jacuzzi in 1977 aged 15.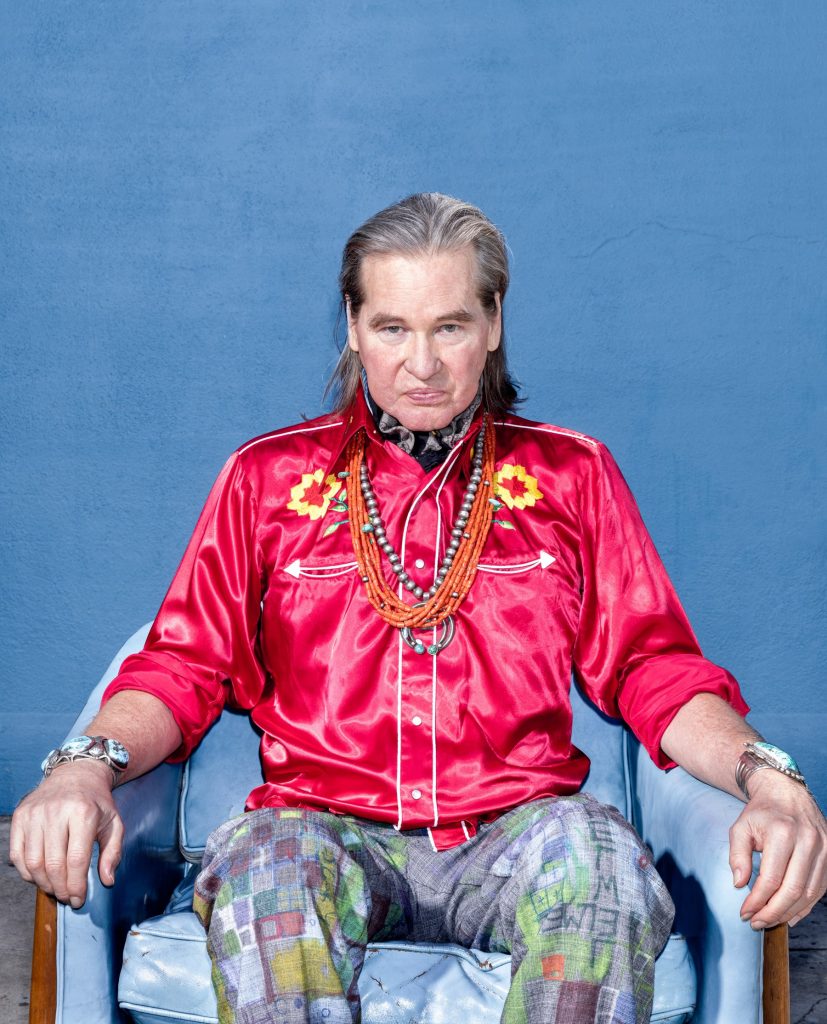 His father Eugene Dorris Kilmer was a real estate agent and an aerospace equipment distributor, who died in 1993 aged 72, and his mother Gladys Swanette was a housewife, who died in 2019 aged 91. Val studied at Berkeley High School before switching to Chatsworth High School, while he also studied at Hollywood Professional School. He was the youngest person to ever attend the prestigious Juilliard School's Drama Division in New York City.
In 1981 aged 22, he wrote his first play – "How It All Began" – and also starred in it at the Public Theatre. He gained recognition in 1984, when invited to play one of the lead characters in the action comedy movie "Top Secret!", while the following year saw him star in the science fiction comedy film "Real Genius", and in 1986 he co-starred with Tom Cruise in the highly praised film "Top Gun".
A couple of Val's following notable performances were in the 1993 heist crime movie "The Real McCoy", the 1995 superhero movie "Batman Forever" and the 1996 historical adventure film "The Ghost and the Darkness". The year 2005 saw him star alongside Robert Downey Jr. in the black crime comedy movie "Kiss Kiss Bang Bang" while the following year saw him star alongside Denzel Washington in the science fiction action movie "Déjà Vu".
Val has been credited with appearing in more than 100 movies and TV series – his most recent role has been his portrayal of CJ in the western movie "A Soldier's Revenge", which actually attracted little attention and poor reviews.
He has won six of the 18 awards for which he has been nominated.
Val has been in a couple of relationships since his divorce from Joanne – some of the women he has been with include American model Cindy Crawford, the Canadian actress and producer Neve Campbell, and most recently in 2015 Zeta Graff, who's a socialite and a former actress.
In January 2015, it was revealed that Val was taken to a hospital to check if he had developed a tumor, and it was reported in December 2017 that he had been struggling with throat cancer for two years. In 2020, Val reported that he had been cancer-free for several years, but that he can no longer eat, and has to use a feeding tube which is a consequence of two tracheotomies and chemotherapy which he has undergone.