• Elvis Crespo Diaz is an award-winning Puerto Rican singer and artist of American descent.
• He was born in Bronx, NYC and spent his childhood in Queens, NY and Guaynabo, Puerto Rico.
• He began his music career in the 90s, joining the Grupo Mania band and later becoming a solo artist.
• He has released many singles and albums, garnering a lot of awards including three Premio Lo Nuestro awards.
• His net worth is estimated to be around $5 million.
Elvis Crespo Diaz is a an award-winning Puerto Rican singer and artist of the American descent, who is very sought-after and is one of the world's most influential artists of all times.
Age, Education, and Early Life
Elvis was born under the Leo Zodiac sign on 30 July 1971, in Bronx, NYC, US, which makes him 49 years old as of 2021. Elvis spent most of his childhood in Queens, NY, where he got nicknamed Elvis Presley. Crespo had just turned six when his family got separated. He moved in with his mother to settle in Guaynabo, Puerto Rico. While living in Guaynabo, Elvis would regularly tour the NYC, especially during summers, to visit his father. Since Elvis spend his childhood and youth in puerto Rico, he had to learn English when he grew up.
Crespo matriculated at San Juan Metropolitan University of Puerto Rico where he pursued Business Administration. He has not come out to reveal where he attend high school at.
The famous artist grew up very passionate about baseball; he, however, realised later on that he did not have the talent needed to play baseball professionally. Upon this realisation, he changed his hobby and shifted to music. He persistently tried to get membership in Menudo, a Puerto Rican pop band. However, Elvis did not get admitted as the band held auditions during summer and Crespo would visit his father in the US during the same time.
Crespo's passion for music continued to grow even after losing a chance of joining Menudo pop band. It was just a matter of time before he found and joined another band, Willie Barrios Orchestra; he was 17 years old.
During this time, Crespo got the chance to sing with other Merengue outfits, some being led by Tono Rosario and Lenny Perez.
Career in Music
Crespo made his first prestigious appearance in the mid '90s marking his singing debut as a professional musician. In 1995, the talented musician joined the famous Puerto Rican merengue group, Grupo Mania band. Grupo Mania had released their first-ever song in 1993. Although merengue music invoked  crude sexual references and crafty criticism of the upper class, Crespo became creative and made his songs more romantic. The strategy saw him rising to stardom instantaneously to become the band's frontman and a world-famed merengue star.
Five years after his debut in music career, Elvis had garnered both fame and fortune. He decided to pursue singing as a solo artist and terminated his membership with Grupo Mania.
He got into a contract with Sony Discos Lebel, in 1998, an released his first album, "Suavemente" which became a global hit. "Suavemente" achieved the gold status in USA and Chile, and platinum status in Central America and Venezuela. On top of this, the album was at the top of Hot Latin Tracks Billboard for close to six week. The track saw him win the Best Male Salsa/Tropical Album award later that year.
By the time Crespo was releasing his third album, he has garnered a lot of fans and had started making a few changes to his music style. For instance, he combined different song styles to create the song "Wow! Flash," and even performed in a different image, hairstyle, and cloth design. At this time, Crespo's career had blossomed and was making many appearances in movies, interviews, and TV shows.
He made a contribution to "El Ultimo Adios" all-star benefit recording for the September 11 World Trade Centre, NY, attack victims.
Two years after releasing "Urbano" in 2002, Crespo released yet another studio album  titled "Saborealo," which was ranked  by Latin Grammy Award as the best merengue album. The iconic Latin-American singer has ever since released many singles and albums including "Regresó el Jefe," "La Foto Se Me Borro," among others. Crespo has bagged countless awards in the course of his long career in music including three Premio Lo Nuestro awards.
Personal Life
Most of Crespo's female fans describe him as a very romantic man and have grown fond of him. The popular artist married Ana Ceruto, his then girlfriend,  in 1996 and stayed together until they got divorced in 2001.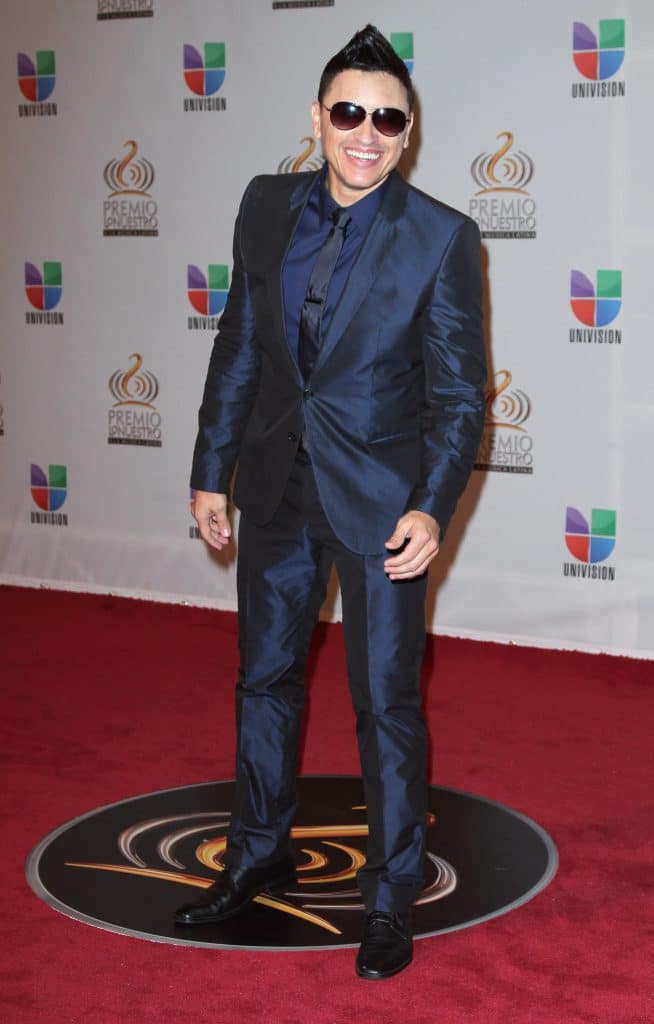 The couple had welcomed a son, Elvis, in 1993. Their son has ever since stayed under the custody of his dad and are alleged to have a very close friendly relationship together. When he was little, the young Elvis would spend most of his time with Crespo in their household, repeating all the songs that his dad would sing. Their chemistry is indeed strong; Crespo once revealed that he loves his son, Elvis, more that everything else.
Crespo was reported to be in a short relationship with Sheila Ramos who got a daughter, Alanis Thais, as she was dating the sensational singer. Elvis had a hard time believing that the daughter was his. He demanded a paternity test to clear his doubts and when the results came in, there was a 99.99% likelihood that he was the father. He recognized Alanis and took up raising her.
The fact that things went out of hand and the situation was made public upset Crespo, who did not admit why he had doubted Sheila.
Crespo married again on March 2009 – he wedded his manager, Maribel Vega, who officially became his second wife. The couple seemed very united and as soon as they had tied the knot, they had started making public appearances together. In one instance, the duo travelled to Miami together to attend a music awards show that had been organized by the Univision Channel. The couple welcomed a daughter, Genesis Vittoria, in 2012.
Controversies
In 2009, the newlyweds, Elvis and Maribel had attended the Premio Lo Nuestro Latin Music Award Show in the US and had been  travelling on a plane from Houston to Miami.
Shortly after they landed, one of the passengers, a 52-year-old lady, Patricia Perea, went on to file a complaint at the Miami-Dade County Police accusing Crespo of engaging in sexual act publicly while he was on his plane. According to an article released by Billboard, Crespo's unruly behavior forced the flight captain to radio the air traffic control tower in Miami to report the incident.
Upon his arrival at the police station, Elvis was questioned by the officers but was not charged. Patricia Perea gave a statement to the police stating that she had been seated next to the famed musician when he covered himself with a blanket, fifteen minutes after their plane had left Houston, and started mastabating.
The 52-year-old accused him of exposing himself without respecting other people's privacy.
Body Measurements
Elvis Crespo is a Latin-American of the Puerto Rican descent. He stands at the height of 5ft 6ins (1.67m) and weighs around 137lbs (62 kgs). The accomplished artist has hazel brown eyes and black hair.
Net Worth
Crespo's main source of income is his successful professional career as a musician. He earns a substantially high salary from his record house releases and is authoritatively worth around $5 million. He has not disclosed any information about his annual or monthly salary, nonetheless, he seems well off being one of the most established  Puerto Rican singers.