• Kingston James McGregor Rossdale born in Los Angeles, California USA in 2006, holds British and American nationality.
• Musician and son of Gwen Stefani and Gavin Rossdale, raised in Los Angeles alongside two younger brothers.
• Participates in sports and music and is the guitarist and lead singer of the American rock band Silver.
• Mother Gwen Renee Stefani was born in Fullerton, California USA in 1969, is a singer-songwriter, active in music and movies.
• Father Gavin McGregor Rossdale was born in Marylebone, London, England in 1965, is a singer-songwriter and actor.
Who is Kingston Rossdale?
Kingston James McGregor Rossdale was born in Los Angeles, California USA, on 26 May 2006 – his zodiac sign is Gemini and he holds both British and American nationality. He's a musician, but who's only known for being the son of Gwen Stefani, a famous American singer-songwriter probably known best for having co-founded the rock band No Doubt.
Early life and education
Kingston is being raised in Los Angeles alongside his younger brothers Apollo and Zuma Rossdale, by their mother and their father Gavin Rossdale, who's a British singer-songwriter and actor, probably known best for being the guitarist and lead singer of the rock band Bush. Kingston's parents divorced on 8 April 2016.
He became interested in music at a very early age thanks to his parents, who occasionally took him to their studios when recording music.
Kingston has just recently enrolled at a local high school, at which he seems to be mostly interested in playing sports, while he's still focused on music. As of May 2021, he doesn't yet seem to be interested in obtaining a college degree.
Career as a musician
Kingston's the guitarist and the lead singer of the American rock band Silver, which was founded in 2017.
Friends and relationships
It's widely believed that Kingston's a down-to-earth teenager, who hasn't been negatively influenced by having famous parents. He has numerous friends, and it's also rumored that he has a girlfriend. A few of his mother's fans have claimed to have seen Kingston and a girl holding hands while walking in Los Angeles, but no evidence has been provided to support these claims nor has Kingston commented on this.
He also enjoys spending time with those older than himself, as he believes he's a bit more mature than his peers.
As of May 2021, Kingston's single, still aged just 14.
Hobbies and other interests
Kingston's highly sporting, and is playing soccer for his high school's team, while he's hoping he'll eventually become a professional player. He's also interested in basketball and tennis.
He's into modelling, and is planning to launch a career as a model as soon as his parents allow him, which is most likely to happen after he matriculates.
Kingston's keen on travelling, and Gwen has taken him to various European countries such as France, Spain and Italy – his favorite city is Paris in France.
He's a lover of animals, but although doesn't have any pets, Kingston's volunteered at a local animal shelter on a number of occasions.
In his spare time, he likes to watch movies starring his favorite actors Robert Downey Jr., Johnny Depp and Leonardo DiCaprio, such as "Iron Man", "Avengers: Infinity War" and the franchise "Pirates of the Caribbean".
Age, height and net worth
Kingston's age is 14. He has short brown hair and brown eyes, his height is 5ft 5ins (1.65m) and he weighs around 128lbs (58kgs). He doesn't yet have independent money, but as of May 2021, his mother's net worth has been estimated at over $150 million, while his father's is reputedly over $45 million.
Who is his mother?
Gwen Renee Stefani was born in Fullerton, California USA, on 3 October 1969 – her zodiac sign is Libra and she holds American nationality. She's known best for her band No Doubt, especially for their 1995 studio album "Tragic Kingdom".
Gwen was raised in Anaheim, California alongside her siblings Jill, Eric and Todd, by their father Dennis Stefani who was a marketing executive at Yamaha, and their mother Patti (nee Flynn) who was an accountant. It was in 1986 that Gwen's brother Eric asked her to provide vocals for the band he was forming called No Doubt, and they were signed to Interscope Records in 1991, while their eponymous debut album was released in the following year. It was only with the release of their third album, "Tragic Kingdom" that they became famous, especially for the song "Don't Speak", which Gwen wrote after breaking-up with the band's member Tony Kanal.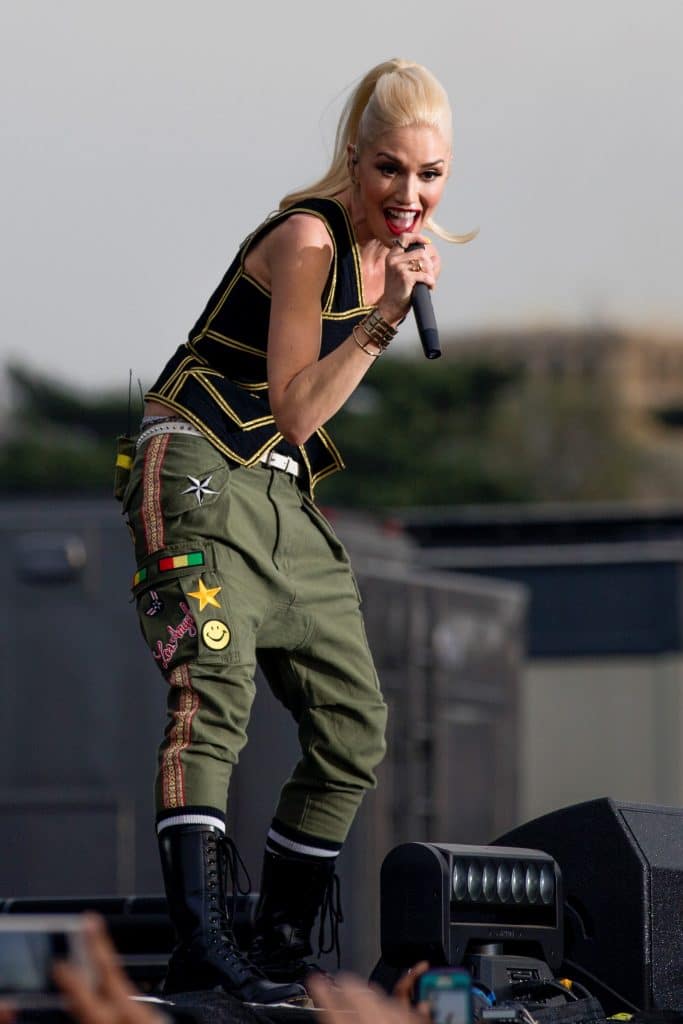 Gwen was also actively working with other musicians, and co-wrote and performed songs such as "You're the Boss" of the Brian Setzer Orchestra, "Let Me Blow Ya Mind" by Eve, and "South Side" by Moby. Her debut solo album was released on 12 November 2004 entitled "Love. Angel. Music. Baby", and it peaked at #7 on the US Billboard 200 Chart, selling more than 300,000 copies in only a week. In 2004, she made her debut movie appearance with her portrayal of Jean Harlow in the critically acclaimed epic biographical drama "The Aviator", which starred Leonardo DiCaprio, and was directed by Martin Scorsese.
On 1 December 2006, she released her second album – "The Sweet Escape" – and Gwen has continued very active in the music industry for the past 15 years, working on her solo career, making music with her band No Doubt, and collaborating with other artists. She's currently working on her fifth album, which is set to be released by the end of 2021.
Gwen's a philanthropist who donated $1 million to Save the Children's Japan Earthquake Tsunami Emergency Fund in 2011, and since that year, has been selling her vintage clothing items on eBay, while all the proceedings go to Save the Children's Relief Effort.
Since 27 October 2020, Gwen has been engaged to the American country music singer Blake Tollison Shelton.
Who is his father?
Gavin McGregor Rossdale was born in Marylebone, London, England on 30 October 1965 – his zodiac sign is Scorpio and he holds British nationality. He's known for both his solo career and for being the lead singer of the band Bush.
Gavin was raised in Marylebone by his father Douglas Rossdale who was a doctor, and his mother Barbara Stephane (nee Bowie) who was a housewife. Gavin didn't speak until he turned four, and his parents were afraid he might never speak. In 1967 when he was 11 years old, his parents divorced, and he then spent most of his time living with his mother.
He formed his first band, Midnight in the '80s, but as it failed to attract any attention, he joined the group The Little Dukes, which disbanded in 1991. It was in 1992 that the band Bush was formed, and in 1994, they released their debut album "Sixteen Stone" which was a huge success. Some of their following albums were "Razorblade Suitcase", "The Science of Things" and "Golden State", and these helped Bush rank amongst the best-selling rock bands of the '90s.
They still disbanded in 2002, however, they reunited on 21 June 2010, and released their album "The Sea of Memories" on 13 September 2011. In 2014, their album "Man on the Run" came out, followed by "Black and White Rainbows" in 2017. Most recently, in 2020 they released the album "The Kingdom".
Gavin's also an actor, probably known best for his appearance in the 2005 superhero horror movie "Constantine", which starred Keanu Reeves. Some of his other notable performances in movies have been in the 2001 action comedy "Zoolander", the 2008 independent crime comedy "How to Rob a Bank", and the 2013 satirical crime drama "The Bling Ring".
Gavin's bisexual, and in the '80s was in a relationship with Peter Robinson, which lasted for five years.