• Matthew and Emily Trebek are the children of the late Alex Trebek, an American-Canadian game show host and TV personality
• Matthew is a businessman and restaurateur, while Emily is a real estate agent and residential designer
• Matthew graduated from Fordham University with a BA degree in 2013 and Emily graduated from Loyola Marymount University with a degree in Design and Architecture in 2015
• Emily works as a designer and builder with E&S Interiors, an interior design agency based in Los Angeles and Matthew owns a Mexican restaurant, coffee shop, and take-out pizza shop
• Alex Trebek was born in 1940 in Sudbury, Ontario, Canada and hosted the syndicated version of "Jeopardy" for 35 years before his death in 2020 at the age of 80
Who are Matthew and Emily Trebek?
Matthew and Emily Trebek rose to prominence as the children of the American-Canadian game show host and TV personality Alex Trebek. Emily works as a real estate agent and residential designer, while Matthew is a businessman and restaurateur. He was born on 3 February 1990 under the Zodiac sign Aquarius, in Los Angeles, California, USA, and Emily followed in 1993, in Los Angeles in California as well, exact date unknown. They both hold American nationality, and as of early 2021, Matthew is 31 years old while Emily is believed to be 27.
Their Early life and Family
Matthew is the firstborn son of Alex Trebek and Jean Currivan. He spent most of his childhood in L.A., and attended Campbell Hall, after which he enrolled at a local high school.
Growing up, Matthew expressed a strong interest in sports, particularly soccer, baseball and football. After matriculation, he attended Fordham University to study Communication and Business Administration – despite being in a family with an acting background, he opted for a different career. During his university days, he also joined the National Bartenders School, gaining expertise as a mixologist. he graduated with a BA degree in 2013.
Emily also attended Campbell Hall, it's unknown which high school she attended, but that she then enrolled at Loyola Marymount University. Just like her brother, Emily decided to pursue a different vocation from her father's, and become an architect, so in 2015 she graduated with a degree in Design and Architecture.
Besides Matthew and Emily, who Alex welcomed with his wife Jean Currivan, he also had an adopted child, Nicky, from his previous marriage to Elaine Trebek Kares. Nicky Trebek is the biological daughter of Elaine, who Alex decided to adopt and treat like his own. Today, Nicki owns a retail company called "ROCKIDOL clothing". As a founder and designer, she creates unique clothing pieces "inspired by music, leather, silver, and good ol' rock 'n' roll."
Matthew's Career
Prior to his graduation, he was employed in a restaurant in Chelsea, "Willow Road", during which he gained an insight into running a business, and restaurant design. He worked for the contractor who designed "Willow Road" and other popular restaurants. After finishing his education, he took the position of the Creative Department Assistant of ASG media, which included organizing products for advertising on the company's website.
This job opened his eyes, as he was even more confident about his true vocation. In an interview with Fordham News, he said: "There was just something about the hospitality industry that I fell in love with. It's great because it's very free form in that it allows you to venture out into so many different fields: design, food, drinks, music, graphic design…"
Having a passion for Mexican street food, he came up with an idea to open a Mexican restaurant. He collaborated with his new business partner and friend Nodar Moshiashvili, and opened "Oso" in May 2016, which today a popular choice for lovers of Mexican cuisine in North Harlem.
Reportedly, Alex didn't support Matthew's entrepreneurial ideas, thinking that it wasn't the right choice business-wise. At the time the market was very unstable, and statistics showed that around 80% of restaurants would be out of business within the first year.
However, Matthew showed his determination as well as the needed skills, and pursued his dream regardless. He and his business partner invested a lot of time finding the right strategy and approach, with the goal of making a business that would withstand the market's challenges. Time proved that they chose the right plan, as their business started booming.
In 2019, Matthew and Nodar opened a coffee shop called "Lucille's", followed by another project – a take-out pizza shop named "Pizza by Lucille's"; they named the shops after Matthew's grandmother, Lucille Legace. They also host Lucille's Family Meal every week, a soup kitchen show to integrate their business into the community.
Emily's career
After her graduation, Emily decided to switch to the real estate business, given she was always interested in design. She disclosed once: "I have always been interested in homes. When I was little, I wanted to be an architect.
As I was getting ready to flip my first house, I told my dad that I wanted to do it with him.' Emily began her career working with the Los Angeles-based company called Compass. With a strong background in design and property development, she now offers a fresh and unique perspective to her clients. As a true real estate agent, Emily has an eye for detail, and is able to provide full service following the client's wishes. At the moment, she works as a designer and builder with E&S Interiors, an interior design agency based in Los Angeles. Emily is always quick to mention that most of her suits, she inherited from her father. In an interview, she said: "My Dad and I are both pretty well Type-A individuals. I think I got a lot of my organizational, financial, and perfectionistic traits from him.
He's always been into construction, so I think that rubbed off on me too." For Emily, Alex was truly an anchor and a role model who steered her life path. "I always watched him fix things and wanted to learn. I don't have words to express how much it means to me that he helped."
Matthew's and Emily's personal life
According to reports, Matthew is unmarried and probably single. He is very secretive about his personal and romantic interests. Judging from his entrepreneurial ventures, he seems to be more focused on running his business than personal life. Emily is not married, and it also appears that she isn't dating anyone. However, given her tendency to keep her private matters away from the public, nothing can be said for sure.
Matthew's and Emily's Physical Stats and Hobbies
Mathews is 5ft 10ins tall (178cm) and weighs around 175lbs (74kgs). He has brown eyes and brown hair.
Emily is 5ft 7ins (170cm) tall and weighs around 130lbs (60kgs), with vital statistics  of 35–27–35. Emily has dark eyes and brown hair. Given their low-key personality, not much is known about their hobbies.
What is their net worth?
Having been in business for a while now, Matthew is bound to reel in some heft amounts. As of 2021, his estimated net worth is around $3 million, which he's earned through various entrepreneurial ventures. Emily's estimated net worth is around $1 million, which she's earned as a real estate agent and architect. Their father's net worth was estimated around $50 million at the time of his death, which is not surprising given his lengthy and successful career as reporter and host. He reportedly surprised his son in 2015, with a lavish gift- a house in Harlem valued at $2 million.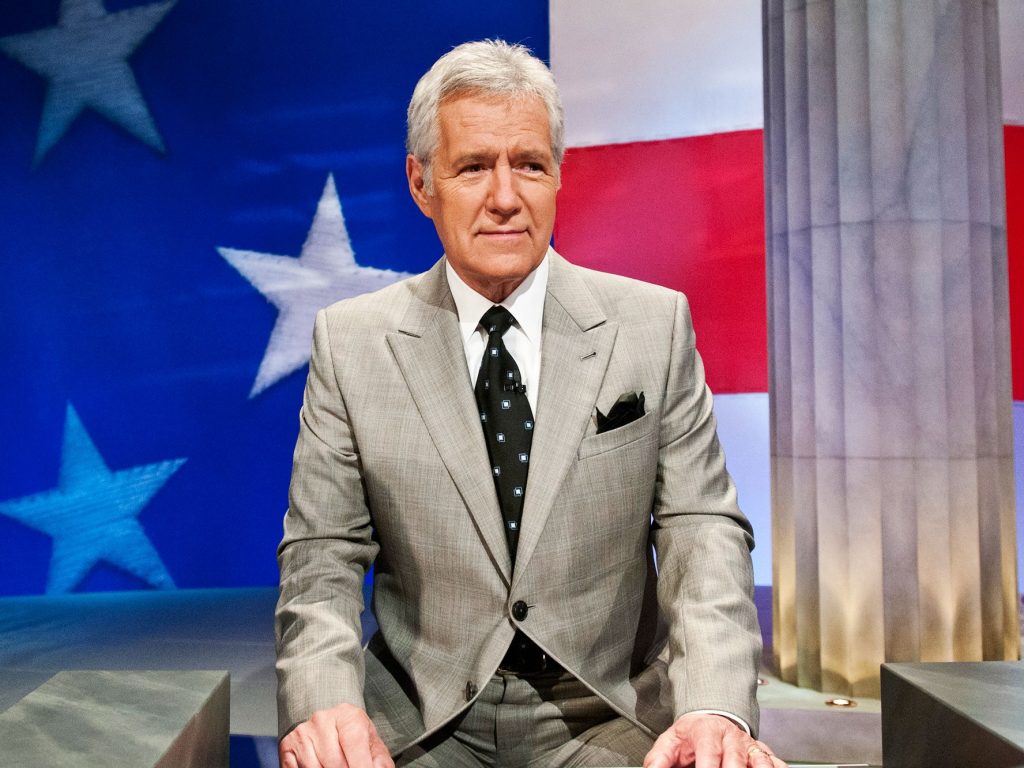 Are they active on Social Media?
Emily is not really active on her social media just like her brother; they both have private Instagram accounts. It appears that they like to keep their matters away from the public eye.
Briefly About Alex Trebek
Alex Trebek was born on 22 July 1940, in Sudbury, Ontario, Canada, under the Zodiac sign Cancer. His father was George Trebek, who had emigrated From Ukraine, while his mother Lucille Marie Legace is of Franco-Ontarian ethnicity. He became naturalized US citizen in 1998. Alex grew up in a bilingual household, so he spoke French and English fluently. He attended a boarding school, but was soon expelled. Later, he enrolled at a military college, but dropped out when he was asked to cut his hair. He got his first job at the age of 13, working as a bellboy at an hotel. Trebek attended Sudbury High School and later the University of Ottawa, graduating in 1961 with a degree in philosophy.
During his university days, Alex became very interested in broadcasting and acting. His first TV appearance was in 1963, when he began hosting the Canadian music program called "Music Hop", followed by another hosting job of the show entitled "Reach for the Top". In 1969 he became the host of "Strategy". After moving to the U.S in 1973, he began hosting another game show called "The Wizard of Odds", and  soon afterwards, he appeared as a host of the CBC game show "Double Dare". He made a couple of appearances on many game shows as a panelist or player, including "Celebrity Bowling" and "To Say the Least". His other hosting jobs include game shows such as "High Rollers" and "Battlestars".
In 1984 he was asked to host the syndicated version of "Jeopardy" and remained a host for 35 years, the show achieving great success, winning several Daytime Emmy Awards. In 1991 he made history as the host of three-game shows – "Jeopardy", "Classic Concentration", and "To Tell the Truth". In 1995 he appeared in "Good Morning America", filling in for Charles Gibson. In 2005 he competed in Celebrity Poker Showdown, and came in second.
During his long career, he also appeared in various commercials, including Colonial Life Pen Insurance. In 2010 he appeared in the popular TV shows "How I Meet Your Mother" and "Hot in Cleveland". Alex was also a recipient of various prestigious awards, such as five Daytime Emmy Awards for Outstanding Game Show Host for the show "Jeopardy", and Lifetime Achievement Award from the National Academy of Television Arts & Sciences for his contribution in the field of entertainment.
Regarding his personal life, Alek married Elaine Callei in 1974, and divorced seven years later. In 1990 he married Jean Currivan, a real estate manager, and they were together until his death. In 2005 he had a serious car accident when he fell asleep at the wheel. Luckily the favorite host got away with just a couple of scratches, and continued hosting "Jeopardy" a few days later. In 2019 he announced that he had been diagnosed with pancreatic cancer. Given the odds of surviving this type of illness are very slim, Alex said that he would do his best to win, and he continued hosting "Jeopardy". Unfortunately, on 8 November 2020 at the age of 80, Alex died at his home in Los Angeles.