Kimberly Williams-Paisley:
• American actress and producer, best known for roles in sitcoms "According to Jim" and "Nashville"
• Married to popular country singer Brad Paisley since 2003 and has two children, William and Jasper
• Starred in movies such as "Father of the Bride", "We Are Marshall" and "How to Eat Fried Worms", and voiced the character of Samantha in "Alvin and the Chipmunks: The Road Chip"
• Wrote the New York Times Bestseller "Where the Light Gets In", a candid account of her life experience and her struggle with her mother's dementia
• Net worth of $10 million, and Brad's net worth is $95 million
• Actively advocates for degenerative mental diseases and is active on social media
Who is Kimberly Williams-Paisley?
Kimberly Payne Williams-Paisley is an American actress and producer, perhaps best recognized for her roles in the hit sitcoms "According to Jim" and "Nashville". She is additionally known as the better half of the popular country singer Brad Paisley. Kimberly was born under the Zodiac sign Virgo on 14 September 1971 in Rye, New York State USA. As of 2021, she is 49 years old and, she holds American nationality. Kimberly has a mix of English, Welsh and German ethnicity.
Early life and Family
She was born to Linda Barbara and Gurney Williams III. Her motherworked as a fundraiser, while her father was a freelance medical journalist. At the age of 62, Linda was diagnosed with a rare case of dementia, and battled the degenerative sickness for years, but on 16 November 2016, she passed away. Unfortunately, her father, Gurney, who wrote in a wide range of science and health topics, also passed away on 13 August 2020.
Reportedly both of her now-deceased parents were well-connected in the world of the film industry, which prompted both Kimberly and her siblings to dabble into acting.
From an early age, Kimberly performed in stage shows, and later started landing commercial gigs for various brands, including Pizza Hut and Clearasil. After matriculating, she enrolled at Northwestern University to study dram, and where she was a member of the Alpha Phi sorority. However, during her sophomore year, she took a break from the university, and went to star in the 1991 movie "Father of the Bride", then returned to university and obtained her bachelor's degree.
Regarding her siblings, Kimberly has a brother Jay, and a sister Ashley who is also an actress. Much like her older sister, Ashley has been very successful in the entertainment business, appearing in a variety of movies and TV shows, including "How I Met Your Mother", "The Tim Gaffigan Show", and "Lovesick".
In 2011 she married producer Neil Dodson, and they have two children, Gus and Odie Sal Dodson.  Her brother Jay, who is a cameraman by profession, also tried himself in the acting industry, appearing in two short movies, "Numero Dos", and "Shade".
Career
Kimberly made her TV debut in 1990, appearing in an episode of "ABC After School Special". In 1991 she landed her breakthrough role, starring in the comedy movie "Father of the Bride" opposite Steve Martin and Diane Keaton. The movie achieved great success, and was praised for its perfect blend of comic elements and the extraordinary performance of the cast. After scoring at the box office with $129 million, the movie also garnered Kimberly a nomination for MTV Movie Award in the category for Best Breakthrough Performance. In 1993 she starred in "Samuel Beckett is Coming Soon" and "Indian Summer", then the following year made an appearance in the horror TV series "Tales From the Crypt".
Thank you! @ourdailyplanet https://t.co/cVbRTVeNDO

— Kim Williams-Paisley (@Kimwilliamspais) October 24, 2020
In 1995 she appeared in "Coldblooded", and the sequel "Father of Bride II", but which didn't live up to the fame of its first part, grossing $76 million at the box office and receiving mixed reviews.
The following year she switched to theatre by appeared in the play "Jake's Woman", then landed the recurring role as Isabel Lukens in the drama series "Relativity".  After starring in the war drama film "The War at Home", she appeared in several other movies, including "Safe House" and "Just a Little Harmless Sex". In 2000 she returned to the TV screen, appearing in the miniseries "The 10th Kingdom".
In 2001 she starred in the Hallmark movie "Follow the Stars Home", and the same year landed one of her most notable roles in the series "According to Jim". The goofy show ran for eight seasons, following the everyday struggles of Jim and his family, winning the hearts of many fans. Besides attracting an average of 10 million views per season, it also garnered numerous nominations, including a Primetime Emmy Award for Outstanding Cinematography for Half-Hour Series.
In 2002 the talented actress began a series of appearances in TV movies, such as "The Christmas Shoes", "Lucky 7", and "Identity Theft: The Michelle Brown Story". Later she appeared in a variety of shows, including the historical drama film "We Are Marshall", and the family movie "How to Eat Fried Worms". The following year she starred in a short film entitled "Shade", which she also directed, produced and wrote, and which garnered Kimberly various awards, including the Sedona International Film Festival award for Outstanding Acting and Directing.
After appearing in popular TV shows such as "Boston Legal" and "Less Than Perfect", in 2012, she landed the recurring role as Peggy Kenter in the sitcom "Nashville", starring in the first and second seasonS. Kimberly, who by then had become known for her comic portrayals and on-stage charisma, appeared in "Two and a Half Men" as a recurring character named Gretchen. In 2015, Kimberly voiced the character of Samantha in "Alvin and the Chipmunks: The Road Chip".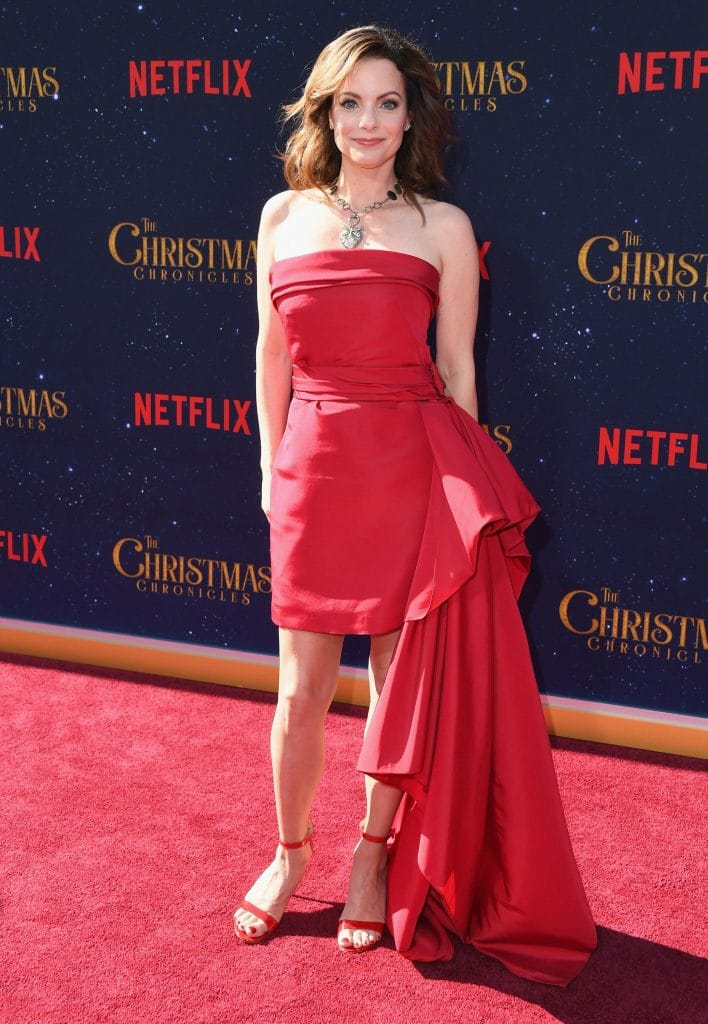 The actress then took a two-year break; in 2017, she returned to the screen with roles in "Speech and Debate" and You Get Me". Kimberly also continued her collaboration with the Hallmark channel, and starred in several movies, including "The Christmas Train" and "Darrow and Darrow". Her latest projects include "The Violent Heart", "A Nashville Christmas Carol", and "The Christmas Chronicles 2".
Her marriage to Brad Paisley
The story of how they got together is quite interesting. Reportedly, Brad saw Kimberly in the "Father's Bride" movie and was instantly attracted by her. At the time, he was going through a rough break-up with Chely Wright and decided to watch the movie to cheer himself up. Brad said: ""I thought, she seems like a great girl — smart and funny and all those things that are so hard to find". Their path crossed in 2000 when Brad asked Kimberly to appear in the music video for the single entitled "I'm Gonna Miss Her".
In an interview, Brad said: "It felt natural to ask [Williams, the girl from the movie] to be in it. She accepted the offer, and later they began their romance. After a year of dating, Brad proposed to Kimberly in 2002, and they married on 15 March 2003 in a lavish ceremony at the Stauffer Chapel at Pepperdine University in Malibu, California. They moved to Nashville, Tennessee, and have welcomed two children; William Huckleberry born on 22 February 2007, and Jasper Warren on 17 April 2009. Jasper was named after Brad's grandfather, who reportedly bought Brad his first guitar.
The couple recently celebrated their 18th anniversary of a marriage filled with love, humor, and occasional hardship. In an interview, they both disclosed their secret recipe for long-term happiness, Brad said:" We both have very healthy senses of humor. Anything I take myself too seriously on, she will gladly cut me down to size on and destroy all pre-conceived notions that I'm cool in any way." Kimberly added:" Our greatest hits. We record the meaningful moments, the best laughs. That's a big part of our relationship—focusing on the laughter and keeping a sense of play."
It is more than evident that the duo likes joint activities, and going into business should not be an exception. Brad and Kimberly opened "The Store" in Nashville, a free referral-based grocery store for people facing food insecurity.  It provides the possibility to shop with dignity and choices for their family, without getting a handout.
Physical stats and hobbies
Kimberly is 5ft 5ins (165cm) tall, weighs around 120lbs (55kgs), with vital statistics of 34-24-34. Her natural hair is black, and her eyes are blue. Given that balancing the life of a parent and a packed acting career, she doesn't have much free time, but usually spends it with kids or Brad, tucked under the blanket, watching TV.
As an individual who has seen how destructive dementia can be, not only for the one suffering it but also for the family who has to go through it, she is an avid advocate for degenerative mental diseases who tries to bring awareness and break the silence on these topics.
Many might not know, but just like her husband, she wrote a book entitled "WHERE THE LIGHT GETS IN." which is a New York Times Bestseller, and a candid account of Kimberly's life experience, and her take on struggling with a parent's illness. In an interview, she mentioned that she wrote the book in 2 years; she likes writing books, and hopes to write more in the future. For all those who found themselves in a similar situation, the book offers a unique sense of clarity and helps the reader to understand the effects of dementia. In a Twitter post, Kimberly wrote: "Alzheimer's is not a normal part of aging. It is a fatal disease that robs us of those we love, including my mother."
Net worth
Kimberly's reported net worth is around $10 million, earned largely through her lengthy career as an actor and writer. On the other hand, her husband's net worth is a rather dazzling $95 million, accumulated through his music career.
The actress is very active on social media. Her Instagram has nearly 700,000 followers, and she posts quite often. On Twitter, she has over 100,000 followers, and this platform she also uses to share candid family moments, important messages about spreading awareness of Alzheimer's disease.
Briefly about Brad Paisley
Only if you are living under the rock, you might have managed to miss out on Brad Paisley, the award-winning country singer and songwriter. He was born on 28 October 1972, in Glen Dale, West Virginia, the USA. Brad has released 11 well-received albums since he burst onto the scene in 1999 with his debut album entitled" Who Needs Pictures". For a newcomer in the world of country music, Brad achieved great success; his singles "He Didn't Have To Be" and "We Danced" became No.1 hits, while his album was certified platinum. In 2001 he garnered his first Grammy nomination for Best New Artist, and later joined the Grand Ole Opry, the youngest to be inducted.  In 2009 Brad performed at the White House.
Most of his albums have been certified gold by the Recording Industry Association of America (RIAA), with a great number of singles reaching the top 10 on charts on the US Billboard Country Airplay. During his lengthy and successful career, he's garnered numerous awards and nominations, including three Grammy Awards. The talented singer also worked as the songwriter for the CGI-animated movie series "Car's" franchise, created by PIXAR. Even though many tie the name Brad Paisley to music in general, he's also had a couple of acting performances. Brad appeared in a variety of TV series and talent show competitions, including "According to Jim", "American Idol" and "Repeat After Me". Interestingly, Brad co-wrote the book "Jug Fishing for Greazy and Other Brad Paisley Fishing Stories" with M.B. Roberts.