• Daughter of Kim Zolciak-Biermann, known for the reality show "Real Housewives of Atlanta" (RHOA)
• Appeared in "Don't be Tardy" and rose to stardom
• Adopted by her mother's ex-husband Kroy Biermann
• Active and popular on social media, often partnering with brands
• Net worth estimated at around $400,000
Who is Brielle Biermann?
Brielle Biermann is a reality star, model, and Instagram influencer, who appeared in "Don't be Tardy". Many might recognize her as the daughter of Kim Zolciak-Biermann, who is a TV personality and a singer known for "Real Housewives of Atlanta" (RHOA). She was born under the Zodiac sign Pisces in Atlanta, Georgia, the USA, on 25 September 1997. Brielle is a mix of Italian and American ethnicity. As of 2021, she is 23 years old and holds American nationality.
Rise to Stardom
As many know, Brielle came into the center of attention at ten years old when she appeared with her mother in the TV reality series "RHOA". Even though she was not cast as a main character in the show, her family got their reality series in 2010 entitled "Don't Be Tardy".
With every aired episode of the series, Brielle's popularity grew, and she started getting recognition and job opportunities. Brielle matriculated from high school in 2015; just as she was getting used to the celebrity life full of riches, she landed a modelling gig in 2016 for Michael Kuluva in the Tumbles and Tipsy show during the New York Fashion Week. Later she emerged as an Instagram influencer with a huge following. Brielle also models her mother's swimwear line called Salty K.
Who is her father? Family, Siblings
When it comes to her family, most of her family members have been present in public life for more than a decade. Her mother, Kim Zolciak-Biermann, is known for the reality show "RHOA", which began airing in 2008, which has run for eight seasons receiving critical acclaim and the highest ratings.
Later, Kim scored her own reality show entitled "Don't Be Tardy". Regarding her personal life, in 2001, she married Dan Troce, with whom she welcomed two daughters, Brielle and Ariana. Even though many thought that Dan is the biological father of Brielle, Kim's father, Joe, talked to TMZ's reporters and said that Kim "has been married twice and has three different fathers of her four children". Additionally, during an episode of the "RHOA", one of the cast members got into a Twitter feud, and threatened to reveal the true identity of Brielle's biological father; this still remains a mystery.
In 2003 Kim divorced Dan, and seven years later met the National Football League (NFL) player Kroy Biermann at a charity event.
On 11 December 2011, they tied the knot at Roswell, Georgia, and now have four children – Kroy Jagger, Kash Kade, and twins Kaia Rose and Ken Ren. As a part of the family, Kroy Biermann was also featured in the reality show, including his first meeting with Kim and their wedding. Reportedly, Kroy agreed to adopt both of her daughters. Two years after the televised wedding, Kim and Kroy confirmed through a media outlet that the adoption papers had been finalized and that Ariana and Brian had legally taken Kroy's last name.
Her sister Ariana is also an Instagram influencer with over 600,000 followers, and like her older sister, Ariana models her mother's swimwear line, and a huge variety of health, beauty, and fashion brands such as "Good American" and "FabFitFun".
Who is Brielle dating?
During her high school days, Brielle dated Slade Osborne, who came into the limelight as he appeared on their reality show. However, the couple broke up in 2015, allegedly due to busy schedules. Later Brielle came forward with different information, and disclosed to a media outlet that Slade actually broke things off. The following year Brielle began dating Chicago White Sox pitcher Michael Kopech, who also appeared on the show. The dynamic duo presented themselves inseparable in front of the camera, and even considered living together, but in 2018 they parted in a very dramatic and televised breakup, which prompted many to hop on the bandwagon, make comments, and theorize about what happened.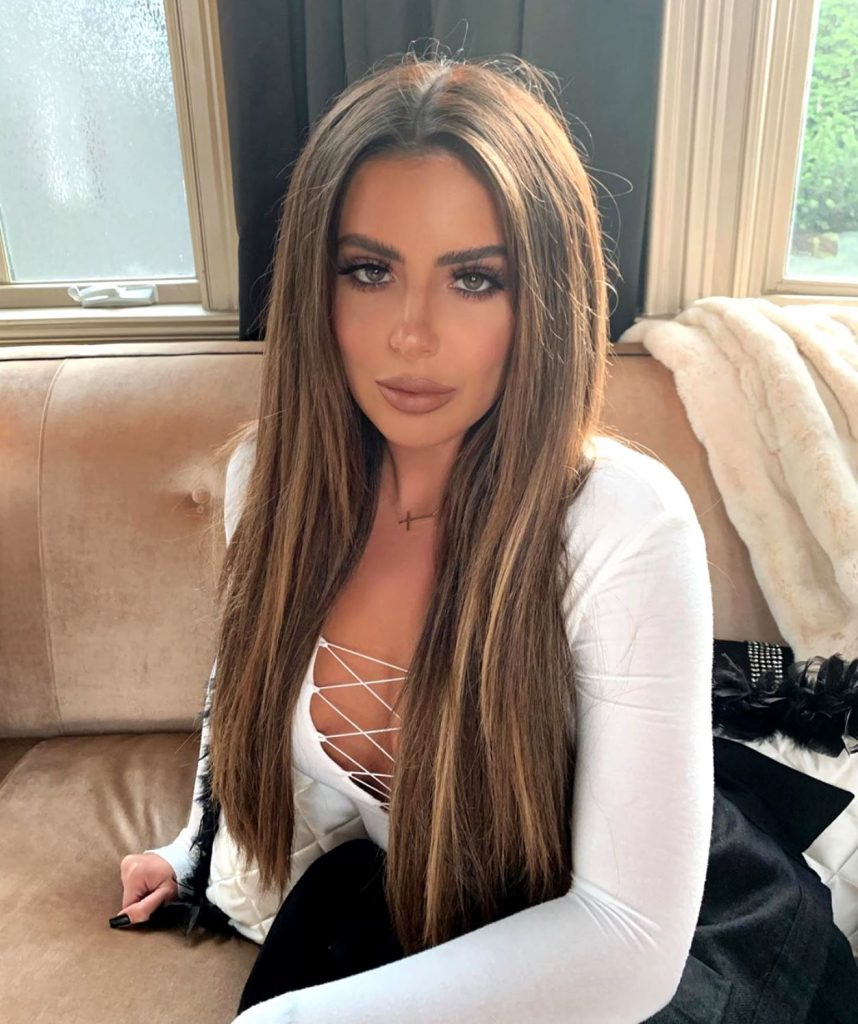 Recently the fans urged Brielle to rekindle her relationship with Michael, however, Brielle mentioned in an interview that he blocked her.  After the painful breakup, Brielle got back to Slade, but once again the romance didn't last as they separated in 2019. The same year she attended the fake Tana Mongeau and Jake Paul wedding with a mystery man, who turned out to be Justin Hooper. According to many media outlets, Brielle and Justin were dating, even though neither of them made any comments or disclosed any information.
In 2020, she posted a lot of photos with a photographer, Ty French, which led many fans to assume that the two are dating.  However, the air was cleared out quickly as many jumped to point out that Ty French is actually gay.
In the interview for 'US Weekly', Brielle said that she is single mainly because of the situation with the global pandemic, as she spends most of the time at home. Brielle also disclosed her list of desired traits in a man, saying "I just want somebody who is loyal, honest, spontaneous. I really need spontaneity because my life is very crazy, and if I want to get on a plane and go out of town, I want you to be able to come with me."
Controversies, Scandals and Surgery
As someone who has spent most of their teen life on camera, she has been criticized for a variety of issues ranging from her low aspirations in life, poor choice of boyfriends, and plastic surgery. In 2016 she received a lot of backlash for her lip injections, claiming that it was the only "modification" that she had done.
While appearing on "The Doctors" with her mom, Brielle said "They think I've had all this work done to my face, when in reality all I've done is my lips and I feel like I've been very open about it… it's so annoying". Despite those claims, the criticism has raged on, with many claiming that she allegedly modified her nose as well. However, Brielle has learned how to cope with the internet trolls, Tweeting: "Going to get my duck lips plumped up some more!!C ya!"
Social media influence
Brielle is very active and popular on her social media; her Instagram counts 1.3 million followers, and she's amassed quite a following on Twitter too, with over 200,000 fans. Besides reeling in money from the reality show, Biermann is also pulling a lot of cash through her social media account – many who follow her on Instagram might notice her paid partnerships with Sugar Bear Hair and "Team Iblends".
Additionally, in an interview for "Watch What Happens Live" Kim told the host that Brielle doesn't have a real job, and added: "I wouldn't be working either if I was making six figures on social media."
What is her net worth?
As of mid-2021, Brielle's net worth is estimated at around $400,000, earned as a TV personality, appearing in the reality show, as well as an Instagram influencer. According to an unknown media outlet, Brielle was reportedly paid $10,000 per episode of "Don't Be Tardy".  When it comes to her mother's net worth, it's estimated at about $3 million, acquired largely through her appearances on reality shows, and her business.
love my mom n sis😝 pic.twitter.com/80bSO9iRcE

— Brielle Biermann (@BrielleZolciak) April 23, 2021
Physical stats
Brielle is 5ft 4ins (163cm) tall, weighs around 132lbs (60kgs), with vital statistics of 34-25-35. Her natural hair color is brown; her eyes are brown as well.
So if she has not gone under the knife to sculpt her figure, many fans are wondering how does she manage to keep her fit physique? In her interview with "People," Brielle said she visits the gym three times a week, but doesn't follow any crazy strict diets, and that she likes to indulge often, Brielle disclosed:" Every day I have to have a cheeseburger or chicken tenders at some point. If I don't have a little something sweet-weather as a peanut butter cup a small brownie or anything chocolate, after dinner, I don't feel like I ate."
More about Brielle
In an interview, Brielle shared an interesting piece of information about herself, saying: "I only know my ABS's backwards… I'm like why didn't I learn it the forward way? I know like A-B-C-D-E from Scantron tests, but other than that, I really couldn't tell you what goes on." She later explained and disclosed: "The Pre-K Kindergarten that I went to taught it backwards also and I got confused." Many thought that she should have kept this to herself, mainly because she was already getting a lot of hate for her low educational aspirations, and "not very bright" comments.
Recently her friend Ethan McCallister died after suffering fatal injuries in a car crash, which left Brielle devastated. Both Brielle and Kim shared photos on their Instagram accounts with emotional captions, Brielle wrote: " Ethan…I can't believe I'm even writing this. I'm sick sick sick to my stomach. You are my happiness my joy my light in this very dark world.