• Brooke Daniells is an American event planner and photographer best known for her relationship with Catherine Bell.
• She was born on 30 June 1986 in Tomball, Texas and is of Scientologist faith.
• Brooke was previously married to Kenneth Daniells and they have two children.
• Catherine Bell and Brooke Daniells are rumored to be in a lesbian relationship, but neither have confirmed nor denied the allegations.
• Brooke is 5ft 10ins (178cm) tall and has an estimated net worth of $2.5 million.
Who is Brooke Daniells?
Brooke Daniells is an American event planner and photographer who rose to prominence for her relationship with the actress, producer and model Catherine Bell. Brooke has managed to stay under the radar for quite some time, as most information about her on the internet is misleading. She was born on 30 June 1986 in Tomball, Texas, USA; as of 2021, she is 35 years old.
Her family and education
Given her low-key personality, not much information is known about her. The mystery surrounding Brooke's identity is hard to unveil, as she is often mistaken for Brooke Daniels, who is an actress and model.
When it comes to Brooke's family, according to some reports, she is the daughter of Penny Atwell, a former actress and Scientologist. Brooke was raised by her parents with her siblings Phaedra and Damien Jones. Regarding her education, Brooke graduated with a Bachelor's degree in Communications.
Personal Life
Brooke was previously married to Kenneth Daniells, and they welcomed two children, Zoe and Sage. She is into Scientology, and this is where she met Catherine, who also decided to become a Scientologist.
In an interview, Catherine said: "I had a lot of friends and fellow actors who were scientologists, and the more I got to know these people, the more I saw how they were really ethical and honest, very successful, that they had great relationships and marriages…"In a separate interview about her involvement with the Church of Scientology, Catherine said : "I had the help of my dear friend and amazing party planner/goodie maker extraordinaire Brooke Daniells. She helped me make sure it was, like, total rad!"
Catherine Bell's Marriage and relationship with Brooke
Before her relationship with Brooke, the actress was married to Adam Beason, a writer and producer.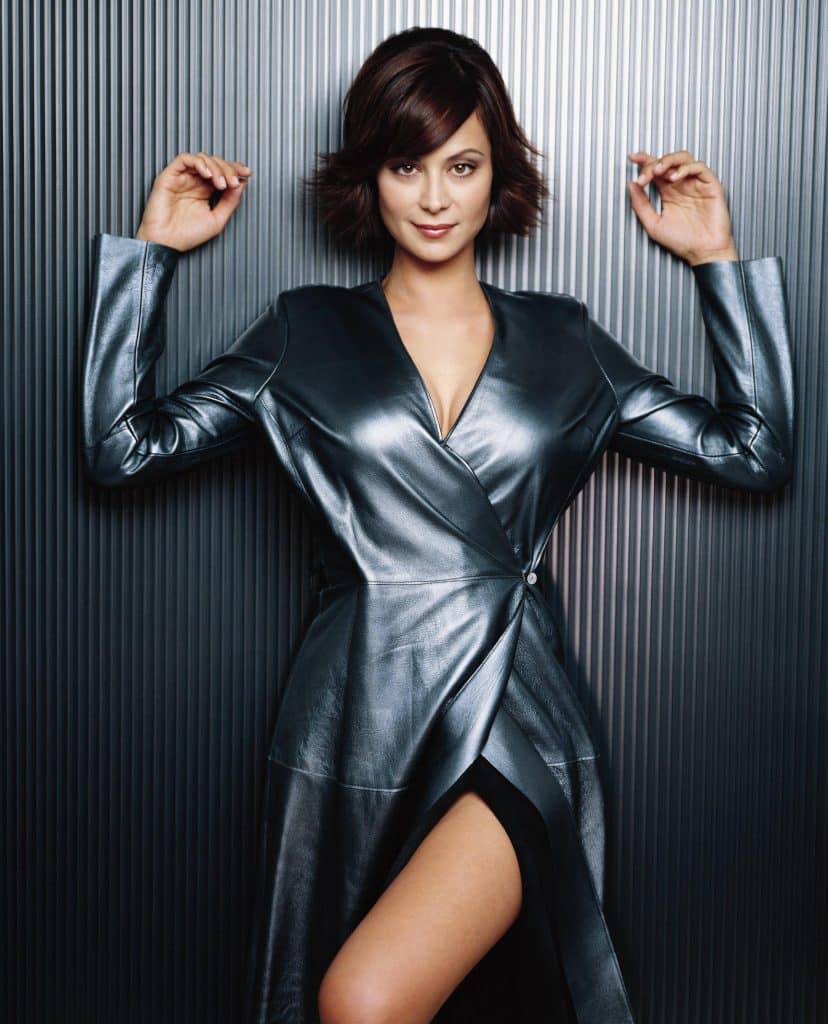 The ex-couple met on the set of "Death Becomes Her", married on 8 May 1994, and welcomed two children together, Gemma on 16 April 2003 and Ronan on 21 August 2010. However, in 2011 they sold the mansion in which they lived and announced that they were divorcing. After the announcement, Catherine moved in with Brooke Daniells in L.A., which caused a lot of controversy, and sparked rumors. Many claimed that they were in a lesbian relationship, and that Catherine divorced Adam for Brooke. Various tabloids and media outlets hopped on the bandwagon and started reporting about this supposedly shocking news. The divorce between Adam and Catherine was finalized in 2015. Neither Brooke nor Catherine came forward with any details; they have not confirmed nor denied the allegations, which left a lot of space for speculation.
In the interview for Pink Magazine, she said: "A huge part of it is your attitude about it. When you see a photographer, instead of hiding you just smile, wave, and turn in the driveway, and that's that."
Later, Catherine moved out of Brooke's home and bought a house in Los Angeles. Many took this as a confirmation that rumors about their relationship were false. However, other media outlets claim that they are living together in the mansion that Catherine bought. Catherine has not posted any photos with Brooke in the last couple of years, so it seems that the mystery of their relationship will remain unsolved.
Physical stats and net worth
According to wikicelebs, Brooke is 5ft 10ins (178cm) tall, and her net worth is estimated at $2.5 million. On the other hand, Catherine's net worth is around $15 million.
Briefly about Catherine Bell
Catherine Lisa Bell is an Iranian-American actress and model, perhaps best known for her portrayal of Sarah McKenzie in the popular legal drama "Jag". She was born under the Zodiac sign Leo on 14 August 1969, in London, UK. Her father, Peter Bell, was from Scotland, while her mother, Mina Ezzati is from Iran. At the age of two her parents divorced, so Catherine was raised by her mother and grandparents. After some time, the family moved to the San Fernando Valley, California. As Catherine's grandparents were Muslim, and she attended a Baptist Summer camp, she was exposed to different religious influences.
After matriculating, she enrolled at UCLA to study medicine or research, however, fate had other plans for Catherine. She was offered a modeling gig in Japan to advertise "American Beauty", hence she dropped out of college and went to Japan.
Upon returning to the US, Catherine chose to try her luck with acting. In order to accumulate knowledge, she enrolled at the acting school Beverly Hills Playhouse, but besides acting, she also worked as a massage therapist at the Peninsula Hotel for eight years. In 1990 Catherine made her TV debut in the short-lived sitcom "Sugar and Spice", followed by a minor role in a 1992 movie called "Death Becomes Her", starring Isabella Rossellini. After making appearances in TV shows such as "True Colors" and "Mother of the Bride", she starred in the action movie "Men of War".
The actress landed a couple of roles in  TV shows such as "Vanishing Son", "Friends" and "Dream on", before obtaining her part in the NBC TV series "JAG"; the show revolves around the work of the US Department of the Navy's Judge Advocate General Office. After NBC canceled the show, it was picked up by CBS, who incorporated the role of a female Lieutenant Colonel, Sarah McKenzie. The show ran for ten seasons and received numerous nominations and awards, including three Primetime Emmy and four ASCAP Awards.
Her role in "JAG" opened many doors, as Catherine started appearing in various TV movies and series, including "Waking the Dead", "Hercules: The Legendary Journeys", and Law & Order: Special Victims Unit". In 2007, Catherine landed the main role of Denise Sherwood in the American drama series "Army Wives".
The show ran for seven seasons, receiving critical acclaim and various accolades; the second season was even promoted by Barack Obama and John McCain.
In the following year, Catherine began her collaboration with Hallmark Channel, portraying Cassandra Nightingale in the TV movie "The Good Witch" and its seven sequels. In 2011 she produced and starred as the main character in the thriller "Last Man Standing", followed by her numerous roles in TV movies such as "Christmas in the Air "and "High-Rise Rescue". In 2019, the NBC announced that Catherine would appear as Sarah McKenzie in the "JAG" spin-off, "NCIS- Los Angeles" opposite David James Elliot. Her latest appearance was in the 2020 TV movie "Meet me at Christmas".