• Annamarie Tendler is a hairstylist, make-up artist, author, and the wife of John Mulaney.
• She studied at Vidal Sassoon, Make-up Designory and the Parsons School of Design, and holds a Bachelor's degree in writing and psychology.
• She has worked on nine movies and TV series, and has published two books.
• Annamarie is married to John Mulaney and they have a French bulldog called Petunia.
• She enjoys travelling, working out, watching movies and is a fan of politics and the Black Lives Matter movement.
Who is Annamarie Tendler?
Annamarie Tendler Mulaney was born in Connecticut, USA, on 9 June 1985 – her zodiac sign is Gemini and she holds American nationality. She's a hairstylist, make-up artist and an author, but who's probably known best for being the wife of John Mulaney, a famous American stand-up comedian.
Early life and education
She was raised in a Jewish family in Connecticut, alongside her brother Jesse Ryan Tendler and their sister by their parents, about whom nothing is known as they prefer to avoid the media.
Annamarie grew up being interested in hairstyling, and it was while she was still attending a local elementary school that she began taking care of her hair, instead of her mother.
Her skills were soon noticed by her peers, who wanted to have their hair done by Annamarie as well. She attended a local high school at which she was interested in playing sports such as tennis and volleyball, then upon matriculating in 2003, Annamarie enrolled at the hairstyling school Vidal Sassoon, followed by her enrollment at the private trade school Make-up Designory. She eventually enrolled at the Parsons School of Design to study photography, and Annamarie today holds a Bachelor's degree in writing and psychology from The New School. As of March 2021, she's attending the New York University's Steinhardt School of Culture, Education and Human Development, pursuing her Master of Arts degree in fashion and textile studies.
Career as a hairstylist and a make-up artist
Concurrently, sometime in the mid-2000s, Annamarie began working as a make-up artist and a hairstylist in New York City, and in December 2007 launched a blog on the internet, gathering over 350,000 followers. Her skills were soon noticed by several companies and magazines, and in 2011, she was invited to join "MTV Style" as a writer, and to attend the New York Fashion Week. Her make-up tutorials could've been read in many magazines, such as "DailyCandy", "HelloGiggles" and "Glamour". In 2016, Annamarie created a series of YouTube videos about paranormal and beauty called "The Other Side", in collaboration with the organization Amy Poehler's Smart Girls.
She has worked as a make-up artist and hairstylist on nine movies and TV series, starting in 2009 on the comedy series "The College Humor Show", and the short comedy film "The Old Man and the Seymour".
In 2011, Annamarie was a hairstylist for eight episodes of the comedy series "College Humor Originals", as well as for an episode of two short comedy series – "Hardly Working" and "The Six". She was a make-up artist for the 2012 comedy film "John Mulaney: New in Town", and the same year for the comedy special "Aziz Ansari: Dangerously Delicious". Her most recent work has been on the 2018 TV special "John Mulaney: Kid Gorgeous at Radio City".
Annamarie has launched her own business, Silk Parlor which creates lampshades in Victorian style.
Other works
Annamarie has published two books: "The Daily Face: 25 Makeup Looks for Day, Night, and Everything In Between!" on 16 September 2014, and "Pin It!: 20 Fabulous Bobby Pin Hairstyles" on 28 February 2017.
Love life and marriage with John Mulaney
Annamarie hasn't shared a lot concerning her love life, but a couple of things related to her marriage with John Mulaney are still known.
The two married on 5 July 2014 in a private ceremony held at the Onteora Mountain House located in Boiceville in New York. It was a modest event at which the two's mutual friend Dany Levy, a famous American actor and comedian, officiated. It appears as Annamarie and John have decided not to have children but to focus on their careers, however, there are also those who believe that one of them (or both) is infertile but this hasn't been confirmed.
In 2014, the famous actor Ben Affleck apparently grabbed Annamarie's ass at a Golden Globes party, and she asked for an apology on Twitter on 11 October 2017 (which she hasn't received).
Neither Annamarie nor John have spoken about any other people they have perhaps been with, and as of March 2021, she's married to John Mulaney and they are living together in New York City with their French bulldog called Petunia.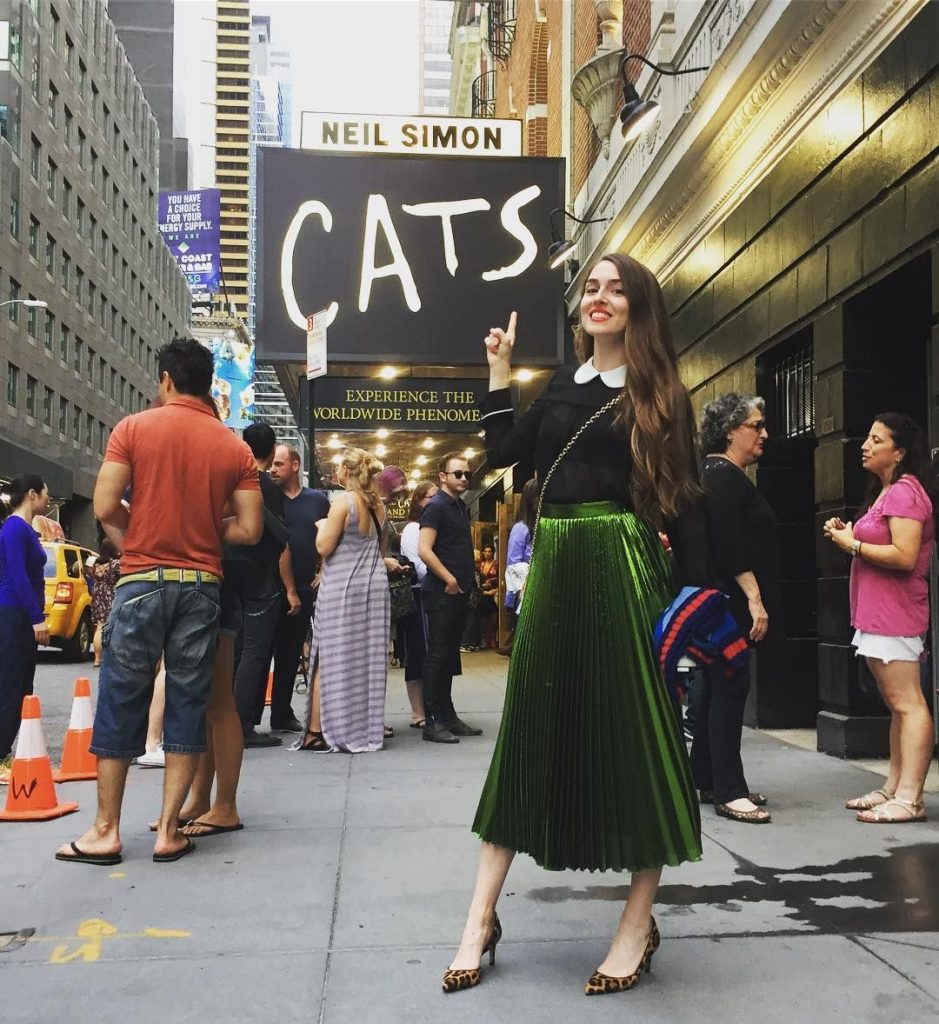 Hobbies and other interests
Annamarie's not a big fan of the social media networks and doesn't have an Instagram account, however, she and John have an account for their dog Petunia, which apparently Annamarie is maintaining. The account numbers more than 160,000 followers, with around 120 pictures uploaded onto it.
She loves to travel, and she and her husband have been all around the US for both work and pleasure, while her favorite city to visit is Miami in Florida.
Annamarie's keen on working out, and has multiple training sessions at the gym each week, while she's also on a strict diet, thus her slim figure.
In her spare time, she enjoys watching movies starring her favorite actors and actresses Tom Cruise, Morgan Freeman and Jessica Alba, such as "Top Gun", "The Last Samurai" and "Million Dollar Baby".
Age, height and net worth
Annamarie's age is 35. She has long brown hair and brown eyes, her height is 5ft 6ins (1.67m) and she weighs around 130lbs (58kgs). As of March 2021, her net worth has been estimated at over $400,000 while John's net worth is reputedly over $6 million.
Who is John Mulaney?
John Edmund Mulaney was born in Chicago, Illinois USA, on 26 August 1982 – his zodiac sign is Virgo and he holds American nationality. He's perhaps known best for having worked as a writer on the late-night live TV comedy sketch show "Saturday Night Live" (SNL) as well as for his 2018 stand-up special "Kid Gorgeous", which won him a Primetime Emmy Award for Outstanding Writing for a Variety Special.
John was raised in Chicago alongside his two sisters and two brothers – one of whom has died – by their father Charles 'Chip' Mulaney Jr. who was a lawyer and a partner at Skadden Arps, and their mother Ellen who taught at Northwestern University's Pritzker School of Law.
Both John's great-grandfather George J. Bates and great-uncle William H. Bates were US congressmen.
He grew up watching the comedy series "I Love Lucy", and mostly looked up to the character Ricky Ricardo played by Desi Arnaz. John was seven when he joined the comedy sketch group The Rugrats, and wanted to audition for the critically acclaimed comedy movie "Home Alone", but his parents said 'no'. He studied at St. Clement School, and there appeared in various school plays, then went on to attend St. Ignatius College Prep from which he matriculated in 2000. He subsequently enrolled at Georgetown University, from which he obtained his Bachelor's degree in English in 2004.
He then moved to New York City to launch a career as a comedian, and was hired by the basic cable channel Comedy Central.
John came up with the comedy show "I Love the '30s" – a parody of the nostalgia TV program "I Love the '80s" – however, after the famous American comedian Dave Chappelle left the network, John decided to do the same, and started working as a freelancer. He went on to perform in "Late Night with Conan O'Brien", and was then asked to audition for the popular show "Saturday Night Live" at which he was successful, and so joined the show's writing team, staying with them for four years.
After he departed SNL, John contributed to the making of various shows including "Comedy Central Roast of James Franco", "Oh, Hello on Broadway", and "Maya & Marty". In 2018, he voiced Spider-Ham in the critically acclaimed animated superhero movie "Spider-Man: Into the Spider-Verse", which won an Oscar for Best Animated Feature.
Backstage at Chicago Theatre before #TheComebackKid.ALBUM NOW ON SALE FOR THE FIRST TIME.http://www.dragcity.com/products/the-comeback-kid

Posted by John Mulaney on Friday, June 16, 2017
Today, John can be seen portraying George St. Geegland in the prank show "Too Much Tuna", in which the participants are handed sandwiches with too much tuna.
He's a huge fan of National Basketball Association (NBA), and has watched games both live and on TV, while he cheers for the Chicago Bulls.
John has been diagnosed with attention deficit hyperactivity disorder (ADHD).
He became addicted to alcohol and drugs at the beginning of his career, but in 2014 stated that he'd been sober since 22 September 2005, however, John checked himself into a drug rehab center in December 2020, and was in February 2021 moved into outpatient care.
He's interested in politics, and John donated money to Bernie Sanders' presidential campaign in 2016. He also supports the movement Black Lives Matter.