• Amir Arison was born on March 24, 1978 in St. Louis, Missouri USA with American nationality and Israeli (Jewish) descent.
• He is an actor known for his portrayal of FBI Special Agent Aram Mojtabal in the mystery crime series "The Blacklist".
• Amir has appeared in over 50 movies and TV series, including "The Visitor", "Girls", "Vamps", and "Before the Sun Explodes".
• He has also appeared in theatre plays performed all around the world and has written, produced, and directed two short movies.
• Amir has won five awards and his net worth is estimated at over $5 million.
What are Amir Arison's nationality and ethnicity?
Amir Arison was born in St. Louis, Missouri USA, on 24 March 1978 – his zodiac sign is Aries, holds American nationality, and is of Israeli (Jewish) descent. He's an actor, probably known best for his portrayal of the FBI Special Agent Aram Mojtabal in the mystery crime series "The Blacklist", created by Jon Bokenkamp and which stars James Spader, Megan Boone and Diego Klattenhoff. It follows Elizabeth Keen who's working as an FBI profiler, and who's just been informed that the criminal Raymond Reddington whom she has been chasing for years has turned himself in, and wants to speak to her and no one else. The series has been airing since 2013 and has won two awards of the 31 it has been nominated for, which includes two Golden Globes.
Early life and education
Amir was raised in Fort Lauderdale in Florida alongside his older sister Maya, by their father Ron Arison who was a surgeon, and their mother Zipora Arison who was a psychiatrist. Amir's parents are immigrants from Israel.
He became interested in acting while attending Pine Crest School, and was 12 years old when he won a Drama Club Award for his performance in a school play. Amir went on to enroll at a local high school, and during his final year there won a Founder's Council Fine Arts Award for Acting. During his four years of high school, he was a member of ComedySportz, a professional improv group, and upon matriculating in 1996 enrolled at New York City's Columbia University, from which he obtained his Bachelor of Arts degree in English in 2000.
Roles in TV series
Amir has appeared in over 50 movies and TV series, and we are about to mention some of his most notable performances in this article.
He made his debut TV series appearance in the 2004 episode "Lamentation on the Reservation" of the crime drama "The Jury", and the following years saw him appear in an episode of various series, such as the mystery crime drama "Law & Order", the family comedy "Hope & Faith", and the action crime mystery "Traveler". Amir gained recognition in 2008, when cast to play a supporting character in four episodes of the long-running romantic drama "As the World Turns", which aired from 1956 to 2010 counting over 3,600 episodes. He then went on to play two characters in nine episodes of the popular mystery crime drama "Law & Order: Special Victims Unit".
The following years saw Amir make a guest appearance in one or two episodes of various critically acclaimed series, including the comedy "State of Georgia", the mystery crime drama "Homeland", and the romantic drama "Gossip Girl". The year 2013 saw him portray the supporting character Theo Riley in the fantasy thriller drama "Zero Hour", created by Paul T. Scheuring, and which starred Anthony Edwards, Carmen Ejogo and Scott Michael Foster. It follows the life of a man who has spent two decades working as a skeptics magazine's editor, and who has now been pulled into one of the largest conspiracies in the history of mankind.
In the same year, Amir played Dr. Gurveer in the science fiction drama "H+", which was quite popular winning four of the 12 awards it was nominated for.
In 2014, he played Kevin Mimma in three episodes of the comedy drama "Girls", created by Lena Dunham who also starred in it alongside Allison Williams and Jemima Kirke. It follows the lives of several girls who are in their early 20s, and the series won 19 awards including two Golden Globes while it was nominated for 107 other awards.
Three of Amir's most recent roles in TV series besides "The Blacklist" have been in an episode of the drama "Billions", the romantic comedy drama "Ramy", and the crime comedy drama "Bull", all in 2019.
Roles in movies
Amir made his debut film appearance in the 2007 drama "Day Zero", which starred the famous actor Elijah Wood known for his leading role in the trilogy "Lord of the Rings", and follows three friends who have been drafted by the military and have a month to report for duty.
The way to a man's heart is through his stomach
Loved how Aram had to mention food😂@AmirArison @NBCBlacklist @BlacklistRoom #TheBlacklist pic.twitter.com/iPRAXDTrs4

— landyka (@landyka2) March 27, 2021
Amir gained recognition in the same year after his portrayal of Mr. Shah in the hit drama "The Visitor", written and directed by Tom McCarthy, and which starred Richard Jenkins, Danai Gurira and Haaz Sleiman. It follows a college professor who, after travelling to New York City to attend a conference, finds two young people living in his flat. The movie won 19 awards of the 54 it was nominated for, which included an Oscar. Amir then went on to play supporting characters in various mediocre movies, such as the 2009 romantic comedy "I Hate Valentine's Day", the 2010 comedy "In Security", and the 2011 short drama "Engagement".
His next notable performance was in 2012, when he played Derek in the romantic horror comedy "Vamps", written and directed by Amy Heckerling, and which starred Alicia Silverstone, Larry Wilmore and Krysten Ritter.
The movie follows two female vampires living in New York City.
Amir has mostly been focused on appearing in TV series, so onlyhas  a couple of other movie credits. Some of his most recent film appearances have been in the drama "Before the Sun Explodes", the  short comedy "Fortress" both in 2016, and the 2017 romantic drama "20 Weeks".
Roles in theatre plays
Amir has appeared in plays performed all around the world – some of the most popular in which he's appeared in New York include "Hamlet", "The Muscles in Our Toes", and "Why Torture is Wrong, and the People Who Love Them", all Off-Broadway.
He has appeared in the play "Love's Labour's Lost" performed at the Royal Shakespeare Company's Complete Works Festival in Stratford-upon-Avon in Warwickshire, England, as well as in the play "Aftermath", performed at The Old Vic & Galway Arts Festival in Ireland.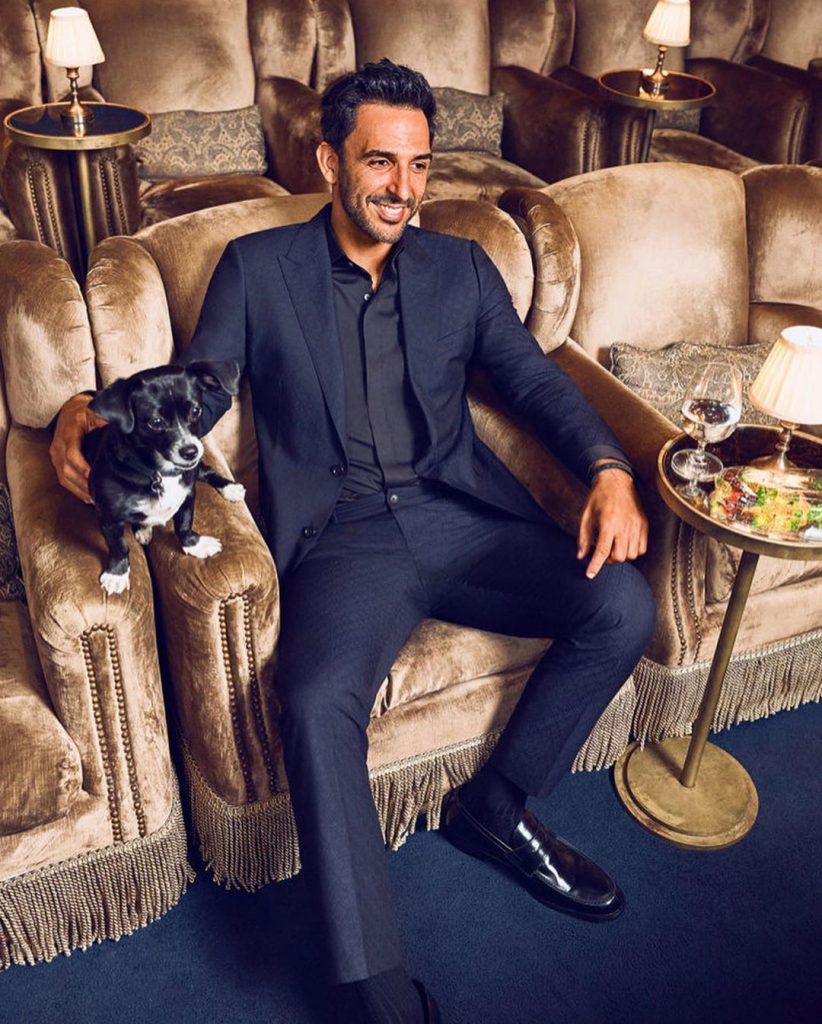 Other credits
He was featured in the 2014 TV special "An Evening with the Blacklist".
In 2016, Amir produced and directed the short comedy movie "Fortress", and in 2019 wrote, produced and directed the short drama "Tati's Fashion Show".
Amir has made a guest appearance in several talk-shows, including "People Talking Sports: And Other Stuff", "Celebrity Page" and "Home & Family".
Awards and nominations
Amir has been nominated for seven awards, winning five – he won a 2015 Top Indie Film Award for Best Romantic Comedy for "Fortress", and the same year saw him win two Hollywood International Moving Pictures Film Festival Awards of Recognition for both Director and Comedy/Dramedy, also for "Fortress".
In 2017, Amir won a Hang Onto Your Shorts Film Festival Award for Best Actor in a Comedy Short for "Fortress", and in 2020 he won a Garden State Film Festival Award for Best Family Short for "Tati's Fashion Show", shared with Tatianna Bernard and Stephanie Angel.
He has also been nominated for a 2017 Hang Onto Your Shorts Film Festival Award for Best Director, Comedy, and a 2020 Top Indie Film Award for Best Short, both for "Fortress".
Love life and wife
Amir prefers to keep his personal matters to himself but it's known that he's been in a relationship with Ornella Suad since 2016. Ornella's a fashion stylist who has worked in the costume and wardrobe department on the 2019 movies "Tati's Fashion Show" and "The Man in the Attic".
The two have uploaded numerous pictures and videos featuring themselves together onto their Instagram account. When Amir joined the Playboy family in 2019, Ornella congratulated him on social media networks, although she didn't seem to be very excited about it. Amir also wished her a happy birthday over the internet as well as a happy Valentine's Day.
He hasn't spoken about any other women he has perhaps been with, and as of March 2021, Amir's dating Ornella Suad, hasn't married and doesn't have children.
Hobbies and other interests
Amir's a huge lover of animals, and has been volunteering at animals shelters from a very early age. Today, he has a pet rescue dog called Reina, which can be seen featured in many of his Instagram pictures.
He loves to read books, and because of his heritage, Amir's mostly interested in those about the Second World War. One of his favorite books is "The Diary of a Young Girl" by the Dutch-Jewish girl Anne Frank, who hid for two years from the Nazis before being found and taken to the Bergen-Belsen concentration camp, in which she died of typhus in 1945.
Amir has his own favorite actors and actresses, some of whom are Morgan Freeman, Jim Carrey and Angelina Jolie; a couple of his favorite movies include "The Shawshank Redemption", "Bruce Almighty" and "Ace Venture: Pet Detective".
Age, height and net worth
Amir's age is 42. He has short black hair and brown eyes, his height is 6ft (1.83m) and he weighs around 170lbs (78kgs).
As of March 2021, his net worth has been estimated at over $5 million.