• Catherine Paiz is a Canadian actress, model and social media star, married to Austin McBroom, an American professional basketball player.
• Catherine has five acting credits and is known for her Instagram account with 7.6 million followers.
• She and Austin McBroom have launched the YouTube channel "The ACE Family", which is subscribed to by 19 million people.
• They have three children, Elle, Alaia and Steel.
• Catherine loves to travel and shop and is physically active, working out in the gym a few times a week.
Who is Catherine Paiz?
Dolores Catherine Johnston Paiz was born of Panamanian descent in Montreal, Quebec Canada, on 24 August 1990 – her zodiac sign is Virgo, she holds Canadian nationality. She's an actress, model and a social media star, but who's equally well known for being the wife of Austin McBroom, an American professional basketball player.
Early life and education
Catherine was raised in Montreal alongside her brother Ryan Johnston and sister Valentina, by their father who prefers to be left out of media, and their mother who owns a saloon. Catherine's parents divorced when she was still very young, and she spent some time living with her mother in Tampa and Miami in Florida.
Catherine was physically highly active during her high school years, as she enjoyed playing sports and was on her school's basketball, soccer and volleyball teams. She also dreamed about becoming a famous actress, and appeared in a couple of plays performed at the school. Upon matriculating in 2008, Catherine enrolled at St. Louis College from which she obtained her Bachelor's degree in 2012; she was mostly focused on learning languages, and is today fluent in Spanish, English and French.
Catherine then launched her modelling career, posing for popular brands such as Azzelia Swimwear and Victoria's Secret.
Career as an actress
Catherine has five acting credits.
She made her debut film appearance with her portrayal of Lilin in the 2016 thriller "Lilin's Blood", written and directed by Artii Smith and P. W. Simon, and which starred Martin Sensmeier, Maxine Goynes and Melinda Miamor. It follows a news coverage team who have found themselves stranded close to a brothel, at which they encounter women with dark secrets. In 2016 as well, Catherine played Victoria in the romantic family movie "Monday Nights at Seven", written and directed by Marty Sader who also starred in it alongside Vanessa Lyon and Edward James Olmos. It follows the single father Lazo Saroby who falls in love with the young woman Isabel; the movie was nominated for two awards.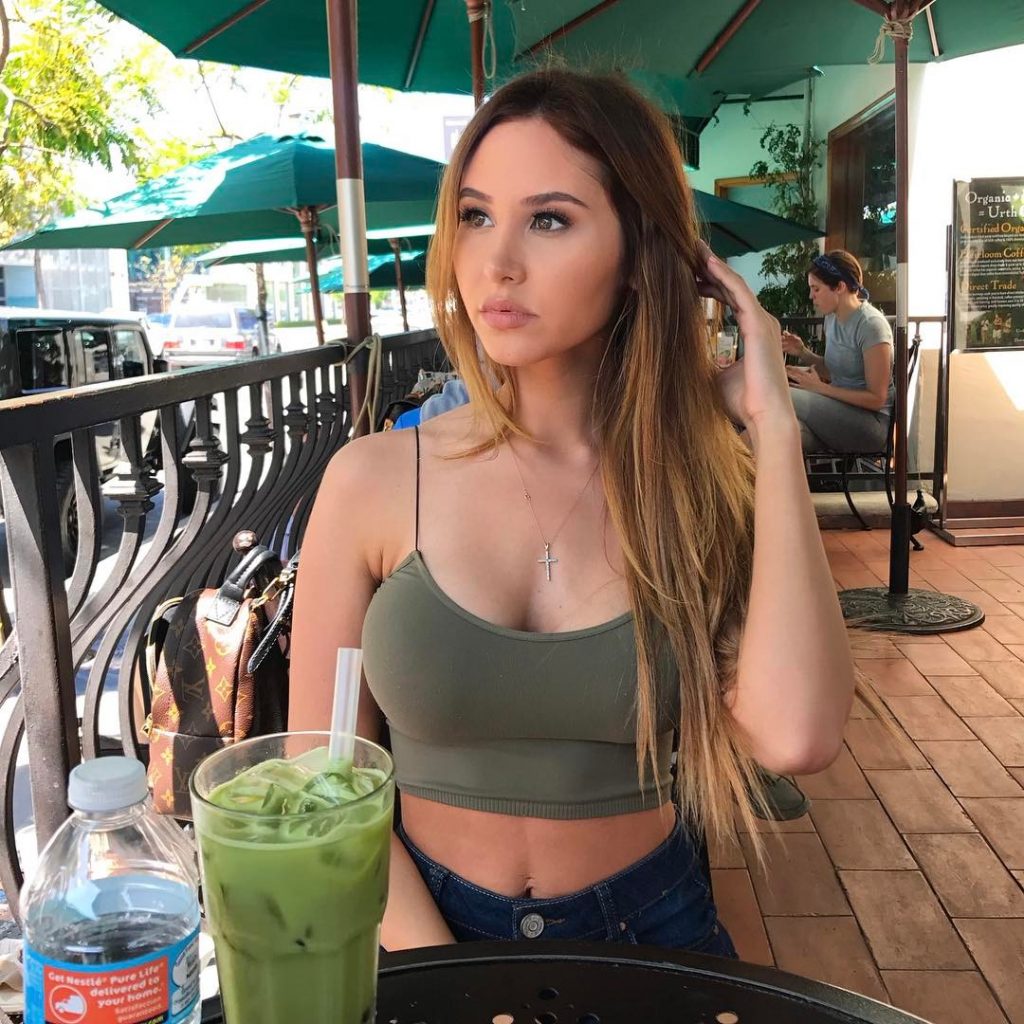 In 2017, Catherine played Julie in the thriller "You Can't Have It" written by Danny Finnerty, directed by Andre Gordon and which starred Matthew Pohlkamp, Joanna Krupa and Armand Assante; it follows Bill Sullivan's night at Mr. Phil's Bar when a murder happens.
Two of Catherine's other roles have been in the 2019 short music video "The ACE Family: Giddy Up", and the 2020 short music video "The ACE Family: Only One".
Catherine's also known for her Instagram account, which is followed by more than 7.6 million people, and on to which she's uploaded around 750 pictures, most of which have been taken during her everyday life. These pictures usually have her large breasts in focus, while she nowadays also features her children in her pictures.
She launched her Twitter account in January 2011, and is today followed by more than 1.6 million people, while she tends to tweet at least once a day. Her Facebook page is followed by around 16,000 people.
On 10 January 2016, Catherine and her husband launched their YouTube channel "The ACE Family", which is today subscribed to by more than 19 million people, while it numbers over 4.2 billion views of all their videos combined. They mostly upload comedy videos of themselves pulling pranks and doing challenges – their most popular video "THE BEST PROPOSAL OF ALL TIME!!! (JUMPING OUT OF A PLANE)" has been watched close to 40 million times since 26 August 2017.
Love life and affair with Michael B. Jordan
Catherine and Austin are quite open when it comes to talking about their love life, and have shared numerous videos showing themselves together during their everyday lives.
They met sometime in 2015, and in early 2016, Catherine gave birth to their daughter Elle. Around this time, they named themselves the ACE Family – each letter is the first letter of their names: Austin, Catherine and Elle. In 2017, Austin and Catherine exchanged vows in a secret ceremony, and didn't let their fans know about this until 2020. In 2018, Catherine gave birth to their second daughter Alaia while their son Steel followed in 2020. As of May 2021, the family of five seems to be leading a happy life together.
There are rumors circulating the internet that Catherine had dated the famous American actor Michael B. Jordan prior to meeting Austin, but this hasn't been confirmed.
Hobbies and other interests
Catherine loves to travel, and has been all around the US with her husband for both work and pleasure, while the two have also been to various European countries, including England and France.
She's a shopaholic who goes shopping for clothes at least once a week, while she's given her fans advice on how and where to shop.
Catherine's a dog-lover, but doesn't have pets because she believes she'd lack time to take proper care of them.
She likes being both behind and in front of the camera.
Catherine's physically active, and has a couple of training sessions at the gym each week, while she occasionally works out together with her husband.
In her spare time which is usually late at night, she likes to watch movies starring her favorite actor Leonardo DiCaprio, such as "Inception", "Titanic" and "Shutter Island".
Age, height and net worth
Catherine's age is 30, and  she has long brown hair and brown eyes, Her height is 5ft 6ins (1.68m), she weighs around 128lbs (58kgs), and her vital statistics are 34-28-35. As of May 2021, her and Austin's net worth has been estimated at over $2 million each.
Who is Austin McBroom?
Austin McBroom was born in Los Angeles, California USA, on 20 May 1992 – his zodiac sign is Taurus and he holds American nationality. His probably known best for his career as a basketball player, but is also known for his and Catherine's YouTube channel.
Austin studied at Campbell Hall School located in North Hollywood, and there became interested in playing basketball. During his final year there, he was named to All-CIF Division 3AA, and upon matriculating in 2010, Austin enrolled at Eastern Washington University at which he continued to play basketball, and from which he obtained his Bachelor's degree in 2014.
There has been a lot of controversy surrounding Austin – in October 2019, the make-up artist Cole Carrigan accused him of cheating on Catherine, claiming that he sexually assaulted his friend together with an NBA player, however, no evidence has been provided to support these claims and Austin has denied the allegations. In the same year, he took Catherine's younger sister to a sex shop and bought her a penis-shaped lollypop. In 2020, Austin slapped his daughter's buttocks in a video which caused a lot of controversy on the internet.
In a video uploaded in October 2020, Austin can be heard yelling and swearing at Catherine as they were about to film a segment featuring them greeting their followers. It was soon deleted, however, some fans still downloaded the video and uploaded it on various websites.