Benedict Wong:
• Born on 3 July 1970 in Eccles, Lancashire, England
• Best recognized for roles in "Marco Polo", "The Martian", and Marvel Cinematic Universe films
• Net worth estimated at over $3 million
• Appeared in 85 television and film titles since early 1990s
• Received a British Independent Film Award nomination for Best Supporting Actor in 2002
Who is Benedict Wong?
Benedict Wong was born on 3 July 1970 under the zodiac sign of Cancer, in Eccles, Lancashire, England. He is a 51-year-old actor, probably best recognized for landing the role of Kublai Khan in the Netflix drama series "Marco Polo" (2014-2016), playing Bruce Ng in the sci-fi film "The Martian" (2015), and featuring as Wong in the Marvel Cinematic Universe films, such as "Doctor Strange" in 2016, and "Avengers: Endgame" in 2019.
How rich is he, as of now? Benedict Wong Net Worth
As of mid-2021, Benedict Wong's net worth is estimated at over $3 million, earned through his successful involvement in the entertainment industry as a professional actor, working on 85 television and film titles since he launched his career back in the early 1990s.
Early Life, Parents, Siblings, Nationality, Ethnicity, Educational Background
Benedict Wong spent his early years in Salford in Greater Manchester, where he was raised by his parents. Little is known about them except that they emigrated from Hong Kong, China to the United Kingdom through Ireland; it's also unknown whether he has siblings or is an only child. He holds British nationality and belongs to Asian ethnic group. Regarding his education, Benedict went to De La Salle Sixth Form College on Weaste Lane, Salford, and then attended a two-year performing arts course at Salford City College.
Career Beginnings
Benedict Wong started his professional acting career by making small appearances in such TV series as "Screenplay", "Last Of The Summer Wine", and "The Chief", while he made his feature film debut in 1995, as a guard in the made-for-TV action thriller film "Detonator II: Night Watch", alongside Pierce Brosnan and Alexandra Paul. He continued with guest parts, until taking the role of Frankie Li in the made-for-TV crime drama film "Supply & Demand" in 1997, which he reprised in the 1998 six-part miniseries of the same title. During the same year, he joined the cast of the ITV police procedural series "The Bill", in which he portrayed three different characters through 2002.
Rise to Prominence
In 2000, Benedict Wong landed the supporting role of Hassan in the ABC/BBC fantasy drama miniseries "Arabian Nights", directed by Steve Barron, which was followed by his portrayals of Pat Proudence in the comedy film "Kiss Kiss (Bang Bang)", and Tran in Tony Scott's action thriller film "Spy Game", next to Brad Pitt and Robert Redford, both released in 2001. His first big major success came in 2002 when he earned a British Independent Film Award nomination for Best Supporting Actor for his portrayal of Guo Yi in the social thriller film "Dirty Pretty Things".
Benedict then was cast as Terry Cheung in the BBC Two sitcom "TLC" (2002), and played Errol Spears in the BBC sitcom "15 Storeys High" (2002-2004), after which he had the part of Pete Cheng in the 2003 BBC One drama series "State Of Play", directed by David Yates, and Chan in the 2005 Scottish drama film "On A Clear Day".
His next significant role came two years later, when he played Kung Sang in the comedy film "Grow Your Own", directed by Richard Laxton. By the end of the decade, he'd also starred in such roles as William Kwan in the action thriller film "The Heir Apparent: Largo Winch" (2008), Thompson in the sci-fi film "Moon" (2009), and Li in the BBC children's adventure series "Spirit Warriors" (2010).
Continued Success
In 2011, Benedict Wong took the role of Chi Han Ly in Oliver Parker's spy action comedy film "Johnny English Reborn", a sequel to the 2003 film "Johnny English", sharing the screen with Rowan Atkinson, Dominic West, and Gillian Anderson. It was a huge commercial success, grossing over $160 million worldwide against the budget of $45 million.
Between 2011 and 2013, he was cast as Vincent in the Channel 4/Netflix crime drama series "Top Boy". He then featured as Ravel in the sci-fi horror film "Prometheus", directed by Ridley Scott, which received generally positive reviews, and became a box office success with more than $400 million grossed worldwide.
He next landed the title role in the Hampstead Theatre production of "#aiww: The Arrest Of Ai Weiwei" and featured as gangster Lau in the BBC Two comedy series "The Wrong Mans", both in 2013. Later that year, he played Mr. Kim in the black comedy superhero film "Kick-Ass 2", and Mr. Choy in the action drama "Redemption", alongside Jason Statham.
From 2014 to 2016, Benedict was cast as Kublai Khan in the Netflix drama series "Marco Polo", created by John Fusco, and its 2015 Christmas special, entitled "Marco Polo: One Hundred Eyes". In the same year, he also had the part of Bruce Ng in Ridley Scott's sci-fi film "The Martian", alongside Matt Damon; the film grossed more than $630 million worldwide.
Further Work
In 2016, Benedict Wong portrayed Shaun Li in the episode "Hated In The Nation" of the Channel 4/Netflix anthology sci-fi series "Black Mirror", and took the role of Wong in the superhero film "Doctor Strange", directed by Scott Derrickson. It was a huge commercial success and gained him worldwide recognition.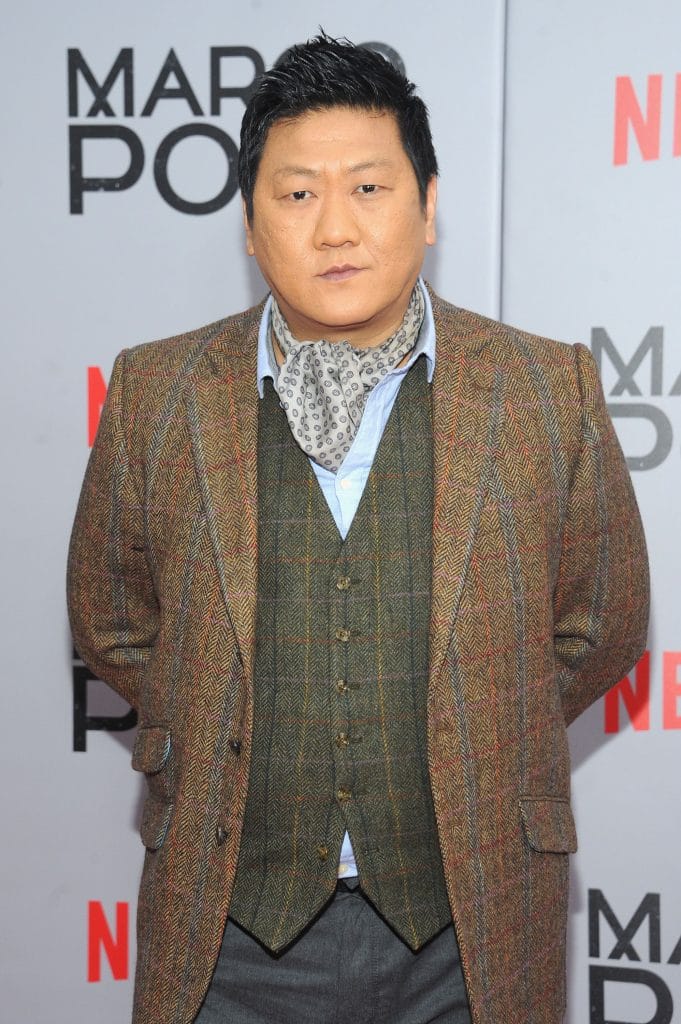 He would later reprise the role in other Marvel Cinematic Universe films – "Avengers: Infinity War" (2018), "Avengers: Endgame" (2019), "Shang-Chi And The Legend Of The Ten Rings" (2021), and "Doctor Strange In The Multiverse Of Madness" (2022). He then played Lomax in the 2018 sci-fi horror film "Annihilation", alongside Natalie Portman and Jennifer Jason Leigh, and starred as Master Lin in the American black comedy action-adventure series "Deadly Class", broadcast on Syfy from 2018 to 2019.
Other Recent Projects
In 2019, Benedict did the voice-over of the Skeksis general skekVar in the Netflix fantasy adventure series "The Dark Crystal: Age Of Resistance", and took the role of Mr Wickfield in the comedy-drama film "The Personal History Of David Copperfield", directed by Armando Iannucci.
In the same year, he voiced Bull in the musical romantic animated film "Lady And The Tramp", and shared the screen with Will Smith and Clive Owen in Ang Lee's action thriller film "Gemini Man", in which he played Baron.
Most recently, he featured as Kyo in the 2020 supernatural drama film "Nine Days", for which he received a Spirit Award nomination for Best Supporting Male, and provided his voice to Tong in the 2021 Disney fantasy action-adventure animated film "Raya And The Last Dragon". It's announced that he will voice the magician in the upcoming animated film "The Magician's Elephant", which is currently under post-production.
Appearance and Vital Statistics
Benedict Wong has short dark brown hair and dark brown eyes. He stands at a height of 5ft 10ins (1.78m), while his weight is around 245lbs (111kgs). Information about his vital statistics and biceps size isn't available; his shoe size is 10 (US).
Personal Life and Trivia
Benedict Wong tends to keep his private life far away from the eye of the public, and has never shared any details about it so far. His relationship status is a mystery, and many people believe that he is actually single. His current residence is in London, England.
He likes soccer and is a huge fan of Manchester United. He once worked as an usher at Manchester's Green Room Theatre.