Summary of Brian Quinn:
• Born in Brooklyn, New York City in 1976
• Actor, film producer and comedian, known for his role as Dale in 12 Monkeys (2015-2018)
• Has written and produced a number of works, including Impractical Jokers (2011-2021)
• Suffers from arachnophobia and depression and has volunteered and donated to animal shelters
• Arrested for disorderly conduct in Germany in 2009
• Age 45, estimated net worth of $7 million
Who is Brian Quinn?
Brian Michael 'Q' Quinn was born in Brooklyn, New York City USA, on 14 March 1976 – his zodiac sign is Pisces, and he holds American nationality. He's an actor, film producer and comedian, who has appeared in more than 20 movies and TV series, while he's perhaps known best for his portrayal of Dale in the mystery adventure series "12 Monkeys", created by Travis Fickett and Terry Matalas, and which starred Aaron Stanford, Amanda Schull and Noah Bean. It follows a time traveler who has come back from the future to the present day, to prevent a deadly plague from killing nearly all humans; the series aired from 2015 to 2018, and won four of the 14 awards for which it was nominated.
Early life, family and education
Brian spent only the first two years of his life in Brooklyn, as his family then moved to Staten Island, New York. He was raised alongside his two brothers Danny and Jim, by their father James who served in the US Air Force, and their mother Carol who was a housewife; Brian's brother Jim served in the US Navy.
Brian became interested in acting while attending Monsignor Farrell High School, and appeared in various plays performed both at the school, and at a local theatre. He was perhaps more into comedy than acting, and was a member of his school's improv club.
Upon matriculating in 1994, he enrolled at Brooklyn College,from which he graduated with a Bachelor's degree in 1998. Brian then began working at the New York City Fire Department, and spent eight years there, while simultaneously working on his way up in the film industry.
Roles in movies
Brian made his debut film appearance in 1996, with his portrayal of Private, in the drama "Kriegsbilder", and gained recognition three years later with his portrayal of Man Holding Figurine in Airport, in the adventure comedy drama "Dogma". It was written and directed by Kevin Smith, starred Ben Affleck, Matt Damon and Linda Fiorentino, and follows an abortion clinic worker who seems to be the only person capable of saving humanity from extinction; the movie was nominated for eight awards.
A couple of Brian's following roles were in the 2000 crime thriller drama "Vulgar", and in 2006 the short horror "A Terrorist Ate My Brain" and the short comedy "Time Thugs".
After having starred in a couple more short films, including "The Comedy Roast of Jesus Christ" and "The Little Slutty Mermaid", Brian was invited to voice Perplexed Bystander in the 2013 animated comedy "Jay and Silent Bob's Super Groovy Cartoon Movie", directed by Steve Stark, and which starred Marc Bernardin, Ming Chen and Matt Cohen. It follows Jay and Silent Bob who have just won the lottery jackpot, and have used the money to become superheroes.
Three of Brian's most recent movie roles have been in the 2017 comedy "Tell 'Em Steve-Dave Makin' Clay", the 2019 action adventure comedy "Jay and Silent Bob Reboot", and the comedy "Impractical Jokers: The Movie" in 2020.
Roles in TV series
Brian made his debut TV series appearance in 2015, when he portrayed Johnny Rush in the episode "Brian Quinn" of the short comedy "Kabukiman's Cocktail Corner", while he then made a guest appearance in an episode of several series, such as the historical comedy "Drunk History: UK", the comedy "Impractical Jokers Judging Joe", and the comedy "Tacoma FD".
In 2020, he portrayed Dale, in the episode "Mac + Desi + Riley + Aubrey" of the popular action adventure drama "MacGyver", created by Lee David Zlotoff and Peter M. Lenkov, and which starred Lucas Till, Tristin Mays and Justin Hires. It follows the life of Angus 'Mac' MacGyver, who's working for the US government; the series aired from 2016 to 2021, and won five of the nine awards for which it was nominated, including a Primetime Emmy nomination.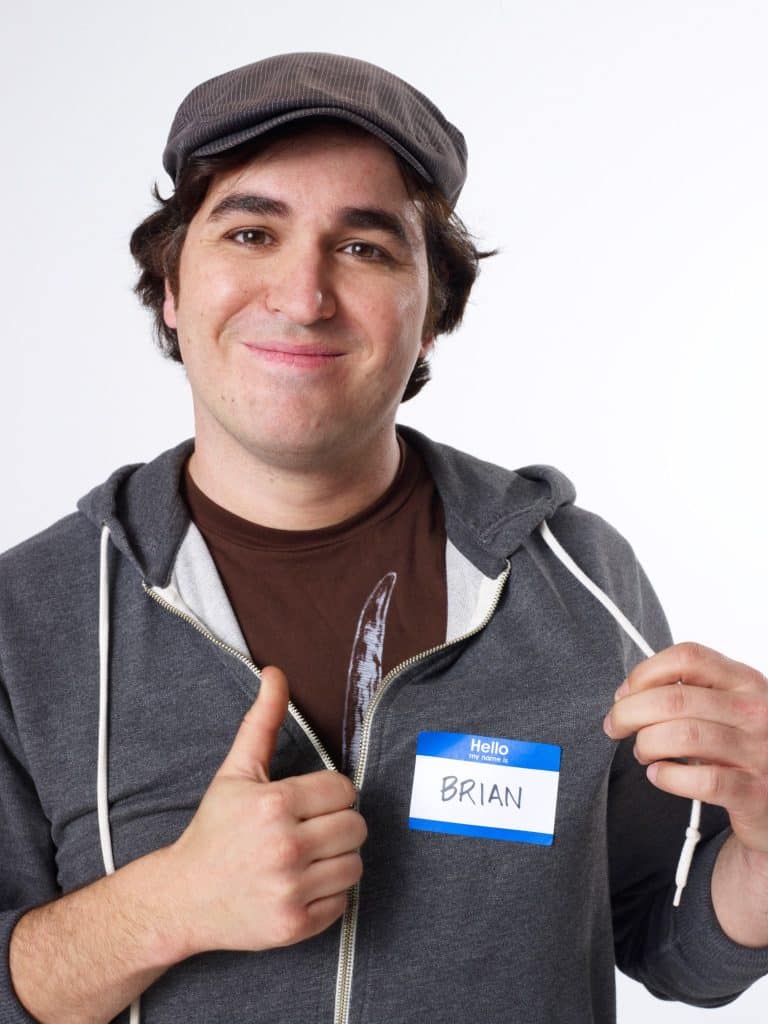 Brian's currently shooting for the upcoming science fiction drama "Scroll Wheel of Time".
Writing and producing credits
Brian has three writing and 11 producing credits; he made his writing debut in 2009 with the comedy movie "The Tenderloins", and in 2017 and 2020, he wrote and produced the comedy video "Tell 'Em Steve Dave Presents: Tesd TV", and the comedy movie "Impractical Jokers: The Movie", respectively.
Brian made his producing debut in 2006, with the short comedy film "Soccer Baller", and in 2014, he produced the episode "A Lifetime of Secrets" of the comedy series "Jokers Wild". Some of his following works were the 2015 comedy TV special "Impractical Jokers Practically Live Tour Special", the 2016 comedy TV Special "Impractical Jokers: One Night at the Grand", and 18 episodes of the comedy series "Impractical Jokers: Dinner Party".
He's also popular for having produced 144 episodes, since 2011, of the reality comedy series "Impractical Jokers", in which he's also starring, alongside James Murray and Sal Vulcano. It follows three friends who like to challenge one another to the most daring stunts; the series has won one of the two awards for which it has been nominated.
Other credits
Brian was the make-up and special effects co-ordinator for the 1990 horror science fiction thriller movie "Metamorphosis: The Alien Factor". He also worked as a special make-up effects artist on the 2006 short horror film "A Terrorist Ate My Brain", and the 2007 drama movie "44".
Brian has been featured in a number of documentaries, mostly recently in the 2018 short films "Victor Crowley: Raising the Dead… Again" and "Victor Crowley: Fly on the Set", and the 2020 biographical comedy series "Adam Green's Scary Sleepover".
He has made a guest appearance in a number of talk-shows, such as "Made in Hollywood", "Celebrity Page" and "The Kelly Clarkson Show".
Love life and relationships
Brian's highly secretive when it comes to his love life, and hasn't spoken of any women (or men) whom he has perhaps been with. This is perhaps why there are various rumors circulating the internet concerning his love life, and his sexual orientation.
It's widely believed that he was once in a relationship with Emily Amick, a make-up artist who worked on his show "Impractical Jokers", which was how the two met. They were apparently seen spending time in public by several of Brian's fans, and there were rumors circulating the internet claiming that they were planning to marry, however, they split due to what appears to be infidelity on Emily's side.
There are also some who claim that Brian's gay, and that this is why he refuses to talk about his love life, but this hasn't been confirmed.
As of August 2021, he seems to be single, hasn't married, and doesn't have children.
Hobbies and interesting facts
Brian's suffering from arachnophobia – an irrational fear of spiders, but is a huge lover of animals, and has three cats called Chessie, Brooklyn and Benjamin; Brian has also volunteered and donated money to a couple of animal shelters.
Because of a triple punishment he earned in the show "Impractical Jokers", Brian had to tattoo '38. Lives Alone. Has 3 Cats'; he has stated that he's come to like the tattoo.
— Brian Quinn (@BQQuinn) August 19, 2021
He's suffering from depression, and openly talks about it, hoping that it would help others who are like suffers.
Brian was arrested in Germany in 2009, during the Oktoberfest, for disorderly conduct; he was then punched in the face by an assailant, who knocked out his tooth.
He has his own favorite actors and actresses, some of whom are the late Robin Williams, Jim Carrey and Sandra Bullock, and a couple of his favorite movies are "Good Will Hunting", "Bruce Almighty" and "Liar Liar".
Age, height and net worth
Brian's age is 45. He has short brown hair and brown eyes, his height is 5ft 10ins (1.79m) and he weighs around 170lbs (77kgs).
As of August 2021, his net worth has been estimated at over $7 million.