• Byron Mann is an actor who was born in British Hong Kong and holds American nationality
• He is bi-lingual in Cantonese and English and was an accomplished tennis player in Hong Kong
• He has appeared in more than 70 movies and TV series, including the 2012 action movie "The Man with the Iron Fists" and the 2019 action crime drama "Wu Assassins"
• He is a martial artist and enjoys travelling, gym workouts, and learning languages
• He is 53 years old and has an estimated net worth of over $5 million
What is Byron Mann's nationality?
Byron Mann was born in British Hong Kong, on 13 August 1967 – his zodiac sign is Leo and he holds American nationality, as he moved to California aged 18. He's an actor who is perhaps known best for his portrayal of Silver Lion in the 2012 action movie "The Man with the Iron Fists", written and directed by Robert Fitzgerald Diggs, and which starred Russell Crowe, Cung Le and Lucy Liu. It follows a rogue British soldier and a group of warriors and assassins searching for gold in a Chinese village which is defended by a blacksmith. The movie was nominated for four awards.
Early life and education
Byron was raised in Hong Kong – he hasn't shared any details concerning siblings, so is assumed to be an only child. He hasn't talked about his parents either, as they prefer to stay out of the media.
He grew up bi-lingual in Cantonese and English; Byron attended the Diocesan Boys' School at which he was interested in sports while excelling at tennis – it's said that he was ranked as the second-best tennis player in Hong Kong before he moved to the US. During his time at Diocesan, Byron also became interested in acting, and appeared in plays performed at both his school and a community theatre. He matriculated in 1985 and then moved to the US and enrolled at the University of California, Los Angeles from which he graduated with a Bachelor's degree in philosophy in 1989. Byron continued his education at the University of Southern California Law School, from which he obtained his Law degree in 1992, and then passed the California bar.
Roles in movies
Byron has appeared in more than 70 movies and TV series, and we are about to mention some of his most notable performances in this article.
He made his debut film appearance in the 1990 drama "Last Flight Out", and gained recognition in 1994 with his portrayal of Ryu in the action adventure comedy "Street Fighter", written and directed by Steven E. de Souza, and which starred Jean-Claude Van Damme, Ming-Na Wen and Raul Julia. It follows Colonel Guile and other martial artists as they fight the Dictator M. Bison – the movie was nominated for two awards.
Byron Mann, the Wu Assassins actor is a frequent flier between Los Angeles and Hong Kong. We asked him how he travels, link here: https://www.bllnr.com/travel/how-i-travel-byron-mann

Posted by Billionaire – BLLNR on Thursday, November 21, 2019
Byron went on to appear in several critically acclaimed award-winning movies, such as the 1995 action crime thriller "Crying Freeman", the 1997 crime thriller "Red Corner" and the 1999 action crime drama "The Corruptor", while the year 2007 saw him portray the supporting character Jai Li in the romantic comedy "Shanghai Kiss" written and directed by David Ren and which starred Ken Leung, Hayden Panettiere and Kelly Hu. It follows an Asian-American actor who is living in Los Angeles, California, and who has just inherited his grandmother's house in Shanghai. The movie won two awards.
In 2014, Byron was cast to play Black Crow in the biographical action drama "Rise of the Legend", which starred Sammo Kam-Bo Hung, Eddie Peng and Luodan Wang, and follows an orphan fighting the dark powers that killed his father. The film won four awards of the 18 it was nominated for. The following year saw Byron appear in the thriller "Jasmine", the action adventure "Mercenary: Absolution", and the biographical comedy "The Big Short" which was a huge hit, as it won 38 awards including an Oscar, while it was nominated for 80 other awards.
Two of Byron's most recent roles in movies have been in the 2018 action adventure thriller "Skyscraper", and the 2019 horror mystery drama "Don't Let Go", and he's just finished shooting for the upcoming drama "The Ravine", set to be released in the US on 2 April 2021.
Byron is currently shooting for the romantic comedy "Hong Kong Love Story", and he's voicing Jiahao in the upcoming adventure "Heroes of the Golden Masks".
Roles in TV series
He made his debut TV series appearance in the 1992 episode "Brooklyn and the Beast" of the action crime comedy "Tequila and Bonetti", and the following years saw Byron make guest appearances in an episode or two of various series, while his first notable performance was in 2000, when he portrayed Detective Matt Sung in the mystery action drama "Dark Angel", created by James Cameron and Charles H. Eglee, and which starred Jessica Alba, Michael Weatherly and Richard Gunn. It follows Max who was one of the children who escaped a laboratory in which they were experimented on – the series won eight awards of the 23 it was nominated for, including one Golden Globe.
Some of Byron's following roles were in the mystery horror thriller "Urban Myth Chillers", the hit romantic adventure "Smallville", and the crime drama "Dragon Boys". He went on to star alongside Mayko Nguyen and Shawn Ashmore in the 2010 drama "Bloodletting & Miraculous Cures", but which was cancelled after airing eight episodes because of low ratings. In 2015, Byron portrayed the supporting character Chang in the western drama "Hell on Wheels" created by Joe and Tony Gayton, and which starred Anson Mount, Colm Meaney and Robi McLeavy. It follows a former Confederate soldier who sets out to avenge the death of his wife who was killed by Union soldiers – the series won 20 awards while it was nominated for 35 others, including a Primetime Emmy.
"We'll take the eggs and sausage." https://t.co/Ej3q6ujqfj

— Byron Mann (@Byron_Mann) March 20, 2021
In 2019, Byron was invited to star alongside Iko Uwais and Li Jun Li in the action crime drama "Wu Assassins" which follows a man who has just become the final Wu Assassin, and now has to restore peace to Chinatown in San Francisco.
Three of Byron's most recent roles in TV series have been in the 2019 action crime adventure "Arrow", the 2020 drama mini-series "Little Fires Everywhere", and the 2020 action adventure drama "Agents of S. H. I. E. L. D.".
Other credits
Byron is currently working on the upcoming movie "Hong Kong Love Story" which will be his writing and producing debut.
He received special thanks for the 2017 action thriller movie "Ultimate Justice".
Byron has appeared in various documentaries, such as the 1994 "The Making of 'Street Fighter'", the 2007 film "The Making of 'Blonde and Blonder'", and the 2012 "True Crime: The Movie".
He has also made a guest appearance in various talk-shows, such as "The Morning After", "Made in Hollywood", and "Home & Family".
Awards and nominations
Byron has been nominated for nine awards, winning three for his performance in the thriller movie "Jasmine": he won a 2016 Award of Excellence for Supporting Actor, in 2016 a Los Angeles Independent Film Festival September Award for Best Supporting Actor, and a 2017 International Independent Film Platinum Award for Best Actor In a Supporting Role.
Some of the other awards he has been nominated for include two Leo Awards in 2007 and 2016, a 2016 Golden Maple Award, and a 2017 Los Angeles Film Jury Award.
Love life and wife
Byron is very secretive when it comes to his love life, and hasn't spoken about any women he has perhaps been with, however, he has on one occasion mentioned his former girlfriend.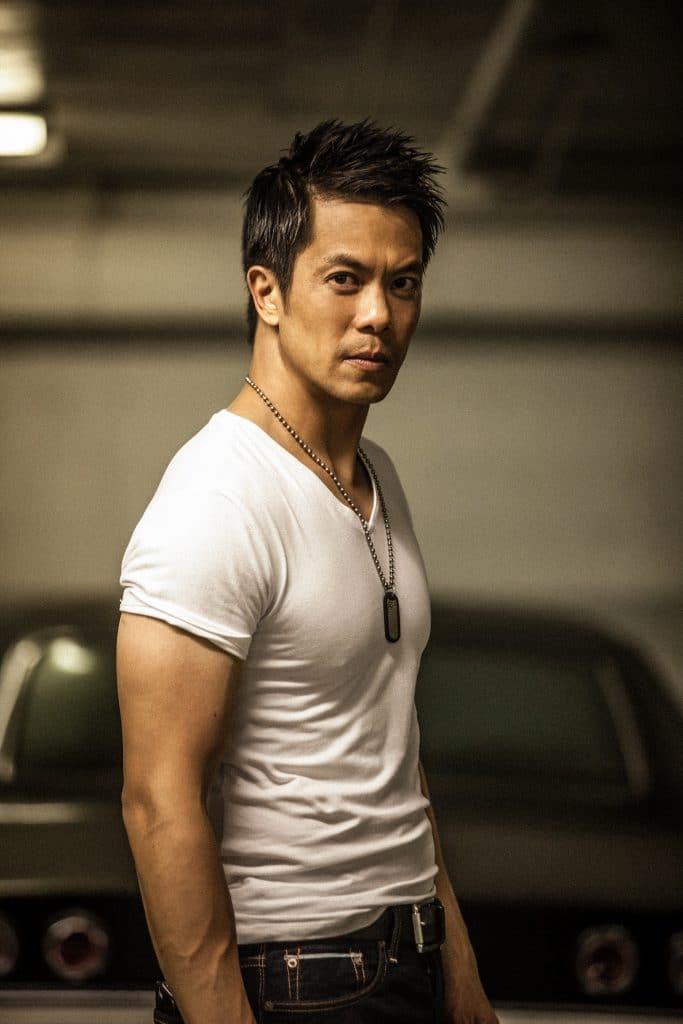 When he was still a teenager, Byron was in a relationship with a girl who enrolled at the University of California, Los Angeles, and as he had no plans at that period of his life, he decided to go with her and enrolled at the same college – they split after she didn't get it and he did.
There have been some rumors circulating the internet claiming that Byron is either gay or bisexual, as he hasn't been seen spending time with any women, however, this hasn't been confirmed.
As of March 2021, he appears to be single, hasn't married and doesn't have children.
Hobbies and other interests
Byron is interested in learning languages, and for his role in the 2013 movie "A Stranger in Paradise", he had to speak Thai.
Another interesting thing about the film is that Byron shot for it in Bangkok when the city was flooded.
He is very sporting, and has a couple of training sessions at the gym each week, while Byron's also a martial artist, who was trained in wushu by the famous actor and film director Bruce Fontaine.
Byron is passionate about travelling, and has spent some time living in Los Angeles, Vancouver in Canada, and Beijing in China.
He has his own favorite actors and actresses, some of whom are Jackie Chan, Jim Carrey and Angelina Jolie, and a couple of his favorite movies are "Police Story", "Drunken Master" and "Bruce Almighty".
Age, height and net worth
Byron's age is 53. He has short brown hair and brown eyes, his height is 5ft 10ins (1.77m) and he weighs around 165lbs (75kgs).
As of March 2021, his net worth has been estimated at over $5 million.