• Carole Bouquet is a French award-winning actress, best known for her role as Melina in "For Your Eyes Only" (1981)
• She was born in Neuilly-sur-Seine, France in 1957
• She was kicked out of four schools before graduating from Conservatoire d'Art Dramatique
• Her net worth is estimated to be around $5 million
• She runs her own vineyard in Pantelleria, Italy, and is fluent in Italian. She was a member of the main competition jury of the Cannes Film Festival in 2014.
Who is Carole Bouquet?
Carole Bouquet is a French award-winning actress, perhaps still best known to the world as the Bond Girl Melina in the film "For Your Eyes Only" (1981), and as Florence Barthelemy in the film "Too Beautiful for You" (1989), in addition to numerous other roles she's portrayed during her career.
Carole Bouquet Biography: Age, Childhood, and Education
Carole Bouquet was born on 18 August 1957 under the Leo zodiac sign in Neuilly-sur-Seine, an affluent suburb of Paris, France. She is the younger of two daughters born to Robert Bouquet, who was an aeronautical engineer, and a mother whose name she hasn't revealed. The girls spent their childhood with Robert, as their mother moved out of the house and went to live in a village near Toulon.
Carole talked about her relationship with her father, saying that he was rather strict and that he wasn't much of a talker, which resulted in Carole being shy until her mid- 20s. She did everything to avoid people, but her actions produced different outcomes as she used scissors to scar her face in her teenage years. She was kicked out of four schools, before she eventually graduated from Conservatoire d'Art Dramatique, the French equivalent of London's Royal Academy of Dramatic Art.
Career Beginnings
Carole's career started in the late '70s with the role of Beatrice Damien-Lacour in the TV mini-series "La Famille Cigale", starring next to Rene Clermont and Franck Cabot-David.
The same year, she was selected for the lead role in Luis Bunuel's Academy Award-nominated comedy-drama film "Cet Obscur Objet du Desir", also known as "That Obscure Object of Desire", co-starring Fernando Rey and Angela Molina. In 1979 she appeared in the crime comedy film "Buffet Froid", written and directed by Bertrand Blier, and starring Gerard Depardieu and Jean Carmet.
Rise to Stardom
Carole's '80s began with the lead role in Ulli Lommel's drama "Blank Generation", but then in 1981 she was selected for one of her most popular roles, as Melina, one of the Bond girls in the Oscar Award-nominated action-adventure film "For Your Eyes Only", with Roger Moore in the role of the secret agent 007.
Back in 1979 she auditioned for the role in the James Bond film "Moonraker", however, the role was given to Lois Chiles, but she still left a mark on John Glen, who selected her for the role of Melina. Carole was praised for her performance, but publicly talked about the age difference between her and Moore, saying that he was old enough to be her father rather than a love interest. Since then, she has avoided talking about the film, and hasn't been seen in attendance at Bond events.
She continued rather successfully in the '80s, first with the titular role in the thriller film "Mystere" (1983), then as Babee Senanques in the drama film "Rive Droite, Rive Gauche" (1984), co-starring Gerard Depardieu and Nathalie Baye, while two years later she starred with Yves Afonso and Jean-Francois Stevenin in the comedy-drama film "Double Messieurs", and in 1989 in the award-winning romantic comedy-drama film "Too Beautiful for You", again alongside Gerard Depardieu, and Josiane Balasko.
The same year, Carole appeared in Woody Allen's romantic comedy-drama film "New York Stories".
Career Decline
Carole wasn't very active as an actress in the '90s, making only a few appearances, which resulted in the overall success of her acting career. She starred as Kate Swallow in the romantic-comedy film "A Business Affair", with Christopher Walken and Jonathan Pryce, while in 1997 she portrayed the titular character in the biopic "Lucie Aubrac", co-starring Daniel Auteuil and Patrice Chereau. Before the decade ended, Carole had the lead role in the romantic crime-drama film "Em Plein Coeur", and finished the decade with another collaboration with Gerard Depardieu, this time in the romantic drama film "Un Pont Entre Deux Rives".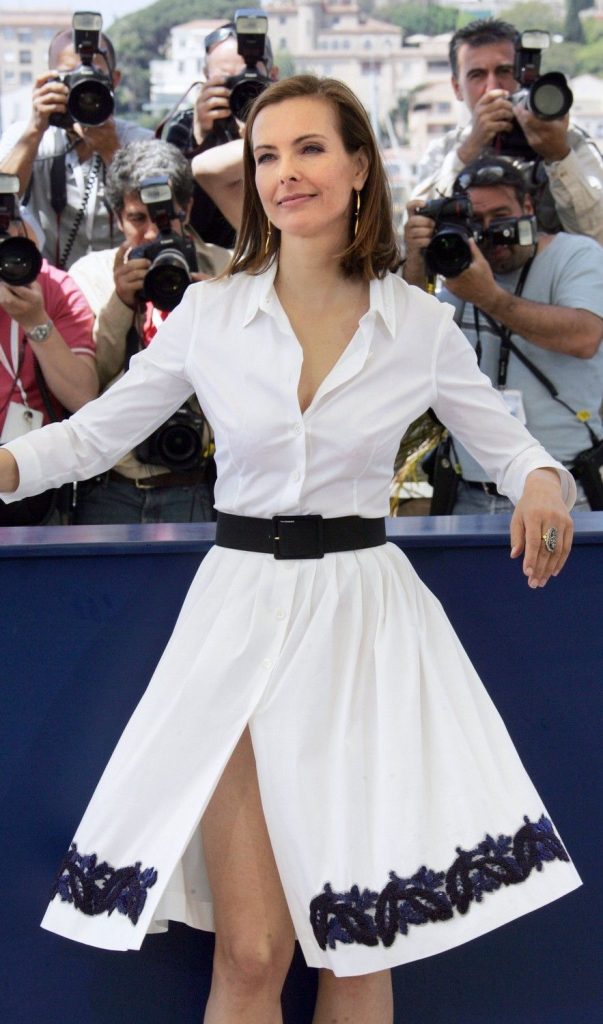 The 2000s
The new millennium brought new roles for Carole, including the part of Anna Ghirardi in the drama film "Le Pique-Nique De Lulu Kreutz", and again starred with Depardieu in the television drama movie "Berenice". In 2001 Carole was Madame De in the television movie of the same name, and in 2002 appeared in the romantic comedy-drama "Embrassez Qui Vous Voudrez" next to Charlotte Rampling and Jacques Dutronc, and continued with the lead role in the mystery crime-drama film "Feux Rouges" in 2004.
The same year, Carole guest-starred in the Primetime Emmy Award-winning TV romantic comedy-drama series "Sex and the City", and continued her career with roles in French films, including "Nordeste" in 2005 and the same year in "L'enfer", followed by "Aurore" in 2006.
Two years later, Carole appeared in the drama film "Les Hauts Murs", and in the fantasy adventure "Trouble at Timpetill".
She was Judith in the drama film "Impadonables" (2011), and in 2012 starred in the film "Mauvaise Fille", also known as "Bad Girl", while in 2014 she co-starred in the comedy film "Une Heure de Tranquillite", and joined the cast of the drama series "Les Hommes De L'ombre", appearing in 12 episodes through 2016. Her next role was as Jeanne in the TV mini-series "La Mante" (2017), while in recent years, Carole has starred in the TV mini-series "Grand Hotel" (2020), and portrayed Esther in the TV drama series "En Therapie".  Most recently, she featured in the comedy film "Les Gantasmes" (2021).
Modeling Work
Additionall to her extensive work as an actress, Carole is an accomplished model.
She served as a spokesmodel for Chanel and the face of Chanel No. 5 in the '80s and '90s. Furthermore, she has graced covers of various magazines, including Harper's Bazaar, Madame Figaro, Elle, and Vanity Fair, among many others.
Personal Life, Children, Marriage, Love Life
From 1982 to 1985, Carole was in a romantic relationship with producer Jean-Pierre Rassam with whom she welcomed a son, Dimitri Rassam, who is now a producer as well. Jean-Pierre died in 1985 after a barbiturate overdose, and Carole often recalled their romance, saying that he was the love of her life.
She next dated photographer Francis Ciacobetti in 1987 with whom she has a son Louis, and was then married to Jacques Leibowitch, an immunologist, from 1992 until 1996. They didn't have children.
To speak further of her love life, Carole was in an on-again-off-again relationship with French actor Gerard Depardieu from 1997 until 2005.
Since 2014, Carole has been in a relationship with Philippe Sereys de Rothschild.
Net Worth
According to sources, Carole Bouquet's net worth has been estimated to be around $5 million, as of mid- 2021, earned through her successful career as an actress, during which sh'as appeared in more than 60 film and TV titles.
Appearance and Vital Statistics
The prominent actress has brown hair and blue eyes. She stands at a height of 5ft 8ins (1.73m), weighs approximately 128lbs (58kgs), with vital statistics of 33-24-33, and bra size 38B.
Aujourd'hui, nous souhaitons un joyeux anniversaire à la sublime Carole Bouquet, qui fête ses 56 ans !Ses photos et son actualité : http://www.purepeople.com/people/carole-bouquet_p254

Posted by Purepeople.com on Sunday, August 18, 2013
Hobbies, Interests, and Trivia
Carole is running her own vinery, Maison Carole Bouquet, located in Pantelleria, an island in the Strait of Sicily. It has been operational since 2005.
She is fluent in the Italian language, and often resides in Italy.
Back in 1997, she was a festival tribute at the Créteil International Women's Film Festival, France, while in 1999 she was a member of the jury of the 4th Shanghai International Film Festival. In 2014, Carole was a member of the main competition jury of the Cannes Film Festival.