• Cazzu is an Argentinean singer and composer
• She started her career as an independent artist, paying for her own studio hours and music videos
• She has released several singles, albums, and music videos, including "Nada" which went platinum
• She has collaborated with various popular singers and producers
• She is estimated to have a net worth of around $4 million
Who is Cazzu?
Julieta Emilia Cazzuchell, professionally known as Cazzu, is an Argentinian singer and composer ,who became internationally famous for her hit single "Nada", featuring Lyanno, Rauw Alejandro, and Dalek. She was born under the Zodiac sign Sagittarius on 16 December 1993, in Ledesma, Jujuy, Argentina. She holds Argentine nationality, and as of 2021, she's 27 years old.
Early life and Family
Information about her parents and childhood remains a mystery. Regarding her siblings, she has a sister named Florencia, who is also a musician. Even though her parent's names are unknown, she disclosed in an interview that her father is an amateur folklore guitarist who influenced her to take up music. She developed an interest in music at an early age, and later performed with her father.
¿@Cazzu es Army?#ARMY #cazzu pic.twitter.com/8Ssc9Hpd66

— 𝓐𝓯𝓻𝓸𝓭𝓲𝓽𝓪 𝓗𝓮𝓻𝓱𝓪 💖 (@afrodita_chavez) January 21, 2021
She spent most of her life in the Northern Argentinean province San Salvador de Jujuy, where she matriculated from high school, then relocated to Tucuman and ventured to university to study cinematography. Later she moved to Buenos Aires to study multimedia.
Career
When it comes to her path to international success, Cazzu experimented with different genres and styles, during her teenage years trying her luck with cumbia, rock, nu-metal, and reggae, without much success, eventually kicking-off her career as an Argentinian trapper. In 2017 she launched her self-titled YouTube channel, posting her original songs such as "Ay Papi", "Maldades", and "Mas", which could be classified as reggaeton.
Interestingly, she ventured into music as an independent artist, paying for her studio hours and music videos.
Not long after she launched her channel, she was signed to the record label "Seven Music" and subsequently released her first studio album "Maldades". Achieving moderate success, Cazzu continued working tirelessly on her music, occasionally collaborating with popular singers and rappers such as Fianru and Maikel Delacalle. In 2019 she released her second album entitled "Error 93" under Rimas Entertainment; the track entitled "Mucha Data" was positively received, and currently counts over 100 million views.
Her single entitled "Nada" featuring Lyanno, Rauw Alejandro, and Dalex quickly became a hit, and went platinum.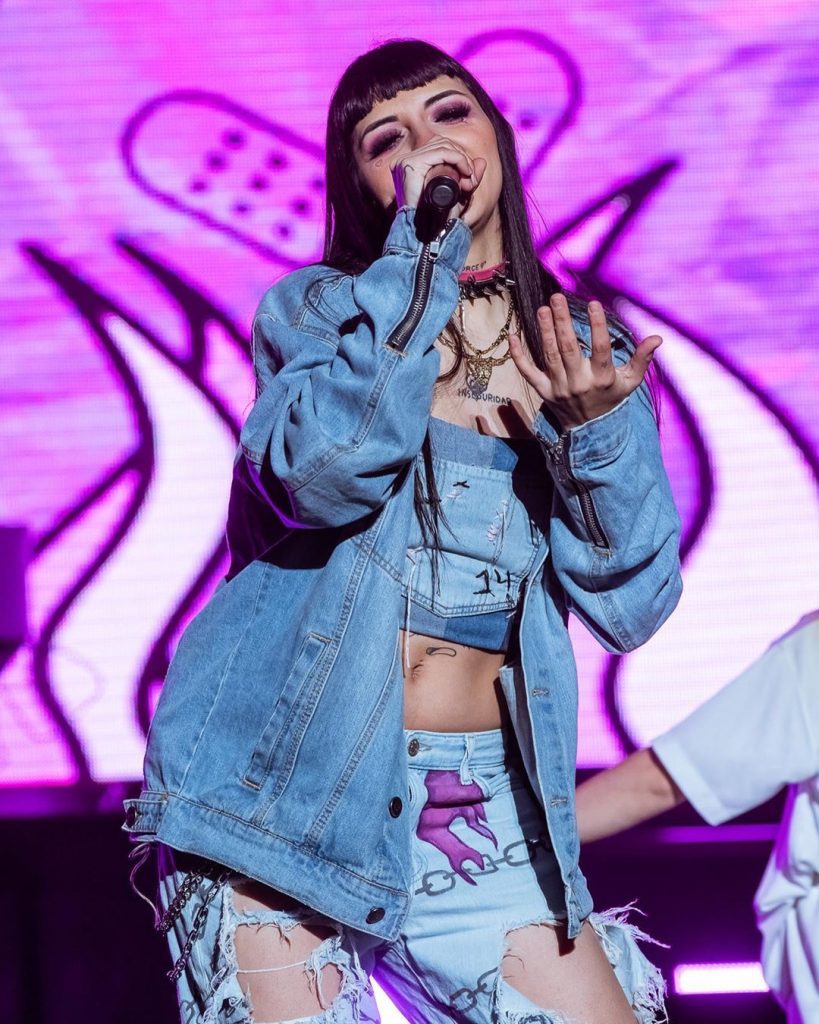 After gaining recognition and support, she released the music video for the song "Nada", which currently counts over 300 million views. In 2020, Cazzu released another studio album entitled "Una Nina Inutil", which followed the success of her previous albums. During the same year, she won the Youth award (Premios Juventud) for New Generation Award- Female artist.
She's released several more singles, including "Miedo", "Gatita Gangster", and "Mentiste". The queen of Argentinian Trap as she was called by media outlets, Cazzu has collaborated with various popular singers and producers, including Mike Towers, Lali Esposito, and Bizzarap. Her YouTube channel now has nearly five million subscribers.
When it comes to her music, she shared that she always writes her own lyrics, saying: "I don't like people writing for me because I want the things that I want to be clear. That's why I let them make tracks for me, but what I sing, I've written it myself. I want to be myself."
Latest Music
Talking of her latest projects, she's released several songs and music videos, including "Dandote" featuring Chita, and Lara91k and "Animal" featuring Maria Becerra. Cazzu also collaborated with Natti Natasha, Farina, and La Duraca on the single entitled "Las Nenas", which went gold.
Her most recent music video is entitled "Dime Donde" and features Justin Quiles; at the moment, it has over nine million views. According to her Instagram photos, in February 2021, she directed a music video for the artist Rei.
Personal life
Even though the information about her personal life is relatively scarce and incomplete, it's known that she dated the rapper Malajunta Malandro, and in 2018 was rumored to be dating the Puerto Rican rapper, songwriter and singer Bad Bunny. In an interview, a reporter asked her about a kiss she shared on stage with Bad Bunny, Cazzu replied: "We met on stage practically, because there wasn't time to meet before the show, [but] it was kind of natural. I don't know, really what happened, and it was all very weird, and we practically forgot that there were 8,000 people in front of us." Later she added that they had good energy, and had become good friends. Additionally, Bad Bunny posted a photo with Cazzu on his Instagram, which prompted many fans to speculate about their relationship.
However, neither of them came forward with any information or confirmed their relationship.
She reportedly dated the Argentinian rapper C.R.O, with whom she also collaborated, and released the single entitled "After House" in 2019. While they dated, they posted numerous romantic photos on their social media accounts, professing mutual love. However, the romance did not last long, as they separated in 2020. In an interview, she talked about the reason for their separation, saying:" I think that our careers got very complicated with the distance. He has the same job as me, and we found ourselves, at a time when we were spending too much time away. Having a virtual relationship was very hard and sad for us."
She also added that there was no bad blood between them and that they were still very good friends.
Currently, Cazzu is single.
Physical stats and Hobbies
Cazzu is 5ft 5ins (162cm) tall,  weighs around 110lbs (50kgs), with vital statists of 33-23-34. Her natural hair is black, while her eyes are brown. Additionally, she has tattoos all over her body, including a small pink heart tattoo under her right eye.
Compared with other reggaeton and trap singers, she has a unique fashion style, best described as rock, emo, and gothic style. Cazzu is often seen wearing corsets, chains, and black-colored clothing with skulls, spiders, and bones. Interestingly, she incorporated her style and ideas in her merchandise line, which features hoodies, backpacks, and t-shirts.
In the interview for Billboard, she disclosed that she is the creative genius behind her merchandise; she draws and designs it.
Would you like to know her net worth?
As of 2021, her estimated net worth is around $4 million, earned largely through her career as a singer and performer. Her wealth has grown significantly in 2021, including from her merchandise.
Cazzu is very active on Instagram, which currently counts over nine million followers. She also has quite a following on Twitter, with over a million followers. however, her account seems inactive, considering that she last tweeted in 2020.