• Koren Grieveson is a chef and American of South African descent born on November 4, 197•
• She was raised by her father, a businessman and her mother, a housewife and often moved around growing up.
• She joined the US Army, got her culinary degree from the Culinary Institute of America, and worked for several restaurants.
• Koren is a lesbian and was previously engaged to chef and TV personality Anne Burrell.
• She has won a James Beard Award and enjoys travelling, cats, and being active on Twitter.
Who is Chef Koren Grieveson?
Koren Grieveson was born in Luanda, Angola, on 4 November 1971 – her zodiac sign is Scorpio, she holds American nationality, and is of South African descent. She is a chef, but who might be known best for her relationship with Anne Burrell, a famous American chef and TV personality.
Childhood and education
Koren was raised as an only child by her father who was a businessman working with poultry, and because of this, the family often moved so Koren lived in Zimbabwe, Iran, Brazil and England before the family settled in Connecticut, USA when she was 10, thus her American nationality.
Her mother is a housewife who loves to cook, and Koren learned a bit of what she knows today from her.
Koren attended a local high school where she first realized that she was attracted to girls, but kept it to herself as this was not something that was widely acceptable then. She focused on her education, and upon matriculating in 1989, didn't enroll at a college but joined the US Army.
Career as a chef and other works
Koren enlisted because she wanted to drive jeeps, however, she later explained that by the time she joined, the jeeps were replaced by Humvees.
She spent nine years in the Army, and then began doing catering work, providing food for New York festivals, including for such famous bands as The Rolling Stones and The Eagles; this motivated her to become a chef. She enrolled at the Culinary Institute of America, and graduated with a degree in 1997.
She subsequently launched her career by working for her mentor Paul Kahan, at his Blackbird restaurant as a sous chef, and then began working for Michael Mina at his restaurant, San Francisco's Aqua. The year 2003 saw her help Paul Kahan open his first wine bar, Avec, then in 2008, Koren was named Best New Chef by the magazine "Food & Wine".
The same year saw her guest star in the episode "Tailgating" of the critically acclaimed reality game show "Top Chef", and the following year she appeared as the guest chef in another reality game show – "Iron Chef America: The Series". In 2010, Koren was presented with the James Beard Award for 'excellence in culinary',  then started working at the restaurant Claudette. She moved to Rusto in 2015.
Is she still with Anne Burrell?
Koren is open about being a lesbian – she started dating Anne Burrell in 2010, a couple of years after meeting her at the Institute of Culinary Education at which Anne worked as an instructor.
They announced they were together in the tabloid "The New York Post", and on 31 December 2012 the two became engaged. They kept the details of their relationship a secret for the following six years, but in 2018 it was reported that they were no longer together, as Anne was in a relationship with Stuart Claxton, who works in media management. On 21 April 2020, Anne and Stuart became engaged.
Koren hasn't talked about any other women or men she might have dated, and as of January 2021, she appears to be single, hasn't married and doesn't have children.
Hobbies and other interests
Koren is interested in politics and has criticized both POTUS Trump and Melania for their behavior.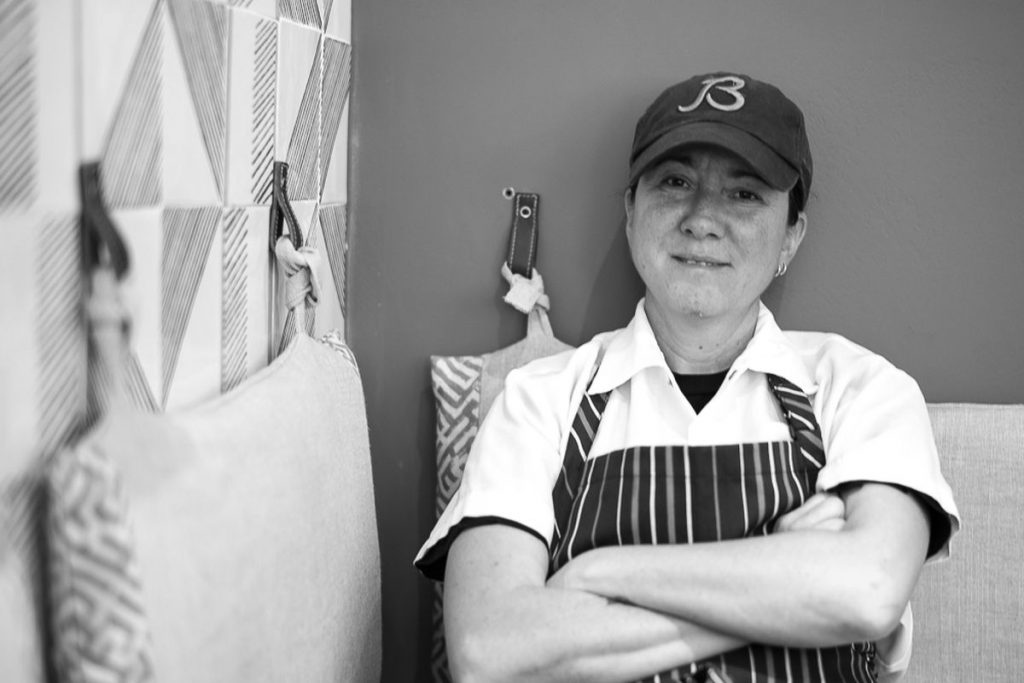 She has just recently advised TV networks not to air Trump's departure speech if it happens to be inciting more violence, or contain more lies.
She is keen on travelling, and her job of a chef has taken her to many US states. Koren has also vacationed in various European countries, including Germany, Spain and Portugal.
She is a cat-lover and has two pet cats.
Koren enjoys being active on Twitter, because she wants to share her thoughts with her fans, but isn't active on Instagram as she appreciates her privacy.
She likes to watch movies late at night, and her favorite actor and actress are Heath Ledger and Jean Acker, and her favorite movies include "Brokeback Mountain", "It's a Wonderful Life" and "The Thin Man Goes Home".
Age, height and net worth
Koren's age is 49. She has long brown hair and brown eyes, her height is 5ft 7ins (1.7m) and she weighs around 145lbs (65kgs). As of January 2021, her net worth has been estimated at over $2 million, while Anne's net worth is reputedly over $5 million.
Who is Anne Burrell?
Anne Burrell was born in Cazenovia, New York State USA, on 21 September 1969 – her zodiac sign is Virgo and she holds American nationality. She's probably known best for hosting the TV cooking series "Secrets of a Restaurant Chef", and co-hosting the reality TV series "Worst Cooks in America".
Anne was raised in Cazenovia alongside her sister Jane Burrell-Uzcategui, by their mother Marlene Burrell and their father, who prefer to stay away from the media's attention.
Anne became interested in cooking while attending high school, and upon matriculating in 1987 enrolled at Canisius College, from which she graduated with a Bachelor of Arts degree in communication and English language in 1991. After taking a year off, Anne enrolled at the Culinary Institute of America, from which she obtained her Associate in Occupational Studies degree in 1996. She also spent some time in Asti, Piedmont Italy, studying at the Italian Culinary Institute for Foreigners.
Anne then stayed in Italy for nine months, working at several restaurants including the famous La Bottega del '30 which offers only a single seating each night. She returned to the US and started working at Felidia as a sous chef, before moving to Savoy as a chef.
Anne was then invited to teach at the Institute of Culinary Education, and soon started working as a chef at Italian Wine Merchants store in New York. The following years saw Anne work as the executive chef of the New York City's Italian restaurant Centro Vinoteca, which she left in September 2008 to focus on other things. Anne was planning to open her own restaurant, Phil & Anne's Good Time Lounger, in 2010, however, it was only opened in spring 2017. The restaurant was then closed in April 2018.
She has appeared in various TV shows – in 2005, Anne was invited to serve as a sous chef on the cooking show "Iron Chef America", and was in 2009 cast to appear in the series "The Best Thing I Ever Ate", which features popular chefs talking about their favorite dishes. She also competed in the cooking show "The Next Iron Chef", losing in the sixth week.