• Chloe Lang is an American actress and social media personality
• She is known for her role in "LazyTown"
• She is a dancer and YouTube star
• Chloe has a YouTube channel with over 63,000 subscribers
• She has a net worth of $500,000
Chloe Lang is a young American actress and social media personality, who rose to fame through her role as Stephanie in "LazyTown". Since then, she has amassed a lot of fans who keep up with her on social media.
To know more about Chloe Lang, keep reading this biography.
Early Life, Family, Educational Background
Chloe Lourenco Lang was born under the Scorpio zodiac sign on 14 November 2001, in Connecticut, USA, of mixed ethnicity, and holds American nationality. Her mother is Tina Lang while her father's name is undisclosed at this time. Chloe grew up with two older siblings – a  brother and sister – who were raised by their mother in the Christian religion. Despite Chloe's fame, the rest of the Lang family prefer to maintain a low profile.
From on set yesterday 💛 pic.twitter.com/D5Lr3QeMtW

— Chloe Lang (@Chloe5Lang) May 12, 2021
Chloe Lang was two years old when her mother noticed her interest in dancing. Subsequently, she was enrolled into a dance studio for professional training. As a student, she took part in various dance contests, such that she became a popular person in her community
Chloe attended a Visual Arts High School for four years, where she received intense training in video art, photography, sculpting and painting. She is now studying Arts and Entertainment Management at Pace University, New York USA.
Career
Dancing
As hinted above, we understand that Chloe started her career as a dancer, by participating in school shows, community contests and many more.
At some point, she and her best friend Haley formed a dancing duo called "Double Trouble". Chloe was also a member of a local dance studio back in Connecticut, named "Dance Connection", and it was from the art of dancing that she transitioned into other branches of the performing arts.
TV/Commercials
Chloe made her debut television appearance as a child actor in "Doctors" (2007). in which she played Josie McRea. Two years later, she took the role in "Mystery Quest" (2009) as Missy Lutz, then also took minor roles in "Sundown" (2010) and "Mask Face" (2011).
Chloe rose to fame after she took a lead role in Icelandic children's TV show, "Lazy Town" in 2013, as Stephanie, the cheery 'out-of-town kid' who came and made  LazyTown a flurry of activities.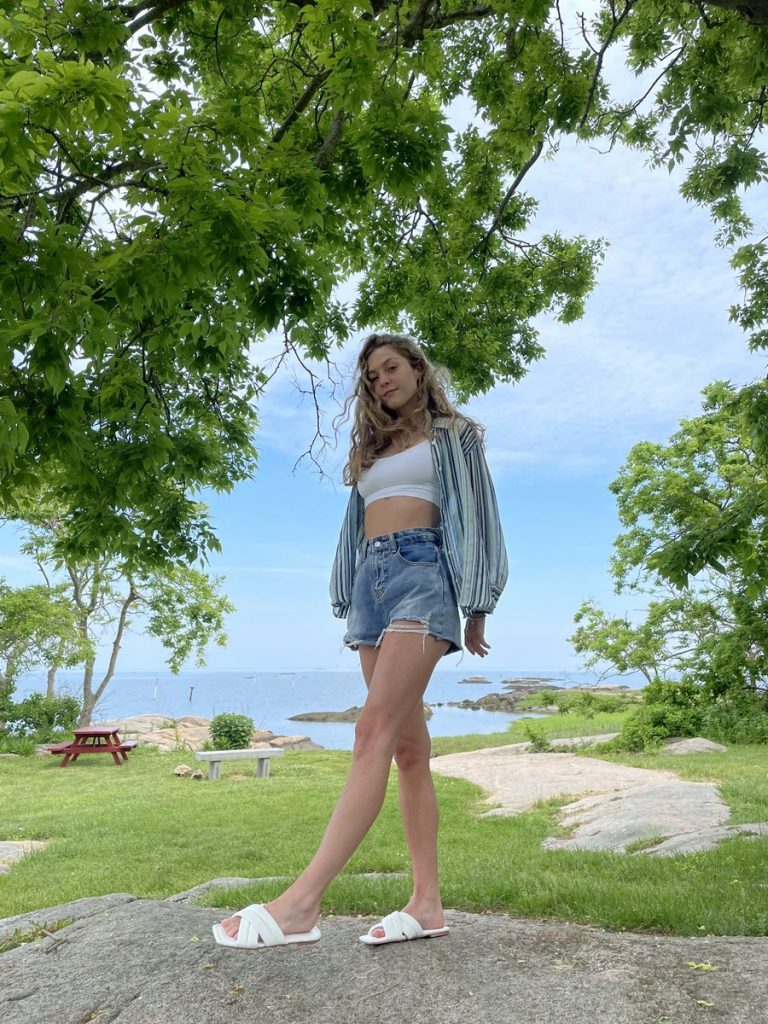 The role was formerly played by actress Juliana Rose Mauriello in the first and second seasons, however, Juliana had to leave the show as she had grown too old for the role.
To land her role in "Lazy Town", she had to go through a series of auditions in New York City, and after prolonged negotiations, Chloe secured a contract with the film producers. All through the entire process, Chloe's mother, Tina was by her side, even accompanying her daughter to Iceland for filming sessions.
Chloe Lang was 11 years old when she started working with the "LazyTown" crew. Two years after starring in the series, Chloe's performance won her a nomination for Young Artist Awards in the category of Best Actress of TV Series (comedy drama)- Young Main Actress (2014).
Other films and TV dramas Chloe Lang has appeared in are  "My Brother Jack" (2013),
"Brooke and Carly" (2016), "Harper's First Kiss" (2018) and "5th Borough" (2020).
Chloe has also appeared in popular commercials for JCPenney, Macy's, Pilsbury, Haribo and The American Cancer Society.
Chloe's career requires a lot of traveling, to New York, Los Angeles and Iceland among other places for filming sessions.
YouTuber
Chloe launched her YouTube channel 'Chloe5Lang' on 19 June 2019, on which she uploads vlogs of her daily life, and details of her projects. Some of her popular YouTube videos are, "At Home Workout Routine", "LazyTown Storytime" and "Christmas Haul with Chloe Lang".
Her channel now has over 63,000 subscribers, and currently the total view count of all videos on her channel has surpassed 23 million.
Musical Career
In April of 2020 – the height of the lockdown – Chloe released her debut song, "Is It Love?", in collaboration with Olivia De Fusco, Bond Villain and JC at Raw Recording Studios, located in Patterson, New York. According to Chloe, the lyrics of her song were 'inspired from toxic relationship experiences.' Chloe's fans eagerly await new music from her!
Social Media Personality
Chloe Lang has a large following on social media – her TikTok handle, (chloemaxlang) boasts over 350,000 followers who watch her entertaining and educative content on the platform. On Instagram she has about 100,000 followers, collaborates with fashion brands such as Twenty5a, to promote their designs.
Personal Life, Relationship
Chloe once suffered from ulcerative colitis; the impact on her was worse as she developed the ailment while filming. Fortunately, she recovered after a series of infusion treatments.
The 19-year old has revealed that she has a boyfriend. In an interview with Digital Journal, she mentioned that she and her boyfriend took a trip to Greece.
The pandemic of 2020, dealt performing artists a hard blow. According to Chloe, she spent the time working on her acting skills and growing her social media audience. She's often seen hanging out with Dana Michelle.
Hobbies, Favorite Things and Interesting Facts
Chloe is an avid pet lover.
She loves traveling.
Her favorite music genre is pop.
She has an interest in gymnastics.
Chloe Lang is a picky eater, who dislikes seafood, however, she loves eating pretzel chips and hummus.
She hopes to work with Leonardo DiCaprio, Chloe Grace Moretz and Zendaya.
Appearance, Clothing Style
Chloe Lourenco Lang is 5ft 3ins (1.6m) tall, and weighs about 121 lbs (55kgs). At her young age, she already has a stunning figure, which is likely to get better as she grows older. Although Chloe tends to change her hair color from time to time, her long natural hair is colored light brown. Her eyes are a brown shade as well.
Chloe represents "Gen Z" in her clothing style. She loves to dress casually in hoodies and jeans.
Net Worth and Salary
Chloe Lang earns an average salary of $50,000 per year. Currently her net worth is estimated to be $500,000, earned from acting, Google Adsense and collaborations with brands online.
Details of property owned by Chloe Lang are unavailable to the public at this time.