Chris Parnell:
• Born in 1967 in Memphis, Tennessee, USA
• Professional actor, comedian and voice-over artist
• Net worth estimated at over $7 million
• Appeared in over 170 television and film titles since the mid-1990s
• Cast member of the "Saturday Night Live" (SNL) from 1998 to 2006
• Landed the role of Dr. Leo Spaceman in the NBC satirical sitcom "30 Rock" (2006-2013)
• Voicing Jerry Smith in the Adult Swim sci-fi sitcom "Rick And Morty" (2013-2021)
• Appeared in "Anchorman: The Legend Of Ron Burgundy" and its sequel
Who is Chris Parnell?
Thomas Christopher 'Chris' Parnell was born on 5 February 1967 under the zodiac sign of Aquarius, in Memphis, Tennessee USA. He's a 54-year-old actor and comedian, probably best recognized for being one of the cast members of the NBC late-night live comedy sketch and variety show "Saturday Night Live" (SNL) from 1998 to 2006. He is also known for landing the role of Dr. Leo Spaceman in the NBC satirical sitcom "30 Rock" (2006-2013), and voicing Jerry Smith in the Adult Swim sci-fi sitcom "Rick And Morty" (2013-2021).
NEW YORK, NY – OCTOBER 6: Chris Parnell at 2016 New York Comic Con for FX's "Archer" at the Javits Center on Thursday, October 6, 2016, in New York City. (Photo by Nick Papananias/FX/PictureGroup)

Posted by Archer on Friday, October 7, 2016
How rich is he, as of now? Chris Parnell Net Worth
As of mid-2021, Chris Parnell's net worth is estimated at over $7 million, earned through his very busy and successful involvement in the entertainment industry as a professional actor, comedian and voice-over artist, working on over 170 television and film titles since he launched his career back in the mid-1990s.
Early Life, Parents, Siblings, Nationality, Ethnicity, Educational Background
Chris Parnell spent his early years in his hometown of Memphis, where he was raised in a Southern Baptist family by his father Jack Parnell, who was a radio personality and voice actor, and his mother, whose name hasn't been revealed; it's also unknown whether he has siblings or is an only child. He holds American nationality and belongs to White Caucasian ethnic group.
Regarding his education, Chris went to the Southern Baptist Educational Center and later matriculated from Germantown High School. At the age of 17 he decided to pursue his professional career as an actor, but upon matriculation he still enrolled into the University of North Carolina School of the Arts, from which he graduated with a BFA in Drama.
Career Beginnings
Chris Parnell started his career on stage. Following his graduation, he moved to Houston, Texas where he performed with the Alley Theater, after which he returned to his hometown to work as an acting teacher in Germantown High School. He quit the job in 1992, and moved to Los Angeles, California to audition for The Groundlings. He performed with the popular group for several years, and concurrently started doing commercials and making guest appearances in various TV series, such as "Hope & Gloria", "Seinfeld", and "Murphy Brown".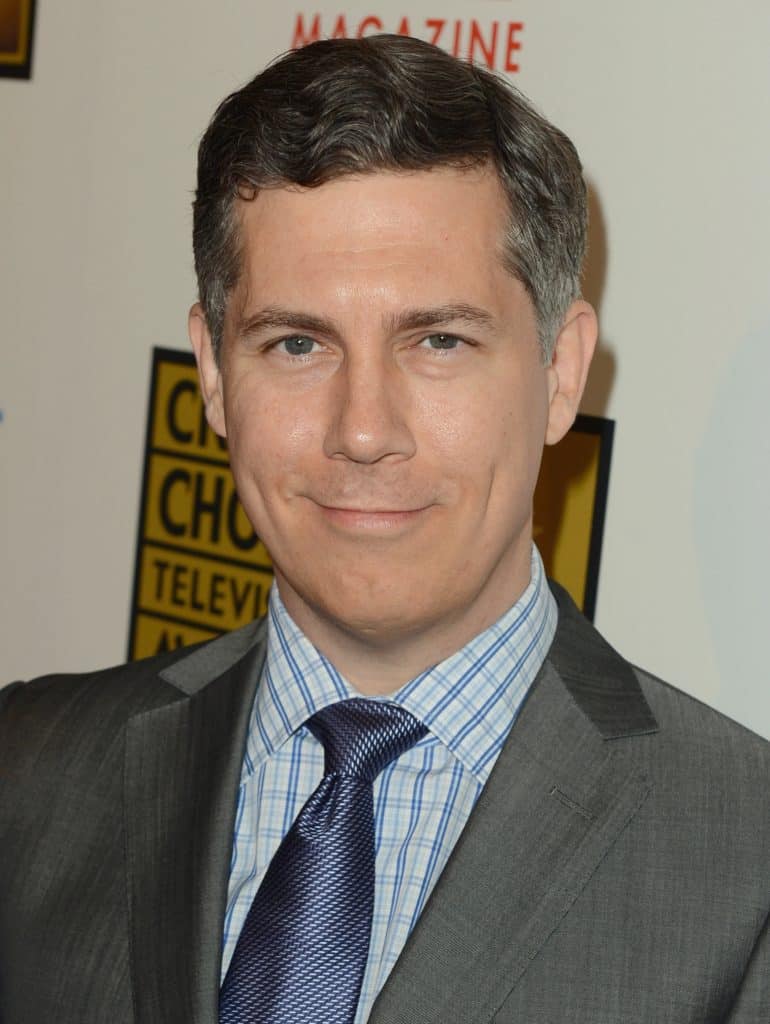 His debut feature film appearance came in 1996, when he landed a small role in Brian Levant's box office hit "Jingle All The Way", alongside Arnold Schwarzenegger and Sinbad.
Rise to Fame and "Saturday Night Live"
In 1998, Chris Parnell rose to prominence when he joined the cast of the 24th season of the famous NBC late-night live comedy sketch and variety show "Saturday Night Live", making his debut on 26 September. After being a featured player for a season, he became a repertory player. In 2001, Lorne Michaels had to reduce by two cast members due to budget cuts, and chose Chris and Jerry Minor, however, Chris was rehired shortly afterwards, and remained until 2006, when he was laid off again due to budget cuts.
During his stint, he appeared in nearly 150 episodes, performing various impressions and starring in numerous commercial parodies and sketches, including "More Cowbell" and "Lazy Sunday". He also performed raps about such hosts as Britney Spears, Ashton Kutcher and Jennifer Garner. Since 2006, he's made several uncredited cameo appearances in the show.
Concurrently, Chris continued to work on other projects, landing such roles as Phil Swanson in the 2000 sex comedy film "The Ladies Man" and Du-ug in the 2003 sci-fi comedy film "Evil Alien Conquerors". In 2004, he played Garth Holliday in the satirical comedy film "Anchorman: The Legend Of Ron Burgundy" as well as its direct-to-video counterpart "Wake Up, Ron Burgundy: The Lost Movie", both of which were co-written and starred Will Ferrell.
He would later reprise the role of Garth in its 2013 sequel "Anchorman 2: The Legend Continues".
Further Work
Chris Parnell had another major role when he joined the cast of the NBC satirical sitcom "30 Rock", in which he played Dr. Leo Spaceman from 2006 to 2013, co-starring alongside such actors as Alec Baldwin and Tracy Morgan. The series received many positive reviews from critics, and even won three Primetime Emmy Awards for Outstanding Comedy Series. In 2007, Chris featured as Barry Pasternack in Akiva Schaffer's comedy film "Hot Rod", which became a popular cult film on home video, and then Theo in the comedy film "Walk Hard: The Dewey Cox Story", alongside John C. Reilly and Jenna Fischer.
Between 2007 and 2014, he narrated and provided the voice to various characters in the PBS Kids children's flash-animated superhero series "WordGirl".
In 2008, he was cast as Vice Principal Bruce Terry in the ABC sitcom "Miss Guided", and played Terrence in the drama film "Eavesdrop", then in 2009 narrated the BBC Two comedic sword and sorcery series "Kröd Mändoon And The Flaming Sword Of Fire". Later that year, he joined the main cast of the Primetime Emmy Award-winning FX adult animated sitcom "Archer", in which he has been voicing Cyril Figgis and Buck Henry ever since. Concurrently, he provided voice-overs for Cole Fusion in the Mexican-American animated action-comedy film "Kung-Fu Magoo", and Chris Henkel in the Comedy Central series "Big Lake", both in 2010.
Thereafter, he also lent his voice to various characters in the HBO comedy sketch show "Funny Or Die Presents" (2010-2011), created by Adam McKay and Will Ferrell.
Roles in the Early 2010s
With the beginning of the new decade, Chris Parnell continued taking major projects. He played JB in the MTV comedy-drama series "I Just Want My Pants Back" (2011-2012), and featured as Fred Shay in the ABC sitcom "Suburgatory" (2011-2014). He landed the role of Mr. Gordon in the 2012 buddy cop action comedy film "21 Jump Street", next to Johan Hill and Channing Tatum, which was a huge box office success, grossing over $200 million worldwide.
We're back! Season 2 of #ForAllMankind is avail NOW on @AppleTV. Enjoy!! https://t.co/Ut53tJhzDN

— Chris Parnell (@ChrisFParnell) February 19, 2021
During the same year, he also provided his voice to Giovanni Montalbon in the post-apocalyptic web series "Electric City", created by Tom Hanks and aired on Yahoo! Screen, and Fly in the monster comedy film "Hotel Transylvania", which he would later reprise in its sequels "Hotel Transylvania 2" (2015) and "Hotel Transylvania 3: Summer Vacation" (2018). Another remarkable Chris Parnell role was in 2013, when he started voicing Jerry Smith in the highly-popular Adult Swim animated series "Rick And Morty". Thereafter, he voiced several characters in the educational comedy TV series "Drunk History" (2013-2019), and the adult animated TV series "TripTank" (2014-2016), both aired on Comedy Central.
Recent Years
Continuing his very busy career, in 2015 Chris took the part of Daniel in the family comedy-drama film "The Better Half", and then voiced Snoot and other characters in the Netflix 2D-animated series "Dawn Of The Croods" (2015-2016) and Mr. Peabody in another Netflix animated series, "The Mr. Peabody & Sherman Show" (2015-2017). Later in 2015, he also joined the cast of the PBS Kids animated series "Nature Cat", in which he voiced various characters through 2019, and since 2016, he's provided his voice to several characters in the Fox / TBS adult animated series "American Dad!"
Concurrently, Chris was also cast as Migs in the Disney animated series "Elena Of Avalor" (2016-2020), and meantime in 2018, he narrated the truTV educational comedy series "Adam Ruins Everything", and played Dean Parker in the ABC sitcom "Grown-ish", after which he was chosen to play the main role of Wayne in the Freeform sitcom "Happy Together" in 2018 and '19.
It was followed later in 2019 by his portrayal of Artie Mogull in the biographical film "I Am Woman", about singer Helen Reddy, and his voice-over of Dr. Fuffberg in the Netflix animated series "Archibald's Next Big Thing" (2019-2020).
Most recently, Chris was chosen to voice Doug and other characters in the critically-acclaimed Fox animated adult series "Family Guy" (2019-present).
The series has won numerous awards, and also earned a Primetime Emmy Award nomination for Outstanding Comedy Series. It's been announced that he will play Uncle Stu in the upcoming Christmas comedy film "Home Sweet Home Alone", which is the sixth installment of the "Home Alone" film series.
Appearance and Vital Statistics
Chris Parnell has short grey hair and blue eyes. He stands at a height of 5ft 8ins (1.73m), while his weight is around 148lbs (67kgs). Information about his vital statistics, biceps size, and shoe size isn't available.
Personal Life
Chris Parnell isn't very open regarding his private life and tends to keep all details about it far away from the eye of the public. Nonetheless, it's revealed that he has a wife although her name remains a mystery, but they have two children together, but maintaining a low-key life. Their current residence is in Los Angeles.