Who is Clark Backo?
Clark Backo was born in Montreal, Quebec, Canada, sometime in the early '90s, but has been keeping her exact date of birth hidden from the media's attention – her zodiac sign is said to be Sagittarius, and she holds Canadian nationality. She is an actress, dancer and a model, who might be known best for her portrayal of Patience Turner in the fantasy horror series "Supernatural", created by Eric Kripke and which starred Jensen Ackles, Jared Padalecki and Jim Beaver. The story follows two brothers as they fight supernatural beings living on Earth, while the series won 38 awards and was nominated for 127 others including three Primetime Emmys.
It aired from 2005 to 2020, while Clark appeared in two 2017 and one 2018 episodes.
Early life, family and education
Clark was raised in Toronto, Ontario as her family moved there not long after she was born. She is very secretive when it comes to her family, and hasn't shared any details concerning her parents or any siblings she might have.
Clark grew up being interested in dancing, and started taking lessons aged seven. Her father is said to be a great storyteller and after having told her numerous tales as she was growing up, Clark decided that she might become a storyteller herself, or become an actress.
After matriculating from high school sometime around the year 2010, she started practicing acting at Straeon Studios, and then enrolled at a university from which she graduated with a Bachelor of Science degree,e(believed to have been in 2014.
Roles in TV series
Clark made her debut TV series appearance in the 2012 episode "Proceed with Caution" of the romantic horror drama "Beauty and the Beast", which was quite popular in both Canada and the US, as it won three awards and was nominated for 16 others.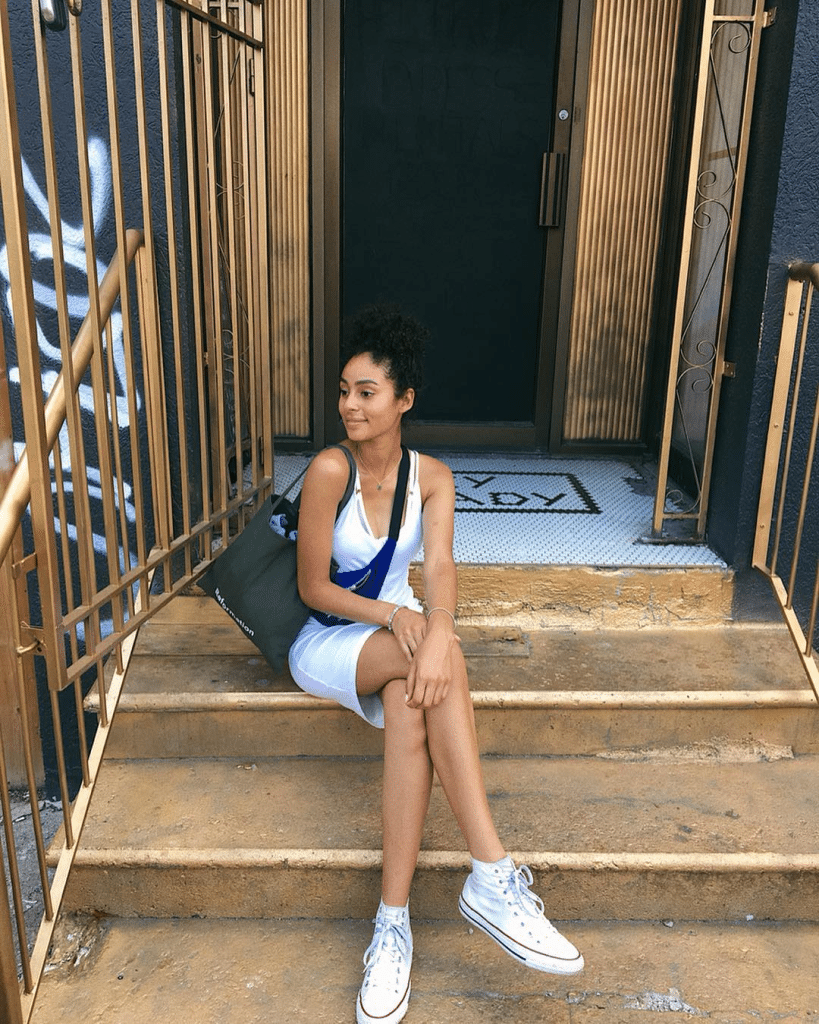 Her following noted role came three years later, when she appeared in single episodes of both the family drama "Remedy" and the mystery horror drama "Hemlock Grove", while Clark gained recognition in the following year when cast to play Avril Trong in three episodes of the thriller crime drama "Shoot the Messenger", which aired eight episodes before being cancelled due to poor ratings.
In 2017, she played one of the lead characters Emma Lavigueur in the drama "21 Thunder", created by Riley Adams, Kenneth Hirsch and Adrian Wills, and which also starred Stephanie Bennett and Emmanuel Kabongo. The series follows the lives of boys playing for the U21 soccer team Montreal Thunder.
In the same year, Clark played Ava in eight episodes of the mystery action drama "Designated Survivor", which follows a Cabinet member who is elected President of the United States of America after an attack killed all others who might have become the president ahead of him. The series won three and was nominated for three other awards.
In 2018, Clark portrayed Genevieve in the episode "Smart Power" of the science fiction thriller "The Handmaid's Tale", while the following year saw her play Liz Gellis in the episodes "Charlie Foxtrot" and "Cell H" of the science fiction drama "The Hot Zone".
Her most recent role in a TV series has been in 13 episodes of the critically acclaimed comedy "Letterkenny", created by Jared Keeso who also stars in it alongside Nathan Dales and Michelle Mylett.
It's about the everyday lives of people living in a small town, and the series has won 13 awards and has been nominated for 30 others since its airing began in 2016.
Roles in movies
Clark made her debut film appearance in 2016, when cast to play Brennan in the comedy "Sadie's Last Days on Earth", and the same year saw her star as Nora in the short comedy "Going In", written and directed by Evan Rissi who also starred in it.
In 2018, Clark played Girl on Train in the mystery crime "Birdland", which attracted little attention and gained poor reviews, and she also portrayed Nell in the mystery horror drama "Seven in Heaven".
The following year saw her play Todd's Mother in the horror thriller "Random Acts of Violence" written and directed by Jay Baruchel who also starred in it alongside Jesse Williams and Jordana Brewster; the movie follows two comic book writers as they come to realize that what they write about happens in the real world. It was nominated for a 2020 L'Etrange Festival Prize for Best Feature Film.
Clark's most recent two roles in movies – both in 2020 – have been in theromantic drama "Love at Look Lodge" and psychological drama "Happy Place" in which she starred alongside Joanna Areti,.
She is currently shooting for two upcoming movies: the science fiction thriller "No Running" and the drama "Confession", in both of which she's portraying the lead character.
Love life and husband
Clark is quite secretive when it comes to her love life, but it's widely believed that she's in a relationship with a man who goes by the name Frenchto on Instagram.
Clark has uploaded many pictures featuring her and Frenchto together onto her Instagram account, and usually refers to him as 'Bebe'. On their picture uploaded on 29 December 2017, Clark wrote: 'Love you h8ater'. She has been asked by many of her fans whether or not the two are indeed dating, how they met and how long have they've known each other, however, Clark isn't interested in answering questions, and her relationship status is still a mystery.
As of January 2021, she appears to be dating her long-term boyfriend Frenchto, hasn't married and doesn't have children.
Hobbies and other interests
Clark's favorite hobby is travelling, and her acting career has taken her to many Canadian cities, while she has also been to a couple of US states including New York, California and Florida. She likes to spend her vacations in natural locations such as at national parks, deep in woods or high up in the mountains.
She is physically very active, and exercises nearly every day, thus her fit body. She occasionally uploads pictures and videos of her training routine onto her Instagram account.
Summer is Clark's favorite season as she enjoys showing off her body at the beach, sun tanning and playing beach soccer with her friends.
She has her own favorite actors and actresses, some of whom are Leonardo DiCaprio, Natalie Portman and Julia Roberts, while her favorite movies include "Inception", "Shutter Island" and "Notting Hill".
Age, height and net worth
Clark is believed to be around 28 years old. She has long brown hair and brown eyes, her height is 5ft 4ins (1.65m) and she weighs around 120lbs (54kgs).
As of January 2021, her net worth has been estimated at over $500,000.