• Curtis Armstrong is an American actor, film writer and producer.
• He is known for his debut film appearance in 1983's "Risky Business" and the 1993 adventure comedy drama "The Adventures of Huck Finn".
• Curtis has two writing and one producing credits and has won a 2004 ShockerFest Horror Genre Award for Best Actor.
• He is married to film writer and producer Elaine Aronson and has a daughter with her.
• As of August 2021, his net worth is estimated to be over $2.5 million.
Who is Curtis Armstrong?
Curtis Armstrong was born in Detroit, Michigan USA, on 27 November 1953 – his zodiac sign is Capricorn, and he holds American nationality. He's an actor, film writer and producer, with close to 170 acting credits to his name, while he's perhaps still known best for his debut film appearance, portraying Miles Dalby in the 1983 crime comedy film "Risky Business", written and directed by Paul Brickman, and which starred Tom Cruise, Joe Pantoliano and Rebecca De Mornay; it follows a teenager living in Chicago, who's throwing a party while his parents aren't home – the movie was nominated for three awards.
Early life and education
Curtis was raised in Detroit alongside his sister, by their father Robert Leroy Armstrong, who died from the coronavirus on 25 May 2020, and their mother of Italian descent, Norma E. Armstrong, who was a teacher.
Curtis became interested in acting while attending a local high school, however, he was urged by his family to focus on his education, as they didn't believe he would succeed in the film industry. He was into sports during his teenage years, and played football for his high school's team; Curtis matriculated in 1971, and although he hasn't spoken of his further education, it's widely believed that he attended college, from which he graduated with a Bachelor's degree in 1975.
He worked various jobs for the following eight years, before launching his acting career.
Roles in movies
Following his previously mentioned debut, the '80s saw Curtis appear in a couple of other critically acclaimed movies, such as the 1984 comedy "Revenge of the Nerds", the 1985 romantic comedy "Better Off Dead…" and the 1989 romantic comedy "How I Got Into College".
In 1993, Curtis played Country Jake in the popular adventure comedy drama "The Adventures of Huck Finn", directed by Stephen Sommers, and which starred Elijah Wood, Courtney B. Vance and Robbie Coltrane. It follows Huck Finn who has run away from home, and is travelling down the Mississippi River with the slave Jim. The remainder of the '90s saw Curtis appear in a couple of award-winning movies, including the 1996 thriller comedy "Big Bully" and the 1996 adventure family comedy "Jingle All the Way".
In 2002, Curtis played Campus Cop, in the romantic comedy "Van Wilder", directed by Walt Becker, and which starred Ryan Reynolds, Tara Reid and Tim Matheson; it follows the most popular college student as he's falling in love with a journalist. The same year saw Curtis appear in the action science fiction horror "Project Viper", and in 2003 he played Dexter Pearlsley, in the family fantasy comedy "Quigley".
Some of Curtis' most notable performances in the decade were in the 2003 biographical action comedy "Return to the Batcave: The Misadventures of Adam and Burt", the 2004 sports comedy "Dodgeball: A True Underdog Story", and the 2006 mystery comedy drama "Southland Tales".
In 2014, Curtis voiced Maru, in the animated adventure comedy "Planes: Fire & Rescue", written and directed by Roberts Gannaway, and which starred Dane Cook, Ed Harris and Julie Bowen. It follows the airplane Dusty, which joins a fire and rescue unit, after he learns that his engine is no longer good for racing. The movie was nominated for six awards.
Three of Curtis' most recent roles in movies have been in the 2015 short mystery adventure "Gumshoe and Stiletto", the 2019 family action comedy "Malibu Rescue", and the 2020 family action comedy "Malibu Rescue: The Next Wave". He's currently shooting for the upcoming mystery "Blind Psychosis".
Roles in TV series
Curtis made his debut TV series appearance in 1986, with his portrayal of various characters in 37 episodes of the mystery comedy drama "Moonlighting", created by Glenn Gordon Caron, and which starred Bruce Willis, Cybill Shepherd, and Allyce Beasley. It follows a detective and a former mode, who are running a private detective agency together; the series aired from 1985 to 1989, and won 25 awards, including six Primetime Emmys, while it was nominated for 60 other awards.
The '90s saw Curtis appear in an episode of numerous series, with some of the most notables amongst these having been the comedy "Murphy Brown", the comedy "Cybill", and the adventure comedy drama "Lois & Clark: The New Adventures of Superman". Between 1993 and 1997, Curtis voiced Scooter, in the animated adventure comedy "Eek! The Cat", which starred Tawny Kitaen, Charlie Adler and Bill Kopp, and follows the cat Eek, which continuously finds itself in life threatening situations; it won one of the four awards it was nominated for.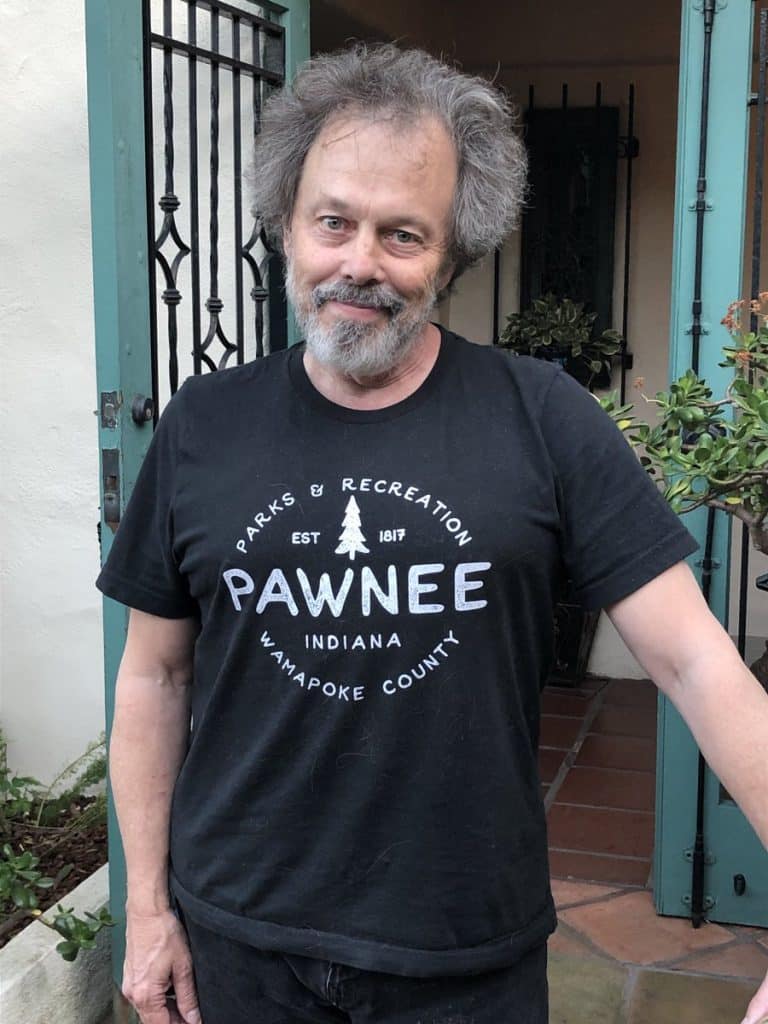 During the 2000s, Curtis was mostly focused on making guest appearances in series, such as the action crime comedy "V. I. P.", the mystery crime drama "Crossing Jordan", and the family comedy drama "Rock Me, Baby".
Between 2012 and 2015, he voiced the main character Robot, Marf and various other characters in the animated adventure comedy "Robot and Monster", which also starred Harland Williams and Jonathan Slavin, and follows the adventures of two best friends, Monster and Robot.
Three of Curtis' most recent roles in TV series have been in the animated action adventure "The Loud House", the animated comedy "American Dad!", and the animated adventure comedy – all voice roles.
Other credits
Curtis has two writing, and a single producing credit: he made his writing debut in 1995, with the animated adventure comedy "A Goofy Movie", and in 2000, he wrote the episode "The Perfect Day", of the action adventure comedy series "The Famous Jett Jackson".
In 2013, Curtis produced eight episodes of the reality game-show "King of the Nerds".
He has received three special thanks, for the 2010 documentary movie "Who Is Harry Nilsson (And Why Is Everybody Talkin' About Him?)", the 2016 episode "Pennywise" of the talk-show "Captain Kyle's Cosplay Spotlight", and the 2016 documentary film "Supernatural Fandom".
Awards and nominations
Curtis has won a single award: a 2004 ShockerFest Horror Genre Award for Best Actor, for his performance in the short film "Conversations".
He has also been nominated for three Behind the Voice Actors Awards, and a Daytime Emmy Award.
Wife and daughter
Curtis has married twice, but not a lot is known about these marriages, as he prefers to keep the details of his private life to himself.
In 1980, he exchanged vows with Cynthia Carle, an American actress and film writer. The two divorced in 1987 for unknown reasons, but it's widely believed that Cynthia didn't handle well Curtis' rise to stardom, and preferred to have him home, rather than away shooting for his movies and TV series.
In 1994, Curtis married Elaine Aronson, an American film writer and producer; he was Catholic prior to the marriage, then converted to Judaism. In 1996, Elaine gave birth to their daughter Lily Armstrong.
Curtis hasn't spoken of any other woman whom he has perhaps been with, so as of August 2021, he's married to Elaine Aronson, and has a daughter with her.
Hobbies and other interests
Curtis was physically quite active during his 20s and 30s, as he often played football and basketball with his friends, and also had a couple of training sessions at the gym each week.
He loves to travel, and his acting career has taken him all around the world. Curtis has been to nearly all the US states, many European countries, and various Asian and South American countries; his dream travel destination is Venice in Italy.
He's a fan of all kinds of art, with his favorites being sculpting and painting; Curtis has visited numerous museums and galleries all around the world.
He has his own favorite actors and actresses, some of whom are Jim Carrey, the late Robin Williams, and Meryl Streep, and a couple of his favorite movies are "Bruce Almighty", "Good Will Hunting" and "Kramer vs. Kramer".
Age, height and net worth
Curtis' age is 67. He has short curly brown hair and brown eyes, his height is 5ft 4ins (1.63m) and he weighs around 140lbs (64kgs).
As of August 2021, his net worth has been estimated at over $2.5 million.