• Born in 1999 in Los Angeles, California USA
• 21-year-old fitness model and social media phenomenon with over 6.4 million followers on TikTok and over 5.7 million followers on Instagram
• Over 1.5 million subscribers on her YouTube channel and videos viewed over 110 million times in total
• Co-founder of The Hype House and the Clubhouse, with a net worth of over $1.5 million
• Creates content related to fitness, beauty hacks, Q&A, make-up tutorials, hauls, challenges and more
• Co-runs a vlogging YouTube channel with her boyfriend Michael Yerger
• Also active on TikTok, Snapchat and Twitter, selling content to OnlyFans
• Has a website called Keech Peach selling fitness programs, equipment and more
Who is Daisy Keech?
Daisy Keech was born on 12 August 1999 under the zodiac sign of Leo, in Los Angeles, California USA. She is a 21-year-old fitness model and social media phenomenon, probably best recognized for running her official TikTok account with over 6.4 million followers, as well as her official Instagram account on which she's attracted more than 5.7 million followers. She also runs her self-titled YouTube channel, on which she has amassed over 1.5 million subscribers, while her videos have been viewed more than 110 million times in total. She's also known for being a co-founder of The Hype House.
Natural hair day pic.twitter.com/7IWZOfqo71

— peaches (@DaisyKeech) December 3, 2020
How rich is she, as of now? Daisy Keech Net Worth
As of mid-2021, Daisy Keech's net worth is estimated at over $1.5 million; acquired largely through her successful involvement on the social media scene as a creator of content related to fitness. She increases her fortune through various advertisements, brand deals, and video monetization.
Early Life, Parents, Nationality, Ethnicity, Educational Background
Daisy Keech spent her early years in her hometown of Los Angeles, where she was raised with her younger brother named Robbie by their father, whose name hasn't been revealed, and their mother, Shawna.
The professions of her parents remain a mystery. She holds American nationality and belongs to White Caucasian ethnic group. After completing her high school education, Daisy enrolled into a college, but dropped out to focus on her internet-based career.
Rise to Fame on Instagram
Daisy Keech has always been passionate about modeling and fitness. Her career began when she came up with an idea to share her passion with other people, and launched her official Instagram account under the username '@daisykeech'. She immediately started sharing photos of her perfectly built body, so promoting an active and healthy lifestyle.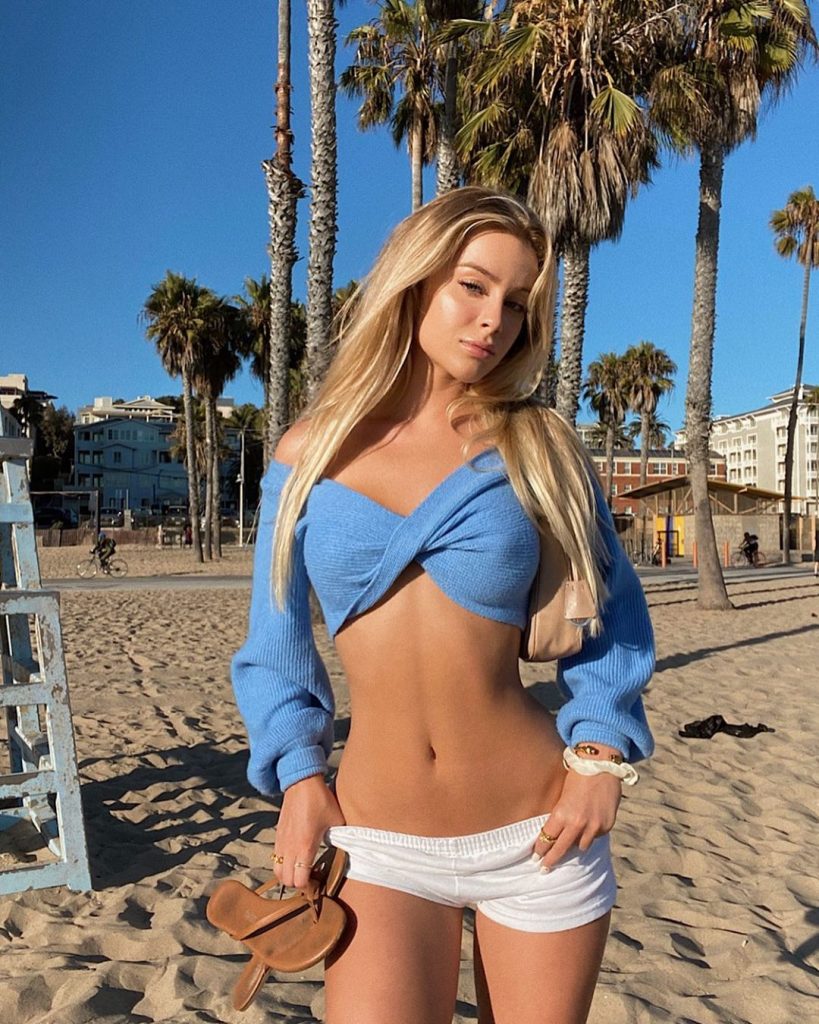 Her audience grew enormously over time, and she soon started working as a fitness model, after receiving offers to create sponsored posts for various brands, such as Fashion Nova, Fitore Nutrition and Manscaped.
YouTube Channel
Once she garnered a decent number of followers on her Instagram account, Daisy Keech decided to expand her influence and became active on YouTube. So, she created her official self-titled channel, and uploaded her first video in February 2018 entitled "5 EXERCISES TO BUILD A BIGGER BOOTY!! That butt squeeze though". It went viral and enlarged her fan base, encouraging her to create more videos of similar content. She began sharing her daily workout routines, and fitness and nutrition advice in her videos.
Besides that, she started creating more content, and began filming beauty hacks, Q&A (question-and-answer) videos, make-up tutorials, hauls, challenges, etc. Some of her most viewed YouTube videos include "LOUNGE UNDERWEAR TRY ON HAUL | DAISYKEECH", "QUARANTINE BUBBLE BUTT WORKOUT", and "QUARANTINE ABS | My 8 Minute Go-To Cinch Waist Workout", among many others.
The Hype House and Clubhouse
In December 2019, Daisy Keech co-founded The Hype House along with other social media stars Thomas Petrou and Chase Hudson. It represents a collective where influencers live, and together create various content for Instagram, TikTok, YouTube, and other platforms.
After finding out that Petrou and Hudson were making important business decisions without her knowledge, Daisy left the house and filed a lawsuit against them. In no time, she established a new house called the Clubhouse, which featured only female content creators, such as Abby Rao. She eventually left it to live on her own and pursue other interests outside TikTok and YouTube, including home renovation and interior design.
The DAM Family
Apart from her main YouTube channel, Daisy Keech alongside her boyfriend Michael Yerger also launched their shared channel, called 'DAM Fam', in October 2020.
It's their official vlogging channel on which they share various content related to their private lives and relationship. The couple uploaded their first video, entitled "WE MOVED IN TOGETHER AND HAVE SOME EXCITING NEWS", in November of the same year. It became the most viewed video on the channel, while some of their other popular videos are "Couples quarantine Ab workout", "THE DAM FAM MORNING ROUTINE", and "24 HOUR HANDCUFF CHALLENGE".
Other Social Media Platforms
Daisy Keech is also active on her official TikTok account, on which she shares short videos and interacts with her enormous fan base. She has an account on the app Snapchat too, under the username '@daisyapril' and runs her official Twitter account.
Most recently, she started making content for adults, such as photos and videos, and selling them to those who pay through the OnlyFans service, on which she goes by the username '@daisykeech'.
Keech Peach
Daisy Keech's Instagram bio claimed that she has the 'first certified real booty', meaning that she got a doctor to check if it's real, and filmed a video about that. Moreover, she created another Instagram account under the username '@keechpeach' which is dedicated to her booty. She also created her own website of the same name, through which she sells training programs and equipment, some of which are "8 Week Booty Program", "Home Booty Program", "14 Day Detox", and "12 Week Summer Program".
Appearance and Vital Statistics
Daisy Keech has long blonde hair and blue eyes. She stands at a height of 5ft 6ins (1.67m), while her weight is around 120lbs (55kgs), with vital statistics of 32-25-36. Her bra size is 33B, dress sizes 4 (US), and shoe size 9 (US).
Relationship with Michael Yerger
Daisy Keech is in a relationship with Michael Yerger, a model, reality TV personality, and social media star, perhaps best known for being a contestant in the CBS competitive reality series "Survivor: Ghost Island". They became romantically involved in the summer of 2017, and recently moved in together; their current residence is in Los Angeles. They are avid animal lovers and they have two dogs named Harley and Mudra, and have even created Instagram accounts for both of them.