• Emily Rudd is an established model, actress, and social media sensation
• She is a Pisces, born in 1993 in Saint Paul, Minnesota
• Rudd trained in martial arts and participated in other sports such as volleyball, gymnastics and cross country
• She has featured in multiple music videos and has an active YouTube channel
• She has a net worth close to $500,000
Emily Rudd, known better as emilysteaparty on Tumblr and Twitter, is a famous model, established actress and social media sensation.
Age, Zodiac Sign, and Early Life
Emily Ellen Rudd was born under the Pisces zodiac sign on 24 February 1993, in Saint Paul, Minnesota, USA, which makes her 28 years old as of 2021. She was brought up in her hometown together with her elder brother Daniel, who aspires to be a musician. Emily hasn't disclosed the identities of her parents yet. Her middle name, Ellen, came from her grandmother's name.
As a child, Emily nurtured a dream of pursuing a career in acting when she grew up.
Emily was physically active as she was growing up, and trained in martial arts, specifically Karate and Judo, and also participated in other sports such as volleyball, gymnastics and cross country. She attended St. Paul High School, where she also featured in drama and stage plays. Although Rudd was not very fond of high school, she enjoyed choir and art classes. She matriculated to theatre college, from where she graduated with a bachelor's degree in theatre performance.
Hobbies and Interesting Facts
Emily is a fitness devotee who exercises regularly to keep fit.
She loves singing and dancing.
She is an animal lover, and adores horses and dogs the most.
The famed actress loves traveling, and has visited several beautiful destinations.
Career Beginning and Rise to Prominence
Rudd started her career in art and modelling as soon as she graduated from college. She's had the chance of working with some of the most famous names in the photographic industry, including Ja Kocka, Sara, and Peter James.
Acting Career
Emily's debut in acting was in 2014, when she played a protagonist role in the Jamie Russell directed film, "Secret Santa."
She made an appearance as Daenerys Targaryen in "George R.R. Martin's Blank Page" short video, before featuring in other short films such as "An Eye for an Eye" and "Best Buy," and also in a few "Olive Forever" episodes. In 2017, Emily secured a major role as Miranda in "Sea Change" drama film, which co-starred Skyler Maxon and Keenan Tracey. Emily's most recent contribution is in 2018's "The Romanoffs" drama series, in which she portrayed Ella Hopkins, who is one of the many descendants of the eminent Russian family.
Music Videos Career
Emily has spent a considerable amount of time building her name by appearing in music videos since she first appeared in DJ 3LAU's "We Come to Bang Together" video in 2014.
She also made contributions to the making of "I Had This Thing" music video as Eman Bittencourt's main model in 2014, and has ever since been selected to feature in their music videos by several musicians, including Justin Bieber, DJ Snake, Röyksopp, Skrillex, and Dillon Francis.
The iconic model created her "Emily Rudd Brasil" YouTube Channel in 2016. She posts blogs and shares videos on make-up, and has gained a huge following, having shared the screen with  Hera Hilmar,  Christina Hendricks, Kerry Bishe, and Diane Lane. Emily boasts of hundreds of thousands of Instagram followers, is active on Facebook, and has a significant number of followers on Twitter too, on which she has a micro-blogging site.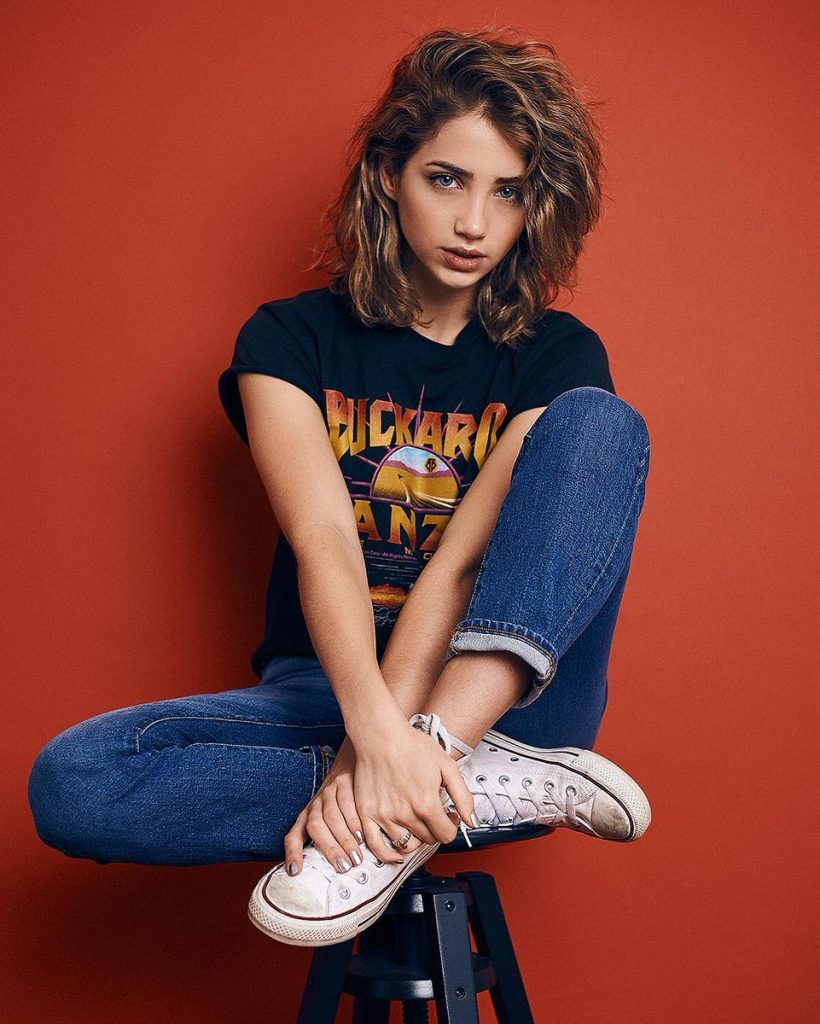 She also constantly uploads posts endorsing and marketing her products.
Personal Life
Unlike most social media sensations who prefer keeping their personal lives away from media attention, Emily has nothing to hide. She has not kept the fact that she is dating Justin Blau, an electronic music producer and DJ, a secret. Blau is based in Los Angeles and is known by most of his fans as 3LAU, and has his girlfriend Rudd as a lead character in most of the music videos he produced. The duo met in 2015 and have constantly posted pictures of themselves together on social media, and are apparently looking forward to getting wed, according to sources.
Emily Rudd is rumoured to have been in a previous relationship with the writer, comedian and actor Paul Rudd although their relationship was short-lived.
She is currently living together with her siblings and parents in California.
Rumors and Controversies
Many people believe that the famed actress, Emily, is related to  2015's "Ant- Man" protagonist, Paul Rudd.  This is not the case; Paul was born on April 6 1969, in Passaic, New Jersey, and does not have any connection with the young famed actress who is from Minnesota. In fact, Paul has two children, who were born long before Emily Rudd was even conceived.
Who is Emily Rudd's Boyfriend, 3LAU
3LAU, born Justin Blau, is an American dubstep producer, who joined the electronic music scene with perfectly created mixtapes that included Dance Floor Filth string of music scenes. Justin was born in Syosset, New York, on 9 January 1991, under the Capricorn zodiac sign, which makes him 30 years old as of 2021.
He was brought up in Las Vegas, Nevada, where he joined The Meadows School. He grew up with a knack for music, and loved playing guitar and piano as a child. The digital artist has had a successful musical career, and has emerged victorious in several remix competitions, following his spectacular remix of "Work Hard, Play Hard" by Tiesto. Justin has used various platforms including Nifty Gateway to sell NFT art.
He is known better for his performances at festivals such as Electric Zoo and EDC Vegas, and has remixed popular tracks by established artists such as Adele. Justin has had several collaborations, such as 2014s "Viking" with Botnek, 2016's "Fire" among others. He has also released many singles including "Alive Again" (2015), "It Is Love," "Star Crossed," "Walk Away," "On My Own," among many others.
Through his successful career as a DJ, Justin has earned a net worth of close to $500,000.
Body Appearance and Measurements
Emily is American of white ethnicity, and  can be described as slim but the fact remains that the famed model has a balanced body figure and everything is in proportion; her fans consider her sizzling hot. She is 5ft 5ins (1.65m) tall and weighs around 144lbs (52kgs) with vital statistics being 32-23-33, bra size 32 C, shoes size 6 (US). She has long brown hair and blue eyes.
Net Worth and Salary
Rudd has accumulated her wealth from her profession as a model and actress. She earns an annual salary of approximately $70,000 from her modelling career. Her YouTube channel is also a decent source of income, so her net worth is close to $500,000, as of mid-2021.