• Teresa Earnhardt is an American businesswoman from Hickory, North Carolina.
• She was the widow of American professional stock car driver, Ralph Dale Earnhardt.
• Teresa is the owner of the Dale Earnhardt Foundation.
• She has a daughter with Dale, Taylor Nicole Earnhardt.
• Dale was a NASCAR driver, nicknamed 'The Man in Black' and "The Intimidator", and won four Winston Cup Championships.
Who is Teresa Earnhardt?
American businesswoman Teresa Earnhardt was born Teresa Houston in Hickory, North Carolina USA, on 29 October 1958, so her zodiac sign's Scorpio. She was the third wife and then widow of American professional stock car driver Ralph Dale Earnhardt, who's regarded as one of the best NASCAR drivers of all-time.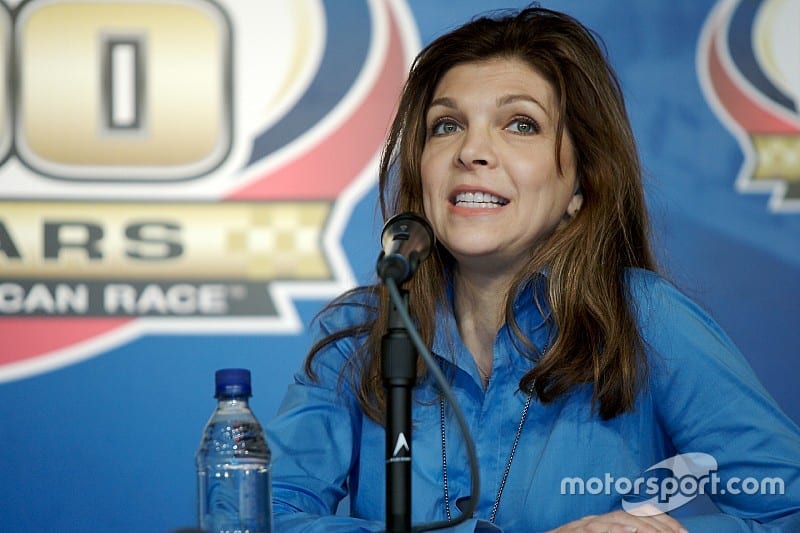 Education and early life
Teresa was raised in Hickory by her mother who was a housewife, and father Hal Houston who was a businessman; she hasn't spoken of having siblings, and is believed to have none. Teresa's uncle Tommy Houston's a retired stock car driver, perhaps best known for having raced in the NASCAR Busch Series; her cousin Andrew 'Andy' Houston is also a popular NASCAR driver.
Teresa studied at Bunker Hill High School, and was interested in a couple of activities during her four years there, including dancing and singing. She matriculated in 1977 and then enrolled at college, from which she graduated with a Bachelor's degree in interior design and commercial art in 1981.
Teresa's career
Teresa was a stay-at-home wife while married to Dale, but in 1996 she began heading his race team company Dale Earnhardt Inc., during the 1996 and 1998 Craftsman Truck Series and the 1998 and 1999 Busch Series Championships.
She became a co-owner of the Busch Series Championship team which raced in 2004 and 2005.
She merged Dale Earnhardt, Inc. with Chip Ganassi Racing with Felix Sabates in November 2008, and it became Earnhardt Ganassi Racing; their team won the 2010 Daytona 500.
Teresa was no longer the owner of Earnhardt Ganassi Racing in 2014, and the name was thus changed to Chip Ganassi Racing.
She's currently mostly focused on running the Dale Earnhardt Foundation.
Love life and marriage with Dale
Teresa was 19 years old when she met Dale at a race in 1978 – he was 27, but the two began dating, and married on 1 November 1982, with Teresa becoming his third wife. His first wife was Latane Brown, whom he married aged 17 in 1968, and they had a son Kerry together; Dale and Latane divorced in 1970. He married Brenda Gee in the following year, and she gave birth to their daughter Kelley King Earnhardt in 1972, and their son Dale Earnhardt Jr. followed in 1974; Dale and Brenda divorced in the second half of 1974. Both Dale's son are former NASCAR drivers.
Teresa gave birth to her and Dale's daughter Taylor Nicole Earnhardt in 1988 – their marriage ended on 18 February 2001, when Dale died in a car crash during the final lap of the Daytona 500 race.
Teresa hasn't spoken of any men whom she's perhaps dated since Dale's passing, she seems to be unattached as of January 2023 and has a daughter with Dale.
Interesting facts and hobbies
Teresa isn't active on Instagram, as she prefers to keep the details of her personal life to herself, but she's still running her Twitter account, which she launched in October 2022; she's tweeted close to 300 times, and mostly writes items related to NASCAR.
She sued her stepson Kerry Earnhardt in May 2016, after he and his wife Rene tried to launch their home and furniture business 'The Earnhardt Collection'; Teresa won the case, and Kerry was thus not allowed to use 'Earnhardt' in his company's name.
She's passionate about travelling, and has been all around the world.
Teresa Earnhardt and Dale Earnhardt's children continue to war over his legacy. #NASCAR https://t.co/oNYaLUknDE pic.twitter.com/gwza4LalG4

— 𝐓𝐡𝐞 𝐒𝐩𝐨𝐫𝐭𝐢𝐧𝐠 𝐍𝐞𝐰𝐬 (@sportingnews) May 6, 2016
Teresa's a huge lover of animals, and horses are her favorites; her daughter Taylor's an avid horseback rider.
Her favorite actresses are Julia Roberts and Amanda Seyfried, and some of her favorite movies include "Ben Is Back", "Eat Pray Love" and "Ticket to Paradise".
Height, eyes and wealth
Teresa's age is 64. She has blue eyes and long brown hair, is 6ft 1in (1.85m) tall and weighs about 160lbs (74kgs).
Teresa's net worth's been estimated at over $60 million, as of January 2023.
Who was her husband Dale?
The late American NASCAR driver and team owner Ralph Dale Earnhardt was born in Kannapolis, North Carolina USA, on 29 April 1951, so his zodiac sign was Taurus. He raced from 1975 until his death in 2001, and was nicknamed 'The Man in Black' and "The Intimidator' because of his aggressive driving style.
Dale was raised in Kannapolis alongside two older and two younger siblings, by their father Ralph Earnhardt who was also a NASCAR driver, and mother Martha (nee Coleman) who was a housewife; Dale's father won the 1956 NASCAR Sportsman Championship. Dale was 12 when he secretly raced in his father's car and nearly won; he subsequently dropped out of high school wanting to become a race car driver, and was taught by his father, but Ralph passed away aged 45 in 1973, and it took Dale some time to recover from the loss.
He began competing in the NASCAR Winston Cup Series in 1975, and completed eight races in the following four years.
Dale began driving for the team Rod Osterlund Racing in 1979, and placed #7 at the end of the season, winning Rookie of the Year Award; he won the NASCAR Winston Cup Championship in the following year. Dale quit the team in 1981, after it had been sold to the late American entrepreneur James D. 'Jim' Stacy.
He drove for Bud Moore in 1982 and 1983, and in 1984 joined the Richard Childress Racing, staying with them until his death. Dale won his second and third Winston Cup Championship in 1986 and 1987, while his team won its first Owner's Championship in 1986; he placed #3 in the 1988 season and #2 in the 1989 season.
Dale won his fourth Winston Cup Championship in 1990, and then again in 1991, 1993 and 1994.
He won his first Daytona 500 race on 15 February 1998, at his 20th attempt.
On 18 February 2001, Dale was involved in a three-car crash during the final lap of the Daytona International Speedway race. His car made contact with Sterling Marlin's car, and Dale then crashed into Ken Schrader's car; he was pronounced dead at the Halifax Medical Centre, with the cause of death being basilar skull fracture.