• Daveigh Chase is an American award-winning actress
• She is best remembered for her roles as Samara in the horror film "Ring" and Samantha Darko in the film "Donnie Darko"
• She has been in over 50 films and TV titles, and is also a talented singer, certified surfer, and animal lover
• She was arrested in 2017 and 2018 for driving a stolen car and drug possession
• She has an estimated net worth of $500,000
Who is Daveigh Chase?
Daveigh Chase is an American award-winning actress, who is perhaps best remembered as Samara in the horror film "Ring", and also as Samantha Darko in the film "Donnie Darko", among other roles that she has secured during her acting career.
Daveigh Chase Wiki: Age, Childhood, and Education
Daveigh Elizabeth Chase was born on 24 July 1990 under the Leo zodiac sign, in Las Vegas, Nevada USA. The daughter of Cathy Chase and John Schwallier, she grew up in Albany, Oregon, and after her parents divorced, she changed her surname to Chase-Schwallier. She has a brother Cade, born in 2006.
Career Beginnings
Daveigh started singing and dancing at community events in Albany and the local area when she was just three years old. As she got older, her interest in performing arts increased, and she made her first appearance in an advertisement in 1997, for Campbell's Soup. Next, she began auditioning for the voice of Lilo which she later acquired, but before that happened, a few other roles came her way. Her official acting debut happened in 1998, as Little Girl in the popular series "Sabrina the Teenage Witch", while in 1999 she appeared in the film "Her Married Lover".
She started the new millennium with a guest-starring role in the popular TV fantasy-drama series "Charmed", while in 2001 she got her first major role, as Samantha Darko in the award-winning sci-fi mystery drama film "Donnie Darko", starring Jake Gyllenhaal, Jena Malone and Mary McDonnell.
Rise to Prominence
In 2002 she was selected for the part of Samara in the horror-mystery film "The Ring", starring Naomi Watts, Brian Cox, and Martin Henderson. The film has since become a cult classic, and Daveigh won several awards, including the MTV Movie Award in the category for Best Villain.
This turned her into a teenage star, and Daveigh continued her career rather successfully, first as Joyce in the TV comedy series "Oliver Beene" (2003-2004), then as Rhonda Volmer in the TV series "Big Love", appearing in 32 episodes of the Primetime Emmy Award-nominated series from 2006 through 2011. Meantime, in 2009 she reprised the role of Samantha Darko in the sequel "S. Darko", while her next role was as Young Mary in the drama film "Yellow" (2012), and the same year she also featured in the drama film "Little Red Wagon", starring Chandler Canterbury, Anna Gunn and Frances O'Connor.
Two years later, Daveigh starred in the drama film "Transference", alongside Thomas Dekker and Edvin Endre, while in 2015 she had the lead role in the television thriller movie "Killer Crush".
Furthermore, she was Rachel in the award-winning romantic thriller film "Wild in Blue", starring Frank Cermak Jr., Charlotte Ellen Price, and Steve Railsback, also in 2015. She hasn't been active as an actress since 2016, but before retiring she has appeared in the horror mystery-drama film "Jack Goes Home" with Rory Culkin, Nando Del Castillo and Sally Del Castillo in the lead roles, while she starred in the thriller film "American Romance", next to John Savage and Nolan Gerard Funk.
Voice Actress
In addition to her work on-screen, Daveigh is also an accomplished voice actress. Back in 2001, she was selected to voice Chihiro in the English dub version of "Spirited Away".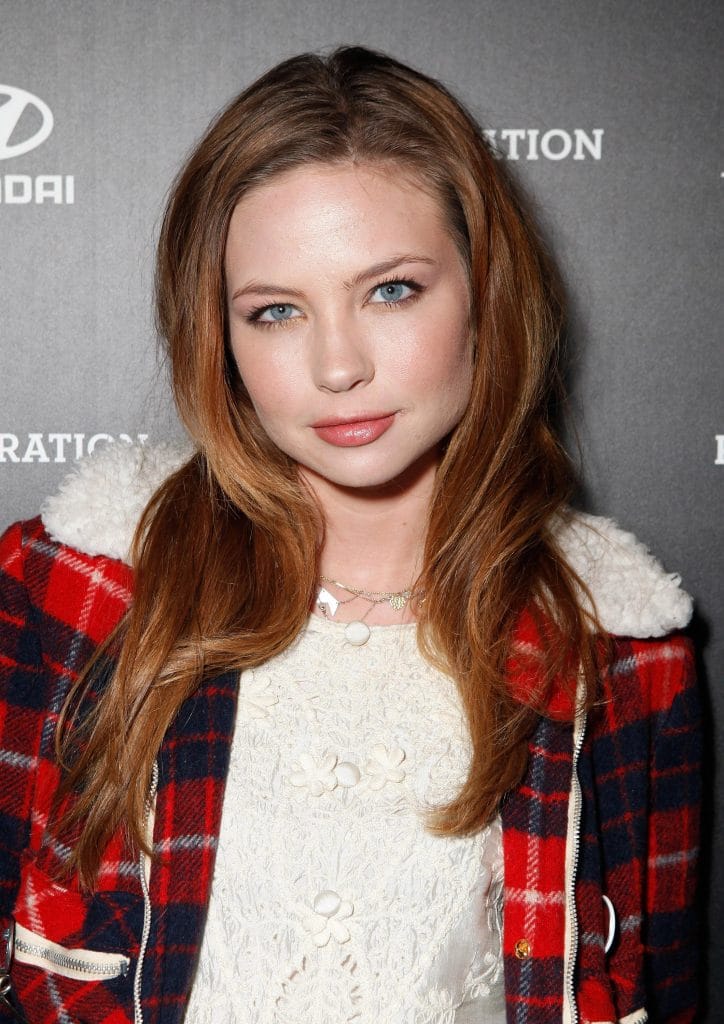 Next, in 2002 she was chosen as the voice of Lilo in the animated film "Lilo & Stitch", and also lent her voice in video games released the same year. Her next film was released in 2003, "Stitch! The Movie", followed by "Lilo & Stitch's Island of Adventures". To speak further of her accomplishments as a voice actress, she lent her voice to Lilo in the animated series "Lilo & Stitch: The Series" (2003-2006), and she was also the voice of Betsy in the animated series "Betsy's Kindergarten Adventures" (2007-2010). Her latest voice role was as Kiwako Seto in the video game "Let It Die" in 2016.
Personal Life, Dating, Law Problems
Daveigh hasn't been one talking about her personal life, so there's no information about her love life. She's been seen in public with several partners, but there's no lowdown on any of them.
Daveigh has several run-ins with the law; in November 2017, she was arrested for driving a stolen car, in 2018 she was arrested and sentenced to 18 months in jail on drug possession charges. Furthermore, she's been questioned after she left a dying man outside an emergency room; the man later died of an overdose, but after questioning, it was discovered that Daveigh didn't have any connection to his death, and that she was just trying to help him.
Net Worth
As of mid- 2021, Daveigh Chase's net worth has been estimated to be around $500,000, earned through her successful career as an actress, during which she has appeared in more than 50 film and TV titles, all of which have increased her wealth.
Appearance and Vital Statistics
This award-winning actress has blue eyes and brown hair. She stands at a height of 5ft 11ins (1.79m), weighs approximately 123lbs (56kgs), while her vital statistics are 29-24-31, bra size 34A, shoe size 8.5.
Hobbies, Interests, Trivia
In addition to acting, Daveigh is also a talented singer, though she hasn't pursued it professionally. Instead, she was a member of a small band, which got to open for Reba McEntire. However, since then she's focused on acting, though recording four original songs.
To speak further of her interests, Daveigh is also a certified surfer, and she enjoys horseback riding.
In her free time, she hangs out with family and friends, and her Instagram account is full of pictures of her and her friends. She also loves to dance and read and Daveigh is great friends with Dakota Fanning.
Daveigh is a huge animal lover and owns several dogs and cats as her pets, sharing pictures of these dear animals on her official Instagram page.