• Deborah Falconer is an actress, model and singer, best known for being the ex-wife of Robert Downey Jr.
• She released her debut album "Untangled" in the late 1990's, and her latest album "Lift Your Gaze" in 201•
• She lost her left eye in an accident as a child, and wears a prosthetic replacement.
• She married Robert Downey Jr. in 1992 and had a son, Indio, with him in 199•
• Deborah is currently 56 years old with a net worth of around $1 million.
Who is Deborah Falconer?
Deborah Lynn Falconer was born in Sacramento, California USA, on 13 August 1965 – her zodiac sign is Leo, and she holds American nationality. She's an actress, model and a singer, but perhaps known best for being the ex-wife of the famous American actor, Robert Downey Jr.
Early life and education
Deborah grew up in suburban Sacramento, alongside her two younger brothers, Jeffrey and Malcolm. She attended Clayton Valley High School, but later switched to Fairfield High school, from which she matriculated in 1983.
Deborah then moved to Los Angeles, California, to pursue a career in the entertainment industry, and didn't enroll at  college. Before landing her first movie role in 1988, she worked as a nightclub hostess, while occasionally accepting modeling gigs.
Film and TV roles
Deborah made her acting debut in the 1988 comedy movie "The Wrong Guys", written and directed by Danny Bilson, and which starred Louie Anderson, Richard Lewis and Richard Balzer. The film is centered on a group of five former cub scouts, who are camping on the mountain they never managed to conquer.
In 1991, she appeared alongside Val Kilmer and Meg Ryan in the eponymous biographical movie about the American rock band, The Doors, in which she portrayed the girlfriend of the band's drummer, John Densmore.
In the same year, Deborah played the role of Allison McBride in the TV western comedy "Brotherhood of the Gun", and also appeared in the romantic comedy "Pyrates", which starred Kevin Bacon and Kyra Sedgwick.
In 1993, she played one of the leads in the crime comedy "Mr. Bluesman", directed by Sonke Wortmann, and in the same year she made an appearance as herself in the political documentary co-written by and starring her then-husband, Robert Downey Jr., entitled "The Last Party". Her last film role was in the 1993 Oscar-nominated comedy drama "Short Cuts", following the daily lives of several suburban Los Angeles residents.
Although Deborah has never officially retired from acting, it seems unlikely that she will make another movie or TV series appearance, as she's been primarily focused on her singing career.
Music career
In the late 1990's, Deborah released her debut album entitled "Untangled", which apparently sold so badly that it was removed from the producer's list of records.
In 2002, she founded her own record label, Ravish Records, through which she released her second album entitled "Brave Like Me", on 22 July 2003.
In 2010, Deborah re-released her debut album "Untangled" on CD. On 18 October 2014, her latest album entitled "Lift Your Gaze" was released, also through Ravish Records.
Love life and marriage with Robert Downey Jr.
Deborah married Robert on 29 May 1992, after dating him for less than two months. In September 1993, she gave birth to their son, Indio.
Their marriage was quite turbulent, as Robert's frequent trips to rehab and jail put a strain on their relationship. Following his extended stay in rehab in 1995, Deborah moved out of their shared house and took their son with her. After four years of living separately, she filed for a divorce amid reports that she was cohabitating with the drummer Victor Indrizzo. It was finalized on 26 April 2004, and Deborah received full custody of Indio.
It was widely rumored that the divorce was prompted by Robert's public relationship with the actress Clarisa Flockchart, but probably one of a number of factors
Indio followed in his parents' footsteps, and is becoming an actor, having appeared in the 2005 blockbuster "Kiss Kiss Bang Bang". He is also the lead vocalist and guitarist in the rock band called The Dose. Unfortunately, like his father, Indio is also suffering from issues related to substance abuse. In 2014 he was arrested for cocaine possession, and was ultimately sent to a rehabilitation center. Robert stepped in after Indio was arrested, and bailed his son out of being sent to jail, while expressing concern that there might be a genetic component to his drug addiction.
Deborah hasn't married for the second time, and currently appears to be single.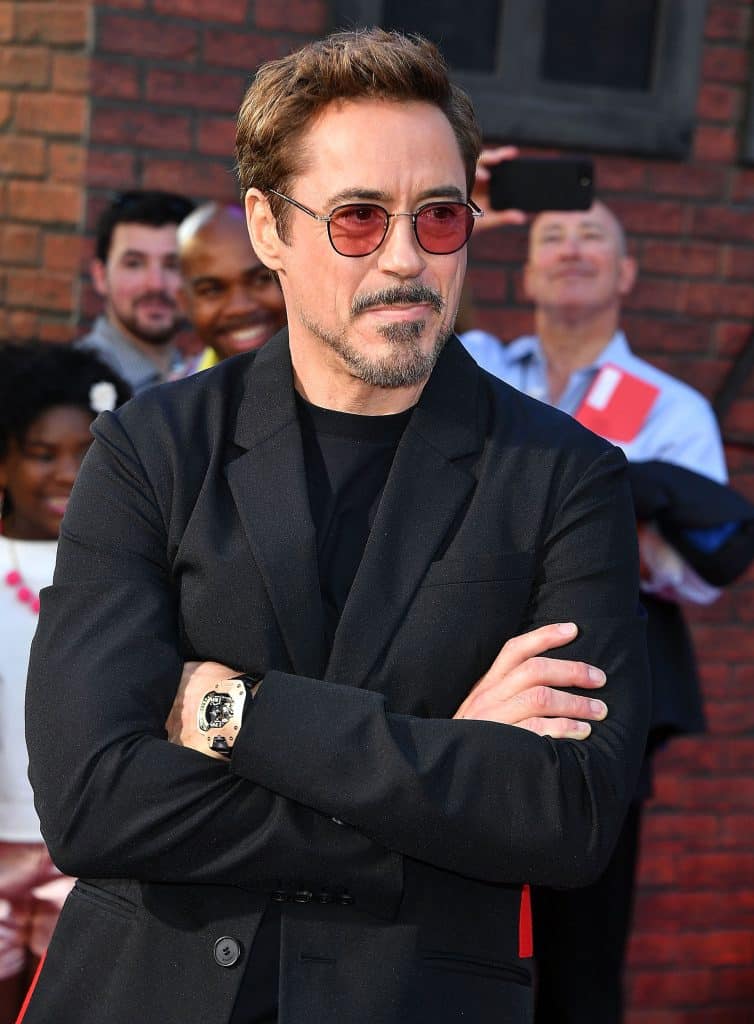 Hobbies and interesting facts
Deborah is fond of animals, and has two pets – a cat called Billy, and a pig.
As a child, she lost her left eye in an accident, and has been wearing a prosthetic replacement since.
She loves watching movies in her spare time, with some her favorites being comedies such as "Hangover", "Airplane!" and "The Big Lebowski".
She is an active supporter of the Democratic Party.
Appearance, age and net worth
Deborah is 56 years old. She has long brown hair and blue eyes, is 5ft 7ins (1.75m) tall, and weighs around 140lbs (64kgs). As of August 2021, her net worth is estimated at close to $1 million.
Who is Deborah's ex-husband Robert Downey Jr.?
Robert Downey Junior was born in Manhattan, New York City USA, on 4 April 1965 – his zodiac sign is Aries, and he holds American nationality. He's an actor, perhaps known best for playing the role of Iron Man in Marvel Studio movies.
Robert has an older sister named Allison. Both their parents were actors, and Robert often made appearances in his father's movies, making his acting debut at the age of five in the comedy "Pound". However, he had a very troubled childhood, as his father had substance abuse issues – he even let Robert use marijuana at the age of six, after which the two often drank and abused drugs together.
After his parents divorced, Robert moved to California with his father where he attended high school, but eventually dropped out and moved back to New York City, to pursue an acting career. Robert initially appeared in off-Broadway musicals, and was briefly a member of the "Saturday Night Live" (SNL) cast. His performances were heavily criticized at the time, and the magazine "Rolling Stone" even named Robert 'the worst cast member in SNL's entire run'.
Robert had his breakthrough role in the 1987 movie "Less Than Zero", in which ironically he portrayed a drug addict. He received praise for his performance, and this role led him to be cast in big budget Hollywood films, such as "Chances Are" and "Air America".
In 1992, he was nominated for an Academy Award, for his performance as Charlie Chaplin in the biographical drama "Chaplin", but ended up losing to Al Pacino.
Robert's career took a downturn between 1996 and 2001, as he was going through severe substance abuse issues. He was arrested numerous times, and spent a lot of time in rehabilitation centers, which made it difficult to land roles. In the following years, he worked towards making a full recovery, and his major comeback happened in 2008, when he starred in two critically acclaimed blockbusters, "Tropical Thunder" and "Iron Man". Since then, he has become one of the most successful performing artists in the world, topping the 2015 Forbes list of the highest-paid actors.
Robert is 56 years old, with short brown hair and brown eyes. He's 5ft 8ins (1.74m) tall, and weighs around 172lbs (78kgs).
As of August 2021, his net worth is estimated at more than $300 million.