• Lindy Booth is a Canadian actress with over 80 acting credits to her name.
• She is known for her roles in "Relic Hunter", "The Librarians", "Detroit Rock City", "What Just Happened?", "Kick-Ass 2" and "The Creatress".
• She is married to Jeff Wadlow since 2014 and they don't have children.
• She stands at a height of 5ft 7ins (1.7m) and her net worth is estimated at over $3 million.
• She is currently working on a secret project.
Who is Lindy Booth?
Her breakthrough role was her portrayal of Claudia in the mystery adventure series "Relic Hunter", however, the actress Lindy Booth gained international fame starring as Cassandra Cillian in the adventure comedy series "The Librarians", which brought her a nomination for the Golden Maple Award – Best Actress in a TV Series Broadcast in the US.
Lindy has over 80 acting credits to her name, and if you want to learn more details about her career, her life, and what's she up to, you are in the right place.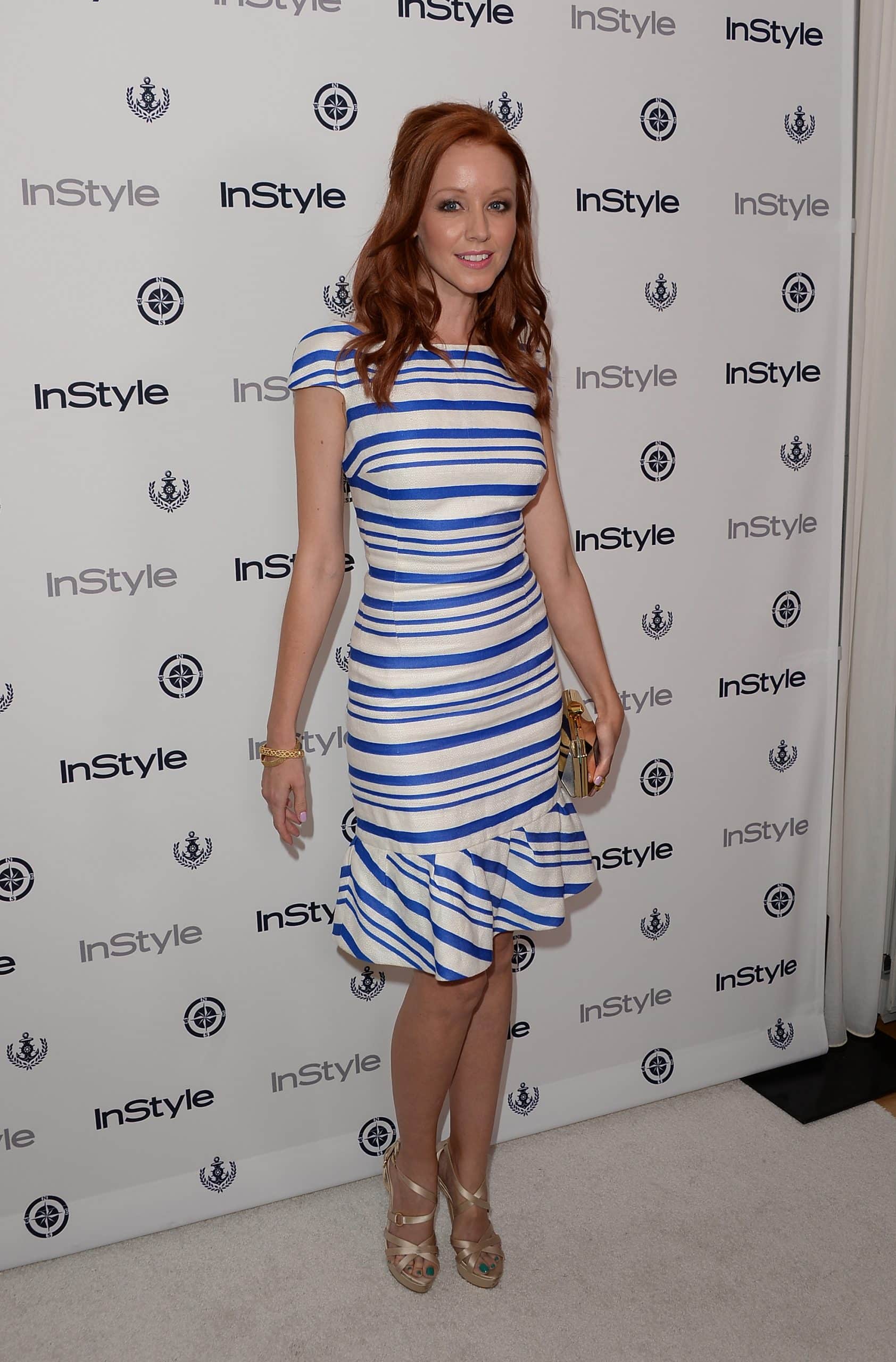 Early life, family, and education
Born in Oakville, Ontario Canada, under the zodiac sign of Aries on 2 April 1979, Lindy Booth holds Canadian nationality. She is quite secretive when it comes to her personal matters, thus nothing is known about her parents and childhood.
What we do know is that she attended T. A. Blakelock High School in her hometown, and upon matriculating in 1998, she didn't go to college but pursued her acting career.
Roles in movies
Lindy made her acting debut portraying Amy White in the 1998 TV movie "Mr. Music", and In the following year made her big-screen debut as Katie in the movie "Teenage Space Vampires". Later that year she followed with her small part as Girl #1 in the comedy "Detroit Rock City".
In 2001, Lindy was seen as Riley Grant in Disney's "Jett Jackson: The Movie", followed by her role as Supergirl in "Century Hotel".
In the following year, Lindy was cast to play Kelly in the thriller "The Skulls II", which brought her the DVD Exclusive Award – Best Supporting Actress. She followed with roles in "Fairytales and Pornography" and "Bollywood/Hollywood", although in the latter, her role was uncredited.
Later that year came her most notable movie role, playing Lea in the comedy "Rub & Tug", which followed the story of three beautiful masseurs who would sometimes give their customers a little something extra, however, the new manager is trying to run an honest business, which girls didn't approve of. For her performance in the movie, Lindy was nominated for the Canadian Comedy Award for Film – Pretty Funny Female Performance.
In the following years, Lindy co-starred in numerous hit movies ,such as "Wrong Turn" (2003), "Dawn of the Dead" (2004), and "Cry Wolf" (2005).
Her first lead role came in the 2007 horror thriller "Behind the Wall", starring as Katelyn opposite James Thomas and Lawrence Dane, but the movie was poorly rated by the audience and critics.
amazing work! you look fantastic!! https://t.co/KnmKRblwzJ

— Lindy Booth (@LindyBooth) August 24, 2017
Lindy had a small part as a Hostess in the 2008 comedy- drama "What Just Happened", starring the great Robert De Niro, in the movie based on the novel "What Just Happened? Bitter Hollywood Tales From the Front Line" by Art Linson; it was nominated for the American Association of Retired Person (AARP) Movies for Grownups Award for Best Comedy.
In the following years, Lindy focused on television work, playing supporting roles in numerous series and movies made for television, before she returned on the big screen as a Night Bitch in the 2013 movie "Kick-Ass 2".
She then followed with roles in the TV movies "Sound of Christmas" (2016) and "Rocky Mountain Christmas" (2017), before she landed the lead role as Eryn Bellow in the 2019 comedy-drama "The Creatress", starring opposite Fran Drescher and Peter Bogdanovich. The plot of the film revolved around a best-selling author seeking literary vengeance against a critic who wrote her phony memoir,, much to her agent's delight.
Her performance in the movie brought Lindy the International Filmmaker Festival of World Cinema, the London Festival Award for Best Lead Actress, the Madrid International Film Festival, ES Award also for Best Lead Actress, and Nice International Film Festival Award-Best Lead Actress.
Most recently, Lindy was seen as Holly in the 2022 movie "Christmas by the Book", opposite Jamaal Grant and AnnaMaria Demara.
Roles in series
Lindy made her first TV series appearance as Carrie Taylor in "Eerie, Indiana: The Other Dimension" in 1998. She was seen in all 15 episodes of this adventure comedy, about two best friends who solve weird mysteries.
In the following year, she was cast to play Claudia in "Relic Hunter", which aired from 1999 through 2001, making an appearance in 44 episodes, starring opposite Christien Anholt and Tia Carrere. The series had four award nominations, and also the audience loved this mystery adventure inspired by the success of the popular video game "Tomb Raider".
Concurrently, Lindy had a recurring role as Riley Grant in Disney's series "The Famous Jett Jackson" (1999-2001).
In the early 2000s, Lindy mostly guest-starred in various series, such as "Veritas: The Quest" (2003), "The 4400" (2005), and "Ghost Whisperer" (2006).
During 2007 and 2008, she portrayed Pizza Girl in 17 episodes of the series "October Road", about a writer who returns to his hometown after he wrote a book based on the people with whom he grew up. The stars of the show were Bryan Greenberg, Warren Christie and Laura Prepon, and the series had five award nominations, winning one.
Lindy followed with supporting roles in "The Philanthropist" (2009), "Republic of Doyle" (2011), and "Copper" in 2013, before she was cast to play her most notable TV series role as Cassandra Cillian in "The Librarians".
From 2014 to 2018, she was seen in 42 episodes, starring opposite Rebeca Romijn and Christian Kane, bringing the audience exciting adventures of a group of librarians, and their efforts to save ancient artifacts. The show is based on the TV movie series "The Librarian", starring Noah Wyle; it had ten award nominations and the audience named it the 'next generation of a family-oriented adventure franchise', and rated it 7.2/10.
Most recently, Lindy guest starred in "Stumptown" (2019), "Grey's Anatomy" (2020), and "Star Trek: Strange New Worlds" in 2022.
Currently, Lindy is working on her new project, which according to her Instagram posts, is, still a secret.
Love life, husband, and children
As mentioned, Lindy likes to keep her private life away from the media's attention, and even her wedding day was private and hidden from the public eye.
Since 4 October 2014, she's been married to Jeff Wadlow, an award-winning director and producer from Charlottesville, Virginia USA, the nephew of famous actress and host, Katie Couric.
It is assumed that Lindy and Jeff met in 2013 on the set of the movie "Kick-Ass 2" which he directed, although they haven't shared how their love story began.
As of February 2023, Lindy and Jeff are still married – they don't have children.
Age, height, and net worth
The trademarks of this 43-year-old actress are her dazzling blue eyes and her red hair. Lindy stands at a height of 5ft 7ins (1.7m) and weighs around 145lbs (65kgs).
Many critics believe that Lindy's time is yet to come, but during her 25-year-long career, she's earned a decent amount of money for herself. According to sources, as of early 2023, her net worth has been estimated at over $3 million.