• Miriam Margoyles is a British-Australian actress, writer and political activist.
• She has won eight awards for her acting work, and was appointed an Officer of the Order of the British Empire (OBE) in 200•
• She gained recognition for her voice acting, and later built more of a screen presence in the late 1970s.
• Her most notable roles include Professor Sprout in the "Harry Potter" movie series, and Mrs Mingott in Martin Scorcese's "The Age of Innocence".
• Her net worth exceeds $6 million, most of which comes from her appearances in "Harry Potter".
Miriam Margoyles Wiki Bio
Miriam was born on 18 May 1941, in Oxford, England – she's a British-Australian actress, writer, and political activist. Starting her career in theatre, most people today know Miriam as an excellent character actress, playing stand-out supporting roles such as Professor Sprout in the "Harry Potter" movie series, and Mrs Mingott in Martin Scorcese's "The Age of Innocence".
Miriam is the recipient of eight awards for her acting work, and in 2002 she had the honor of being appointed an Officer of the Order of the British Empire (OBE) for Services to Drama.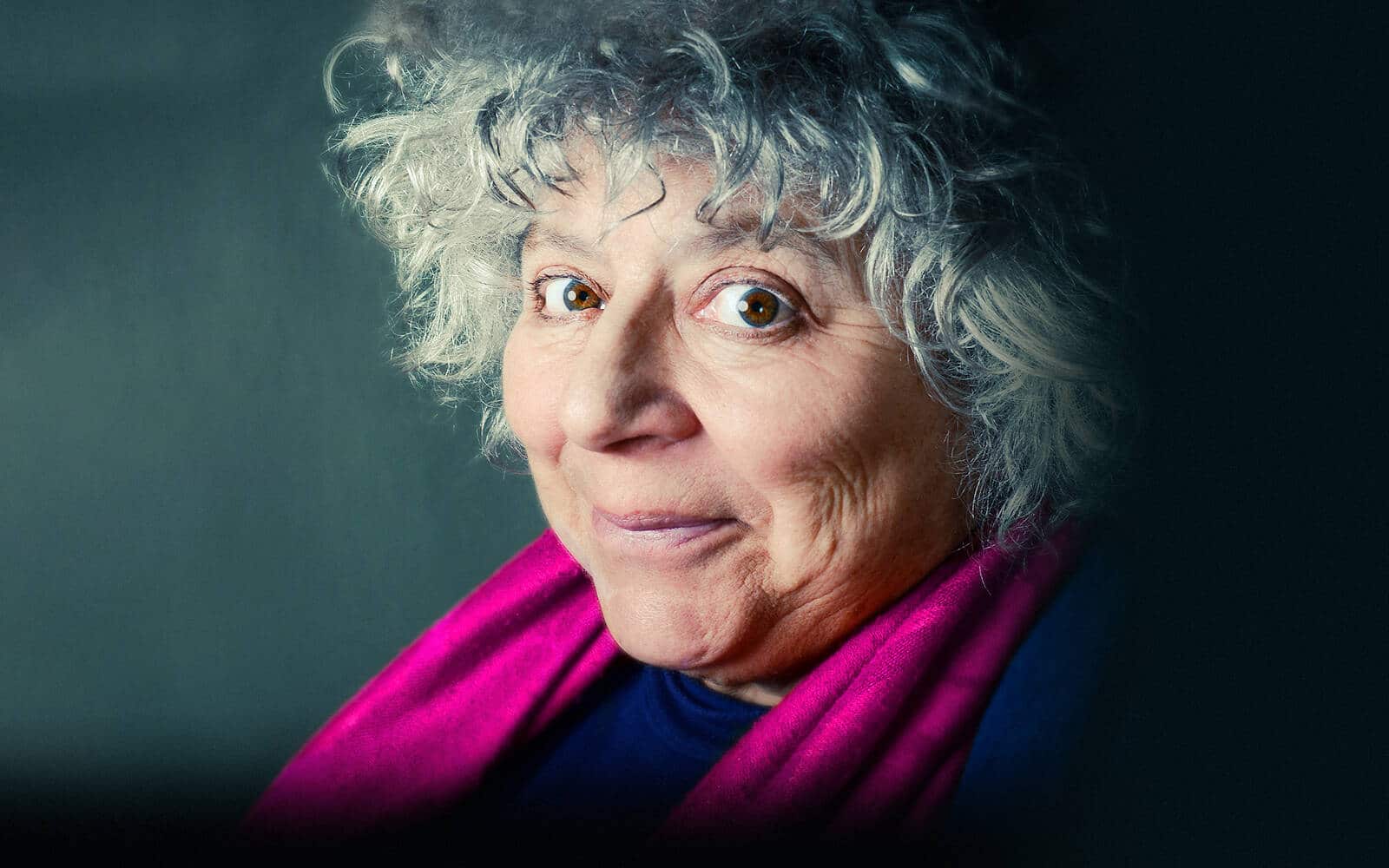 Early life
Miriam was born to Joseph Margoyles, a general practitioner and physician, and Ruth Margoyles, who was a property developer. She didn't have any siblings, so grew up an only child. Her family was Jewish, and she has ancestors from Poland and Belarus.
Miriam studied at Oxford High School from where she matriculated in 1959, and then enrolled at Newnham College in Cambridge, majoring in English. She started acting in her 20s, and appeared in many local productions of plays. During this time, she was also a member of the comedy group, Cambridge Footlights.
Career in acting
In her early career, Miriam gained recognition for her voice acting. It all started with her lending her voice in audio soft porn, and she also notably provided voiceovers for English dubs of Japanese TV shows "Monkey" and "The Water Margin". In 1974, she played one of the leads in the radio drama "The Betty Witherspoon Show".
Miriam built more of a screen presence in the late 1970s – her first major film role was in the 1977 movie "Stand Up, Virgin Soldiers". From 1983 through 1988, she appeared alongside Rowan Atkinson in the British anthology comedy series "Blackadder", playing three different recurring roles: The Spanish Infanta, Lady Whiteadder, and Queen Victoria. In 1986, Miriam played a recurring role in the BBC drama series "The Life and Loves of a She-Devil", based on the eponymous novel by Fay Weldon.
In the US, Miriam played the leading role in the CBS sitcom "Fannie's Turn" which aired in 1992. Two years later, her role in "The Age of Innocence" landed her a BAFTA Award for Best Supporting Actress, and in 1996, she played a supporting role in "Romeo + Juliet", a modernized adaptation of William Shakespeare's tragedy, which starred Leonardo DiCaprio and Gabriella Martinelli in title roles. Speaking of her experience during filming, Miriam noted that she loved working with Leonardo DiCaprio with whom she spent a lot of time, although she remarked that he was 'rather smelly'.
In the same year, she voiced Glow-Worm in Disney's animated movie "James and the Giant Peach", directed by Tim Burton. Another notable voiceover role from that time was in animated commercials for Cadbury's chocolates, in which she voiced the rabbit character, as well as her role of Fry the Dog in the children's movie "Babe" (1995).
In 2002, she appeared as Professor Sprout in the second installment of the "Harry Potter" movie franchise, reprising her role in 2011 in "Harry Potter and the Deathly Hallows Pt. 2". In her interview with Graham Norton, Miriam revealed that she got along well with her co-star Maggie Smith, while bluntly saying that she didn't like 'the one that died', referring to Richard Harris.
From 2012 to 2015, she starred in the Australian crime drama series "Miss Fisher's Murder Mysteries", centered on a female detective working in Melbourne in the late 1920s, a role she reprised in the 2020 movie "Miss Fisher & the Crypt of Tears". In the last few years, Miriam has mostly been doing voiceover work, with one of her most notable roles being in the serial audio drama "The Sandman", based on the eponymous visual novel by the American sci-fi author Neil Gaiman.
Political activism
It's no secret that Miriam's very involved in many political issues – her activism started during her time at university, when she joined the Workers Revolutionary Party. Despite being Jewish, Miriam is very open about her criticism of Israel's actions, and is a member of Jews for Justice for Palestinians.
Today, she's a registered member of the Labour Party, describing their (now former) leader Jeremy Corbyn as 'a beacon of hope in the struggle against far-right nationalism, xenophobia, and racism.' During the 2020 Covid-19 pandemic, she was very critical of the British government's handling of the issue, saying that she 'had difficulty not wanting Boris Johnson to die'.
Miriam financially supports a lot of charity and non-profit organizations, including the National Stroke Foundation of Australia, David Sheldrick Wildlife Trust, and the Actors Benevolent Fund.
Personal life
Miriam is openly gay, and since 1968has been in a relationship with Heather Sutherland, a now-retired university professor of Indonesian studies. They have never formally married and have no children. The two divide their time between England, Australia, and Italy.
Miriam had hidden her love life and sexual orientation from the public for most of her career. Many people found out that she was a lesbian in 2013, when she referred to herself as a 'dyke' on national television in Australia.
In 2021, she released her memoir entitled "This Much is True", in which she spoke earnestly about her career and personal life. One of the most touching details in the book is the story about her mother, who feared childbirth so much that she wanted to abort when she was pregnant with Miriam. 'But it was against the law, and nobody would do it. So she held on to me and never let me go.', Miriam wrote. However, one of her biggest regrets was coming out to her parents in 1966, which she believes caused her mother to have a stroke.
Hobbies and interesting facts
Miriam is a big fan of Charles Dickens' books, so much so that she wrote a one-woman play entitled "Dickens' Women" in 1989, and hosted a ten-part documentary about Dickens for BBC.
During her college days, Miriam was a member of Cambridge Footlights, a comedy group, alongside "Monty Python" members Graham Chapman, John Cleese and Bill Oddie. In her book and subsequent interviews, she spoke very poorly of them, claiming that they were dismissive of her talent because she is a woman.
In 1963, she appeared in a quiz game show on ITV called "University Challenge". The video of her appearance no longer exists, although the photos from the set can still be found online. Apparently, after giving a wrong answer to a question, Miriam swore, becoming one of the first, if not the first, person to say the word 'fuck' on British television.
Miriam is only three years older than her "Age of Innocence" co-star Geraldine Chaplin, despite playing the role of her mother.
Net worth
As of early 2023, it's estimated that Miriam's net worth exceeds $6 million. Most of her money comes from her appearances in "Harry Potter", along with other acting work.
Miriam has publicly disclosed that she owns two big properties – one in Yarawa Hill, Australia, and the other, called The Gun Encampment, in Kent, England.