• CC DeVille is an American guitarist, born in 1962 in Brooklyn, NY
• He is best known as a member of the rock 'n' roll band Poison, which has sold over 50 million copies worldwide
• He was five years old when he started playing the guitar, and studied music theory at New York University before dropping out to pursue a career in music
• He is currently in a long-term relationship with American actress Shannon Malone, and they have a daughter together
• CC's net worth has been estimated at over $8 million
Who is CC DeVille?
American guitarist Bruce Anthony Johannesson, known better as C. C. DeVille, was born in Brooklyn, New York City USA, on 14 May 1962, making Taurus his zodiac sign. He's probably known best for being a member of the rock 'n' roll band Poison, which has released seven studio albums and sold over 50 million copies worldwide.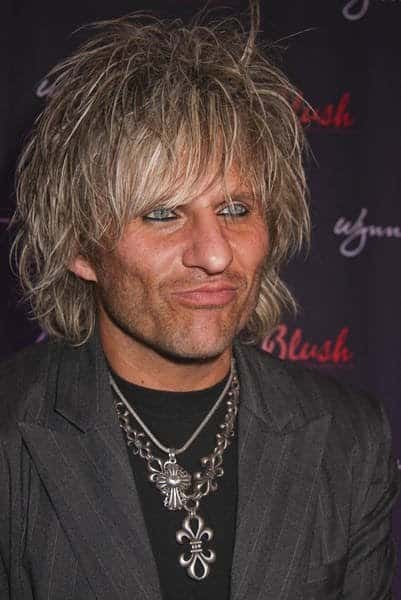 Early life and education
CC was raised in Brooklyn by his parents whose names haven't been revealed; because he hasn't spoken of having siblings, it's believed that he has none.
CC was five years old when he started playing the guitar, a Japanese Telecaster copy worth $27. He instantly fell in love with it, and then became interested in listening to various famous rock 'n' roll and metal bands, such as Aerosmith, the Rolling Stones and Led Zeppelin; his favorite was Kiss.
CC matriculated from a local high school in 1980, and in the same year joined his first band, Lace; they looked up to Kiss and New York Dolls, and adopted their 'highly sexual glam image'. CC continued his education at New York University, studying music theory, but eventually dropped out wanting to focus on a career in music.
He moved to Los Angeles, California in 1981, and could've been seen playing the guitar for bands St. James, Lace Slip and Screaming Mimi.
Poison
Poison was named 'Paris' when it was founded in 1983 by drummer Rikki Rockett, bassist Bobby Dall, guitarist Matt Smith and vocalist Bret Michaels; they changed their name to Poison in March 1983, and then all moved together to Hollywood, California.
Guitarist Matt left the band as he was skeptical about their future, and had become a father; he moved back to Pennsylvania, and CC was hired as the new guitarist over famous British-American musician Slash, who went on to become the lead guitarist of the rock 'n' roll band Guns N' Roses. Vocalist Bret was dissatisfied with CC because he refused to play the songs which they wanted him to play at the audition, and instead jammed the riff which he'd written. The riff was eventually featured on the band's hit single "Talk Dirty to Me", which helped them become popular.
Look what the cat dragged in… CC Deville of Poison. #poison #ccdeville #brettmichaels #hairmetal #bobbydall #rickkirockett #80smusic

Posted by JLA Rock Shots Photography on Thursday, May 27, 2021
They signed with Enigma Records in 1986 and released their first album "Look What the Cat Dragged In" on 23 May of the same year, which spawned three hits: "I Won't Forget You", "I Want Action" and "Talk Dirty to Me". Their second album "Open Up and Say… Ahh!" came out on 21 May 1988, and reached #2 on the Billboard Albums Chart, spawning multiple hits, including "Nothin' but a Good Time" and "Every Rose Has Its Thorn".
Their third album, "Flesh & Blood" followed on 21 June 1990, and was certified platinum thrice by the Recording Industry Association of America (RIAA), as well as four times in Canada; Poison spent the following two years touring around the world – their debut live album "Swallow This Live" was recorded while they were touring, and was released in November 1991.
CC was fired in 1993, after getting into a fight with vocalist Bret, – the band released their fourth album "Native Tongue" on 8 February of the same year; CC rejoined Poison in 1996.
The band released their fifth album "Crack a Smile… and More!" on 14 March 2000, and the following year saw CC release his debut solo album, entitled "Samantha 7". The band's sixth album "Hollyweird" came out on 21 May 2002, and was followed by their compilation album "Best of Ballads & Blues" in the following year.
Poison took a year off in 2005, wanting to spend time with their loved ones, and then embarked on a world tour in 2006. Their seventh and most recent studio album "Poison'd!" was released on 5 June 2007, and was followed by their live album "Live, Raw & Uncut" on 15 July 2008.
Following their 2012 Rock of Ages tour, Poison members decided to focus on their solo careers, but didn't officially disband; CC went on to found the band The Special Guests, together with Dall and Rockett, but they soon stopped performing, as Rockett was diagnosed with cancer.
Poison has occasionally toured together since 2012, and most recently, from 16 June through 9 September 2022, they were an opening act for Def Leppard and Motley Crue during The Stadium Tour.
Love life and wife
CC rarely speaks about his love life in public, but it's known that he's been in a long-term relationship with American actress and former model Shannon Malone since the mid-2000s.
Shannon's had roles in 12 movies and TV series, and is perhaps still known best for playing Jasmine in the 2006 action fantasy comedy movie "Big Bad Wolf", and Dancer in the 1999 crime thriller movie "Forbidden Sins".
In March 2007, Shannon gave birth to their daughter Vallon DeVille Jonannesson, – unlike what's widely believed to be true, CC and Shannon haven't married.
He hasn't spoken about other women whom he's dated, CC's in a long-term relationship with Shannon Malone as of February 2023, and they have a daughter together.
Interesting facts and hobbies
CC's also a bit of an actor, as he starred in the 2005 teen series "South of Nowhere", while the following year saw him appear in the series "The Surreal Life", and then in its sequel "The Surreal Life: Fame Games".
He inspired Anthony John Confessore to create his music persona C.C. Banana, which parodies CC's voice while wearing a large banana costume.
CC's followed by more than 100,000 people on Instagram, and has posted over 210 pictures and videos onto the social media network.
Some of CC's favorite actors are Johnny Depp, Hugh Jackman and Jean Reno, and some of his favorite movies include "Black Mass", "Corpse Bride", and "Rango".
Height, eyes and wealth
CC's age is 60. He has light blue eyes and blonde hair, is 6ft (1.83m) tall and weighs about 165lbs (75kgs).
CC's net worth's been estimated at over $8 million, as of February 2023.