• Joe Bastianich is an American restaurateur, winemaker, TV personality, author and musician, best known as the judge on "MasterChef USA"
• He has 30 restaurants in four different countries and is the author of several food and wine books
• Joe is a Wall Street bond trader turned chef and has collaborated with Mario Batali to open 15 restaurants
• He also serves as judge on "MasterChef Junior", "Italia's Got Talent", and the Italian version of "MasterChef"
• He is an accomplished musician with his own album and loves spending his time outdoors
Who is Joe Bastianich?
Joe Bastianich is an American restaurateur, winemaker, TV personality, author and musician, who is probably best known to the world as the judge on the popular long-running cooking show "MasterChef USA" (2010-2021). Together with his mother, Joe owns and operates 30 restaurants in four different countries, and is the author of several food and wine books, including "Vino Italiano: The Regional Wines of Italy" (2005), and "Healthy Pasta: The Sexy, Skinny, and Smart Way to Eat Your Favorite Food" (2015).
Joe Bastianich Bio: Age, Childhood, and Education
Joseph Bastianich was born in Astoria, Queens, New York City, on 17 September 1968 under the Virgo zodiac sign, to Italian and Croatian parents, Felice and Lidia Bastianich; his mother Lidia is a celebrity chef herself, specialized in Italian and Italian-American cuisine, and is known for her own TV show "Lidia's Kitchen".
Joe has a younger sister, Tanya Bastianich Manuali, a businesswoman and author. He grew up working in the restaurant Felidia, owned by his parents and located in Manhattan. Joe went to Fordham Preparatory School, and after matriculating enrolled at Boston College to study theology and philosophy.
Career Beginnings
After university, Joe launched a career as a Wall Street bond trader. However, this lasted only a year before he switched industries, and joined his mother. Initially he went to Italy, touring the country, learning about its famed cuisine, then in 1993 he opened an Italian restaurant Becco with his mother. After the success of his first restaurant, Joe then teamed up with Mario Batali, American chef, writer and restaurateur, to open Babbo Ristorante e Enoteca. The restaurant became rather successful too, earning three stars from The New York Times, the first Italian restaurant to receive an award in the last 40 years. Furthermore, the Babbo also earned one Michelin star.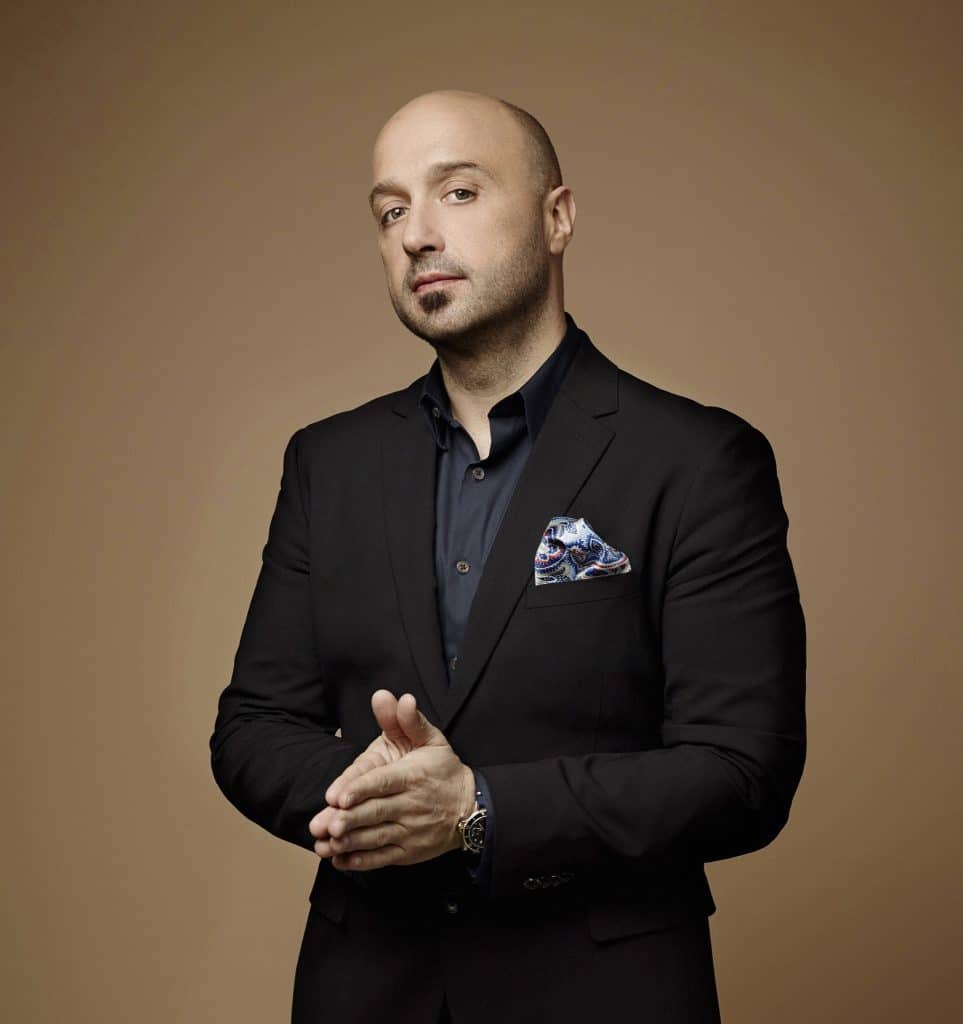 He continued to collaborate with Batali, and exponentially enlarged his restaurant kingdom. Nowadays, Joe and Batali own more than 15 restaurants, some of which are Del Posto, located in New York City, and a second restaurant to receive a Michelin Star, then Osteria Mozza in Los Angeles, California, which has also been awarded one Michelin Star, Birreria in New York City, Pizzeria Mozza – another Los Angeles location – while he also has an operational restaurant in Italy, Orsone in Cividale del Friuli UD. Furthermore, Joe has opened restaurants in Singapore, Hong Kong, the Czech Republic, and Brazil.
Television Career
Joe made his first TV appearance in 2005, as he was featured in his mother's show "Lidia's Family Table". Five years later, as his career as a chef improved, Joe was selected as the judge on the American "MasterChef" series. He debuted in 2010 and remained on the show until 2015 when he exited, as he was feeling that the show was taking too much of his time. He focused on other projects before returning to the show in 2018. He also served as the judge on "MasterChef Junior" (2013-2018), and the Italian version of "MasterChef" from 2011 to 2019, leaving the show after its eighth season. Moreover, Joe has been the judge on "Italia's Got Talent" (2020-2021).
An Accomplished Musician
Joe has many interests and music is one of them, and has found time to work on it. In 2019, once he was out of "MasterChef Italia", Joe immersed himself in creating music, and after a few months his debut album "Aka Joe" was released. He was set to tour Italy in January 2020 in support of his "New York Stories" album, however, it was postponed until August 2021, when he made his first appearance in Jesolo, Italy at Parco Pegaso.
Personal Life, Marriage, Wife, Children
Joe Bastianich has been married to Deanna Damiano since 1995. The couple is parents to three children, Olivia, Ethan and Miles, and reside in New York City.
Net Worth
As of mid- 2021, Joe Bastianich's net worth has been estimated to be around $15 million, earned largely through his successful career as a celebrity chef, restaurateur, food writer, TV personality, and musician as well.
Appearance and Vital Statistics
The popular chef is known for his trademark fitted two-button suits, and for wearing sneakers with his suits. He has green eyes and is known for his bald head. Joe stands at a height of 6ft 1in (1.85m), while he weighs approximately 175lbs (80kgs). In his '30s, Joe was overweight and faced multiple health scares, including high blood pressure, sleep apnea, and high cholesterol, but thanks to a radical change in lifestyle, Joe has lost 50lbs (23kgs) in six years.
He has brought down his blood pressure and cholesterol levels, and now runs marathons and even competes in Ironman events.
Controversy, Trivia
While serving as the judge on "MasterChef Italia", Joe made an undermining comment about Chinese men, and made sexually suggestive comments to a woman who did a manicure and pedicure on him, asking her if she ever had an Italian boyfriend, since Chinese men are 'inadequate' in some situations.
After these comments became public knowledge, Joe made an apology, saying that the particular segment was scripted and that he and the women from the beauty salon are the ones he visits regularly, and that they have discussed questions prior to the filming of the show. He continued to say that he is aware that some things were said in poor taste, and do not reflect his views and that he is sorry for the offence he caused.
Joe is proud of his Italian roots, and has spent years in Italy so is fluent in the Italian language.
He is a vineyard owner and has launched his own wine.
Joe is an outdoorsman, and loves spending his time on a bicycle, hiking, or running.