Who is Eleazar Gomez?
Eleazar Gomez is a Mexican actor and musician, who is became known to the world as Benito in the Mexican telenovela "Muchacha Italiana Viena a Casarse" (2014-2015), and most recently as Sebastian de la Mora in the telenovela "La Mexicana y El Guero" (2020). Furthermore, he is a member of the pop band Eme 15.
Early Life, Family, Education
Jose Eleazar Gomez Sanchez was born on 29 May 1986 under the Gemini zodiac sign, in Mexico City, Mexico, the son of Melissa Sanchez, while he hasn't talked about his father.
His sister is the popular actress Zoraida Gomez, and he also has two brothers, Jairo Gomez, an actor, and Alizair Gomez. He had another brother, Hixem Gomez, who sadly committed suicide when he was 18 years old. As a young talent, Eleazar attended Centro de Educacion Artistica.
Career Beginnings
Eleazar's career started when he was just seven years old, when he was selected for the role of Mon in the action-adventure film "La Ultima Batalla" in 1993, starring Jorge Russek, Alonso Echanove, and Margarita Isabel.
The same year he appeared in the film "Se Equivoco la Ciguena" as Pedrito, with Maria Elena Velasco, Sebastian Ligarde, and Malena Doria as the main stars, and continued with minor roles in such TV series as "Retrato de Familia" (1995), and "Al Derecho y al Derbez", also in 1995. In the following year he was selected for the role of El Chanclas in the TV series "Luz Clarita", and before the '90s ended, Eleazar secured one of his most memorable roles, as Quique Gonzalez in the telenovela "Mi Pequena Traviesa", appearing in all 100 episodes of the popular series from 1997 to 1998.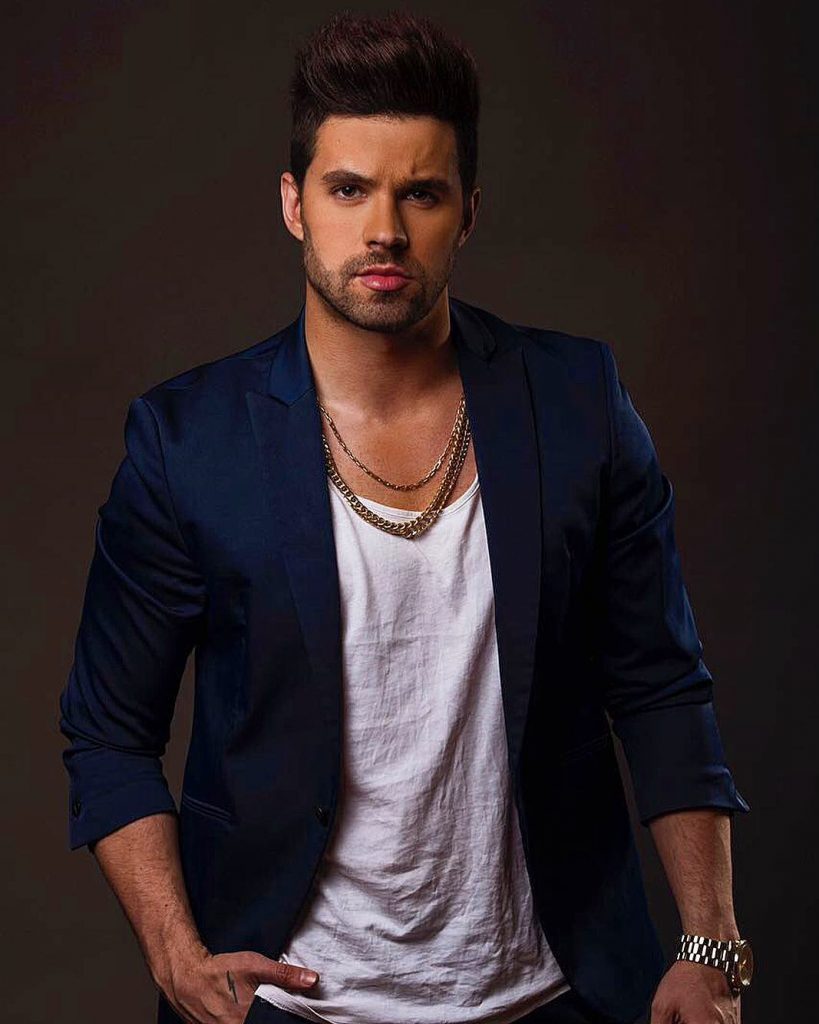 Rise to Prominence
At the start of the new millennium, he was Arturo Calderon Corso in another telenovela "Asi Son Ellas" (2002), while from 2004 to 2005 he portrayed Victor Gonzales in the telenovela "Inocente de Ti". He continued with minor roles in the next few years, such as "Las Tontas No Van Al Cielo" in 2008, then in 2009 he was Mateo in the TV series "Atrevete a Sonar". In 2011, he portrayed Anibal Cuevas in the TV series "Cuando me Enamoro", and in 2012 portrayed Claudio in the film "El Secreto del Medallon de Jade" (2012).
The same year, he got the role of Alejandro 'Alexis' Reyes Mendez in the TV series "Miss XV: Suena Princesa", which gained him a spot in the band Eme 15. Furthermore, 2012 was rather fruitful for him as he also was selected for the part of Roy Pavia in the V series "Amores Verdaderos" (2012-2013).
It was in 2014 that he received the role of his career, as Benito in the telenovela "Muchacha Italiana Viene a Casarse", in which he joined such stars as Livia Brito, Jose Ron, and Isela Vega. In 2016 he played Juan Pablo in 59 episodes of the popular TV series "Simplemente Maria", starring Claudia Alvarez and Ferdinando Valencia, while most recently Eleazar played in "Sebastian de la Mora" (2020), appearin in 70 episodes before he was replaced by Ferdinando Valencia.
The reason behind his replacement was an arrest and accusation of domestic violence, so he was also dropped by his talent agency. He pleaded guilty to domestic violence charges and received five months in jail, a three-year parole period, in addition to a 420,000 pesos fine, about $110.
Musical Career
Eleazar was one of six members of the pop band Eme 15, formed in 2012 from the six lead actors of "Miss XV", the  Nickelodeon Latin America television series. The band released one studio album "Eme 15" (2012), and the live album "Wonderland-Zona Preferente" (2013) before the members split up to focus on their solo careers.
Personal Life, Dating, Girlfriend, Single
Since he became a famous actor, Eleazar has been seen on dates with several Latin celebrities; he was in a relationship with Danna Paola, actress, singer, and model, from 2009 to 2014. The couple worked together in the teen telenovela "Atrevete a Sonar". He was unfaithful to Danna during their romance, which eventually led to their break-up.
Recently, he was in a relationship with Peruvian model and singer, Stephanie Valenzuela. However, they broke up after he allegedly tried to strangle her.
Net Worth
As of mid- 2021, Eleazar Gomez's net worth has been estimated at close to $2 million, earned largely through his successful career as an actor, during which he has appeared in more than 25 films and TV series.
His net worth has also benefited from his short, but rather successful stint as a singer in the pop band.
Appearance and Vital Statistics
The successful actor has dark brown eyes and black hair. He stands at a height of 5ft 10ins (1.78m), while he weighs approximately 187.5lbs (85kgs), and his vital statistics are 41-31-15.
Hobbies, Trivia, Interests
The brother of Zoraida Gomez, the two featured together in one episode of the highly-popular series "Rebelde" in 2004. E
leazar has several tattoos, including the one on his chest. He spends a lot of time in the pool and loves to travel, whenever he has time; his Instagram account is full of poolside pictures.
Zoraida Gomez Short Bio
Zoraida Virginia Gomez Sanchez was born on 31 May, 1985 in Mexico City, Mexico, and is still best known to the world for her role of Jose Lujan Landeros in the TV series "Rebelde" (2004-06), having made her acting debut in 1993 in the telenovela "Al Derecho y al Derbez", and continued with minor roles before "Rebelde". To speak further of her accomplishments, Zoraida starred as Liliana Martinez in the telenovela "En Nombe del Amor" (2008-2009), then as Nuria Arevalo in the telenovela "La Mujer del Vendaval" (2012-2013), and as Isadora Granados in the telenovela "Like, La Leyenda" in 2018.
Zoraida has two children with Jorge Torres. Zoraida Gomez's net worth has been estimated to be $1.5 million, as of mid- 2021.