• "The Real Housewives of Orange County" premiered in 2006 and is responsible for the highly lucrative and burgeoning "Real Housewives" franchise.
• Its creator Scott Dunlop initially wanted it to be a mix between "Desperate Housewives" and his own experience living in the Coto de Caza community in California, but the concept was changed.
• There was a fraud lawsuit against the creator by former producers Patrick Moses and Kevin Kaufman who were excluded from its profits.
• Cast members are paid close to nothing at the start and have to sign a contract which explicitly gives the show permission to edit scenes and manipulate their portrayals.
• There have been rumors of a reboot with a new cast and Tamra Judge left the show due to a requested raise in salary and her ex-husband's health.
Ever since its premiere in 2006, "The Real Housewives of Orange County" certainly have become one of the most successful reality shows of American TV. The show is actually responsible for being the first of the highly lucrative and burgeoning "Real Housewives" franchise.
Even in spite of the harsh criticism it has received throughout the years, the audience's general fascination with the series' pretentious, high society cast is yet to fade out after over a decade of being on air.
Between rumors, feuds and even lawsuits, the high-and-mighty not-quite housewives from Southern California still have a lot of secrets waiting to be uncovered.
Accompany us to discover these facts you don't know about "The Real Housewives of Orange County"!
The Show's Initial Concept Was Changed
Whether it results successfully or not, every TV show goes through a pre-production process in which several adjustments are made in order to fit better the creator's original idea or to be more easily likeable by audiences.
Initially "The Real Housewives of Orange County"s was thought by his creator Scott Dunlop to be a mix between the fictional drama series "Desperate Housewives" and "Behind The Gates", a treatment based on his own experience living in the Coto de Caza community in California.
As Dunlop admitted in a 2006's interview, what fascinated him about the town was the fact its inhabitants were entertainment-oriented people. The particular but certainly privileged lifestyle of his community inherently inspired Dunlop to produce the show's first trailer, which was sent and subsequently accepted by the TV network Bravo.
The show's original name was "The Real Housewives" and although it was always thought to be a non-scripted series, its initial satirical viewpoint was replaced by a more genuine, realistic approach.
Although Dunlop assures the series has always meant to entertain and represents only a small percentage of Orange County's population, many residents of that area haven't been very welcome of the show, as it's believed to depict the community in a bad light.
There's A Fraud Lawsuit Against The Creator
Although Scott Dunlop's career as a producer and businessman is quite prolific, his reputation was somewhat damaged when in 2014 he was accused of fraud.
The allegations were made by Patrick Moses and Kevin Kaufman, who were initially producers of "The Real Housewives of Orange County" but were excluded from its profits due to an apparent scheme between Dunlop and the show's network Bravo's to discredit them.
Following Kaufman and Moses' declarations, they were the ones who came out with the idea of creating a reality show based on Orange County, contrary to Dunlop's idea of creating a satirical series. The two men who own a production company named Ventana, allegedly were former friends of Dunlop and even visited his home to discuss the show's creation. However, in an apparent complicity with Bravo, Dunlop later informed Kaufman and Moses' that it was decided Ventana wouldn't be part of the show's production.
In the legal complaint filed by the producers, it was specified they were asking for a $5 million compensation in damages. Unfortunately, there hasn't been further information about the lawsuit, which could mean both parts came to a mutual agreement privately.
The Cast's Unconventional Contracts
Although money is the main reason people accept to expose their private life in a reality show, this isn't the case of "The Real Housewives of Orange County"s cast.
While this might seem ilogic from an outsider's perspective, it's noteworthy that most women who appear in the show are already well-off before being cast in it, so probably getting money out of it isn't a big motivator. In fact, it's known housewives are basically paid close to nothing at the start.
One of the series' most iconic cast members Vicki Gunvalson declared she didn't have a salary during the first season, an allegation corroborated by fellow Housewife Tamra Judge, who allegedly only earned $7,000 in her first year in the series.
Though these stars' salaries exponentially increased the following seasons, apparently every housewife signs a contract which explicitly gives the show permission to edit scenes and manipulate their portrayals in a way which might lead to the defamation of the women and families.
While this might be too much of a risk for many common people, the Orange County's housewives are aware the fame and status the show brings them are worth the many personal sacrifices they have to make.
It's Probably Going To Be Rebooted
All good things come to an end, especially in television. Although "The Real Housewives of Orange County" maintained its popularity for many seasons, in 2020 it had an audience decline of 25% during its fifteenth season's premiere. That is barely over 1,1 million people watching the show, which is a considerable audience drop of more than 300,000 viewers.
Manifesting the rumours of Braunwyn's exit to be true 👀 #RHOC pic.twitter.com/jPkJtnY7Dh

— RealHousewivesRanked! (@RankedReal) February 19, 2021
Even if losing that important part of its audience can be a strong loss for any show, it hasn't been the lowest rating point for the Orange County's housewives in over a decade on air.
Will the show be cancelled due to this? Not likely, though that's what viewers asked for on social media, but that's due to the prolonged and apparently unbearable feud between the stars Braunwyn Windham-Burke and Kelly Dodd during the fifteenth season, in addition to the exit of fan favorites Vicki Gunvalson and Tamra Judge.
Despite the constant negative criticism, in January 2021 the co-producer Andy Cohen denied the cancellation rumors and instead hinted a reboot and recast is on its way.
Will the show be revamped or has it come to an inevitable end? Only time will tell, but it's undeniably that long-time fans would be happy if they get to see some of the original Orange County housewives again.
The Reason Tamra Judge Left
Tamra Judge is notably one of the most memorable members of "The Real Housewives of Orange County" cast. Ever since she joined the series in the third season, viewers were able to accompany through her divorce from Simon Barney, the process of adapting to Coto de Caza's lifestyle and her wedding to Eddie Judge.
Though there's no shortage of drama when it comes to Tamra Judge, that is clearly what made her become a fan favorite. This is why viewers were flabbergasted when she wasn't part of "The Real Housewives of Orange County"s fifteen season.
While there are various reasons she's no longer in the show, Tamra herself confirmed her request for a raise in salary wasn't kindly accepted. The other reason is the health of her ex-husband Simon, who was diagnosed with cancer in late 2019.
The worrying situation put life in perspective for Tamra, leading to the decision of leaving the show to support her children: 'it's just very hard for me to want to go on a show where people are screaming and yelling and arguing about things that don't even matter', she told People.
Hopefully Tamra's family situation can improve, though for now she will be greatly missed by her fans and her empty spot won't be easy to fill by anyone else.
A Cast Member Blamed The Show For Her Divorce
For Vicki Gunvalson, divorcing from her second husband Donn Gunvalson after 16 years of marriage was hard, despite her declarations of not being on bad terms with him.
It didn't help that the split process was highly publicized when the separation news was published in 2010.
Viewers of "The Real Housewives of Orange County" witnessed the downfall of her marriage with Donn and the long divorce process which followed.
More recently in 2020, Vicki decided to leave the show altogether when the production staff tried to reduce her role after 14 years of being in it. As she admitted in a podcast interview, not appearing anymore in the series was a tough but a good decision, as she felt it had interfered in her private life too much throughout the years and also played a big role in her separation from Donn Gunvalson: 'I know for a fact that if I wasn't on a reality show, I wouldn't have been divorced.'
Although Vicki is now engaged to another man, she admits she has many regrets when it comes to her divorce from Donn, especially because they're not in contact anymore and for apparently, 'breaking his heart' when she ended things between them.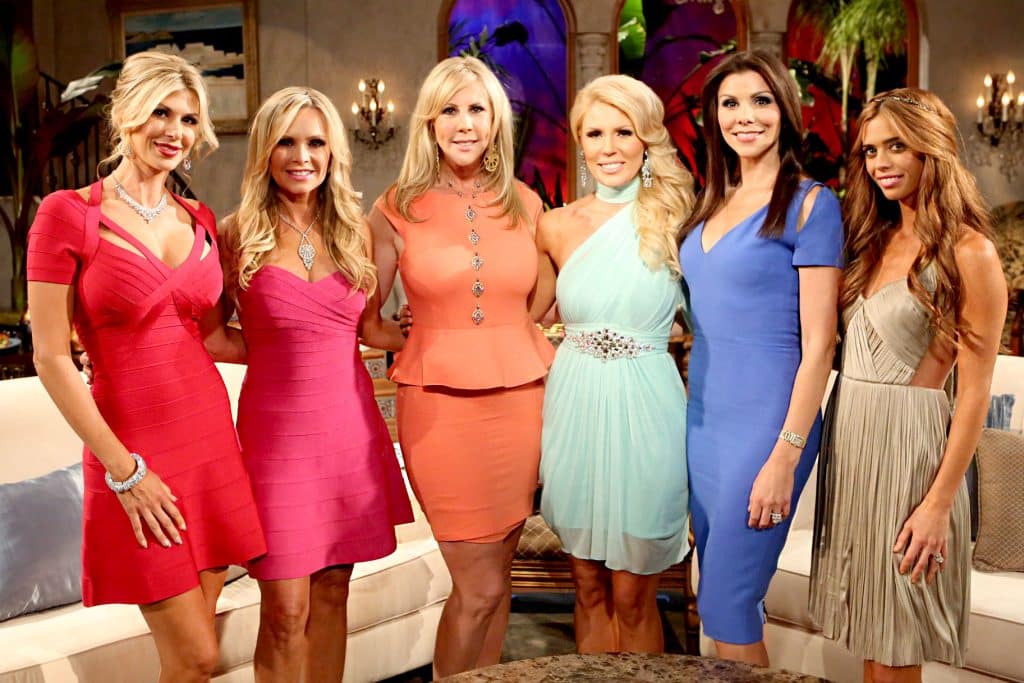 A Star Was Demanded By Her Ex-Husband
The aftermath of Alexis Bellini's divorce from her ex-husband Jim Bellini is one of the toughest ever shown in "The Real Housewives of Orange County".
Although the split took people by surprise, nothing seemed out of place by the time they finalized their divorce process in mid 2018. Alexis even admitted they had remained friends afterwards and the animosity between then had been left behind for their children's sake.
What happened then? Though it is still unclear what caused the separation, things between the former couple are now so bad that a legal problem resulted from it. In 2019 Alexis and her show'w co-star Shannon Beador were sued by Jim Bellini for apparently defaming him, his family and business.
Jim's claims are based on an interview Shannon and Alexis gave to the podcast hosted by comedian Heather McDonald, who is also included in the complaint for allegedly conspiring to damage Jim's name.
The lawsuit against Shannon was dismissed by an Orange County judge, and she was subsequently awarded with a compensation of over $137,000 in attorney fees, which apparently Bellini still hasn't paid.
However, Jim's $1 million lawsuit against Alexis and Heather McDonald hasn't been dismissed yet and it's unknown if they're close to reaching an agreement.
How To Be Real Housewives
Granted, the term housewife is used loosely in the show.
Most of the cast members have professional careers outside of the show, very busy social lives and don't spend a lot of time, if any, doing activities normally associated with housewives.
While you don't need to be a dedicated wife to be able to appear in "The Real Housewives of Orange County", it's of course a prerequisite to live in the area to be taken into consideration for the show. However, nothing is settled until each woman goes through a long audition process in order to determine if they're eligible for the series. This is done this way to ensure each housewife has the potential tenants bring in the necessary drama for the show.
Though friends of housewives have a free invitation to be in it, they also have to audition. However, even if friendships are not necessary for the series, they're highly preferred and if it's not the case, some kind of connection between the women should exist for things to work.
The OG's of the OC hit the Real Housewives of Orange County premiere party! http://trib.al/rkpE0OU

Posted by TooFab on Friday, June 17, 2016
Are these requisites too much? They probably are for a common person, but that obviously doesn't apply to the Orange County's housewives.
Its Impact Is Bigger Than What You Think
It's common knowledge that "The Real Housewives of Orange County" was the show which started everything. To date at least ten spin-off series have been spawned from it, including the short-term shows "Date My Ex: Jo & Slade" and "Tamra's OC Wedding", which were focused on the now-former cast members Jo de La Rosa and Tamra Judge respectively.
The fast pace with which the franchise grew it's not a surprise. During its premiere season, the Orange County-based series had an average rating of 6.3 points, a record more or less maintained throughout the following seasons until 2019, when the series broke its own audience record by having 7.3 points on average.
The success achieved by the "Real Housewives" shows are not limited to the US, though. The franchise has been broadcast in several countries such as the United Kingdom, Greece, Hungary, Italia and South Africa.
In addition to this, many celebrities such as Chrissy Teigen, Lady Gaga, Jennifer Lawrence, Michelle Obama and Megan Fox have declared themselves as fans of the franchise.
Although the shows have also been criticized for many reasons and have been described as a demise of the American culture, "The Real Housewives" are undoubtedly one of the most outstanding and prolific reality TV franchises ever made and a long time will pass until it would be surpassed.