• Fernanda Colombo is a former model, sports journalist, and soccer referee from Brazil.
• She is estimated to have a net worth of close to $1 million, with her husband Sandro Ricci having a reputed net worth at over $1.5 million.
• She began her career in the fashion industry as a model, then pursued a career as a professional soccer referee.
• She is married to Sandro Ricci, a retired professional referee and foreign trade analyst for the federal government.
• She is known for being the top female referee in Brazil and for refereeing the 2014 FIFA World Cup in Brazil.
Who is Fernanda Colombo?
Fernanda Colombo Uliana was born under the sign of Taurus on 24 April 1991, in Brasilia, Brazil, and so holds Brazilian nationality. She is a 29-year-old former model, a sports journalist and soccer referee, probably best recognized for being the top female referee in Brazil. She is also known for being the wife of Sandro Ricci, a retired Brazilian soccer referee and TV commentator.
How rich is she, as of now? Fernanda Colombo Net Worth
As of early 2021, Fernanda Colombo's estimated net worth is close to $1 million, acquired through her successful involvement as a model and in the sports industry. Moreover, it is assumed that she shares the fortune of her famous husband, Sandro Ricci, who has a reputed net worth at over $1.5 million.
Early Life, Parents, Nationality, Educational Background
Fernanda Colombo spent her early years in her hometown of Brasilia, probably raised by her father, whose name hasn't been disclosed, and her mother, Vera Colombo; there is no information about their professions, nor whether she has siblings or not. Although Fernanda hasn't shared any details regarding her education, it's known that she obtained a degree in Physical Education.
Professional Career
Fernanda Colombo started her career in the fashion industry as a model, featuring in several commercials, and doing a number of photoshoots. She then played soccer and served as a flagship during a brief period of time, after which she started pursuing her career as a soccer referee.
Rise to Fame as a Referee
Fernanda began working as an assistant referee in 2010, initially refereeing games in the Série C, and later promoted to the first Brazilian league. She gained enormous popularity after refereeing the Copa de Brasil. As the time passed, Fernanda became one of the top female referees in Brazil and refereed games in the Ecuadorian first division. Thanks to her accomplishments and hard work, she was noticed by International Federation of Association Football (FIFA) in 2014.  In 2017, she decided to retire.
Sports Journalism and Book
As soon as she retired as a referee, Fernanda focused on her career in the field of sports journalism, working on the TV sports program "Show Do Esporte" from 2018. She currently works as a columnist for Brazilian online publication 'Metropoles', and covers the Women's World Cup. Moreover, she wrote a book entitled "Vamos Jogar Futebol", published in January 2018.
Controversy
Fernanda Colombo came to the spotlight after pulling a prank on Barcelona Sporting Club player Kitu Diaz in an Estrellas de Ecuador league match, since she reached into her pocket after a foul and pulled out a tissue to wipe her face instead of a card; it was documented on a video, which went viral.
Following the match, she uploaded a screenshot of an e-mail she received from a local escort agency, in which they offered her work as an escort girl, meeting with other men for at least $7,000 per encounter. She wrote that it left her feeling like trash, adding that she just wants to do what she loves, which includes football and journalism.
Appearance and Vital Statistics
Fernanda Colombo has long blonde dyed hair and blue eyes. She stands at a height of 5ft 8ins (1.73m), her weight is around 145lbs (65kgs), and her vital statistics are 36-25-36.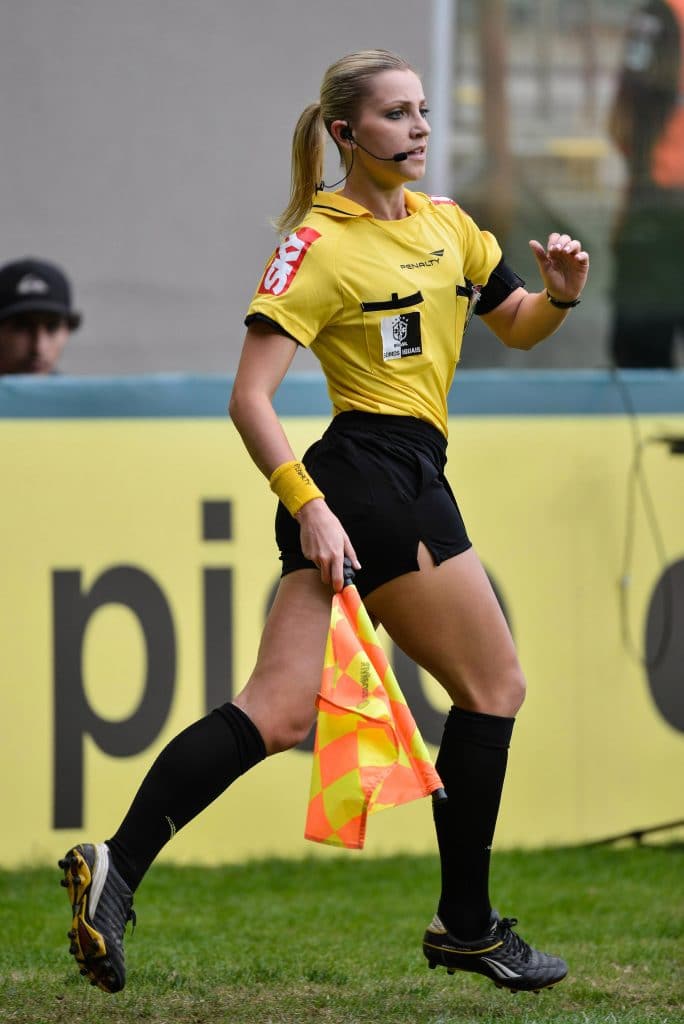 Her bra size is 34B, and shoe size is 9 (US); her dress size isn't available.
Personal Life – Marriage with Sandro Ricci
Fernanda is married to Sandro Ricci. The couple met while they were working in the same field. The public isn't aware of when they actually started dating, however, they announced their engagement on live TV in March 2018, and later that year the lovebirds exchanged their wedding vows. They have no children.
Who is her husband? Sandro Rici Short Wiki/Bio
Sandro Meira Ricci was born on 19 November 1974 under the zodiac sign of Scorpio, in Poços de Caldas, Minas Gerais, Brazil. Little is known about his early life and his family.
Regarding his education, he attended a local high school, and after matriculating, Sandro went on to graduate with a degree in Economics from the University of Brasília.
Professional Referee Career
Sandro Ricci became a professional soccer referee in the Football Association of Federal District (FFDF) in 2003, and three years later joined the Brazilian Football Confederation (CBF). He made his debut in April 2006 at the Serra Dourada stadium, when he refereed the match between Ituano VC and Vila Nova FC. In the following year, he became a referee in the Serie A Brazilian Championship, and in 2010, he was named best referee in the Brazilian Championship.
He left the FFDF in 2012, and then joined the Football Association of Santa Catarina state (FCF), and remained there until 2018 when he spent brief period of time working at the Paraná Football Federation (FPF), and then retired.
International Popularity
In March 2013, Sandro Ricci made his international debut in the 2014 FIFA World Cup qualifiers. Later that year, he was a referee at the FIFA Club World Cup final in Marrakech. In the following year, Sandro was invited to joined the referee panel of FIFA, and represent the CBS in international trounaments. He was the Brazilian referee at the 2014 FIFA World Cup in Brazil, alongside assistant referees Marcelo Van Gasse and Emerson de Carvalho.
During the match between Honduras and France, Sandro was the first referee in FIFA tournament to validate a goal using Goal-Line Technology. He was later chosen to referee at the 2016 Summer Olympic Games in Rio de Janeiro, and two years later he appeared once again as the Brazilian referee, at the 2018 FIFA World Cup in Russia. Following the end of the tournament, Sandro announced his retirement.
Other Ventures
Apart from his refereeing career, Sandro Ricci works as a foreign trade analyst for the federal government. Following his retirement as a referee, he was invited to join Globo Network in the position of a football refereeing and rules analyst, replacing Arnaldo Cezar Coelho.