• Gabriela Spanic is a Venezuelan actress and singer, most famous for her double role in the telenovela "La Usurpadora" (1998).
• She is the daughter of a Croatian father and Venezuelan mother, and has three siblings.
• Her big break came in 1994 with the role of Gilda Barreto in the telenovela "Como Tu, Ninguna".
• She has a son with Neil Perez and previously dated Jose Angel Llamas and John Cusack.
• She stands at a height of 5ft 8ins (1.74m) and has light brown hair and hazel eyes.
Who is Gabriela Spanic?
Gabriela is a Venezuelan actress and singer, perhaps still best known to the world for her double role of Paulina Martinez / Paola Bracho in the telenovela "La Usurpadora" (1998), among many other roles in famous Latin telenovelas that she's secured over the course of her career.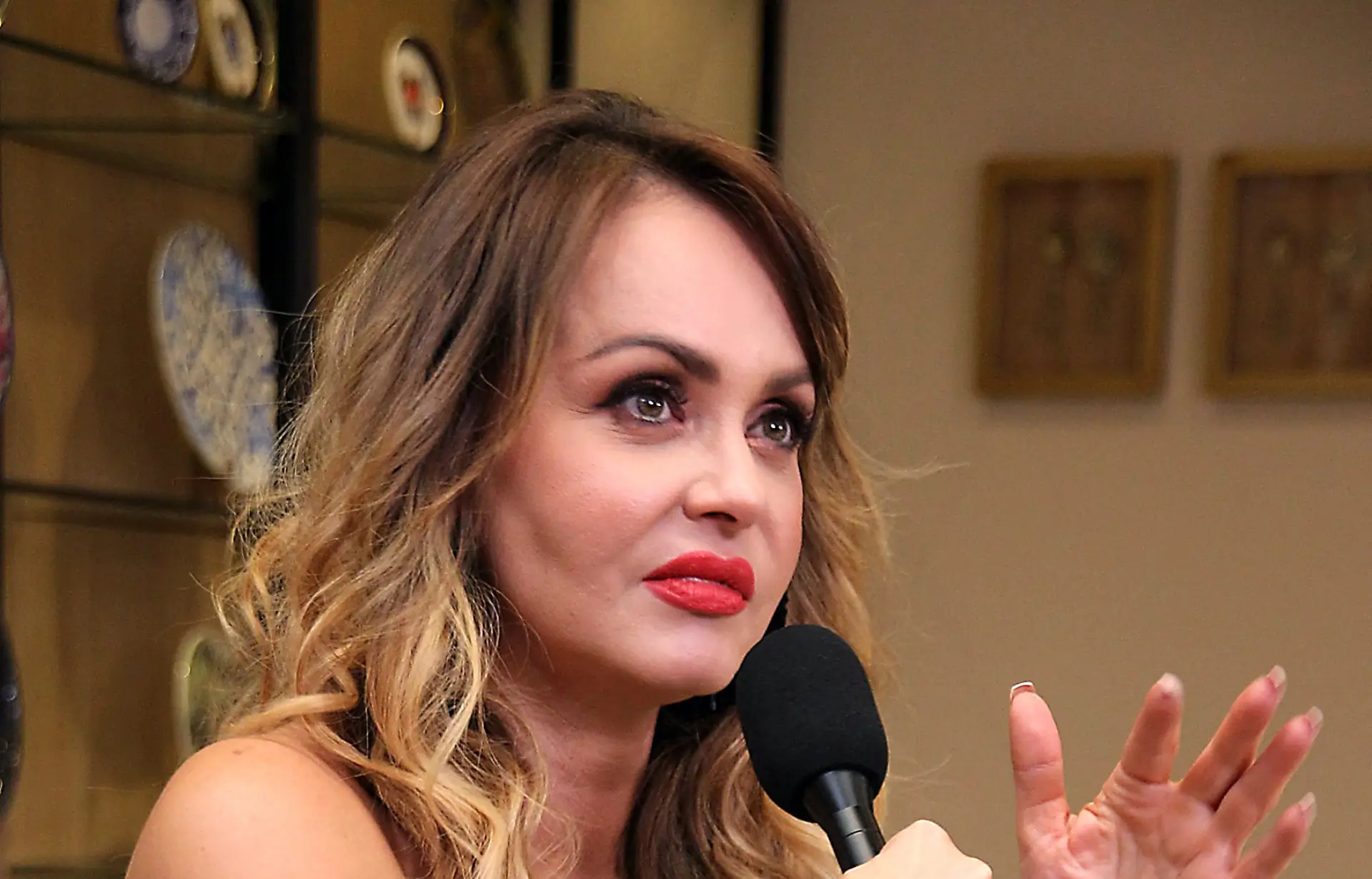 Gabriela Spanic Biography: Age, Childhood, and Education
Gabriela Elena Španić Utera was born on 10 December 1973, in Caracas, Venezuela, the daughter of a Croatian father, Casimiro Španić, who emigrated to Venezuela from Croatia in 1947, while her mother is Venezuelan, Norma Utera.. Gabriela is one of four children – she has a twin sister, Daniela, a TV host and model, a younger sister, and a younger brother.
Gabriela grew up in Ortiz, and after high school, enrolled at Andres Bello Catholic University to study psychology. However, she left just a year into her studies, to pursue an acting career.
Career Beginnings
Before she made her acting debut, Gabriela competed in the Miss Venezuela contest representing her home state of Guarico, and won the title of "Miss Venezuela International", which she used to take a step forward in launching her acting career.
She had an uncredited role in the award-winning telenovela "La Loba Herida" in 1992, with Mariela Alcala, Astrid Carolina Herrera, and Carlos Montilla in the lead roles, then the following year made her official debut as Carla in the telenovela "Rosangelica", a love story between Rosangelica and Oscar Eduardo, with Victor Camera and Sonya Smith in the lead roles.
Rise to Prominence
1994 was the turning point in her career – first, she made one-time appearances in the telenovelas "Morena Clara" and "Maria Celeste", but was then selected for her first major role as Gilda Barreto in the telenovela "Como Tu, Ninguna", opposite Barbara Teyde as the main villain. Gabriela's character is a poor young woman who falls in love with Raymondo Landaeta, portrayed by Eduardo Luna, but as his mother tries to separate them, she finds her true love in Raul de la Pena, played by Miguel de Leon. She starred in all 281 episodes before her character got its happy ending after enduring all the ups and downs in life.
Two years later, Gabriela starred as Emiliana Echeverría Salazar Castañon in the telenovela "Quirpa De Tres Mujeres", in which she is one of the main protagonists alongside Fedra Lopez, Danilo Santos, and Monica Rubio while the villainous roles were given to Julio Alcazar and Milena Santander. She starred in all episodes of the critically acclaimed series and was slowly starting to become one of the most praised telenovela actresses.
Gabriela enjoyed success throughout the '90s, starring in a number of successful projects. She had a double role in the telenovela "Todo Por Tu Amor" in 1997 as Petra Josefina Marcano / Amaranta Rey, co-starring Jeannette Rodriguez, Jean Carlo Simancas and Hilda Abrahamz.
After a guest-starring role in the telenovela "Bienvenidos" in 1997, the following year Gabriela secured one of the most famous roles in her career, landing the double role of twins Paola Bracho Montaner / Paulina Bracho Martinez in the telenovela "La Usurpadora". The series follows the lives of twin girls separated at birth and with completely different personalities – one is a good-hearted woman living in poverty, the other an evil, wealthy woman cheating on her husband, who is a rather rich man. The two women cross paths accidentally, and hell ensues after the evil one convinces the other to switch places. Gabriela earned wide praise for her portrayal of two different roles in one show, and  had a Best Actress Award nomination by Premios TVyNovelas.
Gabriela emerged as a star actress following the end of the series, and continued her career rather successfully, with another double role as Aurora de Montalvo / María del Cielo Montalvo de Durán in the telenovela "Por Tu Amor", co-starring Saul Lisazo.
Continued Success
She began the new millennium in the same manner she ended the '90s, securing the role of Viriginia Martinez Roldan de Junquera Brito in the telenovela "La Intrusa" (2001), co-starring Arturo Peniche and Laura Zapata.
From 2002 to 2003, she starred as Valentina Diaz in the telenovela "La Venganza", alongside Jose Angel Llamas and Catherine Siachoque, about a woman who dies but her soul is transferred into another woman body, who then launches her revenge on those who betrayed her.
In 2004, Gabriela was chosen for the part of Guadalupe Santos in the telenovela "Prisionera" about a woman wrongfully accused of murder and sentenced to jail for 30 years, co-starring Genesis Rodriguez and Gabriela Roel.
In 2006, she landed another starring role, as Valeria San Roman in the telenovela "Tierra De Pasiones", which tells the love story between Valeria and Francisco Contreras, portrayed by Saul Lisazo. One interesting fact about the series is that in one episode, Gabriela's character punches Marcia Hernandez, portrayed by Catherine Siachoque, 13 times.
After a short break from acting to focus on other interests, Gabriela returned with the role of Ivana Dorantes Rangel in the telenovela "So Tu Duena" in 2010, starring Lucero as Valentina Villalba Rangel, a woman left at the altar who then returns to her family's estate to rule the hacienda with a firm hand.
The following year, Gabriela had another lead role as Emperatriz Jurado in the telenovela "Emperatriz" about the adventures of a woman who is an ex-con. Nothing changed for Gabriela in the next two years ,as she starred in the telenovela "La Otra Cara del Alma" as Alma Hernandez – the series became a success, premiering to around seven million people.
She then focused more on her music career and family matters but returned to acting in 2018 with the role of Roberta Padilla in the telenovela "Casino Mex".
To speak further of her acting accomplishments, she portrayed Fedora Montelongo in the telenovela "Si Nos Dejan" in 2021, while in 2022, she guest-starred as Elisa in "Corazon Guerrero".
Moreover, she starred in the telenovela "Secretos de Villanas" (2022), while she will star in the film "Don Quixote", based on the novel by Miguel de Cervantes y Saavedra.
💣
O SBT confirmou que "Si Nos Dejan", novela que está tendo grande êxito no México e que marcou o retorno de Gabriela Spanic as novelas será exibida em breve na emissora.
🗞️ TV Observatorio pic.twitter.com/joR39VJiHE

— Portal Ypis (@portalypis) September 3, 2021
Music Career
In addition to acting, Gabriela is a singer – her debut album, "Gabriela Total" came out in 2004, and since then, she's released albums "Mejorando Tu Vida Con Gabriela Spanic, Vol. 1 e 2 (2005)", "En Carne Viva" (2014), and a compilation album "Gabriela Spanic Greatest Hits" in 2016.
Net Worth
According to sources, Gabriela Spanic's net worth is estimated at $10 million, as of early 2023.
Personal Life, Dating, Married, Husband, Children
Gabriela has been seen with a few celebrities since entering show business. She dated Jose Angel Llamas for some time, and in 1996 she started dating actor Miguel de Leon, and the two married the same year. However, they divorced six years later – they don't have children.
She had an affair with American actor John Cusack in the mid- 2000s, while in 2008, she was in a relationship with Neil Perez, with whom she has a son Gabriel de Jesus, born on 7 July 2008.
In April 2009, she started dating Brazilian director and producer Frederico Lapenda. The romance lasted until 2010. In 2023, she appears to be unattached.
Appearance and Body Measurements
Gabriela Spanic has light brown hair and hazel eyes. She stands at a height of 5ft 8ins (1.74m), weighs approximately 125lbs (56kgs), with vital statistics of 35-24-34, and bra size 36B.