• Gianni DeCenzo is a fast-rising American actor and artist
• He was raised in Los Angeles by his parents and was home-schooled
• At the age of 13, he was diagnosed with Type 1 Diabetes
• He landed his big break with the role of Demetri in "Cobra Kai"
• His estimated net worth is $1 million
Gianni DeCenzo is a fast-rising American actor and artist, who came into the spotlight for his role as Demetri in the YouTube Red and Netflix series, "Cobra Kai". However, many are curious about Gianni's rise to fame and his personal life. To learn more about Gianni, just keep reading this biography.
Early Life, Family, Educational Background
Gianni DeCenzo was born on 27 October 2001 under the zodiac sign of Scorpio, in Los Angeles, California USA. He is of the Caucasian White ethnicity, and holds American nationality. Gianni and his older brother Anthony DeCenzo, were raised by their parents in Los Angeles, where they lived for the greater part of their lives. Despite his fame, Gianni's parents prefer to maintain a low profile, thus their names aren't known to the public.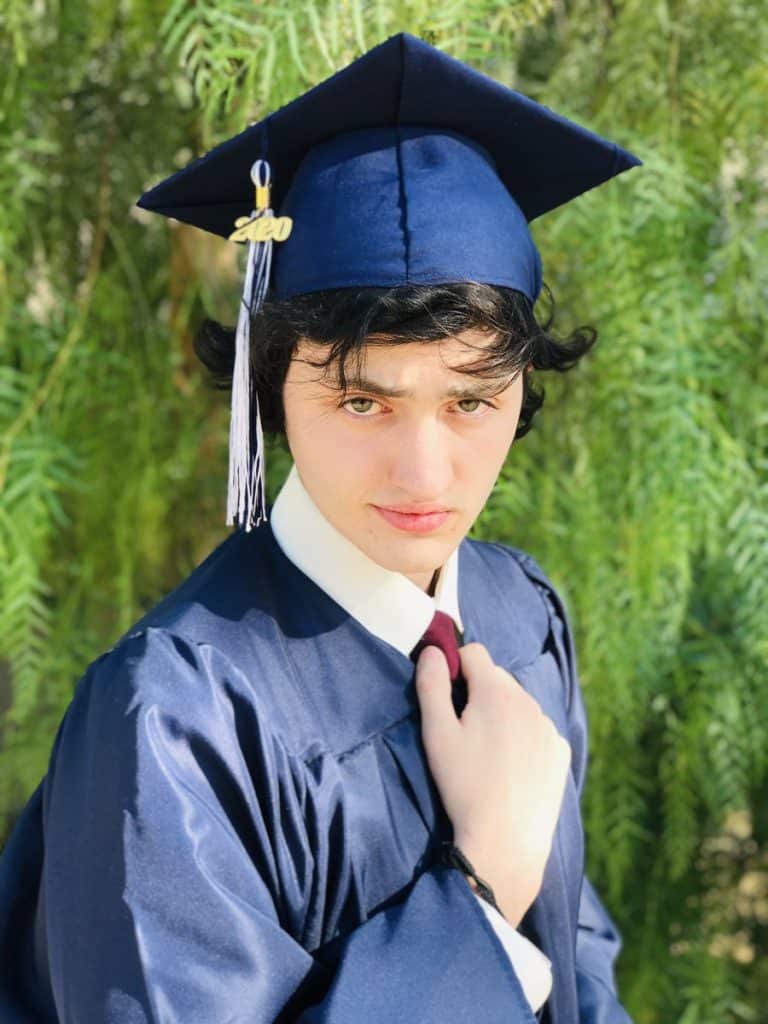 The DeCenzo family has always been into art – Gianni's parents even met in an acting class. This meant that when eight-year-old Gianni said he wanted to be an actor, his parents couldn't refuse him. His mother immediately took some pictures of him in the backyard, sent them out, and soon secured a talent manager for Gianni.
Not much is known regarding Gianni's educational background. He attended a local elementary school, until he became active in the entertainment industry, and couldn't keep up with school, so he was then home-schooled.
At the age of 13, Gianni DeCenzo was diagnosed with Type 1 Diabetes, which he described as the scariest experience of his life.
Career
Acting Career
In Gianni's early years as an actor, it was difficult to land paid roles; he had to take on pro bono roles in student films sometimes, in order to boost his resume and increase his chances of getting better gigs.  His first paid gig was in a commercial for a non-union insurance company.
Gianni DeCenzo made his acting debut in "The Lucky One" (2011), as Jonathan Prescott. Subsequently, he took some minor roles in "Dark Wall" (2012), "The Middle" (2013), "Back in the Game", "37" and "Fartcopter" all in 2014. From 2015 to 2016, Gianni played the role of Arthur Pickwickle in "100 Things to do Before High School", a TV comedy created by Scott Fellows, and subsequently Caleb Williger in "Coop and Cami Ask the World" (2019-2020).
Gianni got his big break when he landed the recurring role of Demetri in "Cobra Kai" (2018), an action drama series based on "The Karate Kid" by Robert Mark Kamen. His character represented a socially awkward high school teenager, who became more confident in his own strength after joining Miyagi-Do Karate. He starred in the martial arts series filmed in Atlanta, Georgia, alongside popular actors such as Mary Mouser, Jacob Bertrand and Martin Kove.
In 2020, he reprised his character Demetri, this time as a voice actor in Cobra Kai Video Game.
Apart from acting, Gianni is also passionate about art. He has channeled this energy into something great, as he's now developing an original adult cartoon series.
So far, his career is devoid of controversies. The 19-year old is obviously focused on becoming a better actor, and increasing his financial worth.
Social Media Personality
After his first portrayal of Demetri, Gianni shot to celebrity status. Fans of "Cobra Kai" wanted to keep up with their favorite actor, so they had to follow Gianni on social media – his presence is significant only on Instagram and Twitter. On his Instagram page, he shares some of his sketches, behind the scene clips from Cobra Kai and some updates on his personal life. He now has over 680,000 followers on Instagram, and 18,000 on Twitter. Sometimes Gianni makes funny TikTok videos to entertain his fans, and his TikTok page now boasts of over two million followers and 7.2 million views.
Personal Life, Relationship
The DeCenzos' run a Respite Agency for people with developmental abilities. This was started in honor of Anthony DeCenzo, who is on the Autism Spectrum, and deals with severe OCD.
Gianni and his mother share a special bond; he often writes adoring posts to her on Instagram.
Gianni is reportedly in a romantic relationship with Melissa Rivera – they went public in November of 2019. Their relationship was long distance for a while, and he struggled to keep in touch. The couple now live in the same city in the Santa Clarita Valley, with his pet dog named Bartleby.
According to Gianni, if he wasn't an actor, he would be an engineer. He loves to play Minecraft, and his wildest fantasy is to live in a world of mythical creatures.
Appearance, Clothing Style
Gianni's height is 5ft 11ins (1.8m), and weighs about 143lbs (65kgs). He has short dark brown hair and hazel colored eyes. From Gianni's photos, it's evident that he's a regular at the local gym, as he has a toned body which makes him look great in almost every outfit.
He prefers to dress simple and clean. On a regular day, his favorite outfit is a flannel jacket paired with jeans, but he keeps it classy in suits for red carpet appearances.
Hobbies, Favorite Things and Interesting Facts
Gianni DeCenzo trained in Krav Maga.
He has an extensive knife collection.
He loves the classic sitcom, "Friends".
He loves animals and his favorite one is the giraffe.
Gianni enjoys spending time with friends and family
His hobbies are traveling and learning.
He also loves being in nature.
His favorite food is pizza.
Gianni's favorite holiday destination is London
White is his favorite color.
Net Worth and Salary
As of mid-2021, Gianni DeCenzo's net worth is estimated to be $1 million, accumulated from his years in the entertainment industry. The DeCenzos' own a home in Santa Clarita Valley, but its market value is undisclosed at this time.