• Ginger Gonzaga is an American actress and comedienne who has had roles in "Legit", "Wrecked", and "Kidding"
• She was born in Pennsylvania, USA to parents of Dutch and Filipino descent and attended Beyer High School and the University of California, Santa Barbara
• She began her career in 2007 with roles in short films and went on to participate in the 2009 CBS Diversity Sketch Showcase
• She has had writing, producing, and directing credits in addition to her acting roles and is currently working on the upcoming series "She-Hulk"
• She is a talented musician, voice actor, and supports many causes, including feminism
Who is Ginger Gonzaga?
Ginger Gonzaga is an American actress and comedienne, who has earned her fame by appearing in such roles as Peggy in the TV series "Legit" (2013-2014), Emma in "Wrecked" (2016-2017), and Vivian in "Kidding" (2018), among numerous other appearances.
Early Life, Parents, Siblings, and Education
Ginger Tapp Gonzaga was born on 17 May 1983 under the Taurus zodiac sign, in Pennsylvania, USA, into a family of mixed origin – her mother, Adele L. Tapp is of Dutch ancestry, while her father, Christopher Delprine Gonzaga, is from Cebu, Philippines. She hasn't disclosed any information about having siblings.
Goodnight. I hope everyone feels safe and cozy, or is pointed in the right direction to get there. 💫 pic.twitter.com/XpgqAwn0cW

— Ginger Gonzaga ✨ (@gingerthejester) April 21, 2021
Although born in Pennsylvania, she spent her childhood in Modesto, California, and went to Beyer High School. Following her matriculation, Ginger enrolled at the University of California, Berkeley, then transferred to the University of California, Santa Barbara, from which she obtained a bachelor's degree in political science with a minor in Chinese.
However, during her college years, her interest in comedy and acting prevailed, and in her sophomore college year, she joined The Groundlings, a comedy sketch troupe and school based in Los Angeles, where she trained in acting and comedy; she later also studied improv comedy at Second City and Upright Citizens Brigade.
She went on to participate in the 2009 "CBS Diversity Sketch Showcase", and presented her skills in clubs all over Los Angeles, but also at US Army bases in South Korea.
Career Beginnings
Before she started pursuing her career in performing arts, Ginger was a national-level debater and impromptu speaker. Nevertheless, interest in theater, stage, and comedy won through, and Ginger began her career in 2007 with roles in a few short films, including 'The Addiction of Ethan Lonemyer".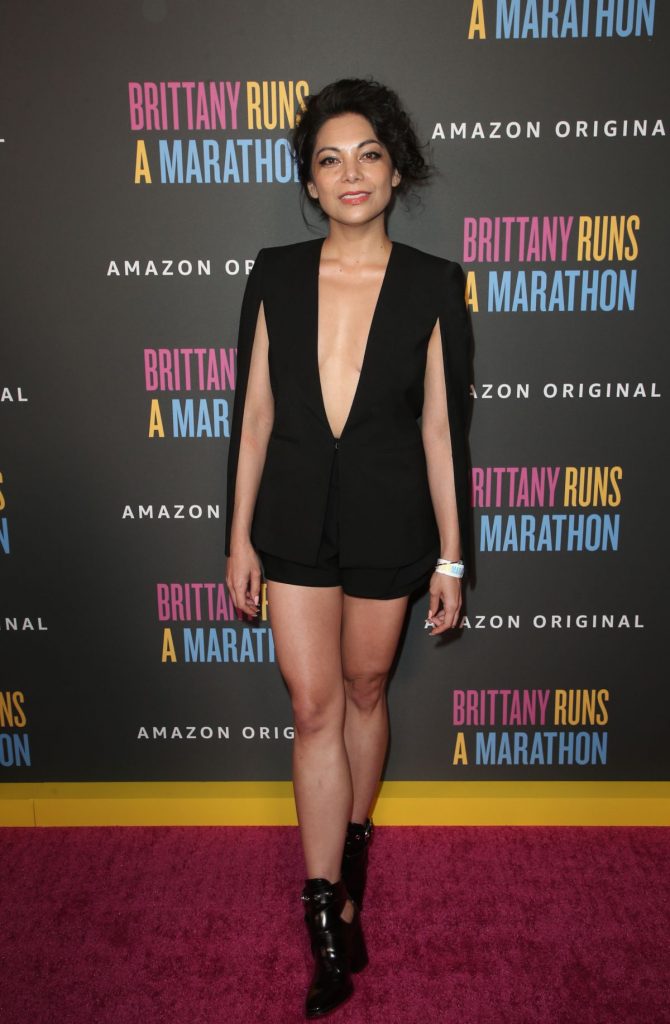 She waited for a couple of years to secure her first recurring role, as Kim Kaminski in the TV series "In Gayle We Trust", featuring in nine episodes of the TV comedy series from 2009 to 2011. From 2011 to 2012 she was regular on "The Morning After", a daily pop culture recap show, hosting 345 episodes, which boosted her career.  In 2012, she appeared in the highly successful Academy Award-nominated comedy film "Ted", starring Mark Wahlberg, Mila Kunis and Seth MacFarlane, then continued her career with television roles, first portraying Peggy in the TV series "Legit" (2013-2014), and becoming a regular in the TV series "Mixology" as Maya in 2014.
The same year she was Juanita in the comedy film "Someone Marry Barry", starring Tyler Labine, Damon Wayans Jr., and Hayes MacArthur.
Rise to Prominence
Gradually Ginger was becoming more famous, and in 2016 she appeared in two films-  "Dean", in which she played Jill, while she was Erica in the film "Punching Henry". Furthermore, she secured the role of Emma in the TV series "Wrecked", appearing in 12 episodes through 2017, and then portrayed Lorena in the TV series "Chance" (2017). The same year she was Maggie in another TV series, "I'm Dying Up Here".
Ginger continued with television roles, each one more successful than the previous – she was Dana in the TV series "Champions", appearing in nine episodes before she took on the role of Vivian in the TV comedy-drama series "Kidding", both in 2018.
"Room 104", "Grace and Frankie", and "Living with Yourself" are just some of the titles in which Ginger has guest-starred, which only further contributed to her popularity, while in 2020 she appeared in the film "Bad Therapy" as Miranda. She is also known as Anabela Ysidro-Campos in the satirical comedy series "Space Force" (2020).
Furthermore, Ginger recently appeared as Maria in the TV series "Blindspotting" (2021), and is working on the TV series "She-Hulk", which is currently filming and set for release in 2022. Ginger will play the best friend of the main character, Jennifer Walters/ She-Hulk, played by Tatiana Maslany.
Writer, Producer, and Director
In addition to acting, Ginger has had a few other outings, having worked as a writer, producer and director as well. She wrote 45 episodes of the show "The Morning After", then in 2015 wrote the screenplays for television films "Splitting Hairs" in 2012 and "Right Now with Ginger Gonzaga!". She was also the writer, producer, and director of the short film "Your Day", released in 2017.
Ginger Gonzaga Net Worth
As of mid- 2021, Ginger Gonzaga's net worth has been estimated to be around $1 million, earned through her successful career in show business, during which she has already appeared in more than 60 TV and film roles.
Personal Life, Dating, Single, Boyfriend
Ginger attracted publicity in 2018, when she started a romance with one-of-a-kind actor and comedian Jim Carey. They met on the set of "Kidding", and made a few red carpet appearances together, but then split after less than a year.
Since then, Ginger hasn't talked about her love life, though some sources state that she was in a relationship with Jim Jefferies, however, the two are just close friends, and played a couple in the TV series "Legit".
Hobbies and Interests
Ginger is not just an actress, she is a gifted musician. Though she has never pursued music as a serious career, she's performed at various Hollywood cafés, singing jazz.
Furthermore, she has also expressed her voice acting talents, as she lent her voice to various characters in several animated shows.
She enjoys Mexican food, useful as traveling is one of her favorite leisure time activities, and Miami a favorite vacation destination.
Ginger supports many causes, and declares herself as a feminist.
Appearance and Vital Statistics
This beautiful actress has black hair and brown eyes. She stands at a height of 5ft 4ins (1.62cm) and weighs approximately 110lbs (50kgs), with vital statistics of 34-24-35; and her shoe size is 7.5. She has a tattoo on her left underarm that spells "Art is the answer".