• Matilda Rose Ledger is the daughter of the late Heath Ledger and Michelle Williams.
• She is 15 years old and currently attending high school.
• She inherited a substantial part of her late father's estate worth $20 million.
• She is the spitting image of her late father and carries his legacy with her personality.
• Michelle Williams is currently dating Tomas Kail and they recently welcomed their first child together.
Who is Matilda Ledger?
Matilda Rose Ledger is the celebrity daughter of the late Heath Ledger and Michelle Williams. Her father, Heath, was an Oscar-winning actor, photographer and director, perhaps best known for his extraordinary portrayal of the Joker in one of the greatest blockbuster films entitled "The Dark Night". Her mother, Michelle, is also a renowned actress with numerous accolades, best recognized for starring in "Shatter Island", "Venom", and "Brokeback Mountain".
Matilda Bio, Wiki, Parents
Matilda was born under the Zodiac sign Scorpio on 28 October 2005, in New York City, USA. She holds American nationality, and as of 2021, she is 15 years old. Matilda is currently attending a high school.
Born the daughter of award-winning actors, Matilda has grown up under the watchful eyes of various media outlets, which use every opportunity to point out the amazing resemblance between her and her father.
Her parents met on the set of the romantic drama "Brokeback Mountain" in 2004; while filming, they fell in love, with their co-star, Jake Gyllenhaal, saying: "I remember being in rehearsal, and the two of them had googly eyes with each other."
In the interview for GQ, Michele said: "Our initial meeting, the circumstances of how we first met, were cosmic or something. A lot of things happened at once. It's a bit like, we had a lot of things to do because we didn't have a lot of time, or something."
In 2005 they welcomed their daughter, Matilda, and the young parents began adjusting to their new roles; Heath proudly disclosed to a media outlet: "When Michelle is working, I'm the manny, and when I'm working, she's the nanny. Family is the most important thing to me."
However, not long after the birth of Matilda, the couple slowly drifted apart, mainly due to Heath's addiction to cocaine and frequent partying.
According to their statements, they didn't see eye to eye, and the birth of Matilda changed the situation, prompting Michelle to re-evaluate the relationship. In 2007 they officially parted ways, one of Michelle friends saying: "They were so young and that baby was the light of both of their lives. They were just working all the time and it was complicated."
Heath's death
However, after their split, Heath's life took a further turn for the worse in terms of his health. In addition to his publicly known substance abuse, he suffered from a respiratory illness and insomnia, which became very pronounced as he took on the role of Joker in Chris Nolan's hit superhero movie. On 22 January 2008, Heath's housekeeper and masseuse found him unconscious in his apartment in Manhattan. The toxicology report indicated that he died as a result of intoxication by the combined effects of various opioids, including oxycodone, diazepam, and hydrocodone. Subsequently, his death was ruled as an accident.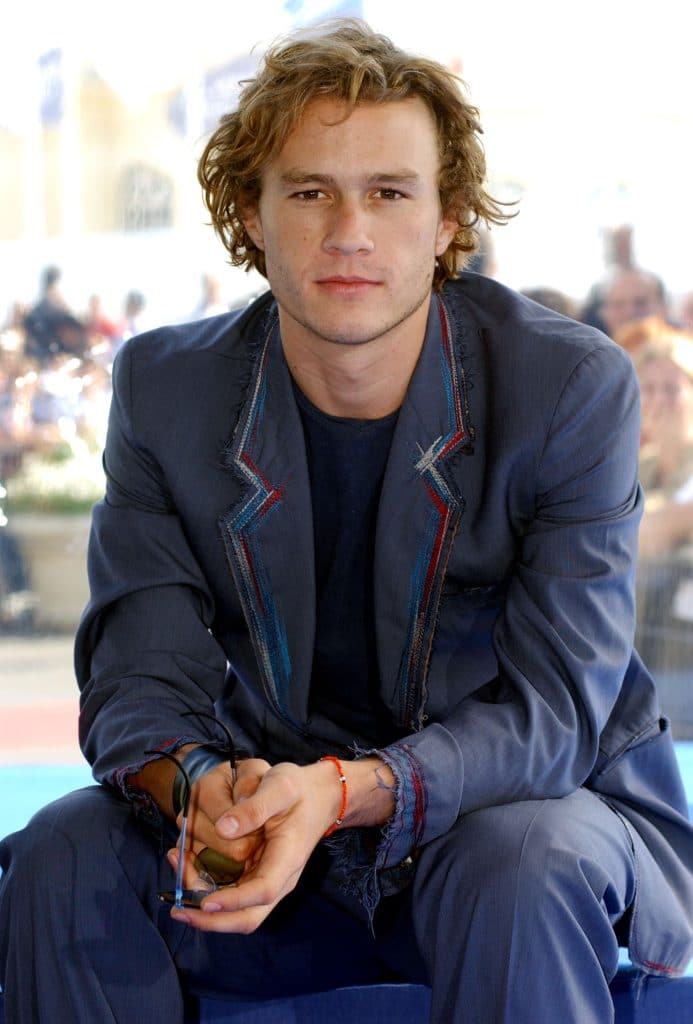 Controversy and Scandals
After Heath's death, his at the time two-year-old, daughter came into the public focus pertaining to Heath's will. According to his will, which was arranged in 2003, his wealth and estates would go to his family, namely parents and sisters, and didn't include little Matilda or Michelle. However, while various media outlets discussed who would inherit his $20 million worth estate, his father came forward and disclosed that despite the will's arrangement, Matilda's financial well-being was an absolute priority. He also added that Michelle was an integral part of that family and hence would be financially supported. Finally, the family disclosed that his estate would be gifted to Matilda.
Personal life
Given her age, it's too early to talk about Matilda's personal life. In any case, she's a very secretive person who doesn't like to share personal information with the public.
What is Matilda's net worth?
Additionally, it's too early to talk about her personal net worth, although in 2008 she did inherit a least a sunstantial part of her late father's estate worth $20 million. Additionally, her mother is an A-list actor, whose current net worth is estimated at over $30 million.
Physical stats
Talking about Matilda's physical stats, she currently weighs around 110lbs (50kgs), while her height is 5ft (152cm). Her hair is blonde, further adorned with brown eyes. Regarding her appearance, she is the spitting image of her late father, and their resemblance doesn't stop there. In an interview, Heath's father, Kim, disclosed that she was also carrying the legacy of her father with her personality, and Michelle said: "She's got an enormous number of his mannerisms. She's very inquisitive, she's got his energy because Heath never slept from when he was two, and Matilda's like that.
She's just got this ball of energy, and she radiates this little aura. Heath was kind of like that. So it is fabulous really." Additionally, her mother disclosed that Matilda has developed an interest in chess, which was one of Heath's favorite hobbies, saying: "Heath was obsessed with chess, and now Matilda is getting quite good at it. She even has her dad's old chessboard".
As it turns out, Matilda doesn't use social platforms such as Instagram, Facebook or Twitter.
Who is her mother dating now?
After the untimely death of Heath, Michelle has been linked to various celebrities, including writer Jonathan Safran Foer, financier Andrew Youmans, and she was briefly married to musician and record producer Phil Elverum.
In 2019, the actress began dating Tomas Kail, the theater director perhaps best known for the award-winning musicals "In the Heights" and "Hamilton". In December 2019, the couple announced their engagement and that they were expecting their first child together.
One of their friends disclosed to a media outlet: "They're very happy and thrilled to be bringing a baby into the world. They would like to be married by the time that happens." In March 2020, they married in a private ceremony with close friends and family. Michelle gave birth to their child in June 2020. In her interview for Vanity Fair, Michelle talked about finding love after Heath's death, saying "I never gave up on love. I always say to Matilda, 'Your dad loved me before anybody thought I was talented, or pretty, or had nice clothes."
Briefly about Heath Ledger
Heath Andrew Ledger was born on 4 April 1979, in Perth, Western Australia.
He made his debut in 1992 with a minor role in the family movie "Clowning Around", followed by a role in the TV series entitled "Ship to Shore". Slowly climbing up the ladder, he began appearing in various Australian TV shows and movies such as "Home and Away", "Roar" and "Blackrock". In 1990 he received praise for his portrayal as Patrick Verona, the textbook example of a "bad boy" in the romantic comedy movie "10 Thing I Hate About You", opposite Julia Stiles and Joseph Gordon-Levitt. Many critics agree this role catapulted Heath to stardom, additionally earning him the nomination for Best Musical Performance for the song "Can't Take My Eyes Off You". It didn't take long for Heath to start appearing in Hollywood blockbusters, opposite elite actors such as Mel Gibson in "The Patriot" and Halle Berry in "Monster's Ball".
📸 Heath Ledger Official Portrait for Best Lead Actor in Gregor Jordan's "Two Hands" at the 41st Australian Film Institute (AFI) Awards on 13th November 1999. 🎞️🇦🇺

• [ @HeathLegend HD Restoration ] •#HeathLedger #TwoHands #AFIAwards #AFI #AACTA #AustralianCinema #1999 #1990s pic.twitter.com/AtOKHvLgyZ

— Heath Ledger (@HeathLegend) November 16, 2021
The following years saw Heath landing numerous main or title roles in various genres, such as "A Knight's Tale", "Ned Kelly", and "The Order".
After appearing in several commercially successful movies such as "Casanova" and "The Brothers Grimm", he landed one of his most notable roles as Ennis Del Mar in the critically acclaimed and praised western romantic drama "Brokeback Mountain". In addition to its huge box-office takings, this complex drama, which explores the emotional and sexual relationship between two cowboys, won three Academy Awards for Best Director, Best Adapted Screenplay, and Original Score. Heath also garnered several nominations for Golden Globe, Screen Actors Guild Award, and An Academy Award for Best Actor, making him the eighth-youngest nominee in the category.
After appearing in the romantic movie "Candy" and the musical drama movie "I'm Not There", he landed the role of The Joker in the superhero movie "The Dark Night". While his career to this point had been extremely successful, his unforgettable performance garnered international recognition and praise. The film was released six months after his death, making this his penultimate role, and he posthumously received the Academy Award and the Golden Globe Award for Best Supporting Actor. After his death, two movies were released posthumously, "The Imaginarium of Doctor Parnassus", which was in the middle of filming at the time of his death, and a collection of archive footage entitled "I Am Heath Ledger".
Briefly about Michelle Williams
Michelle Williams, born in 1970, in Kalispell, Montana, and rose to prominence for her role in the teen drama "Dawson Creek", which ran from 1988 to 2003.
After her memorable performance in the series, she transitioned to adult roles, starring in several successful productions including "Dick", "Me Without You", and "Prozac Nation". Her next successful part was in the comedy-drama movie "The Station Agent", for which she was nominated with the rest of the movie cast for the Screen Actors Guild Award for Outstanding Performance by a Cast.
Her big break came in 2005, playing the role of Alma in "Brokeback Mountain", and earning the nomination for the Academy Award for Supporting Actress. Having suffered the huge loss of her ex-boyfriend and father of her child, she threw herself into work, appearing in various movies such as "Synecdoche", "Wendy and Lucy", and "Mammoth". In 2010 she joined the cast of the romantic drama "Blue Valentine" opposite Ryan Gosling, earning her second nomination for an Academy Award.
In the same year, she also appeared in the psychological thriller "Shutter Island" opposite Leonardo DiCaprio, which was a huge box office success. Her other notable roles include "Meek's Cutoff", and "My Week With Marilyn"; her portrayal of Marilyn in the latter movie garnered her a third nomination for an Academy Award, plus various other nominations and wins.
The following years saw Michelle appearing on Broadway in various productions, such as "Cabaret" and "Blackbird". In 2017 she returned to film, appearing in the tragedy drama movie "Manchester by the Sea", then "Wonderstruck", and "The Greatest Showman". After appearing in Ridley Scot's film "All the Money in the World", she landed the role as Anne Weying, portraying the romantic interest of Eddie Brooke (Tom Hardy) in the hit superhero movie "Venom".
As of early 2021, she is set to appear in the sequel entitled "Venom: Let There Be Carnage, scheduled to premiere in September 2021.