• Brenda Fricker is a famed Irish actress who started her career in the '60s and has appeared in over 30 TV series and films.
• She is a huge animal lover and her favorite alcoholic drink is Guinness.
• She won an Oscar for her role in the 1989 biographical drama "My Left Foot: The Story of Christy Brown."
• She was previously married to TV and film director Barry Davis, and they divorced in 1988.
• She has an estimated net worth of $5 million, as of 2023.
Brenda Fricker is a famed Irish actress who began her career in the '60s, and has appeared in over 30 TV series and films. She was the first Irish actress to scoop an Academy Award.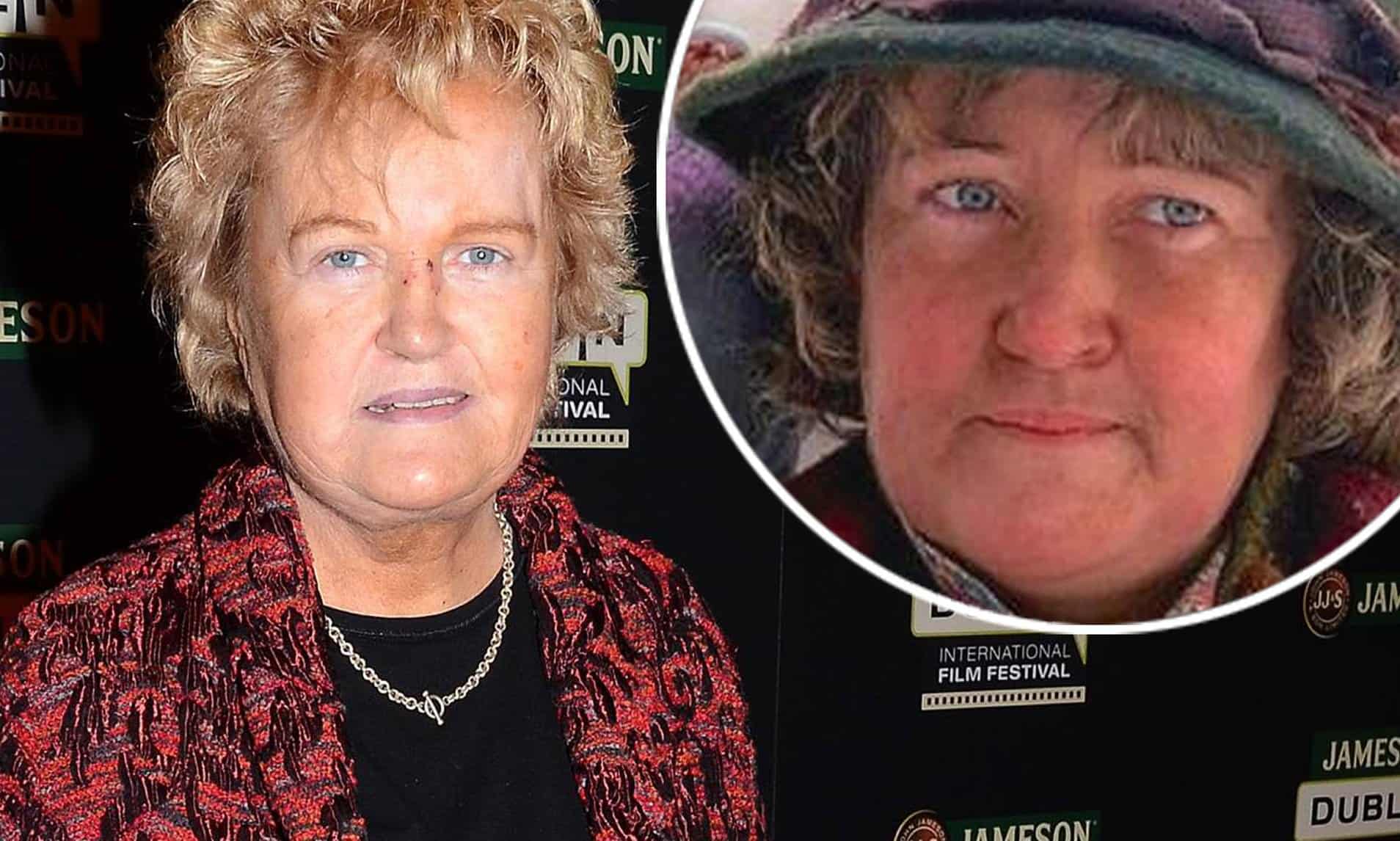 Age, Early Life, and Education Background
Brenda Fricker hails from Dublin, Ireland, and was born under the Aquarius zodiac sign on 17 February 1945, which makes her 78 years old as of 2023. She is the daughter of Desmond Frederick Fricker, who worked in the Department of Agriculture Food and the Marine in Ireland, and was also a part-time journalist. Her mother, Bina Fricker, was a teacher who worked at the Dublin-based Stratford College. She was raised in a tight-knit culture-oriented family and had a sister named Nora A. Grania Fricker, who sadly passed away. Brenda's parents encouraged her to pursue a journalism career, and she served as the assistant art editor for The Irish Times before she developed an interest in acting.
Brenda's educational history remains unknown.
Hobbies and Interesting Facts
Brenda is a huge animal lover, whose favorite pets are dogs.
She drinks from time to time and her favourite alcoholic drink is the Irish stout, Guinness.
Moreover, the Oscar Award-winning actress is a big fan of snooker, and previously revealed that she played against 17 crew members of "My Left Foot", and beat all of them.
Her favorite films are "The Field," "My Left Foot," and "Coldburst", and said in 2012 that appearing in these projects propelled her career significantly.
When she was a teenager, Brenda was involved in a serious car accident, and took two years to recover. The actress also battled renal tuberculosis, and had one of her kidneys removed.
Brenda revealed that it was her late ex-husband who convinced her to take on the role of Mrs Brown in the film "My Left Foot," which saw her bagging an Oscar.
Career
Fricker made two uncredited film appearances in the '60s before making her TV debut as Nurse Maloney in four episodes of the long-running British TV soap opera "Coronation Street" in 1977. She rose to prominence for playing nurse Megan Roach in the acclaimed BBC One drama "Casualty," bowing out after appearing in over 60 episodes from 1986 to 1990. However, she made a comeback with a two-episode appearance in 1998, followed by an appearance in one episode in 2007, and eventually in another episode in 2010.
Brenda found international acclaim when she won an Oscar for her role as Bridget Fagan Brown in the 1989 Jim Sheridan-directed biographical drama "My Left Foot: The Story of Christy Brown." In 1990, she rejoined Jim Sheridan to create the Irish drama movie "The Field", in which she shared the screen with John Hurt, Richard Harris and Sean Bean.
Flicker starred in the Australian miniseries "Brides of Christ" in 1991 and later in Sarah Lawson's TV miniseries "Seekers" in 1992. In the same year, she played Central Park Pigeon Woman in the critically acclaimed Hollywood film, "Home Alone 2: Lost in New York," which starred Macaulay Culkin and was directed by Chris Columbus – the comedy film was a commercial success, and had an impressive box office take of over $350 million.
Thereafter, she appeared in the 1993 Mike Myers-starred black-comedy "So I Married an Axe Murderer", followed by the 1994 Walt Disney Pictures sports film "Angels in the Outfield." In 1996, she appeared with the likes of Sandra Bullocks and Samuel L. Jackson in the acclaimed legal drama "A Time to Kill," which was her last Hollywood film appearance.
After 1996, Fricker focused on TV and film appearances in Canada, the UK and Ireland. Her next notable appearances were in the films "Veronica Guerin" in 2003, the Irish comedy-drama "Inside I'm Dancing" in 2004, and the romantic drama "Crossing the Ring" in 2007. She thereafter starred in the drama "Albert Nobbs" and the Canadian-American drama "Cloudburst" both in 2011.
Recently, Brenda appeared in the 2021 Canadian TV drama "Cam Boy" and the ITV crime series "Holding" (2022), which was based on the 2016 eponymous novel by Graham Norton.
Awards and Achievements
In 1989, Flicker won a Los Angeles Film Critics Association Award and a Montreal World Film Festival Award for her role in "My Left Foot: The Story of Christy Brown", and for her appearance in the same movie, she scooped an Oscar and a Boston Society of Film Critics Award both in 1990. The actress has been nominated for many other awards, including five Irish Film and Television Awards, two Genie Awards, and a Golden Globe, among others. Most recently, in 2015 she was nominated for a Canadian Screen Award for Best Performance in a Guest Role, Dramatic Series, for her role in "Forgive Me."
In 2020, Fricker was ranked by The Irish Times at position 26 of the greatest Irish film actors/actresses of all time.
Personal Life
Brenda was previously married to the TV and film director and writer Barry Davis. Born in April 1936, Davis was famous for directing the drama series "Telford's Change" in 1979, "Oppenheimer" in 1980, and "Late Starter" in 1985, and for writing the TV film "The Oldest Goose in the Business." Barry scooped the BAFTA TV Award for his work on "Oppenheimer" in 1980.
The duo walked the aisle in 1979; the former couple didn't welcome any children together, but it's reported that Fricker suffered six miscarriages. During a previous interview, Brenda disclosed that although she was madly in love with Barry, she was unable to cope with his alcoholism, which led to their divorce in 1988. Surprisingly, they remained on good terms and even held hands as they went to the movies on the same day of their divorce.
#Holding starts tonight, 9pm @itv written by @KarenMCogan and me, based on the gorgeous book by @grahnort filmed in #WestCork with an incredible cast & crew, directed by the world's cleverest and best human @KathyBurke – we'd love you to watch. Here's Brenda Fricker on a scooter. pic.twitter.com/qwS6PrXIAY

— DomTreadwellCollins (@dominictc) March 14, 2022
Brenda was shooting the film "Brides of Christ" in Australia in 1991, when she received the sad news of her ex-husband's death. The two were allegedly planning to reunite before Davis fell down a flight of stairs resulting in serious injuries that shortly afterwards claimed his life. She was unable to attend his funeral because '…Technically I wasn't his wife, and the contract was covered not to release me, so they wouldn't let me home for the funeral.' It's reported that she doesn't know where Davis was laid to rest, and doesn't express the desire to find out. Brenda is currently living in The Liberties, Dublin.
Height, Weight, and Physical Appearance
Fricker is of White ethnicity and has a set of blue eyes and blonde hair. She stands 5ft 7ins (1.70m) tall and weighs approximately 175lbs (79kgs). Moreover, she wears shoe size 6(US).
Net Worth
Fricker has become very famous, and earned a good sum from her well-established acting career. She is worth approximately $5 million, as of 2023.