• Cynthia Scurtis is a former psychology teacher and ex-wife of Alex Rodriguez.
• She is a single mother to two daughters and holds a Master's degree in psychology.
• Cynthia is physically active and enjoys reading, traveling and watching movies.
• Her net worth is estimated at over $10 million.
• Alex Rodriguez is a former professional baseball player and owner of multiple businesses.
Who is Cynthia Scurtis?
Cynthia Scurtis was born in Coconut Grove, Miami, Florida USA, on 28 December 1972 – her zodiac sign is Capricorn, she holds American nationality and her ethnicity is Greek. She's a former psychology teacher, but who's probably known best for being the former wife of Alex Rodriguez, an American former professional baseball player.
Divorce from Alex Rodriguez
Cynthia met Alex Rodriguez at Miami Gym back in 1996, and they dated on and off for the following six years. The two became engaged in early 2002, and exchanged vows in front of their closest friends and family members on 2 November that year.
In 2004, Cynthia gave birth to their daughter Natasha Alexander, and on 21 April 2008, they welcomed their second daughter Ella Alexander.
On 7 July 2008, Cynthia filed for divorce because of 'emotional abandonment', accusing her husband of sleeping with other women; rumors began spreading around media that Alex cheated on her with the famous American singer Madonna. Cynthia asked for their $12 million estate to be given to her, and for their other assets to be equally divided. She also requested $50,000 in child support every month and the two eventually made a deal, however, the details of the arrangement haven't been disclosed.
Cynthia hasn't spoken of any other men whom she has perhaps been with since their divorce, while it's known that Alex became engaged to the famous American actress and singer Jennifer Lopez in March 2019, however, they called it off just recently in April 2021.
As of April 2021, Cynthia appears to be single, was once married to Alex Rodriguez, and has two daughters.
Early life and education
She was raised in Coconut Grove alongside her sister Anastasia and brother Constantine, by their parents John and Evangeline Curtis about whom nothing is known as they prefer to be left out of media.
Cynthia became interested in psychology during her high school years after watching a show about it, and she then began exploring it by reading various books.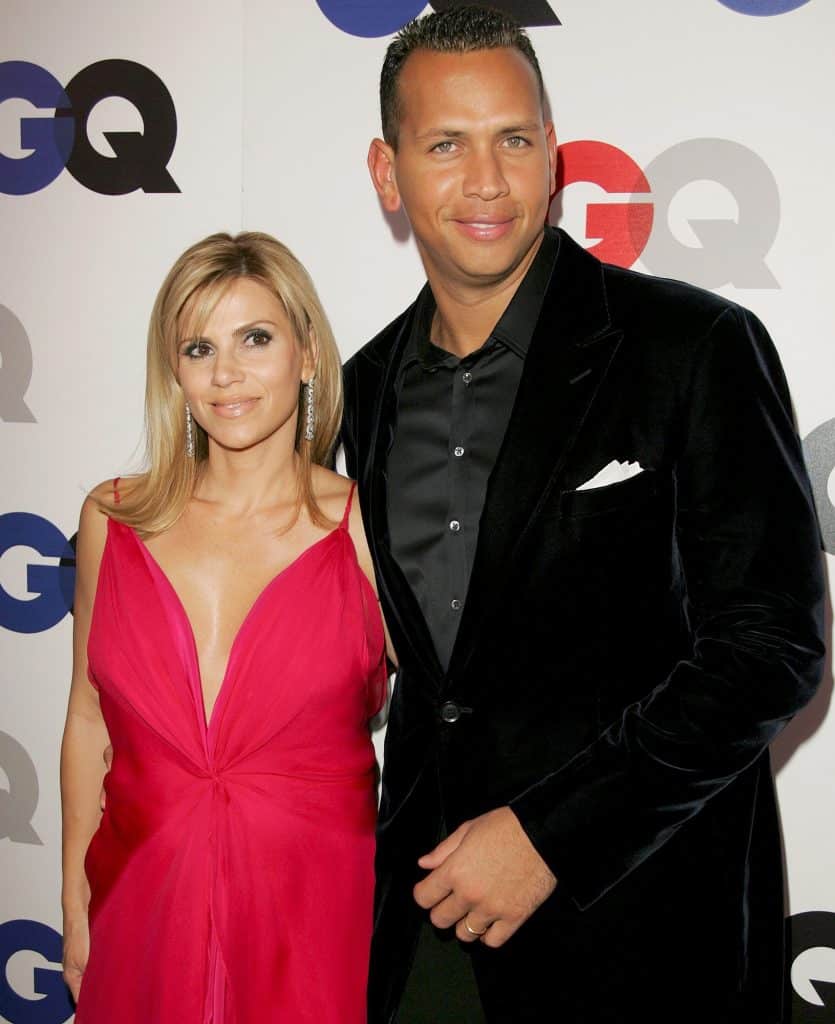 She studied at Gulliver Prep School, and upon matriculating in 1990, she enrolled at Nova Southeastern University from which she graduatedher Bachelor's degree in 1994. Cynthia then continued her education, and obtained her Master's degree in psychology in 1996.
Cynthia's career
Not a lot is known about her career except that she was a psychology teacher prior to meeting Alex, and it appears that she has been solely focused on raising her children since her and Alex's divorce.
Hobbies and other interests
Cynthia has been physically active since her high school days, and she today has a couple of training sessions at the gym each week, while she's believed to have also become a fitness coach.
She likes to travel and had been all around the USA during her marriage with Alex to keep him company, and support him during his baseball games. The two had also vacationed together in various European countries, such as France, Italy and Spain.
She's a lover of animals, and has a pet dog.
Cynthia enjoys reading books in her spare time, with her favorite being "The Notebook" by Nicholas Sparks.
Summer is her favorite season as she enjoys sun tanning at the beach, showing off her body and swimming in the ocean.
Late at night, Cynthia enjoys watching movies starring her favorite actor and actress Tom Hanks and Meg Ryan, such as "You've Got Mail", "Sleepless in Seattle" and "Kate & Leopold".
Age, height and net worth
Cynthia's age is 48. She has long brown hair and brown eyes, her height is 5ft 6ins (1.68m) and she weighs around 128lbs (58kgs). As of April 2021, her net worth has been estimated at over $10 million, while Alex's net worth is reputedly over $400 million.
Who is Alex Rodriguez?
Alexander Enmanuel 'Alex' Rodriguez was born in Manhattan, New York City USA, on 27 July 1975 – his zodiac sign is Leo and he holds American nationality. He's known best for having played in Major League Baseball (MLB) for 22 years.
He was raised alongside his half-siblings Suzy and Joe in Manhattan by his Dominican parents Lourdes and Victor Rodriguez, while the family also spent some time living in the Dominican Republic when Alex was four.
He became interested in baseball while attending Christopher Columbus High School, and Alex then moved to Westminster Christian School at which he was the star of the school's baseball team, while he also played football. Upon matriculating in 1993, he was offered a full scholarship by the University of Miami, however, Alex instead decided to become an amateur baseball player.
He signed his first contract with the Seattle Mariners in 1993, worth $1.3 million plus a signing bonus of $1 million. He started off in a minor league, and was 18 when he began competing in the major leagues. In 1996, both the news agency "The Associated Press" and the sports news magazine "Sporting News" named Alex the Major League Player of the Year, while he lost the Major League Baseball Most Valuable Player Award to Juan Gonzalez.
In 2000, he signed a 10-year contract with the Texas Rangers worth $252 million, which was the most expensive deal made in MLB by that time. He was traded to the New York Yankees on 15 February 2004, and on 15 November 2007, Alex signed a 10-year contract with the Yankees worth $275 million.
He spent the 2014 season on the bench after he was found guilty of violating MLB's Performance Enhancing Drugs policy; Alex returned to playing in 2015, but in January 2017, he retired from professional baseball. He could since have been seen working with various TV networks, and making guest appearances in various talk-shows such as "Nightline", "Good Morning America" and "Sunday Night Baseball".
Alex is also a businessman, having founded his holding company in 1996 called A-Rod Corp, while it made its first investments seven years later. In 2008, he founded his second company Newport Property Construction, and in 2012, Alex launched Monument Capital Management, which purchased real estate assets worth $700 million in the following seven years. He's also a co-owner of the gym chain Energy Fitness, and once owned a Mercedes-Benz dealership. Alex is today the chairman of the Presidente brand of Pilsner beer.
He's a philanthropist who donated $3.9 million to the University of Miami in 2003, and in 2010, he gave $1 million to Boy & Girls Clubs of Miami-Dade. In 2017, Alex donated $500,000 to the University of Miami's School of Business Administration.