• Ethan Nestor is a YouTuber, actor and social media star known for his former editing of the popular YouTube channel Markiplier.
• He was raised in Cape Elizabeth, Maine and attended Cape Elizabeth High School.
• He launched his first YouTube channel in 2012, and his second channel in 201•
• He is an LGBT supporter and is allergic to peanuts.
• His net worth is estimated to be over $250,000.
Who is Ethan Nestor?
Ethan Mark Nestor-Darling, known online as CrankGameplays, was born in Cape Elizabeth, Maine USA, on 24 October 1996 – his zodiac sign is Scorpio, and he holds American nationality. He is a YouTuber, actor and a social media star, who is perhaps known best for being the former editor of the YouTube channel "Markiplier" launched on 26 May 2012, and which today numbers over 28.5 million subscribers and around 15 billion views of all its videos combined, making it one of the most popular channels on the platform.
Early life and education
Ethan was raised in Cape Elizabeth an only child, by his father Mark Nestor who is a graphic designer, and his mother Annie Darling whose profession isn't known. He has a half-brother Andrew Jose Nestor who is one year his senior.
Ethan became interested in cinema at quite an early age, and grew up dreaming about becoming a famous actor. He was a member of his elementary school's drama club appearing in nearly all the plays performed there, and continued to act upon enrolling at Cape Elizabeth High School. He decided to launch his own channel during his sophomore year aged 16, and his father helped him by creating his video intro and his logo.
Ethan was also interested in gymnastics, and practiced for 10 years until he decided to solely focus on his career on the internet, as it was impossible for him to maintain both careers. Upon matriculating in 2015, he moved to Portland in Maine, and promised to his parents that he would enroll at college if his YouTube career didn't work out. Ethan also considered enrolling at Full Sail University to study acting, but eventually decided against it.
He also spent some time working at a Salvage BBQ restaurant as a waiter, and was eventually promoted to a manager.
Career as a YouTuber
Ethan launched his career on 30 August 2012, when he created his first YouTube channel "CrankGameplays", and uploaded his debut video "Dirty Mic and the Boys-Happy Wheels Gameplay Numero Uno", which featured him playing the video game "Happy Wheels". He also chose 'Gizmo the Gear' to be his mascot, and Ethan refers to his fans as 'The Cranky Crew'. His grandmother Dale Darling was featured in one of his video series, but Ethan wasn't happy with his fans watching mostly these videos, as it made him feel as if he was using his grandmother, he eventually chose to create another channel. His grandmother died in August 2018, and Ethan thus took some time off from YouTube.
He launched his second channel "CrankyVlogs" on 10 May 2013, which is today subscribed to by almost 10,000 people and numbers around 160,000 views of all its videos combined. Ethan uploaded videos related to his everyday life onto this channel for two years before abandoning it, because he believed the videos weren't good enough.
In November 2015, Ethan changed the name of his first channel to "Please go subscribe to my NEW channel!", and then on 2 December 2015 launched the channel he is currently using and for which he is popular today – "CrankGameplays". It's subscribed to by more than two million people, and numbers close to 150 million views of all his videos combined.
It was in 2016 that Ethan moved to Los Angeles in California, to work as the editor of the channel "Markiplier", which he quit in 2018 to focus on his own channel.
From 2017 to 2019, he hosted the "Trash Goblin Podcast" together with Andrew Harrington.
On 13 November 2019, Ethan and Mark Edward Fischbach (Markiplier) launched the channel "Unus Annus" together. The idea was to upload one video every day for a year, and to delete the channel after that without saving any of the videos previously uploaded onto it. On 13 November 2020, the two boys spent 12 hours livestreaming to commemorate the channel before they deleted it.
On 2 December 2015, Ethan launched another YouTube channel called "CrankyVODs", but the first video wasn't uploaded onto it until July 2020. It numbers around 125,000 subscribers and over 3.6 million views of all his videos combined, and is mostly used for Ethan's livestreaming videos from Twitch – his Twitch channel counts around 480,000 followers.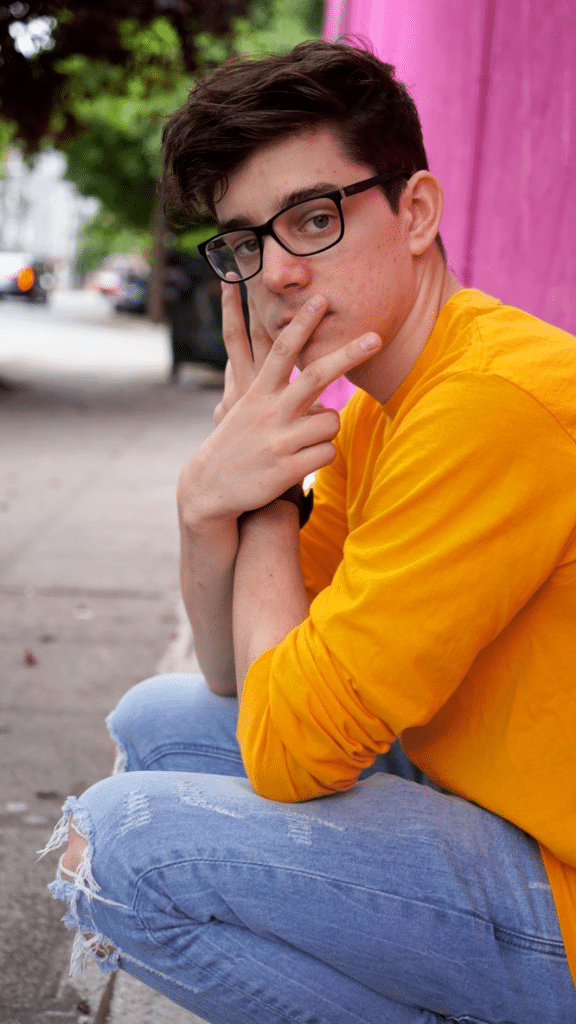 On 28 January 2021, Ethan took a one-month break from YouTube, apparently because he was afraid for his mental health.
Acting, writing and directing
Ethan has four acting credits; he made his debut film appearance in the 2017 short comedy "A Date with Markiplier", and the same year saw him make his debut TV series appearance with his performance in two episodes of the short comedy "Sugar Pine 7". In 2019, Ethan played a zombie in the adventure crime comedy movie "A Heist with Markiplier", and between 2012 and 2021, he appeared in 42 episodes of his series "CrankGameplays", writing all 42 episodes.
In 2017, he wrote the episode "Markiplier's Punishment" of the short series "Markiplier", and in 2020 wrote three episodes of the series "Unus Annus".
Ethan also has three directing and editing credits, as well as two producing credits.
He appeared in the 2018 documentary film "Markiplier: You're Welcome", the 2019 comedy series "10 Minute Power Hour", and the 2020 "The Gus & Eddy Podcast".
Love life and relationships
Ethan is quite secretive when it comes to his love life, but it's known that in 2018 he started dating the social media star RIPmika, formerly known as SirenMika. The two were often featured in each other's pictures and videos, and could've been seen walking and eating at restaurants together, however, they split in 2020 for unknown reasons.
Mika Midgett, known better as RIPmika, was born in North Carolina, USA, on 30 August 1994 – her zodiac sign is Virgo and she holds American nationality. She stayed in North Carolina until she matriculated in 2012, and then moved to Los Angeles to focus on her career.
RIPmika launched her YouTube channel on 25 December 2012 but didn't upload any videos until 28 April 2020, while she has today gathered more than 27,000 subscribers and over 260,000 views of all her vides combined. She is followed by around 130,000 people on Instagram, and close to 84,000 people on Twitter.
Ethan hasn't spoken about any other girls he has perhaps been with, and as of February 2021, he is single, hasn't married and doesn't have children.
Hobbies and interesting facts
Ethan always carries with him epinephrine autoinjectors because he is allergic to peanuts, a very severe allergy as only a 500th part of a single peanut could mess up his entire immune system. He is also suffering from attention deficit hyperactivity disorder (ADHD), but doesn't use any medication as he has learned how to cope with the condition. He's a also mildly dyslexic.
Ethan is a dog-lover and has a pet Australian cattle dog whom he calls Spencer. He previously had three lizards two of which he called Carmen while the third was called Cody, and three Portuguese water dogs he called Cooper, Dexter and Max.
He is a supporter of the LGBT community, and this has made some of his fans believe Ethan could perhaps be gay or bisexual.
In his spare time which is usually late at night, Ethan likes to watch films starring his favorite actors Johnny Depp, Richard Gere and Vin Diesel, such as the franchise "Pirates of the Caribbean", "Gone in 60 Seconds" and the franchise "Fast and Furious".
Age, height and net worth
Ethan's age is 24. He has short brown hair and brown eyes, his height is 5ft 8ins (1.73m) and he weighs around 145lbs (66kgs).
As of February 2021, his net worth has been estimated at over $250,000.