• Jaden Newman is an American basketball player, TV personality, and social media star, who is 17 years old in 202•
• She has close to one million followers on Instagram, and has scored 1000 points at just 15 years old.
• She has set a record of 70 points in a single game, and has appeared in a footlocker commercial and reality TV show.
• Her net worth is estimated to be around $300,000, and she is currently focused on basketball and education.
• Her brother, Julian Newman, is also a basketball prodigy, and she enjoys activities such as listening to music, mixing outfits, and running.
Who is Jaden Newman?
Jaden Newman is an American basketball player, TV personality, and social media star, who has excelled in varsity basketball so far with 1000 points at just 15 years old. She has close to one million followers on Instagram, thus becoming a sensation at a young age.
How old is Jaden Newman? Early Life, Parents, Siblings, Education
Jaden Newman was born on 13 June 2004 under the Gemini zodiac sign, which makes her 17 years old in mid-2021, in Orlando, Florida USA, to Puerto-Rican and Jewish parents. Her father Jamie played basketball for Colonial High School in Orlando, and is now a basketball coach at Jaden's high school.
Everyone go check out Jaden Newman and congratulate her on her being a Justice Ambassador https://t.co/hNOxV68XeD pic.twitter.com/iuPIjpbNZi

— The Newman Family (@coachnewman4) July 15, 2016
Jaden's mother, Vivian is of Puerto Rican ancestry, and was also a basketball player in her younger years, having played at the University High School in Orlando, Florida as a point guard. She was later in the US Navy, and now works in the US Postal Service.
Jaden has an older brother Julian who is a basketball prodigy just like her. She currently attends Downey Christian School. but is already recruited by the University of Miami, though she desires to ultimately play for the University of Connecticut.
Basketball Achievements
Although she is just 15 years old, Jaden has already managed to stun the world with her basketball skills.
She joined the varsity team of Downey Christian School when she was just eight years old, and started by averaging an incredible 14.8 points and 7.5 assists per game as a point guard, and as she's got older, the numbers have only increased. While in fifth grade, Jaden was scoring at least 15 points per game, but then in sixth grade there was a massive upscale in her performance as the numbers double, and she was scoring at least 30 points per game. Jaden has continued to improve, and in eighth grade, she was scoring 45 points per game.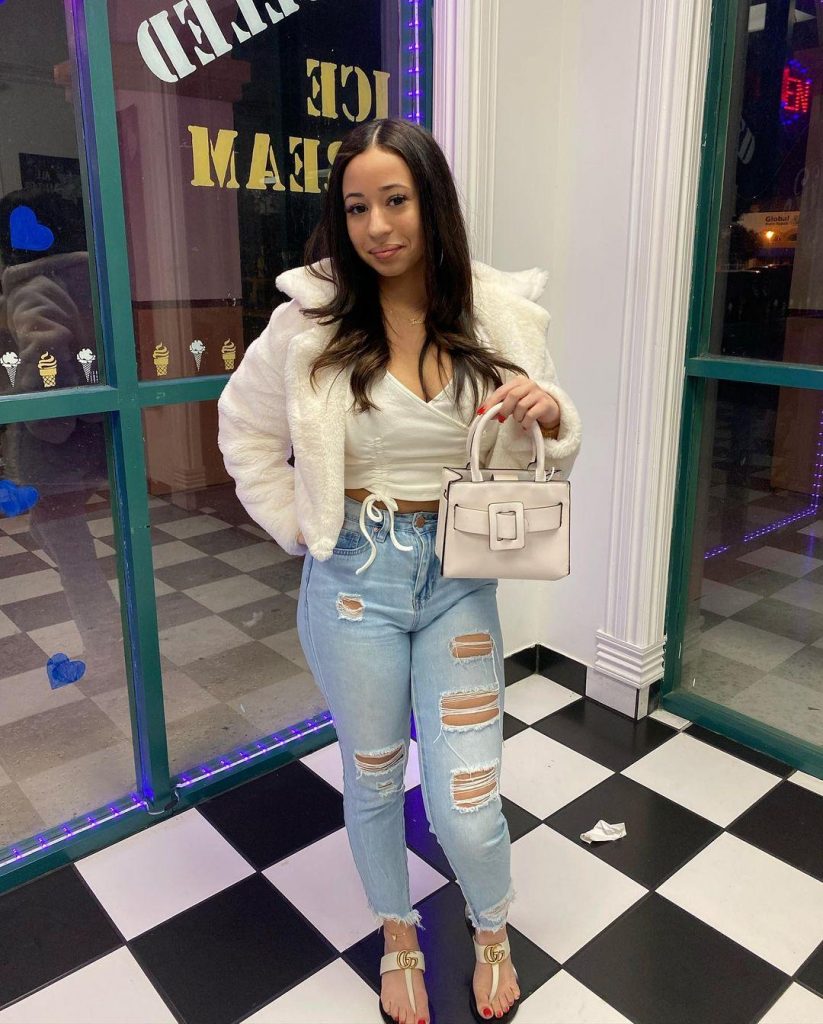 Her short stature hasn't hindered her in-game performance and she has a ridiculously high scoring percentage. Back in 2018, she set the record of 70 points in a single game, a journey in which she tied the national record of 17 three-pointers made.
Rise to Stardom
Thanks to her early success, Jaden, her brother, and their parents have become subjects of Overtime's reality TV show "Hello Newmans", which became an instant hit, as the cameras follow Jaden and her family to the latest and highest achievements.
In addition to her presence on television, Jaden has also become a sensation on Instagram, and with over 960,000 followers on her official account as of mid-2021, Jaden has turned into a proper worldwide star, and she isn't even out of high school. She now dreams of becoming the first female player in the National Basketball Association (NBA).
To speak further of her popularity, Jaden has appeared in the reality TV show "No Days Off", and also in a footlocker commercial.
Moreover, Jaden is also interested in building a career in music, and has already entered the music world with the debut single "I Run It", a duet with R&B artist Chandler Broom from Orlando, Florida.
Jaden Neman Net Worth
As of mid- 2021, Jaden Newman's net worth has been estimated to be around $300,000, earned through her involvement in the reality show, and a few endorsements deals with basketball brands that she has already signed.
Personal Life, Dating, Boyfriend, Single?
As of this writing, Jaden remains single and focused on her aspiring career as a basketball star.
She is only 16 years old a,nd has many other things on her mind than having a boyfriend. Her fame has made a huge impact on her life, and she is now enjoying all the perks of being a young celebrity. However, this hasn't left too much free time for her to enjoy private affairs, such as dating., so Jaden is for now focused on basketball and education.
Jaden's brother, Julian Newman
Julian Newman was born on 6 September 2001, and just like his sister is a future basketball star. He came to attention in 2012 thanks to a video on YouTube that showcased his highlight reels while playing varsity basketball. Some of his achievements include scoring 91 points in a single game, and the varsity record of 3,873 points scored by the end of his sophomore year, as he surpassed Teddy Dupay.
He spent most of his basketball career at Downey Christian School before transferring to Prodigy Prep, a new school in Orlando, created by his father who also coaches the high school team. Julian is yet to find a university that will take him under its wing, since his short stature of just 5ft 7ins (1.7m) tall has created a few doubts that he could even perform at a university level. Nevertheless, the reality TV star is still weighing his options, and even planning to play in a league overseas.
Hobbies and Interests
Being an up-and-coming basketball prodigy doesn't leave much space for other interests, as Jaden has to nurture her talent and improve her skills daily.
Nevertheless, she's found tim,e for her other daily activities, such as listening to music, mixing different outfits and taking pictures of herself then posting those onto Instagram. Reading books as well is one of her occupations but training is her No. 1 activity. She is into outdoors running, or in the gym shooting at the rim alongside her brother. She is also involved in running the Prodigy clothing brand apparel with her family.
Appearance and Vital Statistics
This young basketball prodigy has dark brown hair and brown eyes. She stands at a height of 5ft 3ins (1.62m) tall, while she weighs approximately 132lbs (60kgs), with vital statistics of 38-29-38, bra size 37B.