• Joel Schiffman is an American financial executive and businessman.
• He is popularly known as the fiance of the news anchor, Hoda Kotb.
• In 1987, he joined Kidder Peabody in Los Angeles and served various organizations in different capacities.
• He and Hoda Kotb have been together since 2013, and have two adopted daughters.
• His net worth is estimated to be $20 million.
Joel Schiffman is an American financial executive and businessman. He is popularly known as the fiance of the news anchor, Hoda Kotb. His unconventional relationship with Hoda Kotb has spurred a lot of conversation in recent years. Fans and critics keep speculating about Joel, his private life and how rich he is.
So discover first-hand details of Joel Schiffman's life and net worth in this article.
Early Life, Family, Educational Background
Joel Schiffman was born under the Aries zodiac sign on 21 March 1958, in Colorado, USA, to a family of English descent. The names of his parents are unknown, however, he has a sister named Beth Schiffman. Joel has lived in the US all his life.
Hoda Kotb and her fiance Joel Schiffman were so cute on-air! https://t.co/lAknZD6cG4

— Entertainment Tonight (@etnow) February 7, 2020
Joel attended the University of California, Los Angeles (UCLA) where he played on the rugby team while being an outstanding student. He graduated in 1981 with a Bachelor's degree in Economics. He decided to enrol for graduate studies at the Wharton School of the University of Pennsylvania, and graduated in 1987 with a Master's degree in Finance. He was also awarded a Certification in Investment Management Analysis (C.I.M.A) by the Wharton School of Business.
Career
Since his graduation from the Wharton School, Joel has worked in the finance sector, and served various organizations in different capacities. His career spanning over three decades has seen him working with prestigious financial companies including Trail Ridge Capital, Reed, Connor and Birdwell, Lord Abbett and Co. LLC, etc.
In 1987, Joel joined Kidder Peabody in Los Angeles as a Senior Vice President, where he transformed the business for the better during his seven-year stint with the company. In 1994, he received an offer from Smith Barney to function as Consulting Group Director, so he moved to Denver, Colorado. After nine years with Smith Barney, he joined Trail Ridge Capital in November of 2003 as Director of Marketing.
Joel moved back to Los Angeles in September 2005, when he joined Reed, Connor and Birdwell as Senior Vice President for Business Development and Client Services. He moved on to serve as Director of Retirement Platform Relationships, with Lord Abbett and Co, New Jersey.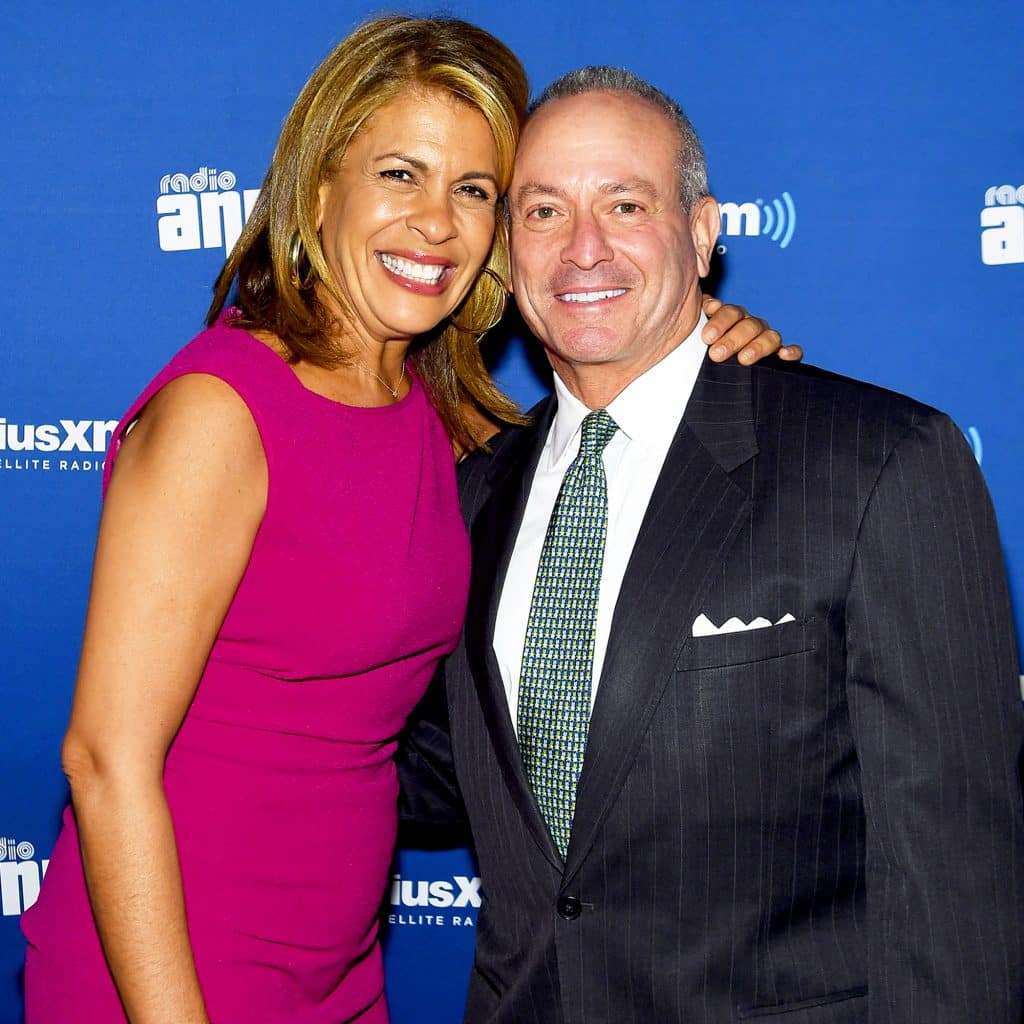 He was formerly the Senior Relationship Manager for Columbia Management in New York City, from August 2013 to August 2015, when Joel accepted the position of Vice President and Director of Financial Institutions with Janus Henderson Investors. He retains his position at Janus Henderson 'til now.
Personal Life, Relationship with Hoda Kotb
Not much is known of Joel's private life. His job as a financial executive did not require him to be in the spotlights or in the news, however, it's important that we point out details from Joel's life before Hoda. From 2005-2007, he was married to a woman whose name and details remain undisclosed. The couple had a daughter together- Kyle Schiffman.
Joel Schiffman and Hoda Kotb have not disclosed the exact day of their meeting, but we do know it was on a rainy night at a book signing cum convention organized for the executives of Wall Street.
Hoda openly admitted that she almost didn't attend the event, but her friends convinced her to go. She came into contact with Joel when she was signing books, and they had a brief conversation; Hoda was instantly  smitten. She then asked someone at the event to find out Joel's relationship status. The middleman sent an email to Joel, who in turn emailed Hoda, asking her on a date. One date led to many others and the couple have been going strong since then.
The couple managed to keep their relationship under wraps for two years. During conversations with friend and co-host Kathie Lee Gifford, they referred to him as 'Boots'. The big bust happened when "The Daily Mail" published photos of the couple on a beach. When Hoda broke the news to Joel, he reacted by saying, "Who cares? Who cares!".
Needless to say, meeting Hoda Kotb and starting a relationship with her changed the trajectory of Joel's life by bringing him into the limelight. He is now recognized as a public figure, and instantly associated with the famous NBC news anchor.
Hoda's breast cancer treatment made her unable to conceive, so the couple decided to adopt, a baby girl, Haley Joy Kotb in 2017, a year after they moved in together. They expanded their family once more on 16 April 2019, when they adopted another child, Hope Catherine Kotb. Joel's name was left off the adoption papers in order to simplify the process, seeing as the couple were not legally married at the time.The New York adoption agency they worked with made the adoption swift, and Joel was at Hoda's side, every step of the way. Joel's first child, Kyle, is close to her father's new family.
She's grateful for the opportunity to have little sisters, and she thinks Hoda is amazing.
On the "Today" show, Hoda revealed how Joel popped the question. This happened in 2019, while the couple were on a tropical vacation. Hoda of course accepted his proposal and the couple are apparently set to walk down the aisle in the days to come!
Who is Hoda Kotb?
Hoda Kotb was born on 9 August 1964, in Norman, Oklahoma USA. Her parents Abdel Kader and Sameha Kotb migrated from Egypt before she was born, yet she retains her Egyptian ancestry, while identifying fully as an American. The family had to move a lot during Hoda's childhood, primarily due to her father's job; he was a renowned fossil energy specialist, while Sameha worked at the Library of Congress.
Hoda grew up in Morgantown of West Virginia for a while, then her family moved to Alexandria; they lived in Egypt for about a year, and in Nigeria after that. In 1982, Hoda matriculated from Fort Hunt High School in Alexandria – she was elected Homecoming Queen and was chosen to deliver a speech to the graduating class.
She was accepted to study Broadcast Journalism in Virginia Tech, and graduated four years later with a Bachelor of Arts degree.
Hoda Kotb was made for the media. She began her journey in broadcasting officially in 1986, when she worked as a news assistant for CBS. In 1998, she became a news correspondent for "Dateline NBC"; during her stint as a correspondent, she earned admirers from the NBC fanbase for her work ethics and bubbly personality.
Hoda was again named the first host of "Today's Fourth-hour Daily show" in September of 2007; Kathie Lee Gifford joined the show as co-host a year later. The two took to each other and became friends on and off the show. In 2010, Hoda, co-host Kathie and the rest of the "Today" team won the Daytime Emmy award. Kathie Lee Gifford left the show in 2019, and Jenna Bush Hager took over as Hoda's co-host.
On 2 January 2018, Hoda became co-anchor of "Today" alongside Savannah Guthrie, following Matt Lauer's dismissal.
Personal Life
In 2005, Hoda married Burzis Kanga, former tennis coach for the University of New Orleans. In 2007, she underwent a mastectomy and surgery for breast cancer, which left her unable to conceive, although at the age of 50 unlikely anyway. Hoda and Burzis were divorced a year later, without public explanation
Asides being an award-winning television show host, Hoda Kotb is also a New York Times Bestselling Author. Her first book, a memoir, "Hoda: How I Survived War Zones, Bad Hair, Cancer and Kathie Lee" was released in October 2010.
Since then she's released more books, including; "Ten Years Later: Six People Who Faced Adversity and Transformed their Lives", "I Really Needed This Today", "I've Loved You Since Forever", etc.
Hoda Kotb and Joel Schiffman have been together since 2013, and they have two adopted daughters- Haley Joy and Hope Catherine Kotb.
Hobbies, Favorite Things and Interesting Facts
Joel Schiffman enjoys football and rugby.
He is an avid reader.
Watching the news on television is one of his favorite pastimes.
Joel's favorite color is black.
He enjoys continental cuisine.
Paris is his dream holiday destination.
Appearance, Clothing style
Joel has brown eyes and grey hair. He stands 5ft 9ins (1.75m) tall, while he weighs about 180lbs (82kgs).
A Wall Street executive in every way, Joel Schiffman is always spotted wearing classy suits that befit his social standing.
Net worth and salary
The 63yearold has accumulated his wealth from his various positions in the finance sector and his personal projects. Joel Schiffman's net worth is valued at around $20 million. His fiancee Hoda, has a reputed yearly salary of $8 million, and an estimated net worth of $30 million.
Joel has successfully kept his life and properties away from the rest of the world. Hoda though, owns a four-bedroom waterfront home on Long Island, and co-owns a home in New York City with Joel.