• Sasha Gabriella Fox is a 20-year-old model, actress, director, and writer.
• Her net worth is estimated at over $500,000 and includes a Mercedes Benz car.
• She is the daughter of NBA star and actor Rick Fox and singer and actress Vanessa Williams.
• She has a half-brother and three half-siblings from her parents' previous marriages.
• She is studying film production at Chapman University and is signed with two modeling agencies.
Who is Sasha Gabriella Fox?
Sasha Gabriella Fox was born on 1 May 2000 under the zodiac sign of Taurus, in Los Angeles, California USA. She is a 20-year-old model, actress, director, and writer, probably best recognized for working on the short action comedy film "Superdate" (2013). Sasha is also known for being the daughter of famous Canadian-Bahamian former NBA star and actor Rick Fox, and renowned American singer and actress Vanessa Williams.
How rich is she, as of now? Sasha Gabriella Fox Net Worth
As of early 2021, Sasha Gabriella Fox's net worth is over $500,000, acquired through her involvement in the film industry as an actress, director and writer.
She also increased her fortune through her successful modeling career. Her net worth includes a Mercedes Benz car, which she received from her mother for her 16th birthday.
Early Life, Parents, Half-Siblings, Nationality, Ethnicity
Sasha Gabriella Fox spent her early years in her hometown of Los Angeles, where she was raised by her famous parents Rick Fox and Vanessa Williams – unfortunately they went their separate ways when she was only four years old, and following their divorce, Sasha grew up with her mother. She has a half-brother, named Kyle Fox, from her father's previous marriage to Kari Hillsman, and three half-siblings named Devin Hervey, Melanie Hervey, and Jillian Hervey, from her mother's previous marriage to public relations specialist Ramon Hervey II. Sasha holds American nationality and belongs to African American ethnic group.
Educational Background
After completing her elementary education, Sasha went to the Harvey School, a private preparatory school located in Westchester, New York State, where she was a member of the school's volleyball team; she matriculated in 2018, then enrolled into Chapman University's Dodge College of Film and Arts, where she is currently studying Film Production.
Career in the Film Industry
According to her IMDB profile, Sasha Gabriella Fox made her debut film appearance the same year she was born, in the made-for-TV Christmas comedy fantasy film "A Diva's Christmas Carol", alongside her mother Vanessa. As she grew older, Sasha became more interested in acting; her next appearance came twelve years later, again on TV guest-starring as Crystal Robertson in the episode "Mom's Sick, It's Your Turn/TV or Not TV" of the non-traditional/dramatized court show "Justice For All With Judge Cristina Perez", broadcast in first-run syndication.
In 2013, Sasha wrote, directed, and edited the short action comedy film "Superdate", starring James Hagood and Cat Buchatskiy. Most recently, she landed the role of Haley in Fred Olen Ray's made-for-TV comedy-drama film "One Fine Christmas" (2019), next to her parents Vanessa and Rick.
Modeling Career
Apart from her involvement in the film industry, Sasha also started pursuing her career in the fashion industry as a model. She is currently signed with two modeling agencies – Natural Model Management in Los Angeles and One Management in New York City. She has modeled for a number of fashion brands, and featured in various fashion magazines.
Appearance and Vital Statistics
Sasha Gabriella Fox has long dark brown hair and hazel eyes. She stands at a height of 5ft 10ins (1.78m), information about her weight isn't available., but her vital statistics are 43-34-46. Her bra size is 38D, dress size 14 (US), and shoe size 10 (US).
Personal Life
Sasha Gabriella Fox tends to keep her love life far away from the eye of the public. Nonetheless, she has never been romantically linked to any guy; it's believed that she is single at the moment. She divides her time between New York City and Los Angeles.
Who is Her Father? Rick Fox Short Wiki/Bio
Ulrich Alexander 'Rick' Fox was born on 24 July 1969 under the zodiac sign of Leo, in Toronto, Ontario, Canada. He is the son of Ulrich Fox and Dianne Gerace, who was a well-known Olympic high jumper and pentathlete. While he was still young, the family moved to Nassau, the Bahamas, where he attended Kingsway Academy. While there, he developed his love for playing basketball and joined the school's team. He later played high school basketball in Warsaw, Indiana, and in 1987 was named to the Indiana All-Star team. Upon matriculation, Rick enrolled in the University of North Carolina, where he led the team to the 1991 NCAA Final Four.
He graduated with a Bachelor's degree in Radio, Television and Motion Pictures.
Basketball Career
Rick's professional playing career started in 1991, when he was chosen as the 24th overall pick in the first round of the NBA Draft by the Boston Celtics. During his first season there, Rick averaged eight points per game which led him to make the 1992 NBA All-Rookie Second Team. He played for the team until 1997, when he signed a contract with the Los Angeles Lakers, and   led the team to win three NBA championships from 2000 to 2002. During the 2002 season, he suffered several injuries which hampered his performances. In 2004, the Lakers traded him back to the Celtics, but he decided to retire. During his career, Rick Fox also played for Canadian national team at the FIBA World Championships in 1990 and 1994.
Acting Career
Apart from his professional basketball career, Rick Fox pursued an acting career right after his graduation. He made his film debut in the 1994 basketball drama film "Blue Chips", which was followed by his portrayal of Terry Hastings in the 1996 comedy film "Eddie". He made his TV debut with the role of Jackson Vahue in the HBO drama series "Oz" (1997-2003), concurrently featuring as Chick Deagan in Spike Lee's 1998 sports drama film "He Got Game", and played Scholfield in the 1999 horror thriller film "Resurrection". In 2003, Rick landed the roles of Clyde 'Sweetfeet' Livingston in the adventure comedy film "Holes", and Eric Renard in the Lifetime series "1-800-Missing".
Rise to Fame
Between 2005 and 2006, Rick Fox was cast as David in the UPN sitcom "Love, Inc.", after which he took the role of Daunte Jones in The WB's drama series "One Tree Hill".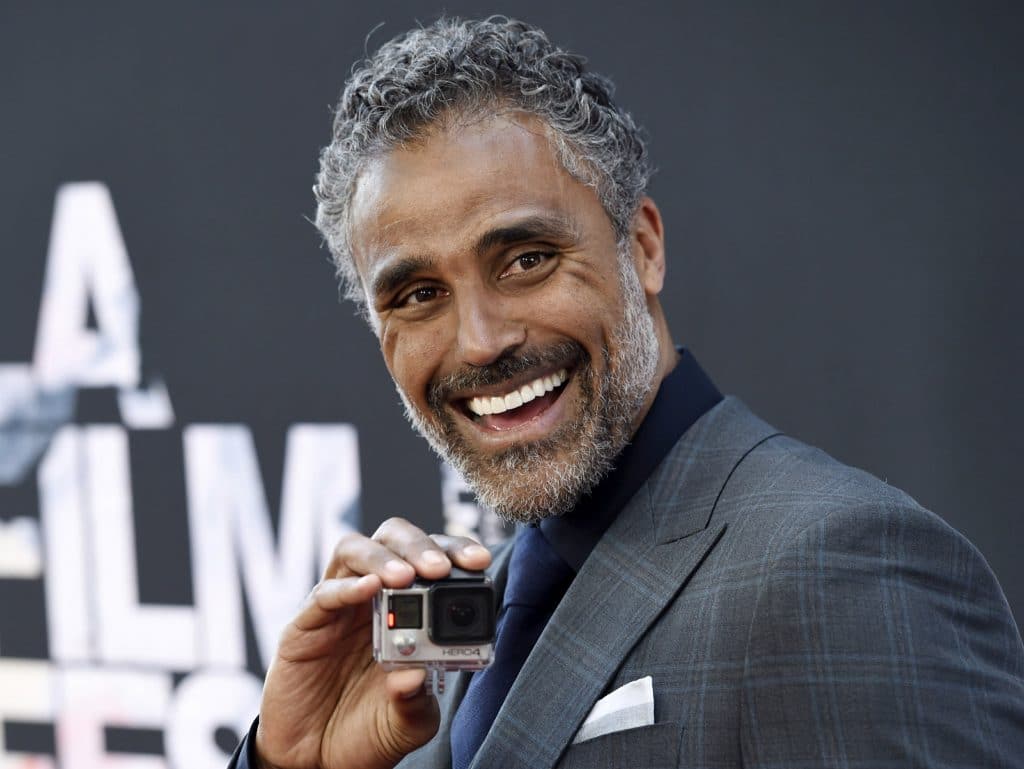 It was followed by his portrayals of Fabrizio in the satiric neo-noir film "Mini's First Time" (2006), Prince Tyreese in the FX drama series "Dirt" (2007-2008), and Harry in the romantic comedy-drama film "Meet The Browns" (2008).
In 2010, he produced the horror thriller film "Hysteria", and his next major role came when he was selected to play Roland in the TBS sitcom "House Of Payne" in 2011. He then featured as Winston in the VH1 comedy-drama series "Single Ladies" from 2011 to 2012.
Continued Sucess
Between 2012 and 2013, Rick played Andrew Thompson in the TV sitcom "Mr. Box Office", which was followed by his portrayals of the title role in the made-for-TV noir thriller film "Off Season: Lex Morrison Story" and Darius Locke in the A&E crime drama series "The Glades", both in 2013. He then joined the cast of the VH1 sports drama series "Hit The Floor", in which he starred in the role of Chase Vincent from 2013 to 2016.
Rick's next major projects came in 2015, when he played Matthew Kessler in the drama film "Back To School Mom", portrayed Vice President Bentley in the action horror film "Navy Seals Vs. Zombies", and featured as Sam Johnson in the Yahoo! Screen sitcom "Sin City Saints". Thereafter, he was cast as Anthony Telpher in the CBC crime drama series "Shoot The Messenger" (2016) and Richard Martin in the Disney Channel comedy series "K.C. Undercover" (2016-2017).
Recent and Upcoming Projects
Rick's major appearances in 2017 included the roles of Robert in the comedy film "A Curry On An American Plate", and Bo in the coming-of-age comedy-drama film "Krystal". In the same year, he joined the cast of the Oprah Winfrey Network drama series "Greenleaf", playing Darius Nash until 2020. Concurrently, he featured as Dr. Thomas Baxter in the made-for-TV romantic film "A Twist Of Christmas" (2018), played Ian Jackson in the Hallmark's drama mystery mini-series "Morning Show Mysteries" (2018-2019), and portrayed Roger in the made-for-TV comedy-drama film "One Fine Chirstmas" (2019).
Thank you G4 – Also Number 1 ranked Westwood Lucian ADC https://t.co/MSBkwRIWZU

— Rick Fox (@RickFox) February 24, 2021
Most recently, he landed the role of August Fox in the CBS legal drama series "All Rise" (2021). It's announced that he will featured in two upcoming film titles, "The Indisputable Dozen" and "Rude Buay … The Unstoppable", both of which are currently under pre-production.
Reality TV Shows and Echo Fox
Rick Fox has also appeared as a contestant in such reality shows as the Fox quiz game show "Are You Smarter than a 5th Grader?" (2008), the ABC dance competition show "Dancing With The Stars" (2010), and the syndicated game show "Celebrity Name Game" (2015-2016). Moreover, he served as a guest judge in the fourth season of the LogoTV reality competition series "RuPaul's Drag Race" in 2012.
Apart from that, Rick Fox was the co-owner of the eSports team Echo Fox, alongside Amit Raizada. In 2015, they bought the professional "League Of Legends" team Gravity Gaming and re-branded it to Echo Fox, but Rick left the team in 2019 due to alleged racist abuse.