• Matt Carriker is an American YouTuber and veterinarian
• He has three YouTube channels – Demolition Ranch, OffTheRanch and VetRanch
• He is the owner of Fair Oaks Ranch Veterinary Clinic and the non-profit 'Vet Ranch'
• He is also the owner of the business 'Bunker Branding'
• His net worth is estimated at $3 million
Matt Carriker is an American YouTuber and veterinarian, whose popularity on the video-sharing  platform led him to star in his first film, "Strain 100" (2017).
Learn all you need to know about Matt Carriker in the following article.
Early Life, Family, Educational Background
Matt Carriker was born on 23 October 1986 under the Scorpio zodiac sign, in Boerne, Texas USA. He is of White Caucasian ethnicity and holds American nationality. Matt's father, Lee Carriker was a veterinarian, and his mother Patricia a homemaker. Matt has three siblings; brothers – Mark and Drew, and a sister Ali. He and his siblings were raised as Christians on a ranch, and had a normal life when growing up.
As a young boy, Matt looked up to his father, hence he followed in his father's footsteps to become a veterinarian, graduating from Texas A&M College of Veterinary Medicine and Biomedical Sciences in 2008, and gaining his license in 2012.
Career
YouTuber
Matt Carriker started his first YouTube channel, 'Demolition Ranch' in January 2011. At the moment, Matt has three YouTube channels – Demolition Ranch, OffTheRanch and VetRanch, which have helped him become one of the most popular YouTubers ever.
Demolition Ranch:
On this channel, Matt posts solely gun-focused content – it could either be target practice, gun reviews, barrier testing or just gun shooting sessions.
Despite having little engagement in the beginning, Matt built a community of gun lovers in his corner of the internet. The channel now has over 10 million subscribers, 486 videos and a total view count of over a billion. Some of his most popular videos on this channel are "Is Titanium Bulletproof?" (2016), "How Deep Into Dirt Will It Go?" (2017), and "Forcing Hickok to Review Guns He's Uncomfortable With" (2019). The mentioned videos have 21 million, 23 million and 17 million views respectively.
OffTheRanch:
On this channel, Matt shows his fans what being a regular family man is like. He does vlogs of family trips and regular activities he takes on during the day.
His most viewed videos on this channel are "Top 10 Ways to Kill Ants" (2019), "I Bought an Abandoned Mansion" (2020) and "Rest In Peace Little Brother" (2020). There are 766 videos published on this channel and a total view count of about 750 million. This is no surprise, given that the channel has over four million subscribers.
VetRanch:
This channel was created to publicize the works of Matt's non-profit 'Vet Ranch'. This channel features videos of Matt and other veterinarians treating stray animals, and include: "Now That's a Lot of Puppies" (2015), "Kitten With Larva in his Head" (2017), and "His Leg Fell Off!!!" (2020). This channel which 2.9 million people all over the world are subscribed to, boasts of 326 videos and 411 million total views.
Matt says that to be a successful YouTuber, 'you have to love making and editing videos'. At first, he bore all responsibilities of his channels alone, but now has a team who work for him to edit and compile the videos. He refers to himself as the 'King of Demolitia, a combination of  the words 'demolition' and 'militia'.
Veterinarian
Having devoted a lot of his time to YouTube and a lot less to studying, Matt failed the licensing Veterinary Board Exam the first time – it cost him $500 to retake the exam after two months. While Matt prepared to retake the exam, he took a break from filming for YouTube. Matt passed the exam the second time, and picked up from where he left.
Matt subsequently bought Fair Oaks Ranch Veterinary Clinic (built in 1996) from his father, Dr. Lee Carriker.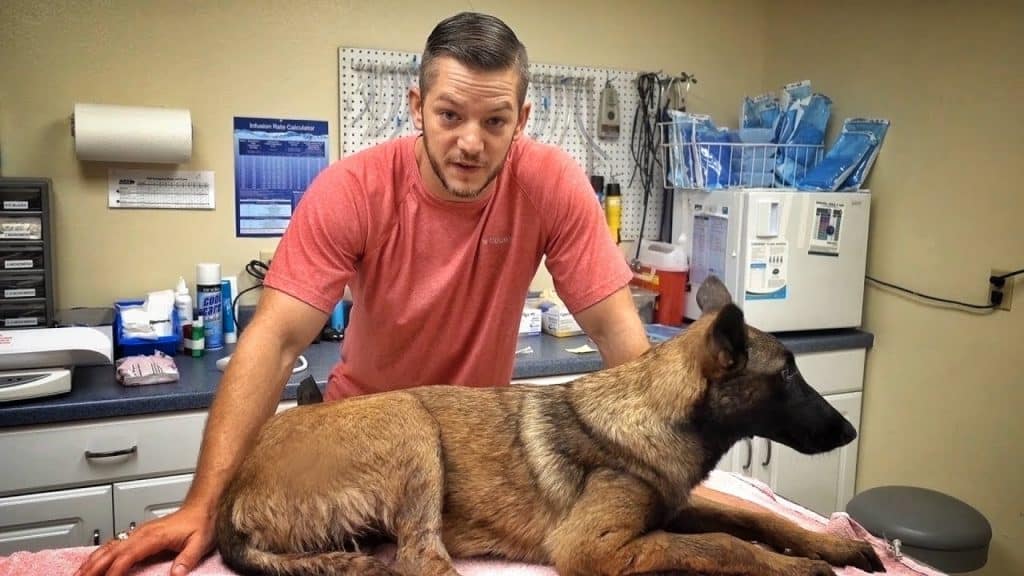 In 2014, Matt founded a non-profit organization – 'Vet Ranch' – located in San Antonio, Texas, which consists of a group of veterinary doctors who treat stray pets with no one to care for them.
The veterinary doctors cover all medical expenses from money donated by well- meaning citizens, and started a YouTube Channel after the name of the organization. Matt's sister Ali is also in the veterinary field, and volunteers with the organization from time to time.
Entrepreneur
Matt Carriker also owns a business called 'Bunker Branding', which manufactures and distributes merchandise including printed tee-shirts, caps, hats and ranch gear to clients all over the world.
Initially, Bunker Branding was run by Mark's best friend Jake, and Meredith Carriker. Unfortunately Jake died in 2020, and Meredith has now taken over the supervision of operations.
Acting Career
Matt's popularity on YouTube helped him attain celebrity status, such that he started getting opportunities to attend auditions. In 2017, Matt starred in his first movie, "Strain 100", playing Lucas in the horror film directed by Hassan Hussein. It's unknown whether Matt will accept more roles.
Personal Life, Wife and Children
Matt Carriker and his long time sweetheart, Meredith 'Mere' Atkinson, became engaged in 2007, and in July of 2008 they were married.
The couple have three children together: daughters- Adalyn, Annie and a son Lincoln.
After living in San Antonio for a while, Matt relocated his family to his hometown of Boerne to raise his children and build a veterinary practice there.  They had a boxer dog named Dozer Man, which died in 2019.
Matt's younger brother, Mark battled a rare sinus cancer for 18 months before he died in March of 2020. His death was hard on Matt as they shared the strongest bond in the family.
After Mark's death, Christian Phaneuf, his brother-in-law, created a GoFundMe to support Mark's widow, Jacqueline Carriker. Meanwhile, Matt and the rest of the family remain fully supportive of Jacqueline as she raises the children.
Appearance, Clothing Style
Matt Carriker has light brown hair and eyes that are a darker shade of brown. He is 6ft (1.83m) tall, and weighs about 178.5lbs (81kgs). When Matt is not at the clinic, he dresses casually in tee-shirts or flannel shirts. He completes every look with his signature face cap.
Hobbies, Favorite Things and Interesting Facts
Matt owns over 150 guns.
He loves to 'play' with cars.
He is also a gym freak.
Family and community are the two most important things to Matt Carriker.
Net Worth and Salary
In 2021, Matt's net worth is estimated at $3 million, accumulated largely through his business, YouTube and of course, his vet practice. Matt and his wife Meredith own a mansion in Boerne, and another home in San Antonio. However, the value of these properties is unknown.