• Lakiha Spicer is the third wife of Mike Tyson, a former professional boxer.
• She attended a local high school and worked as a waitress before dating Mike.
• The couple married in 2009 and have two children together.
• Lakiha is 44 years old, 5ft 5ins tall, and has an estimated net worth of $3 million.
• Mike Tyson has been married twice before, and supports Donald Trump.
Who is Lakiha Spicer?
Lakiha 'Kiki' Spicer was born on 11 June 1976, in Philadelphia, Pennsylvania USA – her zodiac sign is Gemini and she holds American nationality. She's a socialite, who's probably known best for being the third wife of Mike Tyson, a former professional boxer.
Early life and education
Lakiha was raised alongside her older brother Azheem Spicer in Philadelphia, by their mother Faridah Ali who was a housewife, and their father Shamsud-din Ali who was named Clarence Fowler before changing his name; he was convicted of murder back in the '70s, then became the leader of the Philadelphia Masjid while he was also amongst the most respected Muslim clerics.
Lakiha attended a local high school, but wasn't much of a student as she often skipped classes, and didn't pay attention to her teachers. She still somehow managed to matriculate in 1994, and then chose not to pursue a college degree but to find a job to financially support herself.
Lakiha's career
Nothing about her career is known, but it's believed that she worked as a waitress before she began dating Mike, who paid for whatever she needed, and thus Lakiha became a socialite.
Love life and marriage with Mike Tyson
Lakiha was often taken by her father to watch boxing matches, and she met Mike Tyson at one of these. She was 18 at that time, and the famous promoter Don King advised Mike to stay away from her because her family was dangerous. Regardless of that, Lakiha fell for him even though she knew that he was convicted of rape, and that he was to spend three years in jail. When Lakiha was 23, they officially began dating, although Mike was allowed to see other women. Later, when asked about their relationship, Lakiha stated that she wanted to get over him, but kept coming back to him.
In 2008, just a week before Lakiha was sent to prison on money fraud and conspiracy charges in which her entire family were involved, she found out that she was pregnant carrying Mike's daughter. She gave birth in December 2008, after she'd served half a year behind bars, and notified Mike about their child. He was addicted to drugs at that point, but eventually became clean because of his family. On 9 June 2009, the two married in a private ceremony attended by only a couple of people, and while this was Lakiha's first marriage, Mike was previously married to Monica Turner and Robin Givens.
Mike has thanked Lakiha in numerous interviews, claiming that she has helped him fight his drug and alcohol addiction.
On 25 January 2011, she gave birth to their son Morocco Elijah Tyson ,and the family of four has since been leading a seemingly happy life together.
Hobbies and other interests
Lakiha has been interested in sports since a very early age, mostly because she wanted to stay in shape and look good if she were to launch a modelling career. Today, she occasionally works out at the gym, and is apparently focused on eating healthy foods.
She likes to travel, and Mike has taken her all around the US while the two have also travelled around Europe, visiting countries such as France, Italy and England. They have been to several Asian and African countries together as well.
Lakiha's keen on watching movies late at night, and her favorite actresses are Penelope Cruz, Rosario Dawson and Kate Winslet, while some of her favorite films are "Vicky Cristina Barcelona", "Vanilla Sky" and "Loving Pablo".
Age, height and net worth
Lakiha's age is 44. She has long brown hair and brown eyes, her height is 5ft 5ins (1.65m) and she weighs around 130lbs (59kgs). As of March 2021, her and Mike's shared net worth has been estimated at over $3 million, although Mike once had a net worth of $300 million.
Who is Mike Tyson?
Michael Gerard Tyson was born in New York City, USA, on 30 June 1966 – his zodiac sign is Cancer and he holds American nationality. He's still known best for his boxing endeavors, and is rated to be amongst the best heavyweight boxers in the history of the sport.
He was raised alongside his brother Rodney and sister Denise (died in February 1990 of a heart attack) in Brooklyn, New York City, by their father Jimmy Kirkpatrick, who eventually left the family and died in 1992.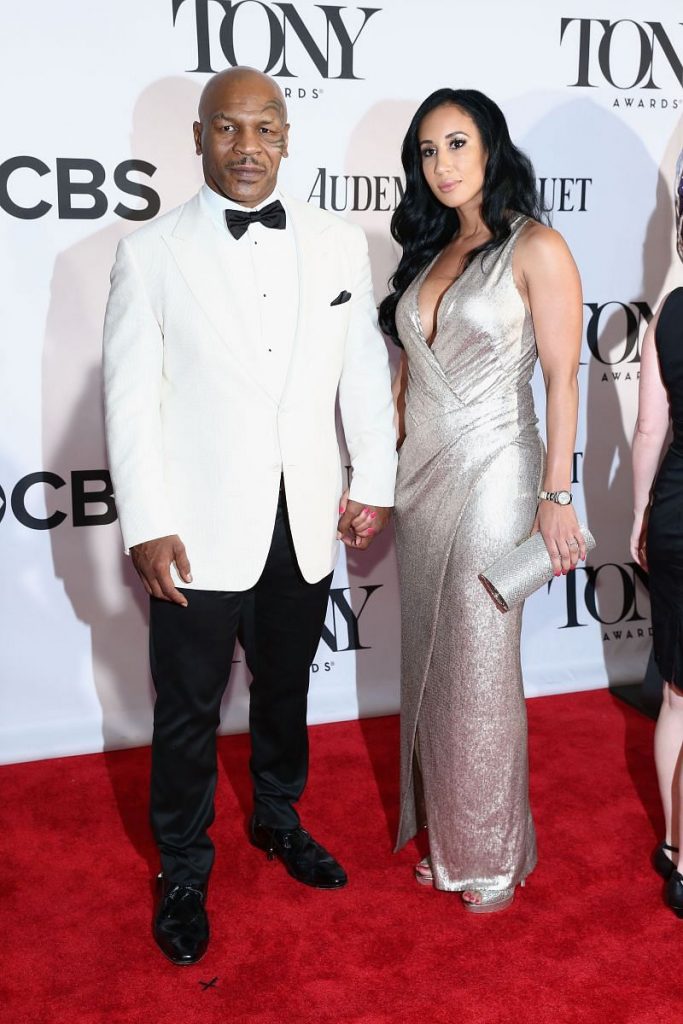 When Mike was 10, his family had to move to Brownsville because of their financial situation, then when he was 16, his mother died. Cus D'Amato, the late American boxing manager, began training Mike who could've then been seen committing small crimes and fighting those who mocked his voice; by the time he turned 13, Mike ha been arrested on 38 occasions. He studied at the Tryon School for Boys, but dropped out before matriculating, however, Central State University honored him with a Doctorate in Humane Letters in 1989.
He launched his amateur boxing career in 1981, when he won gold at the Junior Olympic Games, repeated in 1982, and he then fought Henry Tillman twice but lost both times.
He began fighting as a professional on 6 March 1985, when he knocked out Hector Mercedes in the first round. Of the 28 fights in his first year, he won 26 by knockout, 16 of which were in the first round. Mike fought his first title fight on 22 November 1986 against Trevor Berbick, and knocked him out in the second round, thus becoming the World Boxing Council (WBC) Heavyweight Champion, the youngest in history. In 1987, he became World Boxing Association (WBA) Heavyweight Champion as well as the International Boxing Federation (IBF) Heavyweight Champion, the first man to ever achieve holding all three titles, by defeating James Smith and Tony Tucker.
Mike's private life had a strong effect on his boxing career, and in 1990 he was beaten by James 'Buster' Douglas' in Tokyo, Japan, even though Mike was a huge favorite. In 1991, he was arrested for raping Desiree Washington who was 18 at the time and he was sentenced to spend six years behind bars. Mike served his sentence from April 1992 to March 1995, after around three years, and it's widely believed that he converted to Islam and adopted the name Malik Shabazz while in jail.
In August 2003 Mike filed for bankruptcy, and on 11 June 2005 he retired from the boxing world.
He was subsequently arrested on a number of occasions for driving under the influence and possession of drugs; he even entered a rehabilitation program which was ineffective.
He published his first book "Undisputed Truth", in November 2013, followed by his second book "Iron Ambition" in May 2017.
From 7 February 1988 to 14 February 1989, Mike was married to the American model and actress Robin Simone Givens, and from 19 April 1997 to 14 January 2003, he was married to Monica Turner, who gave birth to their two children Amir and Rayna. Mike also had a daughter named Exodus who accidentally choked herself with a cord on 25 May 2009 when she was four years old.
He has been diagnosed with bipolar disorder.
Mike supported Donald Trump in both the 2016 and the 2020 presidential election.